Results & Reports

Milan, Italy, March 18, 2000
---
Report Other Information Complete Live Report Results
Zippy Zabel Zaps Foes - Three times the charm in San Remo
By Tim Maloney, cyclingnews.com correspondent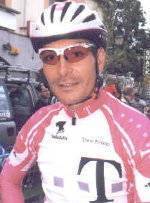 The Erik Zabel trilogy - He's back
Photo: © Mario Stiehl
Almost certainly, Team Telekom's post-race dinner in San Remo will feature a "tris"; three different kinds of pasta to celebrate Erik Zabel's third victory in Milano San Remo and his third in the last 4 years. In fact, Berlin born Zabel has put in almost 15,000km of training to be ready for this race. He was, as was the Telekom team, for the pink horde pounded at the front all day into the strong spring headwind along the Ligurian Riviera towards San Remo and finally delivered the win for Zabel. It was 'Teo Fagnini, Telekom's signing from Saeco who led out Zabel along the finishing straight, just as he had for Mario Cippollini so many times before.
The 91st edition of Milano San Remo departed from Milano at 0930, and although there were a few early attacks, it wasn't until outside Tortona that neo-pro Michele Gobbi of Mobilvetta - Rossin, last years European U23 champ took a flyer with 244km to go and the big teams said "ciao". Gobbi quickly established a 2 minute gap and as he approached Turchino pass in Ovada, he built a major lead of the peloton.
In fact, Gobbi had pounded to a lead of 22 minutes by Capriata d'Orba after 110km of racing. By the time the solid neo-pro had crested the Turchino pass after 144km of racing, his lead had built to one-half hour, while behind, the group was riding piano, halfway up the 24km Turchino climb.
Gobbi plunged down to Voltri and made the right hand turn towards San Remo on via Aurelia, while behind, the real action had begun. Andrea Tafi (Mapei) attacked on the Turchino descent and had closed down some time on Gobbi as the Aurelia began.
At Cogoleto, with 135 km to race, Gobbi had 15 minutes on the peloton, while 23 chasers had exited the group and were chasing the Mobilvetta man 14.30 behind. The almost double dozen had some Lotto's, Fassa Bortolo's, O.N.C.E's and others covering any early move, and included Zülle (Banesto), Skibby (Memorycard), Extebarria (O.N.C.E.), Den Bakker (Rabobank), Vinokourov (Telekom) and Ekimov (USPS).
After a half-hour of freedom at 78 km to go, it was gruppo compatto as the big group was caught, and Gobbi was still alone in front in Pietra Ligure, with a 5.30 lead. But the young neo-pro was croaking after almost 160km solo break and became the putative hero of the day when a group of 4 riders caught and blew by him at the second feed zone with 66km to go. Gobbi had been away for over 160km by himself in a classic and he got a major hat-tip from all the tifosi for his nice ride.
Old fox Skibby was piloting a quartet consisting of himself, Hunter (Lampre), the talented young South African, and two strong Dutch riders; Voskamp (Polti)and Kroon (Rabobank).
At 55 km to go, and approacing the first "capi " or coastal climb, Hunter, Skibby, Voskamp and Kroon continued to gain time on the group. With a moderate headwind on via Aurelia, the quartet had gained in 2.35 in Albenga. Behind, Lelekin (Mobilvetta) made a solo attempt to bridge and got as close as 15 seconds to the front quartet, but was caught by a chasing tandem led by his Mobilvetta teammate Gobbi and Navas (Banesto).
Aas the capi approached, Telekom and Mapei were getting nervous and rode hard tempo; keeping the gap at about 2.30. Gobbi and Navas couldn't bridge and were sucked up by the chasing group, but with about 50 minutes left to race at 41 km to go at Diana Marina, the lead quartet have been maintaining their advantage, with 2.40 on the peloton. Hunter has stopped working up front as his teammate Svorada was back in the pack, while the Mapei-led peloton was pounding away behind.
With 34km to go, the quartet navigated the narrow streets of Imperia, having 1.45 on the peloton with Hunter still not working, obviously saving himself for an attack on the upcoming Cipressa. IIn fact, as the steep slopes of the Cipressa arrive, Hunter goes but the peloton is closing down very fast behind. By the time Hunter got his 15 seconds gap on the chasers, Michele Bartoli (Mapei) and Juan Carlos Dominguez (Vitalicio) had extracted themselves from the peloton and were screaming up the cypress-topped climb in search of the tricky South African.
Bartoli, wearing special support taping on his still-delicate left knee and emerging Spaniard JC Dominguez took the initiative and grabbed a lead of almost 20 seconds on the run-up to the final climb, Il Poggio di San Remo. However, the impulsion of Telekom was too much: with 4 riders on the front along the long straight road to San Remo with 10 km to race, Bartoli and Dominguez were only 5 seconds ahead as the Poggio began. In an incredible moment of bad timing, George Hincapie (USPS) flatted just at the base of Il Poggio, ending his hopes of victory.
Although Bartoli & Dominguez made a valiant second acceleration, the duo were caught halfway up the climb. Then all hell seemed to break lose, but the top riders were so busy looking at each other, there was nothing happening as Davide Rebellin led over the top, with chasers just behind. Mapei man Paolo Bettini took a flyer on the descent, but he came back, just as did Dominguez, who made a solo move with 1500m to go. The Spaniard came back and with 600 meters to go, Teo Fagnini hit the front with his new Telekom teammate Zabel on his wheel. He rode a perfect lead-out for the German to power to victory in Milano San Remo 2000, winning the first World Cup of the season and his third Milano San Remo.
Some post race comments
Erik Zabel: "A dream came true for me today. What Gian-Matteo Fagnini has done is unbelievable. We have a Super Team."
Walter Godefroot, Telekom's sports director: "If we had had Fagnini last year this would have been Zabel's fourth win"
Fabio Baldato: "I had a good position in the sprint, but when Fagnini started I was a bit disoriented. This is my fourth second place in a World Cup race. One day I will have some luck too…"
Oscar Freire: "Everything went well the whole day. I had my chance in the sprint, even if I knew that it is very hard to beat Zabel. My teammates has worked very well for me. Third in San Remo gives me taste for more and I can't be disappointed since it's my first start in the race."
Andrei Tchmil: "I hoped for a selection at the Poggio with a group of some ten riders coming to the finish. But i was watched. Telekom were to many. I had no possibility to attack."
Michele Bartoli: "Too bad that only Dominguez came along as I attacked. If we had been more it could have held over the Cipressa. But anyway I have showed that I'm around again, and that is very important for the coming Belgian races. I'm satisfied with that but a little disappointed that our team still not has won in San Remo."
Patrick Lefevere, Mapei's sports director: "Zabel won, but Freire is, with his 24 years, not far away. I must congratulate my team. They have done a good job, we have never been so close to a victory in San Remo."
Other Information
200 riders were scheduled to start, but there were two non-starters: Emmanuel Magnein (FDJ) and Jakob Storn Piil (MCJ&J), who was hit by a car whilst training yesterday.
TV interviews before the start:
Eddy Merckx (7 times winner of Milan-San Remo): 'When I became professional it was a historical day for me. Starting with all those big names! You have to be a quick climber but - after the Poggio - you have to descend well too. Via Roma is the most beautifull via in the world for me.'
Belgian TV on the Poggio: You start 20 meters above sea level and in 3,75 km you reach 162 meters. In recent years, the professionals do this climb in around 6 minutes: that means 40 km/h! It's nearly a sprint. But take care at the most dangerous hairpin turn. The house with number 61 is a famous point just in the hairpin. It's the house with the gate with two red pillars. When you climb fast you nearly hit the pillars.
In the Cofidis-team, Frank Vandenbroucke and Jo Planckaert both have a free role today.
Mark Wauters (Rabobank): "We want as many riders as possible the final and than hopefully Markus Zberg, or somebody else from our team can win."
Peter van Petegem (Farm Frites): The team rides for me. We have to see how many riders we have at the Cipressa."
Johan Museeuw (Mapei): If we are all together at the start, Bartoli will attack as the first Mapei on the Poggio, and otherwise we all have a free card."
Oscar Freire: "My first contact with the Poggio on Thursday gave me a good feeling. But it was only training, and that is something other than the real race. But, we have a lot of good riders."
Results
1. Erik Zabel (Ger) Deutsche Telekom                  7.11.29 (40.882 km/h)
2. Fabio Baldato (Ita) Fassa Bortolo
3. Oscar Freire Gomez (Spa) Mapei-Quick Step
4. Zbigniew Spruch (Pol) Lampre-Daikin
5. Sergei Ivanov (Rus) Farm Frites
6. Jo Planckaert (Bel) Cofidis
7. Stefano Garzelli (Ita) Mercatone Uno-Albacom
8. Rolf Sorensen (Den) Rabobank
9. Romans Vainsteins (Lat) Vini Caldirola
10. Bo Hamburger (Den) Memory Card-Jack & Jones
11. Laurent Jalabert (Fra) Once-Deutsche Bank
12. Elio Aggiano (Ita) Vitalicio Seguros-Grupo Generali
13. Enrico Cassani (Ita) Team Polti
14. Markus Zberg (Swi) Rabobank
15. Johan Museeuw (Bel) Mapei-Quick Step
16. Andreas Klier (Ger) Farm Frites
17. Andrea Ferrigato (Ita) Fassa Bortolo
18. Andrej Tchmil (Bel) Lotto-Adecco
19. Marc Wauters (Bel) Rabobank
20. Dimitri Konychev (Rus) Fassa Bortolo
21. Mirko Celestino (Ita) Team Polti
22. Javier Pascual Rodriguez (Spa) Kelme-Costa Blanca
23. Mario Aerts (Bel) Lotto-Adecco
24. Giuseppe di Grande (Ita) Festina
25. Alessandro Petacchi (Ita) Fassa Bortolo
26. Davide Rebellin (Ita) Liquigas-Pata
27. José L. Rebollo Aguado (Spa) Vitalicio Seguros
28. Oscar Camenzind (Swi) Lampre-Daikin
29. Gian Matteo Fagnini (Ita) Telekom
30. Peter van Petegem (Bel) Farm Frites
31. David Etxebarria Alkorta (Spa) Once-Deutsche Bank
32. Pascal Chanteur (Fra) Ag2R Prévoyance
33. Abraham Olano Manzano (Spa) Once-Deutsche Bank
34. Juan C. Dominguez (Spa) Vitalicio Seguros
35. Peter Farazijn (Bel) Cofidis
36. Francesco Casagrande (Ita) Vini Caldirola-Sidermec
37. Mauro Gianetti (Swi) Vini Caldirola-Sidermec
38. Wladimir Belli (Ita) Fassa Bortolo                         0.09
39. Michele Bartoli (Ita) Mapei-Quick Step                     0.13
40. Paolo Bettini (Ita) Mapei-Quick Step                       1.44
41. Viatcheslav Ekimov (Rus US Postal Service                  1.54
42. Lars Michaelsen (Den) La Francaise des Jeux                2.19
43. Mario Cipollini (Ita) Saeco-Valli&Valli
44. Mirko Gualdi (Ita) Mobilvetta-Rossin
45. Mikel Zarrabeitia Uranga (Spa) Once-Deutsche Bank
46. Fabiano Fontanelli (Ita) Mercatone Uno
47. Marco Zanotti (Ita) Liquigas-Pata                          3.13
48. Nico Mattan (Bel) Cofidis
49. Koen Beeckman (Bel) Lotto-Adecco
50. Jan Boven (Ned) Rabobank
51. Francisco Cerezo Perales (Spa) Vitalicio Seguros
52. Geert Verheyen (Bel) Lotto-Adecco
53. Rik Verbrugghe (Bel) Lotto-Adecco
54. Marco Serpellini (Ita) Lampre-Daikin
55. Gabriele Colombo (Ita) Cantina Tollo
56. Pedro Horrillo Munoz (Spa) Vitalicio Seguros
57. Cédric Vasseur (Fra) US Postal Service
58. Marcello Siboni (Ita) Mercatone Uno
59. Fabio Sacchi (Ita) Team Polti
60. Wim Vansevenant (Bel) Farm Frites
61. Frédéric Guesdon (Fra) La Francaise des Jeux
62. Maarten den Bakker (Ned) Rabobank
63. Michel Lafis (Swe) Farm Frites
64. Christophe Mengin (Fra) La Francaise des Jeux
65. Martin Rittsel (Swe) Memorycard-Jack&Jones
66. Massimiliano Lelli (Ita) Cofidis
67. Servais Knaven (Ned) Farm Frites
68. Unai Osa Eizaguirre (Spa) Banesto
69. Marco Milesi (Ita) Vini Caldirola-Sidermec
70. Jan Hruska (Cze) Vitalicio Seguros
71. Steve de Wolf (Bel) Cofidis
72. Wilfried Peeters (Bel) Mapei-Quick Step
73. Andrea Tafi (Ita) Mapei-Quick Step
74. Nicolas Jalabert (Fra) Once-Deutsche Bank
75. Inigo Cuesta Lopez (Spa) Once-Deutsche Bank
76. Pascal Hervé (Fra) Team Polti
77. Jaime Hernandez Bertran (Spa) Festina
78. Stephane Barthe (Fra) Ag2R Prévoyance
79. Tristan Hoffman (Ned) Memorycard-Jack&Jones
80. Chris Peers (Bel) Cofidis
81. Alessandro Spezialetti (Ita) Liquigas-Pata
82. Luis Perez Rodriguez (Spa) Vitalicio Seguros
83. Francisco Cabello Luque (Spa) Kelme-Costa Blanca
84. Massimiliano Mori (Ita) Saeco-Valli&Valli
85. Paolo Savoldelli (Ita) Saeco-Valli&Valli
86. Rolf Aldag (Ger) Telekom
87. Dariusz Baranowski (Pol) Banesto                           3.34
88. Rolf Huser (Swi) Festina
89. Ivan Basso (Ita) Amica Chips
90. Giuseppe Palumbo (Ita) Amica Chips
91. Denis Zanette (Ita) Liquigas-Pata
92. Pavel Padrnos (Cze) Saeco-Valli&Valli
93. Jan Svorada (Cze) Lampre-Daikin
94. Alessandro Baronti (Ita) Cantina Tollo
95. Matteo Tosatto (Ita) Fassa Bortolo
96. Francisco Mancebo Perez (Spa) Banesto
97. Enrico Zaina (Ita) Mercatone Uno
98. Mario Scirea (Ita) Saeco-Valli&Valli
99. Ellis Rastelli (Ita) Liquigas-Pata
100. Karsten Kroon (Ned) Rabobank
101. Leonardo Piepoli (Ita) Banesto
102. Oscar Pozzi (Ita) Amica Chips
103. David Clinger (USA) Festina
104. Pietro Caucchioli (Ita) Amica Chips
105. Alexander Vinokourov (Kaz) Telekom
106. Salvatore Commesso (Ita) Saeco-Valli&Valli
107. Frankie Andreu (USA) US Postal Service                    4.35
108. Lance Armstrong (USA) US Postal Service
109. Guido Trenti (USA) Cantina Tollo
110. Stéphane Heulot (Fra) La Francaise des Jeux
111. Rossano Brasi (Ita) Team Polti
112. Massimo Giunti (Ita) Cantina Tollo                        5.09
113. Robert Hunter (Rsa) Lampre-Daikin                         6.01
114. Kai Hundertmark (Ger) Telekom                             6.15
115. Luca Mazzanti (Ita) Fassa Bortolo
116. Mauro Radaelli (Ita) Vini Caldirola-Sidermec              9.55
117. Paolo Fornaciari (Ita) Mapei-Quick Step
118. Nicola Loda (Ita) Fassa Bortolo
119. René Jorgensen (Den) Memorycard-Jack&Jones
120. Michele Coppolillo (Ita) Mercatone Uno
121. Rafael Diaz Justo (Spa) Once-Deutsche Bank
122. Steffen Wesemann (Ger) Telekom
123. Gianluca Sironi (Ita) Vini Caldirola-Sidermec
124. Jan Schaffrath (Ger) Telekom
125. Benoit Joachim (Lux) US Postal Service
126. Gianluca Bortolami (Ita) Vini Caldirola-Sidermec
127. Frank Hoj (Den) La Francaise des Jeux
128. Marco A. di Renzo (Ita) Cantina Tollo
129. Kurt Alse Arvesen (Nor) Amica Chips
130. Steve Vermaut (Bel) US Postal Service
131. Kurt van Lancker (Bel) Lotto-Adecco
132. Paul van Hyfte (Bel) Lotto-Adecco
133. Christophe Agnolutto (Fra) Ag2R Prévoyance
134. Glen Magnusson (Swe) Farm Frites
135. Xavier Jan (Fra) La Francaise des Jeux
136. Graziano Recinella (Ita) Mobilvetta-Rossin
137. Allan Johansen (Den) Memorycard-Jack&Jones
138. Alessio Galletti (Ita) Saeco-Valli&Valli
139. Frank Vandenbroucke (Bel) Cofidis
140. Devis Miorin (Ita) Mobilvetta-Rossin
141. Paolo Bossoni (Ita) Cantina Tollo
142. Marco Velo (Ita) Mercatone Uno
143. Vitali Kokorine (Rus) Amica Chips
144. Tomas Brozyna (Pol) Banesto
145. Ruslan Ivanov (Mda) Amica Chips
146. Franck Perque (Fra) La Francaise des Jeux
147. Leon van Bon (Ned) Rabobank
148. Steven de Jongh (Ned) Rabobank
149. Frank Corvers (Bel) Memorycard-Jack&Jones
150. Diego Ferrari (Ita) Amica Chips
151. David Navas Chica (Spa) Banesto
152. José J. Gomez Gonzalo (Spa) Kelme-Costa Blanca
153. Richard Virenque (Fra) Team Polti
154. Thierry Marichal (Bel) Lotto-Adecco
155. Javier Pascal Llorente (Spa) Kelme-Costa Blanca
156. Lauri Aus (Est) Ag2R Prévoyance
157. Marcelino Garcia Alonso (Spa) ONCE-Deutsche Bank
158. Bart Voskamp (Ned) Team Polti
159. Alberto Benito Guerrero (Spa) Banesto
160. Oscar Sevilla Ribera (Spa) Kelme-Costa Blanca
161. José E.Gutierrez Cataluna (Spa) Kelme-Costa Blanca
162. Benoit Salmon (Fra) Ag2R Prévoyance
163. Ruben Galvan Manchon (Spa) Kelme-Costa Blanca
164.. Riccardo Forconi (Ita) Mercatone Uno
165. Ermanno Brignoli (Ita) Mercatone Uno
166. Eddy Mazzoleni (Ita) Team Polti
167. Gabriele Missaglia (Ita) Lampre-Daikin
168. Franco Ballerini (Ita) Lampre-Daikin
169. Francisco Leon Mane (Spa) Kelme-Costa Blanca
170. Johan Verstrepen (Bel) Lampre-Daikin
171. Alexander Fedenko (Ukr) Liquigas-Pata
172. Stefano Zanini (Ita) Mapei-Quick Step
173. Giancarlo Raimondi (Ita) Liquigas-Pata
174. Massimo Apollonio (Ita) Vini Caldirola-Sidermec
175. Cristian Salvato (Ita) Liquigas-Pata
176. Milan Kadlec (Cze) Mobilvetta-Rossin
177. Jesper Skibby (Den) Memorycard-Jack&Jones
178. Jaan Kirsipuu (Est) Ag2R Prévoyance
179. Filippo Baldo (Ita) Mobilvetta-Rossin
180. Ruggero Marzoli (Ita) Cantina Tollo
181. Ivan Quaranta (Ita) Mobilvetta-Rossin

World Cup standings after round 1:

1. Erik Zabel (Ger) Deutsche Telekom                        100 pts
2. Fabio Baldato (Ita) Fassa Bortolo                         70
3. Oscar Freire Gomez (Spa) Mapei-Quick Step                 50
4. Zbigniew Spruch (Pol) Lampre-Daikin                       40
5. Sergei Ivanov (Rus) Farm Frites                           36
6. Jo Planckaert (Bel) Cofidis                               32
7. Stefano Garzelli (Ita) Mercatone Uno-Albacom              28
8. Rolf Sorensen (Den) Rabobank                              24
9. Romans Vainsteins (Lat) Vini Caldirola                    20
10. Bo Hamburger (Den) Memory Card-Jack & Jones              16
11. Laurent Jalabert (Fra) Once-Deutsche Bank                15
12. Elio Aggiano (Ita) Vitalicio Seguros-Grupo Generali      14
13. Enrico Cassani (Ita) Team Polti                          13
14. Markus Zberg (Swi) Rabobank                              12
15. Johan Museeuw (Bel) Mapei-Quick Step                     11
16. Andreas Klier (Ger) Farm Frites                          10
17. Andrea Ferrigato (Ita) Fassa Bortolo                      9
18. Andrej Tchmil (Bel) Lotto-Adecco                          8
19. Marc Wauters (Bel) Rabobank                               7
20. Dimitri Konychev (Rus) Fassa Bortolo                      6
21. Mirko Celestino (Ita) Team Polti                          5
22. Javier Pascual Rodriguez (Spa) Kelme-Costa Blanca         4
23. Mario Aerts (Bel) Lotto-Adecco                            3
24. Giuseppe di Grande (Ita) Festina                          2
25. Alessandro Petacchi (Ita) Fassa Bortolo                   1