Preview, Start List, & History
---
Results & Reports
---
Results
Canberra, Australia, March 12, 2000
---
Report
By Jeff Jones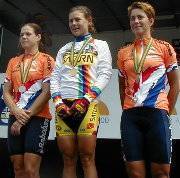 Van Melis, Wilson, Melchers
(click for larger image)
Photo: Jeff Jones
The first round of the women's World Cup in Canberra saw an interesting race, where the top teams fought hard to position their best for the finish. However, the fitness of all the competitors showed as the race came down to a bunch finish, with nearly half the 78 starters intact. It was a course tailor made for Anna Wilson, riding with a small but powerful Saturn outfit and she once again showed that she is unbeatable when it comes to a bunch sprint, taking the win from Dutch riders, Mirella van Melis and Mirjam Melchers.
It was a perfect day for a race, with a cool 9.00 am start, the sun shining and no wind. The circuit was fairly quick, as there were no serious corners or bad roads to contend with. The climbs, combined with some hard team riding would have to do the damage. They were enough to take the sting out of the legs, especially after 20 laps.
The early laps were fairly quiet as far as attacks were concerned, with the bunch maintaining a steady average of 37 km/h. There was misfortune though for Jayco-VIS rider Karen Barrow, who crashed on the first lap injuring her right arm, and was forced to retire after a fruitless chase.
The early pace was set by the Timex and Dutch teams, who had the strength in numbers and needed to whittle down the bunch in order to give one of their riders the best chance in getting away from Wilson. By the start of lap five, the lead group was down to some 40 riders, but with no-one being able to make a decent break. Canada's Geneviève Jeanson was riding strongly also, countering many moves but unable to get away from such a large group. She was often seen at the head of the bunch leading up the climb.
By the eighth lap, the field were in four groups, as the pressure applied at the beginning of the race had taken its toll. The Dutch team were mounting several attacks up the hill, with Ghinta Beltman and Arenda Grimberg leading. However, towards the end of the lap, there was a significant move by Mari Holden (Timex), Mirjam Melchers (Ned) and Jacinta Coleman (NZ), forcing Saturn to chase hard with Pryde and Demet. They were caught, but it was a testing time for Wilson who admitted so after the race.
There was bad news for the AIS team by this point, as they had lost Kristy Scrymgeour early on with a broken derailleur, and Alison Wright who was having back pain caused by her crash last Thursday. The bunch had settled down, except for Timex's Odessa Gunn (O.G.) who launched herself off the front of the pack. It was a great move by Timex, who had the strength in numbers to afford to spend one of their riders. Gunn's gap grew out to more than a minute in a few laps, before the efforts of the Dutch and Canadians brought her back with approximately three laps (15 kilometers) to go. Jeanson was still prominent, but no-one would let her go and she was being forced into a losing situation should a bunch sprint come about.
Unfortunately, Timex's designated sprinter, Mari Holden experienced bike difficulties with two to go, and was unable to get her spare bike in time. She had to wait at least a lap as her tire slowly deflated, costing her any chance of a final attack. On the bell lap, all the names were still there but with the size of the group, Anna Wilson was going to be very hard to beat. Jeanson was unable to escape, and the Dutch tried several moves but through some hard riding by Saturn's Dede Demet in the last few kilometers, they were reeled in.
Demet had done her job, but was unable to maintain her front position as the field lined up for the sprint. It was no matter, as the uphill kick was led out by Erin Carter (Can) with Wilson, van Melis, and Melchers all close behind. Wilson's power was too great though, and she won clearly from van Melis and Melchers, with Sigrid Corneo (Ita, Master Team) and Hayley Rutherford (Aus, AIS) rounding out the top five. An expected result maybe, but in cycling a result can never be taken for granted, and for Wilson a win in the first round of the World Cup was fantastic.
"I'm so happy to win," said a glowing Wilson afterward. "I was really nervous before the race this morning and it was great to pull it off. Timex were aggressive early on, and when Mari, Coleman and Melchers attack, I was really stretched. The team had to work very hard to get them back."
"When Odessa went, it was a bit of a relief, as everything settled down. Beltman made a great attack, but Dede Demet rode hard to get her back," she said. "With two kilometers to go, the bunch was all together and everyone was fighting for my wheel, which was fine by me. I knew I could hold off the others if I had good position."
"It's great to have the World Cup lead, although I'll not be able to defend it next week at Milan-San Remo. It's good to keep the number one ranking for a little while too."
On Saturn's race strategy, Wilson said that they had to keep a lid on the bunch, having only three riders to do the work. It was in their best interests to keep the field together, and they were able to use the Dutch and Timex teams to their advantage. Demet knew (or hoped) that after her work at the end, that Wilson would be able to pull it off: "Anna's the kind of rider that can really ad lib," she said.
Second placed Mirella van Melis of the Dutch team was very happy with their result, as she knew Anna would be very hard to beat. "My team rode really well...the others got the medals for us." Words that were echoed by third placed Mirjam Melchers. Melchers went on to add that "at half koers, we turned it up, hoping for a few attacks. I'm satisfied with the end results though."
On Geneviève Jeanson: "She did a lot...she didn't go hard though, not really any powerful attacks." The Canadian will have to wait for another World Cup event, before she qualifies for the Canadian Olympic team, who have set a tough criteria: Two top eight finishes in major UCI events.
1 Anna Wilson (Aus) Saturn                        2.45.43  (36.93 km/h)
2 Mirella Van Melis (Ned) Pays Bas-Holland 
3 Mirjam Melchers (Ned) Pays Bas-Holland 
4 Sigrid Corneo (Ita) Master Team/Carpe Diem 
5 Hayley Rutherford (Aus) AIS 
6 Anne Samplonius (Can) Canada 
7 Bridget Evans (Aus) Master Team/Carpe Diem 
8 Jacinta Coleman (NZl) New Zealand 
9 Susy Pryde (NZl) Saturn            
10 Katie Mactier (Aus) Jayco-VIS
11 Karen Kurreck (USA) Edilsavano           
12 Sandy Espeseth (Can) Canada
13 Margaret Hemsley (Aus) Bicisport-NSWIS
14 Erin Carter (Can) Canada
15 Miho Oki (Jpn) Japan
16 Rosalind Reekie-May (NZl) New Zealand
17 Marielle Van Scheppingen (Ned) Pays Bas-Holland
18 Elizabeth Tadich (Aus) Jayco-VIS
19 Kym Shirley (Aus) AIS
20 Tracey Gaudry (Aus) Timex
21 Mari Holden (USA) Timex
22 Sara Carrigan (Aus) AIS
23 Sanna Lehtimaki (Fin) Timex
24 Erin Veenstra-Mirabella (USA) Timex
25 Marcia Eicher Vouets (Swi) Master Team/Carpe D
26 Lucy Vignes (Aus) Sydney Water
27 Priska Doppman (Swi) Master Team/Carpe Diem
28 Karen Sumpton (Aus) Southern Regional Team
29 Dede Demet (USA) Saturn           
30 Chantal Beltman (Ned) Pays Bas-Holland
31 Kim Smith (USA) Timex
32 Odessa Gunn (Can) Timex
33 Juanita Feldhahn (Aus) AIS
34 Kirsty Robb (NZl) New Zealand
35 Natalie Bates (Aus) Bicisport-NSWIS
36 Emma James (Aus) Sydney Water
37 Geneviève Jeanson (Can) Canada
38 Arenda Grimberg (Ned) Pays Bas-Holland             0.49
39 Annabelle Vowels (Aus) Velobelles                  1.16
40 Vanessa Cheatley (NZl) New Zealand                 2.18
41 Ghita Beltman (Ned) Pays Bas-Holland               3.28
42 Sally Smalley (Aus) Southern Regional Team         5.14

World Cup Standings after round 1

1 Anna Wilson (Aus) Saturn                              75 pts
2 Mirella Van Melis (Ned) Pays Bas-Holland              50
3 Mirjam Melchers (Ned) Pays Bas-Holland                35
4 Sigrid Corneo (Ita) Master Team/Carpe Diem            30
5 Hayley Rutherford (Aus) AIS                           27
6 Anne Samplonius (Can) Canada                          24
7 Bridget Evans (Aus) Master Team/Carpe Diem            21
8 Jacinta Coleman (NZl) New Zealand                     18
9 Susy Pryde (NZl) Saturn                               15
10 Katie Mactier (Aus) Jayco-VIS                        11
11 Karen Kurreck (USA) Edilsavano                       10
12 Sandy Espeseth (Can) Canada                           9
13 Margaret Hemsley (Aus) Bicisport-NSWIS                8
14 Erin Carter (Can) Canada                              7
15 Miho Oki (Jpn) Japan                                  6
16 Rosalind Reekie-May (NZl) New Zealand                 5
17 Marielle Van Scheppingen (Ned) Pays Bas-Holland       4
18 Elizabeth Tadich (Aus) Jayco-VIS                      3
19 Kym Shirley (Aus) AIS                                 2
20 Tracey Gaudry (Aus) Timex                             1