Main Page
- Start List
- Tour News
- Village Voices
- Int. TV Schedule
Results
- Live reports
- Stage profiles
- Climbs
Diaries:
Marcel Wüst


USPS team replica
87th Tour de France - Grand Tour

France, July 1 - 23, 2000
---
Main Page Report & results Previous Stage Next stage
Stage 4 - July 4: Team Time Trial Nantes - Saint-Nazaire, 70 km
Start time: 14:25
Estimated finish time: 17:18
This is a stage where one won't win the Tour, but one can certainly lose the Tour. Why? With the time cut at 25% of the fastest team (taken from the teams 5th rider) a rider who gets dropped by his team, or an entire team can not lose more than 7 minutes on the fastest team, or they will be eliminated from the 2000 Tour De France.
After an en ville start in Nantes, the capital of the Loire Atlantique departement,the parcours heads west-northwest along the south bank of the Loire River towards St.Nazaire. After 57km, the teams will climb the only obstacle of the day, the dramatic Pont de St.Nazaire, soaring over the mouth of the Loire River as it empties into the Atlantic Ocean. The final 10kms are crucial, as the exhausted teams must then negotiate the city streets of the grimy port city as they streak towards the finish.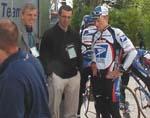 LA and La Gazzetta
Photo: © Tim Maloney/CN
Pundits are pointing to a USPS-O.N.C.E. pursuit match, where Postal has some advantage. The American squad is #1 on Team GC, so they will start last. Motivation is high on USPS,as not only July 4th and the Maillot Jaune for Lance are in play, but to press home a psychological advantage on the other teams by showing whos the boss in not lost on astute tactician Johan Bruyneel. But it won't be easy: USPS has O.N.C.E starting 5 minutes ahead and Telekom 10 minutes ahead...despite the ability to know the time splits of the competition, USPS has to ride fast enough to win.
Telekom and O.N.C.E. have a lot more experience under their belts in 2000 in TTT (5 each). Don't forget Cofidis, the team of the current Maillot Jaune David Millar may pull out a suprise. They did win the first TTT of the season back in February.
Weather
After evening rain showers, today is clear and fresh with a strong wind from the west-northwest. In this part of the country, rain squalls can blow in from the Atlantic in the late afternoon, which could effect the outcome of the TTT should it occur. We caught up with Kevin Livingston (USPS) after his morning test ride with the team and he told us that "it's windy out there - like the other days when we ride it (the course) but it shouldn't be too bad.

Profile © Société du Tour de France