2000 World Cyclocross Championships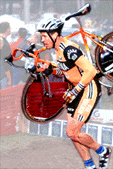 The Dutch town of Sint-Michielsgestel in the province of North Brabant, in the south of Holland will play host to the world Cyclocross Championships. The town has a strong tradition in cyclocross - regularly hosting Superprestige competitions as well as the National titles in 1989 and 1994.
Twenty two countries are scheduled to participate and there will be four competitions held: The espoirs and juniors on Saturday, January 29 and the elite women and men on Sunday, January 30. This is the first time that there has been a world cyclocross championships for women.
The favourites:
Elite men
While young Belgian star, Sven Nijs will be the odds on favourite coming into the event, he will still have some serious competition. Nijs has won both the major points comptitions this year - the Superprestige and the World Cup - and will be hard to beat. His biggest threat is likely to be compatriot, and current World Champion, Mario de Clercq, who has the strength and experience to put it all together on the day. Also, there is Richard Groenendaal who will head the Dutch team, coming off a second place in last weekend's superprestige in Wetzikon, Switzerland.
Others to watch out for include Erwin Vervecken (Bel), Wim de Vos (Ned), Daniele Pontoni (Ita), Beat Wabel (Swi). Of course you can't count out 41 year old Adrie van der Poel from the Netherlands, who has announced that he will hang up his wheels after this year's World Championships.
Unfortunately for the US, Tim Johnson is out from a collision with German hope, Steffen Weigold in a recent Superprestige race. Bart Bowen is likely to be their strongest hope.
Elite Women
The women have a slightly more "open" competition compared with the traditional Belgian and Dutch domination in the men. Those to watch out for will be German Hanka Kupfernagel, Daphny van den Brand and Inge Veldthuis (Ned), Anne Grande and Alison Dunlap (USA), and Anna Stroparo (Italy).
Espoirs
Last year's world champion, Bart Wellens (Bel), will once again be the favourite this year, as he has been riding very strongly in the major competitions during this season. His close rival will be compatriot Tom Vannoppen, but the two will presumably work for each other a little. Thijs Volker from the Netherlands will be another one to look out for, along with David Derepas from France.
Juniors
Walker Ferguson and Josh Anthony from the USA are likely to be the ones to look out for in the Junior event. Also, there are Jan Kunta (Cze), Gerben de Vries (Ned) and Ludovic Le Magourou (Fra) who will provide strong competition.