---
Start List Preview & History
---
Liege - Bastogne - Liege
86th Liege-Bastogne-Liege - CDM
Belgium, April 16, 2000
---
1999 Results Start List Past Winners
Preview
Jalabert amongst favourites

Twice second, Laurent Jalabert
Photo: © AFP
Frenchman Laurent Jalabert, from Team ONCE, starts as one of the big favorites for the Belgian classic Liege-Bastogne-Liege, which will be disputed on Sunday. The number one rider in the world admits that he has only "a few times left in which to win this race," and after his third placing in Wednesday's Flèche Wallonne, this year may well be it. He would dearly like to add "La Doyenne" to his palmares, and has come agonisingly close in the past. He was second in 1997 and 1998 to Michele Bartoli, a rider who will not be participating this year due to his knee injury.
Jalabert made it clear on Wednesday that he didn't want to expend a great deal of energy before Sunday's race: winner Francesco Casagrande might have "spent all his bikkies" in his storming finishing attack up the Mur de Huy. Casagrande remains among the front runners of course, along with Belgian Rik Verbrugghe (Lotto) and Davide Rebellin (Liquigas). Axel Merckx (Mapei) may have a card to play as well after his strong 10th in La Flèche, but he will have to find some more legs for the extra 65 kilometres of this race.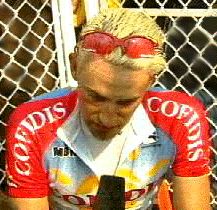 Last year's winner, Frank Vandenbroucke

There will be no Frank Vandenbroucke this year in the way of Jalabert either, as the Cofidis rider has been largely out of competition for the early part of the season. While his team expects him back at some stage, he will not be participateing in any of the early classics, and has instead targeted the Tour as his 2000 goal.

The race is the hilliest of the Classics, containing 10 climbs of over 1.5 kilometres in length, as well as having a very undulating route in general. There is not a lot in the way of cobbles compared with the Ronde or Paris-Roubaix, and it suits a lighter but still powerful rider than for those two Classics.

World Cup leader, Erik Zabel (Telekom) should be able to maintain his advantage over whoever emerges in second place after this race, but it is doubtful whether he will make the top 10 for the finale. It may be a day for his teammates, Andreas Klöden, Udo Bölts or Alexandre Vinokourov.

Boogerd, 2nd in 1999
Photo: © Bert Geerts

Rabobank's Michael Boogerd is perfectly built for this race, coming second last year. He may be a little out of sorts since his crash on the last day of the Setmana Catalana, but he managed a solid 13th on Wednesday, and can definitely be counted amongst the favourites. Lampre's Oscar Camenzind also had a good race, finishing just behind Boogerd in 14th. Again, this is the type of course that will suit the 1998 World Champion.

The race will see Credit Agricole's Bobby Julich continue his comeback, after his crash in the Criterium International, but he is probably not quite in shape yet for one of the toughest classics of them all.
Complete Starting List
Latest

MAPEI - QUICK STEP                TEAM DEUTSCHE TELEKOM

1 Johan Museeuw (Bel)             11 Erik Zabel (Ger)
2 Paolo Bettini (Ita)             12 Udo Bölts (Ger)
3 Giuliano Figueras (Ita)         13 Alberto Elli (Ita)
4 Axel Merckx (Bel)               14 Jens Heppner (Ger)
5 Daniele Nardello (Ita)          15 Jorg Jaksche (Ger)
6 Rinaldo Nocentini (Ita)         16 Matthias Kessler (Ger)
7 Andrea Tafi (Ita)               17 Andreas Klöden (Ger)
8 David Tani (Ita)                18 Alexandre Vinokourov (Kaz)

O.N.C.E - DEUTSCHE BANK           FASSA BORTOLO

21 Laurent Jalabert (Fra)         31 Wladimir Belli (Ita)
22 Rafael Diaz Justo (Spa)        32 Andrea Ferrigato (Ita)
23 David Etxebarria (Spa)         33 Dario Frigo (Ita)
24 Marcelino Garcia (Spa)         34 Dimitri Konyshev (Rus)
25 Nicolas Jalabert (Fra)         35 Luca Mazzanti (Ita)
26 Abraham Olano (Spa)            36
27                                37 Alessandro Petacchi (Ita)
28 Mikel Zarrabeitia (Spa)        38 Raimondas Rumsas (Ltu)
29 Inigo Cuesta (Spa)             

RABOBANK                          AG2R PREVOYANCE

41 Michael Boogerd (Ned)          51 Benoit Salmon (Fra)
42 Niki Aebersold (Swi)           52 Christophe Agnolutto (Fra)
43 Jan Boven (Ned)                53 Philippe Bordenave (Fra)
44 Maarten Den Bakker (Ned)       54
45 Marc Lotz (Ned)                55 David Delrieu (Fra)
46 Grischa Niermann (Ger)         56 Andrei Kivilev (Kaz)
47 Marc Wauters (Bel)             57 Gilles Maignan (Fra)
48 Markus Zberg (Swi)             58 Ludovic Turpin (Fra)

KELME - COSTA BLANCA              COFIDIS LE CREDIT PAR TELEPHONE

61 Francisco Leon (Spa)           71 Steve De Wolf (Bel)
62 J.Miguel Cuenca (Spa)          72 Peter Farazijn (Bel)
63 Alvaro Forner Munoz (Spa)      73 Laurent Lefevre (Fra)
64 Ruben Galvan  (Spa)            74 Massimiliano Lelli (Ita)
65 José Javier Gomez (Spa)        75 Roland Meier (Swi)
66 Ricardo Otxoa (Spa)            76 David Millar (GBr)
67 Elicio Requejo (Spa)           77 David Moncoutie (Fra)
                                  78 Arnaud Pretot (Fra)

VITALICIO SEGUROS                 FARM FRITES

81                                91 Peter Van Petegem (Bel)
82 Francisco Tomas Garcia  (Spa)  92 Serguei Ivanov (Rus)
83 Pedro Horillo (Spa)            93 Steven Kleynen (Bel)
84 Juan Miguel Mercado (Spa)      94 Michel Lafis (Swe)
85 Victor Hugo Pena  (Col)        95 Geert Van Bondt (Bel)
86 Luis Perez Rodriguez (Spa)     96 Miquel Van Kessel (Ned)
87                                97 
88 Juan Carlos Vicario (Spa)      98 Pieter Vries (Ned)
                                  99 Andreas Klier (Ger)

BANESTO                           LAMPRE - DAIKIN

101                               111 Oscar Camenzind (Swi)
102 Dariusz Baranowski (Pol)      112 Franco Ballerini (Ita)
103 Candido Barbosa (Por)         113 Sergio Barbero (Ita)
104 Thomasz Brozyna (Pol)         114 Massimo Codol (Ita)
105 Eladio Jimenez  (Spa)         115 Gabriele Missaglia (Ita)
106                               116 Mariano Piccoli (Ita)
107 Francisco Mancebo (Spa)       117 Marco Serpellini (Ita)
108 Unai Osa (Spa)                118 Zbigniew Spruch (Pol)

VINI CALDIROLA - SIDERMEC         MEMORYCARD - JACK & JONES

121 Francesco Casagrande (Ita)    131 Bo Hamburger (Den)
122 Gianluca Bortolami (Ita)      132 Michael Blaudzun (Den)
123 Filippo Casagrande (Ita)      133 René Joergensen (Den)
124 Massimo Donati (Ita)          134 
125 Mauro Gianetti (Swi)          135 Mikael Holst Kyneb (Den)
126 Marco Milesi (Ita)            136 Bjarke Nielsen (Den)
127 Guido Trentin (Ita)           137 Arvis Piziks (Lat)
128 Matthew White (Aus)           138 Martin Rittsel (Swe)
                                  139 Jacob Moe Rasmussen (Den)
                                  
FRANCAISE DES JEUX                LOTTO - ADECCO

141 Stéphane Heulot (Fra)         151 Andrei Tchmil (Bel)
142 Grégorz Gwiazdowski (Pol)     152 Mario Aerts (Bel)
143 Xavier Jan (Fra)              153 Serge Baguet (Bel)
144 Yvon Ledanois (Fra)           154 Glenn D'Hollander (Bel)
145 Christophe Mengin (Fra)       155 Sébastien Demarbaix (Bel)
146 Sven Montgomery (Swi)         156 Kurt Van De Wouwer (Bel)
147 Cyril Saugrain (Fra)          157 Rik Verbrugghe (Bel)
148 Jean-Michel Tessier (Fra)     158 Geert Verheyen (Bel)

LIQUIGAS - PATA                   FESTINA - LOTUS

161 Davide Rebellin (Ita)         171 Christophe Moreau (Fra)
162 Stefano Cattai (Ita)          172 Florent Brard (Fra)
163 Cristiano Frattini (Ita)      173 David Clinger (USA)
164 Fabio Marchesin (Ita)         174 Giuseppe Di Grande (Ita)
165                               175 Andy Flickinger (Fra)
166 Cristian Salvato (Ita)        176 Rolf Huser (Swi)
167 Alessandro Spezialetti (Ita)  177 Fabian Jeker (Swi)

US POSTAL SERVICE                 SAECO - VALLI & VALLI

181 Tyler Hamilton (USA)          191 Laurent Dufaux (Swi)
182 Marty Jemison (USA)           192 Daniel Atienza (Spa)
183 Benoit Joachim (Lux)          193 Christophe Brandt (Bel)
184 Patrick Jonker (Ned)          194 Armin Meier (Swi)
185 Levy Leipheimer (USA)         195 Igor Pugaci (Mda)
186 Christian Vandevelde (USA)    196 
187 Cédric Vasseur (Fra)          197 Francesco Secchiari (Ita)
188 Steve Vermaut (Bel)           198 

MERCATONE UNO - ALBACOM           TEAM POLTI

201 Marco Velo (Ita)              211 Richard Virenque (Fra)
202 Igor Astarloa (Spa)           212 Rossano Brasi (Ita)
203 Michele Coppolillo (Ita)      213 
204 Daniele De Paoli (Ita)        214 Mirco Crepaldi (Ita)
205 Fabiano Fontanelli (Ita)      215 Pascal Herve (Fra)
206 Riccardo Forconi (Ita)        216 Eddy Mazzoleni (Ita)
207 Oscar Mason (Ita)             217 Fabio Sacchi (Ita)
208 Gian Mario Ortenzi (Ita)      218 Bart Voskamp (Ned)

CREDIT AGRICOLE                   TONISSTEINER-COLNAGO

221 Bobby Julich (USA)            231 Tom Desmet (Bel)
222 Chris Boardman (GBr)          232 Pauly Burke (USA)
223 Marcel Gono (Aus)             233 
224 Fabrice Gougot (Fra)          234 Nicolas Coudray (Swi)
225 Christopher Jenner (NZl)      235 Davy Delme (Bel)
226 Anthony Langella (Fra)        236 Morgan Fox (Irl)
227 Anthony Morin (Fra)           237 Masahiko Mifune (Jpn)
228 Jens Voigt (Ger)              238 Kurt Van Landeghem (Bel)
                                  239 Jonas Emmanuelson (Swe)

VILLE CHARLEROI - NEW SYSTEMS

241 Marc Streel (Bel)
242 Grégory Barbier (Fra)
243 Renaud Boxus (Bel)
244 Vincent Cali (Fra)
245 Geoffrey Gremelpont (Bel)
246 Jorgen Bo Petersen (Den)
247 Laurent Pillon (Fra)
248 Philip Vereecke (Bel)

back to top