News for April 20, 2000
Blijlevens to back up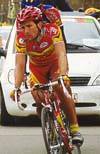 Jeroen Blijlevens
Photo: © Bert Geerts
After his second placing in today's Grote Scheldeprijs (GP de l'Escaut) in Belgium, Polti's Jeroen Blijlevens will have no time to relax as he fronts up for tomorrow's GP Denain, in France. The winner of the both events last year will not be able to achieve that this year, although a win and a second would certainly not be a bad thing.
It is the sixth round of the Coupe de France, currently led by Frenchman Laurent Brochard who rides for Jean Delatour. The competition is open to French riders and French teams, so Blijlevens will not be racing for points. Kirsipuu will be amongst his chief rivals though, along with Robbie McEwen (Farm Frites), Fabrizio Guidi (FdJ), Jeremy Hunt and Jay Sweet (Big Mat) and today's winner, Enrico Leoni (Alessio).
The 196 kilometre race is favourable to sprinters, but others such as Blijlevens' teammate, Mirko Celestino, or Laurent Desbiens (Cofidis) have a chance.
Simoni prepares
Last year's third placing in the Giro d'Italia gave Ballan-Alessio rider, Gilberto Simoni a large boost in kudos and a change of team to Lampre-Daikin, after the latter were seeking another GC rider to complement Oscar Camenzind. Simoni wants to repeat, or better his success in this year's Giro, starting in under a month's time in the Vatican. He has been training on some of the major climbs - Abetone, Pratonevoso and Sestriere in order to improve and familiarise himself with this year's challenges.
He said, in an interview with La Gazzetta dello Sport that he "is a little like Moser [his second cousin]. When I wake up, I open the window and see the road, I say 'What a beautiful day'".
He believes that the time trial from Briançon to Sestriere will be one of the deciding stages, and took great care this week to travel and memorise the course. He has won the amateur version of the Giro (the 'baby Giro') in 1993 amidst snow on a similar course. He believes that he can win this year's Giro and has strong ambitions. 28 year-old Simoni's career has not always gone according to plan but now he feels he is in his prime, and will have a strong Lampre team to support him.
In last week's Settimana Lormbarda, he tested himself, attacking on the Colle della Maddalena to on the last stage to try and eat away at Serguei Gontchar's lead. He was unsuccessful in the finsh, but was still able to stay away for two-thirds of the stage. "I have to lose another two kilos, now I am 62," he says. "Up to now I have done a lot of hard work, but once it has been done, it makes you better."
Wüst wants to win in Köln
Festina's German sprinter Marcel Wüst has had a fine season so far but in Easter Monday's 85th edition of Rund um Köln it's more than just doing a good job. Köln is his home town and he really wants to show the home folks what he can do at his best.
"I have been on the podium and I have been fifth in this race before but never won. I would be more disappointed with a second place here than in the Vuelta," he says.
This time he has a strong team along with Sascha Henrix, Fabian Jeker, Rolf Huser and the Spanish Casero brothers. Major rivals are of course Telekom who have Jens Heppner as captain with the number one. However, Erik Zabel will probably be the man to beat for Wüst providing he starts.
The teams: Telekom, Festina, Lotto, Polti, Rabobank, Memorycard, Team Cologne, Gerolsteiner, Agro Adler, Team Nürnberger, Team Coast, Post Swiss, Saturn, Bankgirolotterij-Batavus, Mat Ceresit, Collstrop, Palmans, Vlaanderen 2002, Tönissteiner, AXA, Peugeot Radteam Berlin and Team Hohenfelder-Concorde.
The organizers have managed to hire Eddy Merckx as sports director for the race. The idea was that he and the former director Rolf Wolfshohl should share the leadership, but Wolfshohl said 'no thanks' earlier this spring.
Hushovd on home roads
By Tomas Nilsson, cyclingnews.com correspondent
Last year's winner Norwegian Thor Hushovd (Crédit Agricole) will ride for his old amateur team Ringerike SK in the only UCI classed race in Norway, Ringerike GP, April 27 to May 1. The team has just finished the Tour de Loire et Cher (2.6) with Gisle Vikøyr as the overall winner and Gabriel Rasch as third. Ringerike SK also won the teams competition.
Hopes are high for the race on home roads, according to website Syklingens Verden. Pro squads among the 18 invited teams comes from Saturn (USA) and Mroz (Pol) in second division and Hohenfelder-Concorde (Ger) and Team Crescent (Swe) from third. Other teams: Team Odense (Den), Piels-Gazelle (Ned), Team Mälarenergi (Swe) plus national selections from Denmark and Latvia. The Norwegian teams: Ringerike SK, TVK, Sandnes SK, Horten OCK, Fana IL, Eidsvoll SK, Buskerud CK, Bærum OCK and a selection from the Østlandet region.
Interesting names in the preliminary startlist: Frank McCormack (USA), Mike Barry (Can) and Harm Jansen (Ned), Saturn and Hohenfelder's three Australians Nick Gates, Peter Rogers and Corey Sweet.
The stages:

Stage 1 - April 27: Hønefoss-Brandbu-Hønefoss, 159.3 km
Stage 2 - April 28: Hønefoss-Vikersund-Hønefoss, 153.1 km
Stage 3 - April 29: Hønefoss-Ringkollen, 148.2 km
Stage 4 - April 30: Hønefoss-Jevnaker-Høenfoss 170.8 km
Stage 5 - May 1: Hønefoss-Vikersund-Hønefoss 170.2 km

Criterium du Dauphiné-Libere
One of the important lead up events to the Tour de France, the Criterium du Dauphiné-Libere (June 4-11), was presented today in Lyon. Although last year's winner, Alexandre Vinokourov (Telekom) has said that he will not race, the organisers Thierry Cazeneuve and Charly Mottet have managed to attract a quality field. Lance Armstrong, Alex Zülle, Abraham Olano and Laurent Jalabert are scheduled to start on what is set to be a fairly traditional course.
The week long race starts in Grenoble with a 3.6 kilometre prologue - with a difference. The short race will feature 1.8 kilometres of climbing, reaching 228 metres as the riders storm the Bastille in the centre of Grenoble. The last time the race did this was in 1979 when Bernard Hinault beat van Impe and Zoetemelk for the honours.
It doesn't get any easier, as the next day finishes in Lyon at the top of the Croix-Rousse, where Hinault again won in ....
It doesn't get any easier, as the next day finishes in Lyon at the top of the Croix-Rousse, where Hinault again won in 1981. The following day, June 6, the race starts in Châtillon-sur-Chalaronne - generally flat apart from the Croix de Chaubouret and finishes in St Etienne. On June 7 there will be an individual time trial between St Etienne and St Chamond (35 km) - a brief respite before the riders tackle the notorious Mt Ventoux on Thursday, June 9, where the stage finishes.
A flat stage on Friday, followed by a tough Saturday stage (June 10) between Digne and Briançon with the Cols of Allos, Vars and Izoard to be surmounted. The final 130 kilometres of Saturday's stage correspond exactly to the last 130 kms of stage 14 (July 15th) of the Tour de France 2000, which goes from Draguignan to Briançon also over the Col d'Alos, Vars and Izoard.
The last stage of the Dauphiné Liberé goes from Saint-Jean-de-Maurienne to Sallanches (147 km), where the riders have to cross the Côte de Domancy four times. This is the same circuit as the Road World Championships in 1980 when Bernard Hinault was the winner.
US Postal's team director, Johan Bruyneel believes that the course is ideal preparation for Armstrong and any other Tour contender and it is definitely a return to tradition.
Only 112 riders are allowed to start, from the following teams: US Postal, ONCE, Banesto, Cofidis, Lotto-Adecco, La Francaise des Jeux, Credit Agricole, Ag2R Prevoyance, Bonjour-Tourpargel, and Jean Delatour.
Eleven clubs protest
In Spain, eleven clubs are protesting against the Balearic Federation, demanding that its president, Antoni Vallori, resign immediately. The clubs involved in the protest are: Club Ciclista Arenal, Societat Sportiva Illes Balears, Grupo Deportivo Gomila, Club Sociedad Deportiva Palma, Club Ciclista Defensora Sollerense, Grupo Deportivo Bimont, Club Ciclista Llucmajor, Club Ciclista Petra, Penya Ciclista Manacor, Club Ciclista Pitu and the Club Joventut Ciclista Manacor.
They believe that their current president is "inactive and preeoccupied with other affairs, leading to a decline in the number of cyclists as the base level as well as an alarming reduction in the number of foreign riders in races," according to their statement. "The Federation has simply become an agency whereby licences at high prices are processed, but management plans with concrete objectives do not exist or never have done."
Creed to 7UP
Courtesy of John Alsedek, cyclingnews.com correspondent
Up and coming American rider, Michael Creed has become the latest addition to US division III tema, 7UP-Colorado cyclist, according to an official announcement today. Creed is currently racing with the U.S. National Team in Guadaloupe, and the 19-year-old's potential hasn't escaped notice. Team manager Scott McAfee pointed out that "Michael won a record 17 national titles as a junior - that's just amazing", while director Jeff Corbett sees him as a valuable GC rider due to his climbing skills. Creed's first event with the 7 UP/Colorado Cyclist squad will be the Tour of the Gila (May 3rd-7th).