First Edition Cycling News, May 31, 2009
Edited by Peter Hymas
Gilbert surprised opponents in Giro's Anagni stage
By Gregor Brown in Anagni, Italy
Philippe Gilbert (Silence - Lotto) celebrates
Photo ©: Roberto Bettini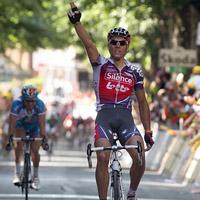 Belgium's Philippe Gilbert delivered a surprise blast to the classification favourites in Saturday's Giro d'Italia stage to Anagni. The one-day race specialist used the rise into the city's centre to anticipate his rivals for the win.
"I saw on the first lap a good moment to attack, and I attacked in the in the same place. I had good legs, and knew I was good to try," said Gilbert.
The 2.7-kilometre climb came at the end of an 18.2-kilometre closing circuit. Gilbert jumped the likes of Danilo Di Luca, who wanted to try to grab the bonus seconds on offer for the overall classification.
Gilbert's win was the first by team Silence-Lotto in the 2009 edition, a race that teams Columbia-Highroad and LPR Brakes have dominated. The winner of 2008's Paris-Tours and Omloop Het Volk also captured his first win of the season Saturday.
"I began the Giro with the ambition to win one stage. I came close before and finished sixth, but that's not enough for me."
Coming up on
Cyclingnews will cover the 60th edition of the Dauphiné Libéré live as of stage 4 on Wednesday, June 10, at approximately 15:00 local Europe time (CEST)/ 23:00 Australian time (CDT)/ 9:00 (USA East).

WAP-enabled mobile devices: http://live.cyclingnews.com/wap/
Gilbert told Cyclingnews last week that he continued in the Giro d'Italia only for his Italian director sportif Roberto Damiani. Damiani encouraged him to continue in order finish the three-week race in Rome.
"I was really tired after the mountain stages: I got better, then I got worse, and it was like this for close to 10 days. I said to myself that maybe it's time to go home.
"I stayed in the race, and now I'm really happy I did that."
The race ends with a 14.4-kilometre time trial on Sunday in Rome.
Di Luca admits Giro defeat to Menchov
By Gregor Brown in Anagni, Italy
Danilo Di Luca was unable to distance Menchov in stage 20
Photo ©: Roberto Bettini

Danilo Di Luca admitted defeat in the Giro d'Italia following the penultimate stage to Anagni Saturday. The winner of the 2007 edition trails Russia's Denis Menchov by 20 seconds ahead of a time trial in Rome.
"I think at this point it will be truly impossible, the time trial is a race that always suits him more than me," said Di Luca of team LPR Brakes. "It means that I have finished second, but I still believe I raced a great Giro d'Italia."
Di Luca slipped to second overall after last week's 60.6-kilometre time trial in Cinque Terre. He had led the race for seven days and won two stages, San Martino di Castrozza on day four and Pinerolo on day 10.
His last chance to take over his rival was the mountain stage up the Vesuvio volcano yesterday. He trailed by 20 seconds, but gained eight seconds in time bonuses by finishing third. Saturday, he had hoped to win the stage and gain the 20-second bonus to move into the overall lead by two seconds.
"Philippe Gilbert went well. He started over a kilometre out and no one pulled him back. It was not a finish truly suited to my style, it was too flat, suited to [teammate Alessandro] Petacchi. If he had not pulled in that last kilometre for me then he could have won."
Di Luca finished 12th in the 203-kilometre stage won by Belgium's Gilbert.
Di Luca will face the 14.4-kilometre stage in the historic centre of Rome. It starts and ends next to the Imperial Fora and passes some of city's famed sites – Porta Pia, Piazza del Popolo, Piazza Venezia and the Coliseum. He expects to lose 30 to 40 seconds from his rival Menchov.
Seeldraeyers first Belgian in maglia bianca
By Gregor Brown in Anagni, Italy
Kevin Seeldraeyers (Quick Step)
Photo ©: Sirotti
Kevin Seeldraeyers is set to become the first Belgian to win the Giro d'Italia's young rider classification when the race finishes Sunday in Rome. He could take the final maglia bianca ('white jersey') of best under-26 rider.
"It almost 100 percent that I will win the jersey," he told Cyclingnews. "I am not so good, but the time trial is flat and it is not long. They say there are a lot of corners and it will be hard to take a lot of time back."
The centennial Giro d'Italia ends with a 14.4-kilometre time trial in the centre of Rome. His lead of 2:11 over Francesco Masciarelli (Acqua & Sapone - Caffe Mokambo) should see him keep the classification's lead.
Seeldraeyers of team Quick Step took the white jersey of the best young rider from Thomas Lövkvist (Team Columbia-Highroad) on the Giro's mountain stage to Monte Petrano.
"The hardest stage was to Pinerolo because I had diarrhea. It was a big problem and hard that day, but I wanted to continue for the classification.
"Now it is nice, but in the race it is not so nice sometimes. There was a lot of pain through the three weeks, this Giro was not easy."
After three weeks of racing through Italy, Seeldraeyers will return to Belgium and prepare for the Ster Elektrotoer stage race and the Belgian championships.
"I want to race for the classification in the big tours and small tours, and get more jerseys. It is not so easy, I am not Alberto Contador."
Contador won the young rider classification of the Tour de France in 2007, the same year he won the race's overall classification. He went on to win the 2008 Giro d'Italia and Vuelta a España.
The Giro d'Italia began 100 years ago. Organisers introduced the young rider classification in 1976, won by Alfio Vandi.
Satisfied Swift settles on Rome
By Daniel Benson in Anagni, Italy
Ben Swift (Team Katusha)
Photo ©: Sirotti
Despite three hard weeks of racing, Britain's Ben Swift was a key protagonist in the main break of the Giro d'Italia's penultimate stage to Anagni. The Team Katusha rider led the charge from the peloton and slipped away at kilometre four with Robert Förster (Team Milram), Felix Cardenas (Barloworld), Angel Gomez (Fuji-Servetto), Pablo Lastras (Caisse d'Epargne), Anders Lund (Team Saxo Bank), Francesco De Bonis (Diquigiovanni-Androni) and Guillaime Bonnafond (AG2R-La Mondiale) for company.
"I actually attacked first and I got away on the cobbled climb. I wasn't expecting to get a gap but the roads were really tight and I almost over-cooked it on the corners," Swift told Cyclingnews at the finish in Anagni. "After I attacked a group came across and we worked well but the bunch never really wanted us to get away."
The break worked together smoothly, its lead peaking at over three minutes, before a fast moving train lead by LPR Brakes and Silence-Lotto began to chase.
"I was caught just as Menchov and Di Luca started sprinting for some bonus points, but I'm happy that my Giro ended on a bit of a high."
Swift is competing in his first Grand Tour after a having a strong start to the season with his new squad. And after a string of promising places in the sprints over the last three weeks, and surviving the tough parcours the race threw at him, he's learnt a lot about himself. "The last three weeks have definitely been a good experience and I've really enjoyed it. Okay, the last five days have been tough and that eight hour stage really, really hurt me, but now I can rest before the national championships and I'll crack on from there," he said.
Davis fooled in Giro's Anagni stage
By Gregor Brown in Anagni, Italy
Allan Davis (Quick Step) on the uphill finish
Photo ©: Sirotti
Allan Davis missed his last chance to win a stage in the 2009 Giro d'Italia in Saturday's 203-kilometre stage to Anagni. The Australian sprinter had highlighted the stage as his best opportunity in the final week of the three-week stage race.
"I wanted to win today. I felt like I had the legs to win," Davis told Cyclingnews.
The stage, just north of Napoli, suited Davis due to the slight uphill finish and because other top sprinters have already gone home (Mark Cavendish of Team Columbia-Highroad and Tyler Farrar of Garmin-Slipstream). The stage meant a lot to the general classification favourites, who wanted the time seconds on offer ahead of Sunday's closing time trial.
Denis Menchov (Rabobank) led the race by a slight margin over Danilo Di Luca (LPR Brakes) heading into the 20th stage. Belgian's Philippe Gilbert surprised everyone with a hard attack at 1500 metres remaining.
"That is racing. There is a stage to be won, everyone wants his opportunities. Gilbert attacked to perfection and I hoped that someone would chase, but no one jumped."
Thomas Voeckler escaped for second and Davis placed behind Stefano Garzelli (Acqua & Sapone - Caffe Mokambo) in the sprint for third. It was his third fourth place in the race, he has had two thirds and a second on the Milano stage.
"Every sprint I have done I have not been out of the top four. It's been a positive Giro for me, with a bit more luck I could have won two stages easily."
Davis' season started well with three stage wins and the overall in the Tour Down Under. He plans to recover in Spain after the Giro d'Italia with his family and then build towards a chance at riding the Tour de France.
Contador concludes pre-Tour Alps recon
Alberto Contador (Astana)
Photo ©: Susanne Goetze

Alberto Contador of team Astana concluded a five-day training session in the Alps in which he previewed four stages of this July's Tour de France.
While in the Alps Contador previewed stages 15-18, comprising three road stages and the final time trial.
"I began with the uphill finish in Switzerland, in Verbier, which is new," said Contador, the 2007 Tour de France champion. "It's a hard finish, but I don't know how much of a difference it will make among the favourites. I don't know if it's tough enough, though it's good for me. Then I saw the Grand and Petit Saint Bernard, a stage in the third week, after the second rest day. It will be a day of attrition, though it depends on how the general classification goes and if there are brave people who wants to animate the race The altitude will also will be an important factor.
"We also saw what I consider the queen stage of the Tour [stage 17], finishing on Le Grand-Bornand," continued Contador. "Although it is not very long, only 169 kilometres, it has five difficult mountain passes, beginning with the Cormet de Roselend, which is climb from the start, and ending with the Romme and Colombiere climbs, with the finish line only 15 kilometres afterwards.
"Finally, we have seen the final, 40-kilometre time trial in Annecy. The course is flat enough and there are no complicated curves. The only prominent feature is a three-kilometre climb at kilometre 25, after which the course is favorable. In spite of everything it will be a difficult time trial because it's the day after the queen stage."
Contador plans to recover from his trips to the Alps in order to prepare for the next race in his schedule.
"I did some good base work thinking about the Tour," said Contador. "I gave myself a few good beatings in training so next week I will recover a bit, because on Sunday [June 7] I begin again with competition".
Contador will compete in the upcoming Dauphiné Libéré which takes place June 7-14.
Two world records set in Moscow
For the second day in a row, Kevin Sireau has broken the world record for the 200 metre flying sprint at the GP of Moscow. The Frenchman covered the distance in 9.572, which is a significant improvement over the 9.650 he recorded on Friday. Before Sireau lowered the world record twice in two days, the previous record belonged to Theo Bos who rode 9.772 in December 2006. As did Sireau, Bos also set his record in Moscow on the Krylatskoe velodrome, utilized for the 1980 Olympic Games, which has a reputation for being particularly fast.
A tall sprinter (1.88m and 90kg), Sireau is a two-time world champion. In Manchester, England last year and Pruszkow, Poland this year he won the team sprint with the French team. Sireau also won a bronze medal in the individual sprint behind his compatriot Gregory Baugé and Malaysia's Azizul Hasni Awang at the 2009 world championships.
In addition to Sireau, four members of Team Moscow set a new world record for the junior men's team pursuit. Victor Manakov, Konstantin Kuperasov, Ivan Savitsky and Matvej Zubov covered 4000 metres in 4:04.448 at Russia's junior national championships, beating the previous mark by more than three seconds. The previous world record was also set by a Russian team in 2003.
Cyclingnews is changing - Sneak preview no. 1!
We told you earlier in the week that we'd be revealing a number of exciting changes to the site over the coming week and true to our word, here is the first...Brand NEW navigation!
We've split the navigation by disciplines, making it much easier and faster to find just the information you want, whether it's on road, mountain bike, track or cyclo-cross. For example, choose 'Road' and 'News' and all you'll see is road news stories. Here's a preview of what it will look like...
Don't forget to check back daily for more exciting sneak previews.
Daniel Benson and the Cyclingnews team
(All rights reserved/Copyright Future Publishing (Overseas) Limited 2009)