First Edition Cycling News, June 1, 2009
Edited by Peter Hymas
Menchov motors to Giro victory
Denis Menchov unleashes his emotions
Photo ©: AFP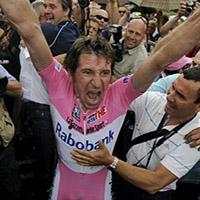 Throwing his arms in the air, his pink skinsuit blemished by oil, water and grime from the Roman roads, Denis Menchov survived a final-kilometre crash to win the centenary Giro d'Italia. Sunday's emotional triumph is his third Grand Tour victory and, according to the Russian, the best of his career. Cyclingnews' Shane Stokes reports.
Rightly or wrongly, 31-year-old Denis Menchov has built a reputation of being cool, calculating and defensive; making efforts when they are needed, then maintaining a vice-like grip once in the race lead. Sunday's dramatic finish of the Giro d'Italia contrasted utterly with the calm, assured way he went about winning this race, and so too did his burst of emotion after the line.
It's not often he shows such an explosion of joy, but then again these were special circumstances. "I tried to stay very focused and quiet during the whole Giro," Menchov said afterwards, explaining his impassive demeanor throughout the race. "And I knew when I was finished, all the tension was gone. It was the stress and emotion of 21 days. I had to let go.
"This win is very special - when I won the Vuelta, it was more calm," he continued. "This is the best win I've ever had in my career, because of the Centenary, because of the media, and because of the riders who took part. I think I really deserved to express that [emotion] after the finish."
Fittingly for a contest that ended in the shadow of the Colosseum, both he and closest challenger Danilo Di Luca had a real gladiatorial ding-dong in the final time trial. Di Luca tore out of the blocks and sprinted almost continuously to clock pole position at the first time check, using his well-known explosiveness on the long drag after the start.
Di Luca hardly sat in the saddle in that time and, watching him throw his bike around, it was clear that he couldn't possibly keep that frenzy going for the full 14.4-kilometre distance. Menchov, on the other hand, gauged things perfectly. He had elected for a time trial bike rather than the road bike chosen by his rival, and that, his noticeably lower position and his superior pacing saw him carve the pedals around, cut through the air, and ultimately go far quicker.
Continue to the full feature
Di Luca risks all in Giro finale
By Gregor Brown in Rome, Italy
Danilo Di Luca (LPR Brakes)
Photo ©: Roberto Bettini
Danilo Di Luca (LPR Brakes) pushed the limits in the Giro d'Italia's final day Sunday in Rome to try and eliminate his 20-second deficit to race leader Denis Menchov (Rabobank). The rain on the ancient cobbles and the crash of his Russian rival had created a dramatic ending, but Di Luca needed more.
"I took chances. I started with a normal bike because rain started to come down and I wanted to risk it. I gave it my all," said Di Luca.
It all came to a head after three weeks of racing in Italy's capital. Di Luca faced a 14.4-kilometre time trial, a specialty suited to Menchov. The afternoon rain added an additional element and a chance for Di Luca to win a second Giro title.
Di Luca closed the 21st stage with a time of 19:27, 45 seconds behind the winner. Surrounded by press, he watched Menchov ride the final kilometre towards his Giro d'Italia title.
The roar of the crowed signalled something wrong: Menchov crashed on the wet Via di San Gregorio within view of the Colosseum at 900 metres remaining.
"For me, to win the Giro like that because of a crash would not have been good. In the end the best rider won [the Giro]."
Menchov collected himself and finished the stage 21 seconds faster than Di Luca. The Italian lost the Giro by 41 seconds after 3453.5 kilometres of racing.
Di Luca plans to take a break and then return for a build up to the World Championship. He will race the Vuelta a España stage race as preparation.
He will aim for the Ardennes Classics - Amstel Gold, Flèche Wallonne, Liège-Bastogne-Liège - and a second Giro d'Italia in 2010.
"I have already won a lot in my career. There are few who have the wins like me. I will continue on my path, I have about three or four good years ahead of me."
Konovalovas rules Roman roads
By Gregor Brown in Rome, Italy
Lithuanian time trial champion
Photo ©: Sirotti
Ignas Konovalovas (Cervelo TestTeam) was the surprise winner of the Giro d'Italia's final day in Rome on Sunday. The Lithuanian took his most important career win in the 14.4-kilometre time trial ahead of riders like Bradley Wiggins (Garmin-Slipstream), Denis Menchov (Rabobank) and Lance Armstrong (Astana).
"I can't really believe what I did today. I was dreaming of it, but it came so fast and there has been no time to take in the emotions. I will now have more trust in myself, in my power and in my legs."
Konovalovas covered the course through Rome's historic centre in a time of 18:42. He had to wait around for half of the other 169 riders to finish the race before he would know he won.
Riders came in one-by-one: Wiggins posted 18:43, Armstrong at 20:01, not even his teammate and Tour de France winner Carlos Sastre could top Konovalovas' time.
"I had a little bit of fear, I knew that I had to be careful not to crash after I saw the course. I didn't even think about the win, but just a good time, a top 10 or five."
Konovalovas admitted the afternoon rain might have helped slow down his rivals. However, multiple national championship wins and a win in this year's Giro del Mendrisiotto prove his stature.
"It was my first Grand Tour, but there were not moments where I thought, 'Oh too much, I can't go on...' It was hard to face those first big days in a row, but after the first rest day, I started feeling better day-by-day.
"I am still young, the important thing is to discover my identity in this group. I can see that I am good in the time trial but I would like to improve in the climbs."
Konovalovas finished the Giro d'Italia 90th overall. He helped the team win three stages and finished 35th in the hardest mountain stage, Monte Petrano.
Gerdemann wins Bayern Rundfahrt
Linus Gerdemann (Team Milram)
Photo ©: Florian & Susanne Schaaf
Linus Gerdemann of Team Milram won the 30th International Bayern Rundfahrt on Sunday and gave his team its second consecutive win in the race following Christian Knees' victory in 2008. The 26-year-old Gerdemann finished the fifth and final stage, covering 166 kilometres from Friedberg and Gunzenhausen, in the field to defend his 10-second lead over Maxime Monfort (Team Columbia-Highroad) and to take his first overall victory in the five-day German stage race.
"I am overjoyed to have won such an important race for us," said Gerdemann. "I thank my teammates, who worked very hard for five days for our mutual success. I would also like to race organizer Ewald Strohmeier for the perfect organization."
Team Milram's directeur sportif, Christian Henn, commented on his team's victory.
"This Bayern Rundfahrt had a very strong field. We didn't make any tactical errors and so were able to fight for the win. Linus Gerdemann is just getting better and better and deserved to win this race. He is on the right way with an improving form."
Gerry Van Gerwen, Team Milram's manager, expressed his satisfaction with how the team performed throughout the race.
"Our main goal was the overall title in Bayern. The team around Gerdemann did that very well. You can see the development within the team. The Tour de Suisse is now the next step towards the Tour de France."
Contentpolis-Ampo DS pleased with team's Bayern Rundfahrt debut
By Monika Prell
Dionisio Galpasoro Martinez (Contentpolis - Ampo)
Photo ©: Florian & Susanne Schaaf
Having completed his first edition of the Bayern Rundfahrt, Contentpolis AMPO directeur sportif Oscar Guerrer was very pleased with his charges. The team maintained a constant prescence in the action, with Francisco Pacheco and Mikel Gaztañaga amongst the best sprinters, Eloy Teruel riding strongly in the individual time trial and Dioni Galparsoro and Oleg Chuzda finishing amongst the top 15 on general classification.
"I am very happy about the performance of the team. The Bayern Rundfahrt is at a very high level, with a very specific course. Naturally there were a lot of stages that finished in a mass sprint, because the German sprinters are the best one in the world. But finally those stages normally don't change the general classification," Guerrero told Cyclingnews after the finish.
The former sports director of Caja Rural, Kaiku and Fuerteventura was pleased with the performances of all the team's members. "We showed a good presence in the race, we did a good individual time trial, two of our riders finished 12th and 15th in the general classification and we had two of our sprinters amongst the best in the event. I am content with the performance of the team," added Guerrero.
Of André Greipel's superiority, Guerrero explained, "Besides the fact that Greipel is [one of] the world's best sprinters Columbia also participated in this race with a team that - with Mark Cavendish added - could participate with the same success at the Tour de France. They had a lot of riders for the final kilometres [of each stage], so we tried to do the sprint behind them, but it is very complicated. Although I think that fourth, fifth, sixth and seventh places are very good results for our riders."
Guerrero also praised the race's organisation. "The race was very well organised, they treated us very well. The organisation has a lot of experience and the race is very popular amongst the riders. We are pleased about the treatment of the hotels, the public and the organisation and we hope to be able to come back."
The only criticism the Spaniard had concerned the variety of stages. "Perhaps a second mountain stage would have been good, because if there are mostly sprint stages teams like Columbia dictate the race. I would have preferred two mountain stages, one time trial and two sprint stages."
Hanley seriously injured at Tulsa Tough
Monique Hanley (Team Type 1) fractured three vertebrae and dislocated her shoulder Saturday during the Brady Village Criterium on the second day of the Tulsa Tough cycling series in Tulsa, Oklahoma.
Hanley rider was one of at least three dozen riders who were involved a crash early on in the women's professional race.
"I had nowhere to go but to be catapulted," Hanley said.
The Australian has full range of movement in her arms and legs, according to Team Type 1 Team Director Jack Seehafer.
"That's the good news," he said. "But her dislocated shoulder will require surgery."
In addition to her broken bones, Hanley also has scrapes on her back, a bloody knee, swollen wrist and sore neck.
Hanley is one of two women with Type 1 diabetes on the Team Type 1 professional women's squad. The 31-year-old was diagnosed with the disease at the age of 19 but soon took up cycling as a way to stay active. She twice was a part of Team Type 1's eight-rider squad for the Race Across America and last year won a bronze medal at the Australian National Track Championships.
Previous News Next News
(All rights reserved/Copyright Future Publishing (Overseas) Limited 2009)