Tulsa Tough - NE
USA, May 29-31, 2009
Main Page Results Overall standings Previous Stage Next Stage
Stage 2 - May 30: Brady Village Criterium
Huff on a roll at Tulsa Tough
By Kirsten Robbins
Brad Huff (Jelly Belly) out runs
Photo ©: Tulsa Tough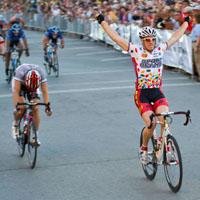 Brad Huff (Jelly Belly) tallied his second consecutive win at Tulsa Tough with a victory in the Brady Village Criterium held on Saturday. Huff keyed off his squad's perfectly timed lead-out to take the win ahead of Fly V Australia teammates Jonathan Cantwell and Bernard Sulzerberger.
"We had to break that win barrier this weekend because a big win has eluded us so far," said Danny van Haute, Jelly Belly directeur sportif. "Now we have two big ones in a row. These are Brad's first NRC wins of the season. He's not in peak condition right now. His goals are focused on the Tour of Missouri and the US Criterium Nationals later in the season."
Huff has a commanding lead of the Tulsa Tough omnium with 60 points. He leads ahead of Cantwell with 46 points and Hekman with 39 points. The omnium race is far from over with 30 points offered to the winner of the third and final criterium held on Sunday. "It's far from sewn up," said Van Haute. "We've been very happy with the stage wins but we are very serious about winning the overall here."
Cycling 101: Lead-outs
The men raced on an L-shaped, wide open course for a fast-paced 80-minute criterium. A break of 12 riders kicked off the criterium including three riders from Jelly Belly, three riders from Fly V Australia along, plus riders from Mountain Khakis and Texas Road House among several others. The large break failed to get organized and was reabsorbed into a highly animated peloton.
The second break of the race included Floyd Landis (OUCH p/b Maxxis), Daniel Ramsey (Mountain Khakis), Curtis Gunn (Fly V Australia) and Nick Reistad (Jelly Belly). The four gained a maximum of 20 seconds on the field for more than eight laps but they too were reabsorbed. "The racing is by no means dull down here," Van Haute said. "The teams have been very aggressive, not only interested in a field sprint."
Fly V Australia formed an early lead-out with eight laps to go showcasing their eight-man team with runner up Cantwell settled on the end and ready to sprint. Jelly Belly took over their lead-out with one lap to go bringing their omnium leader to his second victory.
"I was surprised they took it so early but they were very strong," Van Haute said. "We flew by at the end and took the lead for Brad and we took it all the way. It was really just cycling 101 - the standard lead-out."
Olds takes cycling career to new heights
Shelley Olds (Proman Hit Squad) claimed a win
Photo ©: Tulsa Tough

Shelley Olds (ProMan) won her first National Racing Calendar (NRC) event at the Tulsa Tough Brady Village Criterium on Saturday, a win long overdue for the savvy sprinter. Olds bested legendary sprinter Laura Van Gilder (Mellow Mushroom) and Jen Purcell (Colavita-Sutter Home) in a mass gallop to the line.
"This is my first big win and a huge confidence builder," Olds told Cyclingnews. "I competed in the race over the last four years and only ever got seconds and thirds. The field is also way bigger this year. The secret is out of the bag, everyone knows about the Tulsa Tough because the field size is huge."
Van Gilder's round one victory combined with her second place today gave her the overall Tulsa Tough omnium lead with 56 points. Olds is sitting in a close second place with 48 points and Jen McRae (Team Type 1) holds third with 46 points.
Olds' cycling career has sky rocketed from capturing numerous podium places at top-notch events in North America. The US National Team has rewarded Olds by offering her a hard-earned spot on the squad for the upcoming Giro d'Italia Internazionale Femminile. She will continue her world-class endeavors during the winter with a track World Cup schedule.
"I'm so excited to do that [women's Giro], it has changed my whole perspective for road racing," said Olds who uses the road season as preparation for the track. "I'm so honored to receive that invite to go to Italy. I respect every rider I'm going to be racing with over there. I hope to help them and do what I can to get us results."
Risky business
Some 90 starters launched off the start line ready for action at the Brady Village Criterium located in the Brady Arts district of Tulsa. The women competed on an L-shaped circuit for what was supposed to be a 60-minute race.
A massive pile-up caused nearly the entire field to hit the pavement just a few laps into the race. Bikes and bodies scattered everywhere and the event organisers neutralized the women's field for 20 minutes allowing riders time for medical treatment and mechanics time to fix broken bikes.
"I had to stay in the big ring for the whole race because my gears would not shift," Olds said. "But, that ended up being fine on a course like today. There have been a lot of crashes, I think mainly because there are different ability levels within the race. This one made everyone a little nervous and I tried to stay at the front and in good position."
Flyers went, but not too far. With one lap to go it was clear a field sprint was going to take place. Team Type 1 prepared to lead-out their sprinter Jen McRae followed by strong representation at the front from Colavita-Sutter Home, TIBCO, Mellow Mushroom and Lip Smackers. Olds shot out of the last corner and made her way to the finish line with plenty of time for a victory salute.
Photography
For a thumbnail gallery of these images, click here
Images by Tulsa Tough
Images by Rob Evans /www.otbphoto.com
Results
Pro men

 
1 Brad Huff (Jelly Belly)                          1.15.03
2 Jonny Cantwell (Fly V Australia)                         
3 Bernie Sulzberger (Fly V Australia)                      
4 Carlos Vargas (Hotel San Jose)                           
5 John Murphy (Ouch Presented By Maxxis)                   
6 Jeremiah Wiscovitch (Sc Velo)                            
7 Matty Rice (Jelly Belly)                                 
8 Mark Hekman (Mountain Khaki p/b EP-NO)                   
9 Stephen Tilford (Trek)                                   
10 Kyle Gritters (Southern California Velo)                
11 Chad Cagle (Mercy)                                      
12 Emile Abraham (Trinikal Wheelmen)                       
13 Ben Kersten (Fly V Australia)                           
14 Jeff Hartman (Big Shark Racing)                         
15 Philip Wikoff (Super Squadra)                           
16 Benjamin Baumgartner (Metro Volkswagen Cycling Team)    
17 Kirk Albers (Texas Roadhouse Cycling Team)              
18 Joey Rosskopf (Jittery Joe's U-25 p/b Kudzu.c)          
19 Nick Clayville (Hagens Berman Llp)                      
20 Andrew Crater (TeaWheel & Sprocket)                     
21 Adamountain Myerson (Khaki p/b EP-NO)                   
22 Rodney Santiago (Champion Cycling)                      
23 Ian Dille (Bicycle Sport Shop Pb Girling)               
24 Kevin Attkisson (Texas Roadhouse Cycling Team)          
25 Chris Hall (Hrrc/ Trek Stores)                          
26 Jared Barrilleaux (California Giant Berry Farms/s)      
27 James Esser (Southern California Velo)                  
28 Brandon Gritters (Kahala Lagrange)                      
29 Joseph Pinkerton (Natural Grocers p/b Xp Compani)       
30 Yosvany Falcon (Champion Porsche p/b Herbalife)         
31 Victor Ayala (Kahala Lagrange)                          
32 Gavi Epstein (Raft Genius)                              
33 Alexi Martinez (Kahala Lagrange)                        
34 Danny Kam (Bearclaw)                                    
35 Thomas Brown (Jittery Joe's U-25 p/b Kudzu.c)           
36 David Guttenplan (Mountain Khaki p/b EP-NO)             
37 Christian Helmig (Metro Volkswagen Cycling Team)        
38 Johnny Clark (Jelly Belly)                              
39 Brian Forbes (Rideclean p/b Patentit.com)               
40 Justin England (California Giant Berry Farms/s)         
41 Emilio Asgoneguy (Aerocat Cycling Team)                 
42 Diego Garavito (Aerocat Cycling Team)                   
43 Andrew Dahlheim (Metro Volkswagen)                      
44 Randy Reichardt (Natural Grocers p/b Xp Compani)        
45 Barry Lee (Hotel San Jose)                              
46 Adam Bergman (Kentucky Flyers)                          
47 Steve George (Fly V Australia)                          
48 Cody Stevenson (Team Budget Forklifts)                  
49 Caleb Manion (Rock Racing)                              
50 Pat Lemieux (Texas Roadhouse Cycling Team)              
51 Jonathan Mccarty (Ouch Presented By Maxxis)             
52 Ryan Parnes (Webcor/alto Velo)                          
53 Heath Blackgrove (Cycling Timara)                       
54 Jesse Moore (California Giant Berry Farms/s)            
55 Justin Beard (Hincapie/gary Fisher Pb Barkle)           
56 Steven Wheeler (Super Squadra)                          
57 Floyd Landis (Ouch Presented By Maxxis)                 
58 Mat Ankney (Mercy Cycling)                              
59 Rand Miller (Webcor/alto Velo)                          
60 David Wenger (Bicycle Sport Shop Pb Girling)            
61 Chris Wherry (Hotel San Jose)                           
62 John Fletcher (St. John's)                              
63 Frank Travieso (Champion Porsche p/b Race Edge)         
64 Oscar Clark (Jittery Joe's U-25 p/b Kudzu.c)            
65 Victor Gil Llorens (Mercy Cycling)                      
66 Curtis Gunn (Fly V Australia)                           
67 Tyler Jewell (Txtough p/b Hybridsports)                 
68 Joseph Schmalz (Mercy Cycling)                          
69 Bill Elliston (Van Dessel)                              
70 Phillip Mann (Ciclismo Racing)                          
71 Chris Winn (Rmcef/ Westside Cycling)                    
72 Micah Cloteaux (Great Eagle)                            
73 Nicholas Coil (Tradewind Energy / Trek Stores)          
74 Alex Welch (Mercy/specialized)                          
75 Jason Allen (Rock Racing)                               
76 Bill Marshall Jr (Mercy Cycling)                        
77 Daniel Ramsey (Mountain Khaki p/b EP-NO)                
78 Matthew Crane (Jelly Belly)                             
79 Nicholas Reistad (Jelly Belly)                          
80 Jeremy Powers (Jelly Belly)                             
81 David Kemp (Fly V Australia)                            
82 Rob Bush (Texas Roadhouse Cycling Team)                 
83 Scott Davis (Fly V Australia)                           
DNS Marco Aledia (Kenda Pro Cycling p/b Spinergy)          
DNS Michael Creed (Rock Racing)                            
DNS Freddie Cruz (Rock Racing)                             
DNS Danny Finneran (Rock Racing)                           
DNS Cesar Grajales (Rock Racing)                           
DNS Nick Kiernan (Morgan Stanley/24 Hr Fitness/s)          
DNS Bill Stolte (Tradewind Energy/trek Stores)             
DNS Paul Thomas (Rideclean p/b Patentit.com)               
DNF Jorge Alvarado (Kahala Lagrange)                       
DNF Rahsaan Bahati (Rock Racing)                           
DNF Jonathan Baker (Vitamin Cottage p/b Xp Compani)        
DNF Jikenda Baldesare (Pro Cycling p/b Spinergy)           
DNF Kolt Bates (Mercy Cycling)                             
DNF James Carney (Rideclean p/b Patentit.com)              
DNF Joshua Carter (Abd Cycling Team)                       
DNF Warney Crosby (Tx Tough Cycling)                       
DNF Ben Day (TeaFly V Australia)                           
DNF Sheldon Deeny (Bissell Pro Cycling Team)               
DNF Justin Fraga (Webcor / Alto Velo)                      
DNF Jared Gilyard (Rideclean p/b Patentit.com)             
DNF John Grant (Texas Roadhouse Cycling Team)              
DNF Justin Hale (TeaWm)                                    
DNF Seth Hansley (Champion Porsche p/b Race Edge)          
DNF Adrian Hegyvary (Hagens-berman)                        
DNF Aaron Johnson (Hagens-berman)                          
DNF Brice Jones (Mercy Cycling)                            
DNF Roman Kilun (Ouch Presented By Maxxis)                 
DNF Joseph Kukolla (Texas Roadhouse Cycling Team)          
DNF Cooper Lange (Hagens Berman)                           
DNF Bobby Lea (Ouch Presented By Maxxis)                   
DNF Sterling Magnell (Sc Velo)                             
DNF Bryce Mead (Jelly Belly)                               
DNF Adamercy Mills (Cycling)                               
DNF Tucker Olander (TeaEinstein's Racing)                  
DNF Steve Reaney (California Giant Berry Farms/s)          
DNF Stefan Rothe (Txtough p/b Hybridsports)                
DNF Sean Sullivan (Hotel San Jose)                         
DNF Bernard Vanulden (Jelly Belly)                         
DNF Bigdaddy Walker (Txtough p/b Hybridsports)             
DNF Andrew Wetherington (TeaFlyAM)                         
DNF Billy Jones (Endeavour Cycling)                        
 
Pro women
 
1 Shelley Olds (Proman Hit Squad)                      36.08
2 Laura Van Gilder (Mellow Mushroom)                        
3 Jen Purcell (Colavita/Sutter Home)                        
4 Jennifer Mcrae (Team Type 1)                              
5 Rebecca Larson (Jittery Joe's)                            
6 Martina Patella (ValueAct Capital)                        
7 Carmen Mcnellis (Colavita/Sutter Home)                    
8 Starla Teddergreen (Sugarcrm)                             
9 Liza Rachetto (SugarCRM)                                  
10 Shontell Gauthier (Colavita/Sutter Home)                 
11 Christina Smith (Veloforma)                              
12 Catherine Walberg (Team Kenda)                           
13 Carol Irving (Touchstone Climbing)                       
14 Olivia Dillon (Touchstone Climbing)                      
15 Alison Powers (Team Type 1)                              
16 Tiffany Pezzulo (Dft P/b Treads)                         
17 Samantha Schneider (Team Type 1)                         
18 Anne Samplonius (Lip Smacker)                            
19 Meredith Miller (Team TIBCO)                             
20 Jacquelyn Crowell (Team Type 1)                          
21 Shannon Koch (Metro Volkswagen Cycling Team)             
22 Ally Stacher (Team Kenda)                                
23 Toni Bradshaw (Lip Smacker)                              
24 Erika Graves (Kahala Lagrange)                           
25 Steph Roorda (Jazz Apple)                                
26 Melodie Metzger (Vanderkitten)                           
27 Katherine Sherwin (Team Advil-chapstick)                 
28 Kristen Lasasso (Mellow Mushroom)                        
29 Casey Gale (Tulsa Tough Racing)                          
30 Elizabeth Hatch (Vanderkitten)                           
31 Holly Borowski (Touchstone Climbing)                     
32 Amanda Miller (Lip Smacker)                              
33 Karla Kingsley (Team Sugarcrm)                           
34 Bri Kovac (Alderfer Bergen)                              
35 Kristin Wentworth (Team Kenda)                           
36 Jill Kislia (Team Kenda)                                 
37 Rachel Neylan (Proman Hit Squad)                         
38 Vanessa Drigo (Touchstone Climbing)                      
39 Sabrina Savage (Veloforma)                               
40 Emily Zell (ValueAct Capital)                            
41 Daniele Wikoff (Austin Flyers)                           
42 Katharine Carroll (Team TIBCO)                           
43 Melinda Weiner (Kahala Lagrange)                         
44 Leigh Hopkins (Vanderkitten)                             
45 Cathryn Merla-Watson (JosefinaSolar Eclipse)             
46 Kathryn Clark (Team Kenda)                               
47 Marina Duvnjak (Jazz Apple)                              
48 Jennifer Wilson (Vanderkitten Racing)                    
49 Kacey Manderfield (Lip Smacker)                          
50 Christina Ruiter (ValueAct Capital)                      
51 Dotsie Bausch (Jazz Apple)                               
52 Christine Roettger (Team Revolution)                     
53 Monique Hein (Dft P/b Treads)                            
54 Lauren Ellis (Jazz Apple)                            0.34
55 Malindi Maclean (Jazz Apple)                         0.52
56 Melissa Sanborn (Vanderkitten)                       1.01
57 Jennifer Reither (Momentum Cycling Powered By Ha)    1.04
58 Whitney Schultz (Metro Volkswagen Cycling Team)      1.38
DNS Patricia Black (Morgan Stanley/team Spine/spec)         
DNS Melissa Brown (Velossimo)                               
DNS Rushlee Buchanan                                        
DNS Marina Duvnjak                                          
DNS Kori Seehafer                                           
DNF Lauren Hecht (ValueAct Capital)                         
DNF Mary Ellen Ash (Sugar CRM)                              
DNF Lori Barrett (Team Hotel San Jose)                      
DNF Christy Blakely (BMW-Bianchi)                           
DNF Linsey Bradshaw-Sandoval (Dft P/b Treads)               
DNF Sydney Brown (Mercy Cycling)                            
DNF Rachel Byus (Team Hotel San Jose)                       
DNF Carrie Cash Wootten (Team Revolution)                   
DNF Priscilla Cazer (Carve)                                 
DNF Kim Ciolli (Team Solar Eclipse)                         
DNF Kathryn Donovan (Kahala Lagrange)                       
DNF Monique Hanley (Team Type 1)                            
DNF Jennifer Herrell-Rhoades (Mercy)                        
DNF Cari Higgins (Proman Hit Squad)                         
DNF Ashley James                                            
DNF Michelle Jensen (Mercy Cycling Team)                    
DNF Veronica Leal                                           
DNF Stacy Marple (Colavita/Sutter Home)                     
DNF Brooke Miller (Team TIBCO)                              
DNF Michelle Montoya (Moritz Chevrolet Cycling)             
DNF Lise Olivier (Tulsa Tough Racing)                       
DNF Virginia Perkins (Vanderkitten Racing)                  
DNF Lauren Robertson (Metro Volkswagen Cycling Team)        
DNF Beatriz Rodriguez (Kahala Lagrange)                     
DNF Kate Ross (Lip Smacker)                                 
DNF Miranda Long (Team Undiscovered)                        
DNF Magen Long (Team Pg13)                                  
DNF Morgan Patton (Team Type 1)                             
DNF Tammy Wallace (Moritz Chevrolet Cycling)                
DNF Kendi Thomas (Hagens Berman)