First Edition Cycling News, May 15, 2009
Edited by Peter Hymas
Savio polishes Scarponi's shoes
By Jean-Franšois QuÚnet in Mayrhofen im Zillertal, Austria
Stage winner Michele Scarponi
Photo ©: Roberto Bettini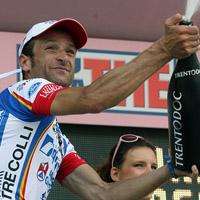 Michele Scarponi swears that he didn't lose 4:46 in stage five to Alpe di Siusi on purpose in order to get some freedom to break away the day after. "I lost time yesterday because I didn't manage to go well in an important stage," Scarponi said. "But if there wasn't this gap [6:19 to race leader Danilo Di Luca] they wouldn't have let me go today.
"I wanted to put myself back on track," Scarponi continued. "I intended to break away but it wasn't easy at the beginning of the stage. When there were five in the front, [Vasil] Kiryienka was the most dangerous. I didn't see that he had a flat tyre. I thought he had missed a curve or something. I waited for him a bit."
As Scarponi finished solo in Mayrhofen im Zillertal, he pleased the team manager who gave him a second chance after his involvement in Operaciˇn Puerto: Diquigiovanni's Gianni Savio. "I'd seen the good Savio a little bit sad this morning," Scarponi said. "Then he said, 'Somebody has to break away today and that person is Michele Scarponi.' I did it..."
Coming up on
Cyclingnews will cover the 60th edition of the Dauphiné Libéré live as of stage 4 on Wednesday, June 10, at approximately 15:00 local Europe time (CEST)/ 23:00 Australian time (CDT)/ 9:00 (USA East).

WAP-enabled mobile devices: http://live.cyclingnews.com/wap/

Savio looked even more delighted after the stage than Scarponi himself. "Michele is a very nice guy, he really deserves this win on both human and sporting points of view," said the team manager who called his media friends all around the world to let them know about Scarponi's stage win.

Asked if he wanted to give a message to all the people who sidelined him after his admission to doping in 2007, Scarponi said, "It's such a long message, I have to break away for that!" In Operaciˇn Puerto, Scarponi, whose name means "small shoes" in Italian, was referred to as "Zapatero" because the family name of the Spanish Prime Minister refers to shoe repair in the language of Cervantes.

"I simply answer that what belongs to the past isn't to be talked about anymore," Scarponi said.

"The riders who have paid are in fact the less responsible people in this affair," said Savio to justify that he hired the former Liberty Seguros rider last year. "He paid because he made a mistake. He was at the wrong place [Liberty Seguros] with the wrong person [Manolo Saiz] at the wrong time [2006]."
Boasson Hagen frustrated over missed opportunity
By Jean-Franšois QuÚnet in Mayrhofen im Zillertal, Austria
Edvald Boasson Hagen (Team Columbia - Highroad)
Photo ©: Roberto Bettini

Gent-Wevelgem winner Edvald Boasson Hagen has once again shown at the Giro d'Italia how much power he's got in his legs. The 21-year-old Norwegian out-sprinted Allan Davis, Filippo Pozzato and Matthew Goss for second place 32 seconds after Michele Scarponi had crossed the line.
"I'm a little bit angry that the rider away wasn't caught once we reached the finish," Boasson Hagen said. "It took too long before the chase started, but I think I will try again. This is a missed opportunity but I believe there will be more opportunities to come for me at the Giro d'Italia."
Riding his first Grand Tour, Boasson Hagen is in reality a domestique for Michael Rogers and the Swede Thomas L÷vkvist, who is his roommate. Both Scandinavians are similarly quiet people. Boasson Hagen, who is said to be shy, doesn't speak much. He was a smiling, happy cyclist on the start line of stage six in Bressanone after the test he passed the day before at Alpe di Siusi. Until five kilometres to the top of the climb, Boasson Hagen rode strongly with L÷vkvist on his wheel.
"I'm very happy with the way I rode uphill yesterday," Boasson Hagen told Cyclingnews. "My condition is good and I'm very hopeful for the rest of the race. The Giro d'Italia is my first Grand Tour but I'm not afraid of riding for three weeks in a row. Last year I did the Tour de Suisse and I recovered well. I was still feeling good after 10 days.
"I'm pleased to work as a helper. This is a good way for me to learn my job. I feel very good with Team Columbia," said Boasson Hagen.
What is exceptional in Boasson Hagen's second place in Mayrhofen im Zillertal is that he did his job as a domestique, taking L÷vkvist up to the front in the finale alongside Di Luca in the first 10 positions of the bunch, and he was still able to sprint for himself after that.
"I didn't think he'd be able to do that in a Grand Tour so early," said his adviser in Norway, Birger Hungerholdt, who is the manager of his former Continental team Joker-Bianchi. There are a lot of expectations in Norway around this champion in the making.
Wiggins enjoying Giro without pressure
By Gregor Brown in Mayrhofen im Zillertal, Austria
Bradley Wiggins (Garmin - Slipstream)
Photo ©: Sirotti
Bradley Wiggins has found his best climbing legs ever in this year's Giro d'Italia, finishing better than Lance Armstrong in yesterday's stage to Alpe di Siusi. The Garmin-Slipstream Brit believes the improvement is thanks to specific training and weight loss.
"I am enjoying it," Wiggins told Cyclingnews of his Giro d'Italia ride, despite losing team leader Christian Vande Velde in a crash on day three. "I was really looking forward to riding with him and being with him as long as possible on the climbs so I could give him confidence heading towards the Tour de France. However, I can do my own thing and race for myself, so it has been enjoyable in that sense."
The satisfaction was evident in Wiggins' relaxed manner the morning after the Giro d'Italia's first two high-mountain stages in the Dolomites. Wiggins, better known for time trialling and his gold medal performances on the track at the Olympics, lost only 32 seconds Tuesday to stage winner Danilo Di Luca (LPR Brakes-Farnese Vini) and 1:47 the next day to Denis Menchov (Rabobank). On the sixth day of racing in the three-week stage race, he is only 3:58 behind overall leader Di Luca.
"I am going to keep pushing on day-by-day and keep in contention, to the time trial [day 12, May 21] at least. I don't want to get carried away trying to protect a top 20 position because we have the Tour de France [July 4 to 26] coming up. I don't want to feel spent and not be able to ride."
The climbing ability comes from a five-kilogramme weight loss over the winter, specific road training and less activity on the track. Wiggins said that in the past he was not encouraged to watch his weight for his track objective, but that the attention to calories is paying off.
"He has always had the world championships or something on the track to prepare for," said Directeur Sportif Matt White. "The big difference is that he is running a lot lighter than he was 12 months ago."
White and Wiggins confirmed that after the 60.6-kilometre time trial in Cinque Terre, Wiggins would shift his focus off the overall classification and search to enter in an escape group for a stage victory. Wiggins affirmed his ambitions to finish the centennial Giro d'Italia, and strongly, with the 14.4-kilometre time trial in Rome.
Di Luca wants LPR to go higher
By Jean-Franšois QuÚnet in Mayrhofen im Zillertal, Austria
Danilo Di Luca (LPR Brakes - Farnese Vini)
Photo ©: Sirotti
Danilo Di Luca made clear after his first day in the pink jersey that the Giro d'Italia isn't enough for his cycling ambitions, neither is it for his teammate Alessandro Petacchi who joined him at LPR Brakes-Vini Farnese last year after being dropped by Milram due to his suspension for drug use.
"After the Giro we'll have to sit down with the people in charge of the team and talk about the future," Di Luca said. "Personally, I'm contracted with this team for next year, I don't know if Petacchi is as well or not. The existing contracts will have to be respected. But for us, the most important thing is to take part in the biggest races, including the Classics and the Tour de France."
LPR Brakes-Vini Farnese was left out of Paris-Tours last year despite the presence of defending champion Petacchi because of a lack of biological passport. This year, ASO also denied the Italian team a start at the Ardennes Classics even though Di Luca is a former winner of FlŔche Wallonne and LiŔge-Bastogne-LiŔge. The same disappointment came to him from the organisers of the Amstel Gold Race, a race Di Luca has also won before.
"I don't know if there will still be a ProTour next year," Di Luca said. "But I hope that our sponsors will invest more to enable the team to take part in all the big races." The annual budget of LPR Brakes-Vini Farnese is rumoured to be around two million euro, which isn't much compared to Katusha or Team Columbia-Highroad's 12 to 15 million euro. Two years ago, Giro winner Di Luca was saying he had no intention to leave Liquigas but his implication in a doping controversy forced him out of the team.
Kessiakoff adds Swedish pride to L÷vkvist's exploits
By Jean-Franšois QuÚnet in Mayrhofen im Zillertal, Austria
Frederik Kessiakoff (Fuji - Servetto)
Photo ©: JF QuÚnet
The current best young rider and former maglia rosa Thomas L÷vkvist isn't the only Giro neophyte hailing from Sweden. Frederik Kessiakoff, 28, from Fuji-Servetto, has had a fantastic ride up to Alpe di Siusi where he finished 10th. He actually climbed better than race favourites Gilberto Simoni and Damiano Cunego.
"It was the first real test of the Giro for me," Kessiakoff told Cyclingnews at the start of stage six in Bressanone. "The day before it was a very fast climb, not exactly what suits me the best." In his first road races with Fuji-Servetto, the former mountain-biker realized one thing for sure. "The steeper it is, the better it is for me," said Kessiakoff.
After his encouraging debut at Le Tour de Langkawi where he took fourth place overall, Kessiakoff confirmed his adaptation to professional road racing as he finished fifteenth at Vuelta al PaÝs Vasco and ninth at the Tour de Romandie.
"I took it easy before the Giro and the recovery made me go very well, the Tour of Romandie helped me find my form," Kessiakoff said. "My tenth place at Alpe di Siusi hasn't changed my ambitions for my first Grand Tour: to finish the Giro would be a big achievement. A top-30 would be good. I'm a little bit afraid of doing something crazy. There are still two weeks to go. Maybe during the last week if I still feel good I could try something."
Kessiakoff was happy to see his compatriot in the pink jersey. "I knew about L÷vkvist's capacities but he still impressed me a lot in Alpe di Siusi. Normally we talk in the bunch and also before the stage start. It's nice to have somebody to talk to in our native language. But yesterday I didn't want to talk to him. He wasn't stressed but very focused with the pink jersey on his shoulders. There was no point disturbing him. With the white jersey, he's got less pressure now."
L÷vkvist was prompt to come and salute his compatriot at the start of stage six. He told Kessiakoff how much he was amazed to receive phone calls from different Swedish media all evening.
Davis third after furious team chase
By Gregor Brown in Mayrhofen im Zillertal, Austria
Allan Davis (Quick Step)
Photo ©: Gregor Brown

Allan Davis benefited from a furious chase back by his Quick Step team in Thursday's stage of the Giro d'Italia ľ 248 kilometres from Bressanone, Italy, to Mayrhofen, Austria. The Australian stayed well positioned through the technical finish to close the day in third, 32 seconds behind solo escapee Michele Scarponi (Diquigiovanni).
"Everyone tried their best, we tried to get over the climbs with as many riders as possible," Davis told Cyclingnews in the post-stage chaos. "We never decided to turn it off. Everyone was giving 100-percent in the last 40 kilometres and we came to a point where we ran out of troops."
The Quick Step riders marshalled the race lead with Team Katusha in the final 20 kilometres. They brought the three-minute lead of Scarponi down to one minute, when LPR Brakes took over for the race leader Danilo Di Luca.
Scarponi's effort was impressive considering that he started the move at kilometre 55 (with four others).
"Scarponi did a great job to stay away by himself. It was an unbelievable escape; he deserved the win and full congratulations to him," said Davis.
Davis has two more weeks of the three-week stage race to sprint for victory. He said he did not know precisely when his chance would come, but tomorrow's stage to Chiavenna could present an opportunity.
"I am looking forward to the next couple of weeks," said Davis.
Cyclingnews podcast: Episode 11
Taking the Giro by the horns
The Giro d'Italia is go, and already there's been lots to talk about in the first week. We give it our best shot in the Cyclingnews weekly podcast episode 11. Get it now while stocks last.
This week, Cyclingnews' Daniel Benson and BikeRadar's Jeff Jones show no mercy as they dissect the winners and losers in the first four stages. From Mark Cavendish's dig at 'disrespectful' Garmin, to his failure to beat Alessandro Petacchi, to Danilo Di Luca continuing the amazing success of Team LPR, to the enigma that is Tom Danielson. Outside Italy, we also cover Tom Boonen's latest flirtation with Bolivian marching powder, Alejandro Valverde's Italian ban and what lies ahead for Team Astana.
You can subscribe to the podcasts via iTunes (or just go to iTunes and search for 'cyclingnews') or via this XML feed: http://video.cyclingnews.com/podcasts/cn_podcast.xml
You can also download the podcasts directly by clicking on these links:
(All rights reserved/Copyright Future Publishing (Overseas) Limited 2009)