First Edition Cycling News, May 2, 2009
Edited by Peter Hymas
Wegmann wins Eschborn-Frankfurt
German Champion Fabian Wegmann (Milram) wins on home soil at the Eschborn-Frankfurt City Loop
Photo ©: AFP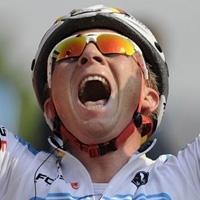 German Champion Fabian Wegmann took his first race win of the season in a tight two-man sprint Friday on home soil at the Eschborn-Frankfurt City Loop, formerly the Rund um den Henninger Turm. The Milram rider escaped with last year's winner, Dutchman Karsten Kroon (Saxo Bank), in the final moments of the race.
The duo escaped with a larger group of seven earlier in the race. With Wegmann and Kroon were Christian Knees (Milram), Paul Martens (Rabobank), Jelle Vanendert (Silence-Lotto), Bert De Waele (Landbouwkrediet-Colnago) and Matteo Carrara (Vacansoleil). Wegmann's teammate Knees controlled the others after the two went clear before the final 4.4-kilometre finishing circuit.
Wegmann and Kroon had a secure advantage in the final kilometre. Wegmann attacked went early and Kroon, second in Amstel Gold, quickly countered the move. Wegmann was able to hold Kroon and come around for a close win.
"It was extremely difficult today, because everyone was watching us," said Wegmann. "In the final circuit I went for it, attacked, and got away from the group. I knew that I could only beat Karsten Kroon if I led going into the finale. I am overjoyed that my plan worked."
Continue to full coverage of the Eschborn-Frankfurt City Loop
German federation looks to punish Schumacher
Stefan Schumacher faces disciplinary action
Photo ©: Roberto Bettini

If the head of the German cycling federation has his way, Stefan Schumacher will never race again. Rudolf Scharping threatened the cyclist with everything from disciplinary actions to lifelong expulsion from the federation. The cyclist's attorney continues to maintain that the test results merely show "left over" doping from the Tour de France.
"I don't think he will ever race again. There are self-destructive consequences in his case," Scharping, president of the Bund Deutcher Radfahrer (BDR), said Friday, according to the sid press agency. "There will be charges against him, we will look at requesting financial compensation for our damages, and finally it will be followed by his removal from the BDR."
Schumacher, 27, tested positive for the EPO derivative CERA at the Olympic Games, it was announced earlier this week. He has not yet announced whether he will have the B sample tested. He had previously tested positive for the same substance at the Tour de France last summer, and was given a two-year suspension for that violation.
In addition, the German Olympic Committee has said that it will demand that Schumacher refund the money that it spent to send him to the Olympic Games in Beijing last summer. Those games may have been the German's last. Under the International Olympic Committee's rules, an athlete found to have doped at the Olympics may not participate in the next Olympiad. That would leave Schumacher eligible again only in 2016, at the age of 35. And if he is expelled from the German federation, he would have to find a new federation to ride for.
Meanwhile, Schumacher's lawyer, Michael Lehner, again said the doping was still in his client's body after the Tour de France. "I don't see any new qualities. It is the same stuff. You have to look at the Tour de France and the Olympics together," he said.
Lehner's statements indicate that Schumacher used CERA during the Tour de France, which is in contradiction to the cyclist's consistent claim that he has never used any doping products. He is currently appealing his two-year ban for CERA use at the Tour with the Court of Arbitration for Sport, based on the argument that he did not dope.
In addition, Lehner criticised the fact that Schumacher's Olympic sample was apparently handled by the French laboratory in Chatenay-Malabry. That lab analysed his Tour de France samples. and both Lehner and Schumacher harshly criticised the lab's methods.
Rabon back in yellow at Romandie
Frantisek Rabon's time trialing ability has put him in the lead
Photo ©: Sirotti
Team Columbia-Highroad won the 14.8-kilometre team time trial Friday in Yverdon-les-Bains, Switzerland. The eight-man team, powered by two national time trial champions (Italian Marco Pinotti and Czech Frantisek Rabon), crossed the line in 18:37 bettering Caisse d'Epargne by 10 seconds and Team Saxo Bank by 16 seconds.
Thanks to the team's win, its 20th of the season, Columbia-Highroad's Rabon narrowly reclaimed the yellow jersey which he wore for one day following his victory in the prologue. Rabon, 25, leads Saxo Bank's Lars Bak by one second and Columbia-Highroad teammate Tony Martin by eight seconds on general classification.
"Our big goal coming here was to win the team time trial and we've achieved that," said Rabon . "Getting me back into the lead was an extra bonus."
"It was an incredibly technical circuit, with six kilometres of climbing and a descent with a lot of roundabouts where we were touching speeds of 70km/h," continued Rabon. "But even if there were several individual time trial champions, team time trialing is a different discipline, you have to remember that. It's never just about yourself in a team time trial. It's about working as a unit, which is what we did well."
Rabon will try to defend his leader's jersey in Saturday's mountainous stage despite not being known as a climber.
"I'll defend my overall lead as best I can, but to be honest, it's good that we've got four guys in the top 10, not just me, because that way the team is working for all of us and we've got a lot of options. Wearing yellow always gives you extra motivation, and that may help, too."
The riders face a 157.5-kilometre stage tomorrow from Estavayer-le-Lac to Sainte-Croix which includes one category two and three category one ascents. The summit of the final climb, the category one Mauborget, occurs with only 11.1 kilometres remaining in the stage.
Continue to full coverage of the Tour de Romandie.
UCI Disciplinary Commission to rule on Bos incident
Patrick Calcagni helped Darryl Impey reach the finish line.
Photo ©: Presidential Cycling Tour
The International Cycling Union (UCI) has announced it has decided to refer the incident involving Theo Bos and Daryl Impey during the final stage of the Presidential Tour of Turkey to its Disciplinary Commission. The decision is based upon examination of the report from the president of the commissaire's panel and the available television footage of the crash.
The UCI determined that Bos' behaviour undermined the image, reputation and interests of cycling and of the UCI. In accordance with article 12.1.005 of the UCI regulations, this infringement is liable to a suspension of one to six months.
Luuc Eisenga, Rabobank team spokesman, told Cyclingnews, "Team Rabobank is convinced that Theo did not do this on purpose. We know that this was a bad crash and we have already expressed our best wishes to Daryl Impey and Team Barloworld. We will fully cooperate with the procedure, and we will wait now for more information from the UCI."
Any sanction would be added to the technical sanctions already delivered by the commissaire's panel directly after the race. Theo Bos was disqualified and received a fine.
Redondo Ramos suspended for doping violation
José Antonio Redondo (Andalucia - Cajasur)
Photo ©: Monika Prell

The Spanish rider Jose Antonio Redondo Ramos was provisionally suspended by the International Cycling Union (UCI) following a doping violation, according to an official statement released by the UCI on Friday.
The decision to provisionally suspend the 24-year-old Redondo Ramos was made in response to a report from the Word Anti-Doping Agency (WADA) accredited laboratory in Barcelona indicating an the presence of methyltestosterone metabolites in a urine sample collected from him at an out of competition test on March 13, 2009.
The revised UCI anti-doping rules, which came into effect on January 1 2009, requires the UCI to provisionally suspend any rider for whom it receives an adverse analytical finding for a non-specified substance as identified in the 2009 prohibited list maintained by WADA.
"The provisional suspension remains in effect until a hearing panel convened by the Spanish Cycling Federation determines whether Redondo Ramos has committed an anti-doping rule violation," said the UCI.
Redondo Ramos has asked for a preliminary hearing regarding his suspension and has the right to request and assist in the analysis of his B sample.
Redondo Ramos has been a member of Andalucía-Cajasur, a Spanish Professional Continental team, since 2008. Prior to Andalucía-Cajasur, Redondo Ramos raced for Liberty Seguros-Würth (2005) and Astana (2006-2007).
Rojas off of Caisse d'Epargne Giro roster
José Joaquín Rojas (Caisse d'Epargne)
Photo ©: Mark Gunter
José Joaquín Rojas, the Caisse d'Epargne sprinter, was expecting to race the upcoming Giro d'Italia but has been denied a spot due to vertigo and dizziness suffered recently.
"I thought it had disappeared, but after my fall in the Tour of Flanders it has re-appeared. Recently, in the Vuelta a Rioja, I suffered dizziness when I was chasing the six-man lead group and I had to stop," said Rojas.
For Rojas his primary goal is to fully recover his health. "The only thing left is to solve the dizziness problem which has dragged on since December. Since then I have had all kinds of tests: cervical, resonance, hearing tests ... no one can provide me an explanation of what I have," he said.
Nevertheless, Rojas has not lost confidence in himself and hopes to be properly diagnosed and return to competition. "Due to the dizziness, a knee injury and falls my season has been a catastrophe. I haven't been able to build my form, but I've done well with what little I've had," said Rojas.
AG2R La Mondiale announces Giro roster
The French ProTour team AG2R La Mondiale has finalized its lineup for the centenary Giro d'Italia taking place May 9-31. The team stated its goal will be to place a rider in the top 10 and win at least one stage. Vincent Lavenu, AG2R team manager, expects the Slovenian Tadej Valjavec to be a contender in the overall standings.
AG2R La Mondiale Giro d'Italia roster: Renaud Dion, Alexander Efimkin, Sébastien Hinault, Yuriy Krivtsov, Julien Loubet, Jean-Charles Senac, Blaise Sonnery, Ludovic Turpin and Tadej Valjavec.
Cyclingnews weekly podcast: Episode 9
Even bigger than swine flu!
Swine flu and the recession getting you down? Once again, we urge you to look further than the Cyclingnews weekly podcast episode 9.
This week we crash tackle the big issues. From Davide Rebellin's positive test at last year's Olympics, to Andy Schleck's stunning victory in Liege-Bastogne-Liege, to the races leading up to the Giro d'Italia, to Lance Armstrong and the almost virulent growth of his Twitter following. We also throw in, at no extra charge, a full wrap up of the spring classics. That means we can mention Heinrich Haussler one more time.
You can subscribe to the podcasts via iTunes (or just go to iTunes and search for 'cyclingnews') or via this XML feed: http://video.cyclingnews.com/podcasts/cn_podcast.xml
You can also download the podcasts directly by clicking on these links:
Twitter with Cyclingnews!
Cyclingnews now twitters! It's the fastest way around to check up on the headlines, latest stories, photos and race previews, and all the other information you can find the world's largest cycling site. Keep up-to-date by using the latest technology, and look us up at twitter.com/Cyclingnewsfeed.
(All rights reserved/Copyright Future Publishing (Overseas) Limited 2009)