First Edition Cycling News, May 1, 2009
Edited by Peter Hymas & Laura Weislo
Rebellin requests counter-analysis, Police search in-laws' home
Will Rebellin get to keep his Flèche Wallonne win?
Photo ©: ISPA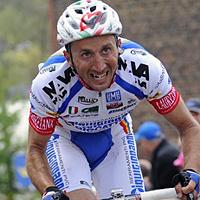 Police have searched the home of Davide Rebellin's in-laws in Galliera Veneta, Italy, in relation to the silver medallist's alleged positive anti-doping control at the 2008 Olympics. According to La Gazzetta dello Sport, investigators also searched the office of Doctor Enrico Lazzaro, who has already received a 14-month suspension in relation to a 2001 doping investigation.
As part of an anti-doping investigation, Rebellin and wife Selina Martinello were filmed at Lazzaro's office on May 14, 2001 and again meeting with Lazzaro at a Bassano del Grappa hotel on May 31, 2001 during the Giro d'Italia. Rebellin is said to have bought testosterone and Erythropoietin (EPO) at the hotel, but was never charged in that case.
A positive anti-doping control for EPO pulled Rebellin into a new scandal this week. The International Olympic Committee (IOC) released its findings following a re-testing of samples for the third generation of the blood booster, Continuous Erythropoietin Receptor Activator (CERA).
Rebellin maintains his innocence in the new case. Thursday, the Italian Olympic Committee (CONI) announced that Rebellin's lawyer Federico Cecconi asked for a counter-analysis of the B sample taken at the Olympics. The date for the counter-analysis is May 28 in Châtenay-Malabry, France.
The date of the counter-analysis means that the Italian Olympic Committee will change the Rebellin's summons date, originally slated for May 4 in Rome.
Rebellin and German Stefan Schumacher are two of six athletes who tested positive for EPO (the other four are non-cyclists, including Bahrain's 1500m gold medallist Rashid Ramzi). Rebellin claimed a silver medal in the men's Olympic road race behind winner Samuel Sánchez of Spain. (GB)
Pan American Championships fall under swine flu fears
By Laura Weislo
Fears over the H1N1 strain influenza (previously known as 'swine flu') outbreak have led Mexican officials to cancel a number of sporting competitions, one of which is the Pan American Road and Track cycling championships, scheduled to take place in the Chihuahua, May 8-15. USA Cycling confirmed to Cyclingnews that the event will be rescheduled, but the dates have not yet been announced.
Mexico has been the epicentre of the outbreak of the influenza strain. There have been 12 confirmed deaths from the virus in that country, with another 170 suspected. Mexico has closed schools, and is preparing to close offices, restaurants and sporting venues tomorrow in an attempt to slow the spread of the virus.
The Continental Championships are important for the UCI's Americas ranking, where significant points are available for the winner of the road events. USA Cycling was planning to send Cody O'Reilly and Lanell Rockmore to help earn points for the U23 Americas Tour ranking, which directly influences start positions in this year's UCI World Championships.
Katheryn Curi-Mattis, Rebecca Much, Sarah Hammer and Kim Geist were to represent the United States in the road events. Mattis and Much are scheduled for both the road race and the time trial while Geist and Hammer will compete only in the road race. Jimmy Watkins would have joined O'Reilly and Rockmore in the track events, while Cari Higgins was to compete with Geist and Hammer on the velodrome.
Leipheimer holds onto Gila lead
By Kirsten Robbins in New Mexico
Lance Armstrong (Mellow Johnny's) leads Peter Stetina (Felt-Holowesko Partners)
Photo ©: Mitch Clinton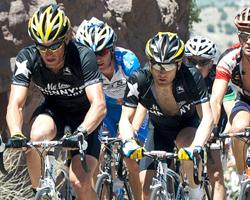 Levi Leipheimer held onto his lead in the Tour of the Gila on the race's second stage Thursday. Riding under the kit of teammate Lance Armstrong's Austin bicycle shop, Mellow Johnny's, Leipheimer finished safely in the bunch behind stage winner Sebastian Haedo (Colavita-Sutter Home). The Astana trio are using the national calendar event to prepare for the Giro d'Italia, but have been restricted by UCI rules from wearing their ProTour team kit.
The three faced a slew of attacks, and a dangerous breakaway which included Floyd Landis (OUCH Pro Cycling). The leaders gained an advantage of four minutes until some of the domestic teams lent a hand.
"We got help from Kelly Benefit Strategies and from Bissell and Team B [BMC riders] today," Leipheimer said. "Kelly Benefits were pretty professional today. They came up to help close the gap. In the end someone else won, but I recognized their effort."
"We are just going to keep doing what we can and trying out best," said Leipheimer. He relied on Lance Armstrong and Chris Horner to control the race over mountains and through strong winds to bring back a lengthy breakaway. "The stages are short so I think it is a perfect way to taper the volume but keep some intensity."
Leipheimer holds a 49-second time margin ahead of second placed Peter Stetina (Garmin-Holowesko Partners-Felt) and one minute ahead of third placed Chris Baldwin (Rock Racing) heading into the 25km time trial on Friday.
"It's going to hurt because we are at altitude and it is so windy," Leipheimer said. "But I think any time trial is good preparation for the bigger ones because you have to stay in practice of it. The warm up, concentration and the sensations of pushing yourself hard – you need to stay on top of that."
Hesjedal "fresh and strong" heading into Giro
By Gregor Brown
Ryder Hesjedal (Garmin-Slipstream)
Photo ©: Sirotti

Ryder Hesjedal has come off the Ardennes Classics week ready to support team Garmin-Slipstream in its goal to take the opening stage at the Giro d'Italia; a team time trial of 20.5 kilometres on Venice's lido.
"It's great, it's what I wanted to accomplish: ride well in the Ardennes and then come out of them in a good way," the Canadian told Cyclingnews. "I wanted to perform and not just be spent for the Giro. My approach to the spring has been better, I just feel fresher and stronger at this point."
Hesjedal topped off the Ardennes week with an 11th place on Sunday in Liège-Bastogne-Liège. He placed 35th in Amstel Gold and 25th in Flèche Wallonne. His best result in 2008 was 39th in Flèche Wallonne.
The Ardennes Classics were more of a warm-up for Hesjedal's ride in the Giro d'Italia, May 9 to 31. Following the one-day races he went back to his European base in Girona, Spain, with many of his Garmin-Slipstream teammates, including team manager Jonathan Vaughters, to work specifically on the Giro's first stage. The American squad wants to repeat last year's win in Palermo, which resulted in Christian Vande Velde wearing the leader's maglia rosa for one day.
"We have guys like Brad Wiggins on board to add to an already strong team that includes [David] Zabriskie and Vande Velde. It is our mind set that we need to repeat this victory. We are not thinking about anything less," explained Hesjedal.
"All of the potential riders are here, expect for the ones at Romandie [Tyler Farrar]. We are getting familiar with the team time trial motions and then relaxing over the weekend before we take off on Wednesday for the race."
Hesjedal spent some time earlier this year in Italy when he raced the Eroica Toscana and Tirreno-Adriatico. He lacks specific knowledge of the mountain stages but insisted that after the team time trial the goal is to make it through the Giro d'Italia and be on the right foot to start training for July's Tour de France.
Fuji-Servetto signs Piemontesi to fill roster gap
Fabrice Piemontesi at last year's Settimana Ciclista Lombarda
Photo ©: Roberto Bettini

Fabrice Piemontesi has been signed by the Fuji-Servetto team for the remainder of the 2009 season to bolster a roster depleted by injuries, illness and retirement. The 24-year-old Italian in his third year as a professional started the 2009 season on Team Piemonte and had previously raced for Team NGC Medical (2008) and Tenax-Menikini (2007).
Earlier in the season Jesus Del Nero, Hector Gonzalez and Beñat Intxausti suffered broken bones, Andrea Tonti suffered muscular problems, Davide Viganò was afflicted with a virus and David Cañada was diagnosed with skin cancer.
Two other Fuji-Servetto riders are no longer on the roster. Daniele Nardello retired after riding his last race at the Ronde van Vlaanderen while William Walker has been sidelined by cardiac problems detected during January's Tour Down Under.
Saxo Bank finalises Giro lineup
Team Saxo Bank has named their nine-rider squad for the upcoming Giro d'Italia with one change to their original roster. Danish champion Nicki Sørensen will not ride the Giro d'Italia as scheduled and has been replaced by Kasper Klostergård.
Team manager Bjarne Riis explained Sørensen's exclusion. "Nicki has in the recent period convinced us that he should be included on the Tour de France squad, and of course it would be natural for him to take a break now and skip the Giro," said Riis.
"He has been racing on a high level during the spring and during the Ardennes Classics he has really impressed us with his strength and experience. He will undoubtedly be a huge factor in the Tour de France in both the team time trial, where he has always been among the best, and in the mountains, which are his primary strengths."
Team Saxo Bank for the Giro d'Italia: Fabian Cancellara, Jens Voigt, Kasper Klostergård, Jason McCartney, Juan Jose Haedo, Lars Bak, Matthew Goss, Anders Lund and Jurgen Van Goolen.
Miller, Travieso tops in Walterboro
By Daniel Carruthers
Frank Travieso
Photo ©: Rick Kent

Frank Travieso (Champion Porsche) took his first victory of the USA Crits Speed Week series in the Downtown Walterboro Criterium Wednesday night. The Cuban escaped late in the race with Carlos Vargas (Team Hotel San Jose), then bested Vargas by a comfortable margin to nab the win.
"When I win a bike race, it is one of the best feelings ever and more so when my fiancée, Ashley Forgay, is there on the stage watching me win." Regarding his winning move, he added, "I saw Carlos go with 12 laps left, and he has been looking strong and consistent this series. I thought that would be the right move to be in, so I managed to jump on to his wheel, and we continued to put time on the chasers."
Travieso, representing his Miami based team Champion Porsche, has been searching for the elusive win all series. He has featured in many breakaways, but this was the first that succeeded.
Due to consistent placings in the top 10 so far this series, Vargas has jumped into third spot overall, and he is within striking distance of taking the overall series lead if he continues to do well. It is possible, with his star-studded team rallying around him, that Team Hotel San Jose will come out on the attack for the remainder of the series in the attempt to secure Vargas the top spot.
Aldo Ilesic (Team Type 1) took the final podium spot slightly ahead of the charging peloton.
In the women's race, US road and criterium champion Brooke Miller once again cruised to victory, but this time her TIBCO team had to do a bit of last-minute change in tactics to deliver her to the win.
"The girls had to do some quick thinking and improvising at the end of the race," said team directeur sportif Jeff Corbett. "We had the train set up but they got swarmed by Colavita." This forced Meredith Miller to the front too early, "and she ran out of speed before we had planned," Corbett said.
Joanne Kiesanowski recognized the situation and took over. "Jo stepped up and delivered Brooke to the last corner with a daring dive to the inside of the Colavita train in corner three," Corbett explained. "She blasted out of corner four with Broke in tow and delivered her perfectly."
Miller put in her patented finishing burst to seal the win ahead of her Speed Week nemesis, Tina Pic (Colavita/Sutter Home), while Kiesanowski kept on pushing to earn a much-deserved third place.
Men's teams announced for Air Force Cycling Classic
Promoters of the Air Force Cycling Classic on May 30-31 in Arlington, Virginia have announced a field of seventeen teams to take part in the two-day event combining two popular races into a single weekend.
On Saturday, May 30, the 12th edition of the Air Force Cycling Classic Clarendon Cup, formerly known as the CSC Invitational, takes place on the streets of Clarendon. The riders face 100 laps of the 1-kilometre, five-turn course which is a part of the USA Cycling National Racing Calendar. Amateur and children's races fill the morning schedule leading up to the men's professional event at 12:15 p.m.
On Sunday, May 31, the 3rd running of the Air Force Cycling Classic takes place in Crystal City where the riders will race 14 laps of a 12.5-kilometre circuit around The Air Force Memorial, the Pentagon and through the streets of Crystal City. This is a International Cycling Union's (UCI) sanctioned race and is part of the USA Cycling Professional Tour.
Cycling enthusiast of all abilities will be able to participate in the Crystal Ride event on Sunday, a non-competitive event held prior to the men's professional race. Participants will be able to ride for 3 and a half hours on the 12.5-kilometre circuit through Crystal City that will challenge them to complete up to 100km. Following the ride, the three Service Academies will compete in a team time trial on the same circuit prior to the men's professional race at 12 p.m.
Professional teams include Amore & Vita-MacDonald's, BMC Racing Team, Colavita - Sutter Home Presented By Cooking Light, DLP Racing, Kelly Benefit Strategies, Kenda Pro Cycling, OUCH presented by Maxxis, Planet Energy, Rock Racing, Team Mountain Khakis, Team Type 1, Nordland Hamburg, Jet Fuel, Team Medscheme and Fly V Australia.
Elite amateur teams Battley Harley Davidson and Richmond Pro Cycling will round out the field.
For additional information visit www.usairforcecyclingclassic.com.
Twitter with Cyclingnews!
Cyclingnews now twitters! It's the fastest way around to check up on the headlines, latest stories, photos and race previews, and all the other information you can find the world's largest cycling site. Keep up-to-date by using the latest technology, and look us up at twitter.com/Cyclingnewsfeed.
(All rights reserved/Copyright Future Publishing (Overseas) Limited 2009)