Latest Cycling News, April 29, 2009
Edited by Gregor Brown
Leipheimer wants to win Gila overall
By Kirsten Robbins in Silver City, New Mexico
Levi Leipheimer fights for Gila overall with Armstrong's backing
Photo ©: Jon Devich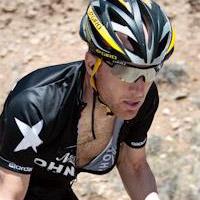 Three-time Tour of California winner Levi Leipheimer captured the opening stage of the Tour of the Gila and hopes to add the overall victory to his palmarès when the race ends on May 3. He will have strong backing from teammates Lance Armstrong and Chris Horner to make the victory possible.
"I hope to win here," Leipheimer said. "When I first got here, I thought we should try to let someone else win. But Lance told me something that made a lot of sense. He said 'you are a winner and you are here to win a race, we will figure the rest out later.'
Armstrong and Horner worked hard to put their star-climber into the overall race lead. The California state 'golden boy' powered up Mount Mogollon's eight-kilometre ascent to the finish line with a commanding lead ahead of the young American talent Peter Stetina (Garmin-Holowesko Partners-Felt) and Chris Baldwin (Rock Racing).
"Lance got to the climb and put the hurt on everyone so all I had to do was make one big attack and I was gone," Leipheimer said. "The other teams will probably try to take the lead away from me but we are going to figure it out as we go."
Leipheimer leads the overall classification ahead of second placed Stetina and third placed Baldwin. He will face a tough battle ahead if he wants to hold onto the leading role for the remaining four stages given the talented pool of climbers in attendance. His stage race victories this season include a third consecutive wins at the Tour of California, the recent Vuelta a Castilla y León and third in the 2007 Tour de France.
The International Cycling Union (UCI) permitted the short-handed Astana ProTour squad to participate in the five-day stage race less than 24 hours before its start under the neutral team name Mellow Johnny's. Their decision by-passed the UCI code 2.1.009 that prohibits ProTour and Professional Continental teams from participating in national level events.
"I'm happy we got to race here. But there was so much going on about that UCI code and obviously it isn't doing cycling any good. Teams like BMC are penalised for being a Pro team. We just don't have that many races here in the US to have that rule, because there aren't enough tiers of races. Hopefully that rule will change because it could have held back the race."
Armstrong preps for July
By Kirsten Robbins in Silver City, New Mexico
Lance Armstrong rides into form for the Giro d'Italia and Tour de France
Photo ©: Mitch Clinton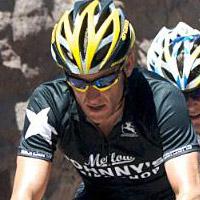 Seven-time Tour de France winner, Lance Armstrong hopes to be riding into top form come July for the Tour de France, an event highlighted on his calendar. According to Armstrong, the goal might not be to win the overall, but it is definitely to be in the fight.
"My goal is to certainly go to the Tour, we will see how I go here at Gila and then in Italy," Armstrong said. "I'll spend the month of June in the states training and preparing for the Tour de France. That's the grand daddy of them all so I'll go there and ride as fast as I can."
The Tour of the Gila marks Armstrong's first event since he broke his collarbone in March at the Vuelta Castilla y León. He underwent surgery to correct the break and has fully recovered. "In training it feels good. There is no discomfort or awkward feeling, even on rough roads. It should be fine. I think there is a natural sense of nervousness around it, wanting to protect it. There is so much hardware in there that it won't move."
Armstrong noted that Tour of the Gila was a good starter after surgery to provide a warm up for the Giro d'Italia, May 9 to 31. "This is an old classic race in America and it's important that we participate in it and support it. I think I just have to get back into it and use this race for good training."
Farrar impresses at Romandie on eve of Giro
By Gregor Brown
Tyler Farrar back towards winning ways in Tour de Romandie
Photo ©: Sirotti
Tyler Farrar has made an impressive comeback following a shoulder injury which forced him out of the Northern Classics earlier this month. The American of Garmin-Slipstream placed fourth in the 3.1-kilometre prologue time trial Tuesday at the Tour de Romandie, 11 days before his Grand Tour debut in the Giro d'Italia.
"I came here to build for the Giro, but my form seems better than I realised," Farrar told Cyclingnews. "There is not a lot of pressure on me at this race; it is more of a preparation for the Giro. That last day, with the big mountain first, may be a day for me."
Farrar was prepared to support his teammates in the Ronde van Vlaanderen and Paris-Roubaix, and try for a win of his own in Gent-Wevelgem, but a crash in Milano-Sanremo sidelined the sprinter. He separated his right shoulder in a crash 100 kilometres into the one-day Italian Classic. He avoided surgery, but had to wait two weeks before returning to training on the open roads.
"I am happy with the progress I've made. I still have to do a lot of rehab therapy to strengthen the muscles around it, but I have no pain when I am riding on my bike."
Farrar's progress and time trial result bodes well for Garmin's chances in the Giro d'Italia. Last year, the American team won the opening team time trial to place Christian Vande Velde in the leader's maglia rosa for one day.
"I was itching to ride a Grand Tour for a few years now. We have a really strong team for the team time trial, our biggest objective there. I will give 100 percent for it and then have a crack at the sprint stages. So far it [Italy] has been good to me this year."
Farrar, 24, took his biggest win to date in March when he beat many of the top sprinters in stage two of Italy's Tirreno-Adriatico. He got the jump on Mark Cavendish as the two passed Alessandro Petacchi in the last metres. Both are rivals he will face at the Giro d'Italia, May 9 to 31.
Andy Schleck sending out an S.O.S.
The result of years of hard work:
Photo ©: Sirotti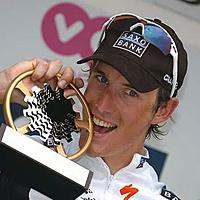 Three days after my win in Liège-Bastogne-Liège and I'm sitting in the gutter, covered in dirt and grease. No, I've not been on a 72-hour celebratory binge. Instead I'm on a road outside Luxembourg with a crappy broken down car for company. It's raining, I'm cold and I can't even turn on the car heater to keep myself warm. Who said cycling is glamorous? Seriously, I'd like them to come out and offer me road-side assistance.
It's a totally different scenario to last Sunday, when I was standing on the top step of the podium for the first time in a major Classic – my favourite Classic – at Liège-Bastogne-Liège. Just saying it, writing it even, gives me goosebumps ... or maybe that's the onset of hypothermia.
But before I talk Liège, I should rewind and begin with the Amstel Gold. After Liège, Amstel is the race I have always wanted to win. It's one of the most beautiful races of the year and one that my brother has already won.
I'm sure you will have heard about my brother's crash. What you might not know is that he crashed twice, and after the first mishap he managed to get back up and rejoin the peloton. I can't explain what it's like when a sibling crashes. Of course it's bad when a teammate goes down, but when it's your brother it's very different.
For a second you find yourself unable to react. Your brain scrambles as you try and focus on whether the name and number coming over the radio is correct, and of course you're travelling further away from where you really want to be. But after the first crash he came up to me and we talked for a few second. It was really reassuring and all seemed okay.
Read the full diary.
Schumacher's attorney ready to act
Stefan Schumacher's attorney questions Olympics positive
Photo ©: Roberto Bettini

Stefan Schumacher's attorney believes the positive doping control from the Beijing Olympics may be the traces of blood booster Erythropoietin (EPO) found in his client's system at the Tour de France – even if Schumacher denies ever using doping products.
Schumacher won two stages of the Tour de France and went on to represent Germany in the 2008 Olympics 13 days later. In October, the French anti-doping agency (AFLD) released anti-doping results that showed he tested positive for the Erythropoietin drug CERA (Continuous Erythropoietin Receptor Activator) twice at the Tour de France.
The International Olympic Committee (IOC) released results from re-tested samples this week that showed Schumacher also tested positive for Erythropoietin CERA at the Olympics.
"If there were still traces of doping in his body," then that could have led to the positive control in Beijing, Michael Lehner said. "I have already checked: the molecule lasts a long time." Lehner said he would ask the German cycling federation to supply him the documents in Schumacher's most recent doping case.
The International Cycling Union (UCI) confirmed there were two cyclists in the six athletes that have produced positive results in the re-testing (the other is believed to be Davide Rebellin).
"In accordance with the prevailing regulations, the UCI will not make any comment before the conclusion of the procedure conducted by the IOC," the UCI said in a statement Thursday morning.
Lehner has represented Schumacher in various doping-related actions since 2005. He plans to meet with the German cyclist next week to discuss the Olympic case. (SW)
Zomegnan promises tough Giro anti-doping controls
Giro race director Angelo Zomegnan
Photo ©: Roberto Bettini
Giro d'Italia director Angelo Zomegnan promises there will be no room for cheats at his three-week Grand Tour, May 9 to 31. He commented yesterday following the release of six positive anti-doping from the 2008 Olympics, which included silver medal cyclist Davide Rebellin.
"During the Giro, the UCI [International Cycling Union] and CONI [Italian Olympic Committee] will make use of the newest methods. If you want to come to the Giro to cheat, you are forewarned," Zomegnan told La Gazzetta dello Sport.
Rebellin and German Stefan Schumacher are two of six athletes who allegedly used blood booster Erythropoietin (EPO) CERA at the 2008 Games (the other four are non-cyclists). The International Olympic Committee (IOC) re-tested blood samples after the Games and released its results this week.
Zomegnan has been in contact with other sporting bodies to develop the most advanced testing, particularly relying on the International Cycling Union's (UCI) biological passport system, prior to the Giro d'Italia. He will also have tests in place for CERA (Continuous Erythropoietin Receptor Activator) to avoid the post race positives that the Olympics and the 2008 Tour de France had.
"We have been working for months with the experts from CONI, FCI [Italian cycling federation], UCI and WADA [World Anti-Doping Agency] to make the Giro and Italian cycling a secure product."
Twelve years before the 2008 Olympics, Rebellin gained his first big win in the Giro d'Italia. He won stage seven in Monte Sirino and spent six days in the race leader's maglia rosa.
"He is still presumed innocent, but in the past there were certain tapes that involved him [Rebellin and his wife were filmed at the offices of Dr. Lazzaro, May 2001 - ed.] and that was never completely cleared. I am sorry to hear of his positive because Rebellin really seems like a good guy."
Rebellin, 37, maintains his innocence and will wait for the counter-analysis of his B sample, to be performed on May 28. He will have to answer to the Italian Olympic Committee, who summons him to appear in Rome on May 4 at 12:00.
Ballan eyes May return
World Champion Alessandro Ballan
Photo ©: Roberto Bettini

Alessandro Ballan plans to return at the end of May. The World Champion, taken out by cytomegalovirus in March, visited the doctor for further controls yesterday.
"I have started to ride again, but will go easy for a week. I am thinking of re-entering in the Tour of Belgium or the Bayern-Rundfahrt," he team Lampre's Ballan told La Gazzetta dello Sport. Both races take place from May 27 to 31.
Ballan has the Tour de France, July 4 to 26, as his next goal. He previously indicated he would race the Volta a Catalunya (May 18 to 24), and may still take part in the Tour de Suisse (June 13 to 21) and the Italian Championships (June 27) depending on how his return race goes.
Doctors diagnosed Ballan with cytomegalovirus – a herpes-type virus that is accompanied by tiredness and fever. He dropped out of Tirreno-Adriatico after stage four on March 14.
Bajadali breaks scapula in Gila
By Kirsten Robbins in Silver City, New Mexico
Andrew Bajadali, Kelly Benefit Strategies' climber, was taken to the local Silver City, New Mexico, hospital with a broken scapula following a crash in the Tour of the Gila's opening stage yesterday. Bajadali recently won the Tour of Thailand and was a favourite to win the overall.
According to Jonas Carney, the squad's directeur sportif, Bajadali will fly home to Boulder, Colorado, where he will undergo further examination. "We need to wait until he sees his doctor before we know what his recovery time will be," Carney said. "It was unfortunate to lose Bajadali but we have four more stages so we are just going to keep bike racing."
Thüringen presents women's race
The Women's Thüringen Rundfahrt has defied the financial odds and presented its 2009 race, to be held July 21 to 25. The German race expects to have a top field, including Time Trial World Champion Amber Neben, Hanka Kupfernagel and Judith Arndt.
The stage race covers about 600 kilometres in six stages. Five of the stages are circuit courses, ranging from 80 to 130 kilometeres. The fourth stage features a 23-kilometer long individual time trial, which takes on the Dörtendorfer Berg, with a gradient of up to 15 percent.
"Nine of the top ten teams of the current UCI ranking have alredy expressed interest in being part of the 16-team field," said Vera Hohlfeld, the race's sporting director. "And the national teams from the USA, Australia, Canada and Sweden are also considering starting here." (SW)
The 22d Thüringen Rundfahrt der Frauen:
Stage 1: 21 July, Rund um Altenburg, 80km
Stage 2: 22 July, Rund um Gera, 130km
Stage 3: 23 July, Rund um Schleiz, 130km
Stage 4: 24 July, Rund um Triebes (ITT), 23km
Stage 5: 25 July, Rund um Schmölln, 112km
Stage 6: 26 July, Rund um Greiz, 130km
Equipe to Gracia Orlowa
Equipe Nürnberger Versicherung is sending a top squad to the Gracia Orlowa Tour, which starts today. Its cyclists have dominated the stage race in the past: Time Trial World Champion Amber Neben won in 2002 and finished second in 2006, and Trixi Worrack won a stage in 2004.
The race, which is held in the Czech Republic/Poland border area, features five stages. Stage three is an 18-kilometre individual time trial, which will see Neben make her European time trial debut this season. Stage two is the longest stage at 125.8 kilometres and features three category one climbs.
Equipe Nürnberger Versicherung: Trixi Worrack, Charlotte Becker, Eva Lutz, Madeleine Sandig (all Ger), Amber Neben (USA) and Marie Lindberg (Swe) (SW)
Twitter with Cyclingnews!
Cyclingnews now twitters! It's the fastest way around to check up on the headlines, latest stories, photos and race previews, and all the other information you can find the world's largest cycling site. Keep up-to-date by using the latest technology, and look us up at twitter.com/Cyclingnewsfeed.
(Additional editorial assistance provided by Susan Westemeyer.)
Previous News Next News
(All rights reserved/Copyright Future Publishing (Overseas) Limited 2009)