First Edition Cycling News, March 10, 2009
Edited by Greg Johnson and Les Clarke
Haussler sounds Paris-Nice warning
By Jean-François Quénet in La Chapelle-Saint-Ursin, France
Heinrich Haussler (Cervélo TestTeam)
Photo ©: AFP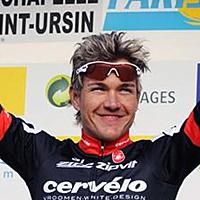 Heinrich Haussler (Cervélo TestTeam) fired a warning at his rivals after winning the second stage of Paris-Nice. While Haussler says he won't be going all out for more stage wins, he cautioned his competitors against complacency.
"I came here to win a stage. I've done that now. One or two more might come," he smiled. "My form is very good. I have to take it easy. I had two weeks off after the Vuelta then I started training again, so I have got to be careful. I don't want to go too deep here because if you do, then you stuff up Milano-Sanremo and if you mess up there you spoil [your chances] at Flanders as well."
Haussler's abilities have been known for some time but the Australia-born rider has come out of his shell in 2009, already claiming as many victories as he had in the previous two seasons combined. Despite an impressive sprint at La Chapelle-Saint-Ursin it didn't unfold the way he had hoped.
"The sprint wasn't too good," he said. "We pretty much used up all our boys in the cross winds. It broke up. [José Angel] Gomez Marchante was at the back with the Spanish riders then Jeremy [Hunt] and Hayden [Roulston] were on the front working all the time. Normally they'd lead me out but at the end I didn't really have anyone there. Hayden put me up, they used their last energy to put me up there at the last kilometre.
"I was behind Mark Renshaw and the boys from Columbia," he added. "The wind was coming more from the front, then the side. They started to die on the right side. There were some riders coming along so I thought, 'I've got to go now'. I was telling myself, 'this is too early'. I went at 350 metres to go from behind and it was enough. With 300 metres to go I was on the front and I thought 'oh my god it's too early'. There was a head wind but luckily enough I had such a big gap I didn't get caught at the end, so it was perfect."
Two years ago a young Haussler surprised not only because he won stage one of the Criterium du Dauphiné Libéré but because of the big guns he outsprinted: Tom Boonen, Thor Hushovd, Graeme Brown and André Greipel. He was humble and held no pretensions of having reached their level. "I'm sticking my nose in and getting a bit of a sniff of what it's like," he said at the time, although this latest result reveals he may be a lot closer now.
Born in Inverell, New South Wales, the German is no longer a beginner. His move to Cervélo TestTeam after Gerolsteiner closed its doors seems to have given the 25-year-old a boost. Haussler finished second overall in the Tour of Qatar, won two stages in the Tour of Algarve and came eighth in the Omloop Het Nieuwsblad, won by his teammate Thor Hushovd.
"It's a new team and I wanted to put my mark in the team by riding well from the start," said Haussler. "I'm a good rider. I didn't want to be a rider like I was at Gerolsteiner. I mean, I did get a lot of help at Gerolsteiner, but not the help that I've got here. The whole team is behind me and I trained really, really hard in the winter."
Evans impressed by Contador, readying for 2009 Tour
By Jean-François Quénet in La Chapelle-Saint-Ursin
Cadel Evans puts everything on the Tour
Photo ©: Bjorn Haake

Cadel Evans (Silence-Lotto) was shocked to read the results of Sunday's time trial at Paris-Nice. There was nothing wrong with his 19th place, but Alberto Contador (Astana) winning and putting him 31 seconds down on the flat stage was unexpected.
"I was absolutely impressed to see such a small guy going so fast on this kind of course," said Evans.
Evans is more comfortable with the early stages of Paris-Nice these days. He knows how the race unfolds in the crosswinds and doesn't panic like he has in years past. In 2005, the year he joined Davitamon-Lotto, he lost 58 seconds in a split during stage one, before going on to finish eighth overall - 58 seconds behind the eventual winner Bobby Julich.
During stage two to La Chapelle-Saint-Ursin Evans got trapped once, but it all came back together. "It was a nervous stage with crashes and crosswinds but it went ok," he said. "I was lucky to get through.
"I came to Paris-Nice with no expectations," he added. "I might have a try in some hilly stages to check out where I'm at against the climbers who are on form early this year. I'm not quite at my best yet. I had better form for Paris-Nice last year and I've had a difficult off-season."
Evans' first concerns were to fully recover from the injuries he sustained during and after the 2008 Tour de France, with the Australian suffering both shoulder and knee injuries. With Silence-Lotto switching bike supplier from Ridley to Canyon this season, Evans came to Paris-Nice with the intention to get used to the new equipment, especially with regards to his time trial bike.
"It's still a long way to go to July," said Evans. "The Tour de France remains my main goal of the year. I still think I can win it. But if Astana shows the same form as in the early part of the season, it will be very difficult to beat them."
Pauriol out on painful day for Cofidis
By Jean-François Quénet in La Chapelle-Saint-Ursin, France
Rémi Pauriol (Cofidis) was in better mood prior earlier in the year
Photo ©: Régis Garnier

The Cofidis team had a black day on stage two of Paris-Nice as its three captains all suffered. David Moncoutié lost 2:13 minutes in the crosswinds, Rémi Pauriol broke a collarbone and Amaël Moinard also crashed in the final three kilometres.
"It's a very painful day," said Cofidis directeur sportif Francis Vanlondersele.
It was a stark contrast with the team's confidence after Pauriol's excellent time trial on Sunday. The Frenchman finished that stage in 10th spot.
"I used to do well in hilly time trials sometimes," Pauriol explained at the start of stage two in Saint-Brisson-sur-Loire. "But riding well on the flat was new to me."
Pauriol's result on the opening stage came after two wins at the GP La Marseillaise and the GP of Lugano, where he outsprinted Davide Rebellin one week before Paris-Nice.
"When I joined Cofidis I promised to myself to start with good form because it's important to give guarantees as a new rider in a team," he said.
Pauriol is a former amateur French champion who is in his comfort zone on circuit races. Last year he came in third at the Tour of Catalunya after wearing the leader's jersey. This race was a turning point in his career. "I realised what my level was, but I also reproached myself for having lost the race for a long time afterwards," he said.
Hailing from Lambesc, near Marseille in the south of France, Pauriol wanted to do well at Paris-Nice. He was one of the very few riders on the start line who had raced up the Montagne de Lure twice before. "It was in the amateur ranks and I didn't go well but now I have good form," he said prior to crashing.
Cofidis now hopes the injury Moinard sustained to his tibia will not prevent him from climbing well. Following his 15th place at last year's Tour de France, the all-rounder from Normandy has growing ambitions, while Moncoutié's goal remain the same. Moncoutié, the winner of the Mont Faron stage in the Tour of the Mediterranean, arrived 2:13 minutes after the peloton despite getting through the race unscathed.
"I got trapped twice when the bunch split up," he said. "The second time with five kilometres to go, I gave up the chase. I won't change now. I've never felt easy in the crosswinds. I didn't come here to race for GC. For me, Paris-Nice will begin on Wednesday. I feel sad for Pauriol."
Rider update after Paris-Nice crashes
Alberto Contador (Astana) held onto yellow
Photo ©: AFP

Paris-Nice's second stage was a high-risk one, with names like Alberto Contador (Astana) and Frank Schleck (Saxo Bank) caught up in the mix. Both Schleck and Contador escaped the carnage with shattered wheels, however Jose Angel Gomez Marchante wasn't so lucky having broken his arm.
"I've been talking to other riders about the broken arm and they have recommended not to rush the recovery because it is very delicate and important to mend well, to avoid future problems," said Marchante. "I hope that I will soon be able to roll, at least not to lose fitness."
Marchante wasn't the only rider to end the stage at hospital. Caisse d'Epargne's Imanol Erviti also had an X-ray, which revealed no broken bones despite his discomfort. Erviti is still expected to start tomorrow's stage.
"Fortunately for Frank he was not severely hurt, but leaves only one destroyed back wheel to the mechanics," said Saxo Bank's Kim Andersen.
Quick Step set for competitive Tirreno-Adriatico
Quick Step is set for a strong performance at Tirreno-Adriatico, according to team sport director Luca Guercilena. Tom Boonen will lead the Belgian squad when the race commences in Tuscany tomorrow.
"We'll be present at the race of 'two seas' with a very competitive team line up," said Guercilena. "We'll be able to rely on Tom Boonen for the group sprints. Just like last year Tom has chosen the short Italian stage race as preparation for Milano-Sanremo. The spring classic Milano-Sanremo race is always one of Tom's principal objectives for the beginning of the season before the classic 'cobbles' races begin."
In addition to Boonen the squad will field Tour Down Under winner Allan Davis. The Historical race will also see the return of Stijn Devolder who has been suffering from knee problems.
"Alongside Tom will be Allan Davis who has already gained fantastic results at the Tour Down Under," said Guercilena. "Allan will be looking to leave his mark in some of the more selective stages. Stijn Devolder who is back racing after having problems with his knee will be looking for a good result in the fifth time trial stage."
Quick Step for Tirreno-Adriatico: Tom Boonen, Allan Davis, Dries Devenyns, Stijn Devolder, Kevin Hulsmans, Matteo Tosatto, Marco Velo and Maarten Wynants.
Menchov exceeds expectations
By Antonio J. Salmerón
Denis Menchov had a strong start to the season
Photo ©: Bert Geerts

In what can only be a good sign for Denis Menchov's Giro d'Italia odds, the Russian showed excellent form during the recent Vuelta a Murcia. The result came despite Menchov heading into the event with low expectations.
The winner of the race's 29th edition showed from the first stage in San Pedro Lorca to the last that's he has great condition. "I didn't really prepare for this race," Menchov told Cyclingnews. "I trained like always, but perhaps this time a little less than usual.
"My performance in the Tour of Murcia was a mystery to me, just because I had competed before, but I didn't know exactly how well I could go," he said. "In the end, my team was very strong, and we won two stages with Graeme Brown. I also finished and felt very good, but still far from my best of form, which should arrive in May, during the Giro d'Italia," he explained.
Having helped Joost Posthuma to the Ruta del Sol crown last month, it was time for some reward of his own. Rabobank's big general classification hope for this season's Grand Tours was singing the praises of the race he'd just conquered. "It's a race that I like because its route is very comprehensive and it includes all types of terrain: a time trial, a mountain stage and a pair of flat stages, but with tough winds against you," he said.
"There's a tendency to post good times here, although the strong wind makes the race a lot tighter, especially in the time trial," he added.
Natural disaster can't stop Bendigo Madison
Glenn O'Shea and Leigh Howard
Photo ©: Rick Robson
After witnessing the worst bushfires in Australia's history, the city of Bendigo still held its annual International Madison on Sunday night. Leigh Howard and Glenn O'Shea took the honours for the second consecutive year.
The goldfields region of Victoria was devastated by extreme fires. With over 200 people losing their lives and thousands of homes destroyed the Madison was a chance for sport to assist in healing wounds. As usual the field contesting the event was excellent, with the likes of European Six-Day stars Franco Marvulli and Leif Lampater pitted against local riders such as Howard and O'Shea, and the Meyer brothers.
Fittingly it was the Victorian Institute of Sport pair, which has also performed well in the Euro Six-Day circuit this season, which had its name engraved on the race's trophy for another year. Howard and O'Shea have quickly developed into a formidable pairing on the track, with the strength and understanding required to perform well in six-day events.
They are both also looking towards a career on the road, and most observers get the feeling it won't be long before we see them competing in the some of Europe's biggest races.
Longo-Ciprelli still firing
Jeanine Longo (Les Carroz Team)
Photo ©: Davide Tricarico

The incredible palmarès of Jeannie Longo-Ciprelli continued to grow last Saturday with a second place in the Gran Premio Brissago Lago Maggiore.
The 50-year-old from Saint-Gervais-les-Bains proved that she's lost very little of her speed, despite a career spanning three decades. As each year passes there's speculation surrounding her retirement date, although this latest result indicates she's far from finished.
With the track world championships approaching there was the chance Longo-Ciprelli may contest the event in Poland, given her pedigree. She has three world championship titles on the boards and took an incredible fourth place in the road individual time trial at last year's Beijing Olympic Games.
Given that she beat the likes of Kirsten Wild, Karin Thürig and Edita Pucinskaite in Switzerland, Longo-Ciprelli has shown that 2009 may be another vintage year for the irrepressible Frenchwoman.
Introducing the Cyclingnews Forum
We're pleased to unveil the Cyclingnews Forum and we'd like to welcome you to drop by! To kick things off we've created a selection of folders based on the themes you're familiar with from our site. We'll be adding more sections over the coming weeks as we find out which topics you, our readers, are talking about.
And we won't stop there. We'll also be improving the look and feel of the forums as we gear up for a total redesign of the site in a few months' time. All you have to do click on the link below and sign up.
Don't forget to let us know what sections or sub sections you want to see in the Forum, and stop by our About the website folder to see what's coming up in the future. For an extensive run down on features such as private message, avatars and profiling please click here.
(All rights reserved/Copyright Future Publishing (Overseas) Limited 2009)