First Edition Cycling News, June 12, 2009
Edited by Laura Weislo
Kazakhstan pays up for Astana
Lance Armstrong (Astana) and the team wore jerseys with faded logos
Photo ©: Sirotti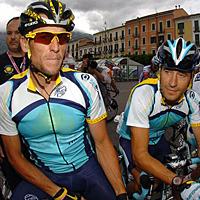 The Kazakh government said Thursday that it has paid off all the debts to the Astana team riders and have fulfilled its obligations to the UCI to fill the team's bank guarantee for the year. The Kazakhstan Minister of Tourism and Sports of Kazakhstan, Temirjan Dosmukhambetov, said some nine million dollars had been located to fund the team for 2009, "from different sources including the state budget."
News of the team's financial crisis became public before the Giro d'Italia, when the required bank guarantee to the UCI was emptied out. There was fear the team could fold before the Tour de France.
The vice president of the Kazakh cycling federation, Nikolai Proskurin said that with a new infusion of cash, all debts to the team have been paid. He also said the team has a new source of funding going forward. "We found a new sponsor for the team. This is an American company working on the Kazakh market," said Proskurin.
"We have already received bank guarantees for eight million dollars until the end of the year. I think we will overcome all difficulties in the near future," he added.
The announcement follows an ultimatum made two days ago by UCI president Pat McQuaid in which he threatened to withdraw the team's ProTour license, which is owned by the Kazakh federation, unless the issue of payments and bank guarantees were not settled.
The team has been riding in jerseys with the team's logos faded out in protest since the middle of the Giro d'Italia. They resumed in the normal jerseys earlier this week when the funding came through.
Szmyd finds glory, Basso pulls out
By Jean-François Quénet at the Mont Ventoux, France
Sylvester Szmyd (Liquigas)
Photo ©: Sirotti

It was so new to Sylvester Szmyd to be in a winning position that he lost control of himself before the last hairpin bend of the Mont Ventoux. His circumstantial ally Alejandro Valverde had to wait for him to give him the victory he deserved. "I can't hide that having done all my career as a domestique, I was in trouble when it came time to win, I was stressed out," the Polish rider explained with a large smile.
Winning is something the Pole can learn from his captain Ivan Basso who was his roommate at the Dauphiné Libéré. However, Basso left him alone after the Ventoux stage. The Italian decided to quit the race after coming down with a fever. He had reached the top of the Giant of Provence in 35th position, more than ten minutes down on GC.
"I don't think he's going slow," Szmyd said in defence of his captain. "He did a great Giro d'Italia. Maybe today he didn't go so good, but after three years without racing, the Giro cost him a lot of energy." [Basso was actually out of competition only one and half years, from April 2007 to October 2008 -ed.].
Coming up on
Cyclingnews will cover the 60th edition of the Dauphiné Libéré live as of stage 4 on Wednesday, June 10, at approximately 15:00 local Europe time (CEST)/ 23:00 Australian time (CDT)/ 9:00 (USA East).

WAP-enabled mobile devices: http://live.cyclingnews.com/wap/

"As a domestique, I don't spend as much energy in a Grand Tour," Szmyd continued. "OK you have seen me a lot at the head of the race and everybody remembers that, but sometimes when I wasn't well, I could allow myself to let them go, like at the Monte Petrano where I finished 35 minutes behind. It's logical that a domestique comes out of a Grand Tour fresher than his captain."

The Giro d'Italia, Dauphiné and Tour de France were on Szmyd's original racing plan when he joined Liquigas from Lampre, but he won't have the opportunity to repeat his success at the Mont Ventoux in July. "Going well at the Giro, I've gained a 'no' for the Tour and a 'yes' for the Vuelta," he explained. "Basso and the team will need more climbers for the Vuelta than the Tour."

After pulling out of the Dauphiné, Basso has put an end to a first cycle of work in his return to cycling after his ban. He'll take a rest before preparing for the Vuelta a España and the world championships that will be held in Mendrisio just a few kilometres away from his house.
Fuglsang is the big revelation of the Ventoux
By Jean-François Quénet at the Mont Ventoux, France
Jakob Fuglsang is Saxo Bank's young prodigy.
Photo ©: Susanne Goetze
A lesser known rider pedalled fluidly and aggressively alongside Dutchman Robert Gesink from Rabobank during the critical, difficult sector of the climb of the Mont Ventoux on Thursday. Who was the rider clad in the black and white of Saxo Bank who put on such a spectacle? It was the classy former mountain bike champion Jakob Fuglsang, who went on to finish fifth at the top of the Giant of Provence. The 24-year-old moved up to 10th in the general classification with the performance.
"I was good today and it was a nice surprise because I was stressed after riding yesterday's time trial, it was so long," the Dane told Cyclingnews at the Mont Ventoux. Very quickly after his epic ride, he appeared fresh and smiling in contrast to many riders who crossed the line with a lot of difficulty, mostly due to the strong wind in the last part of the climb.
"Out of the forest, I started to feel very good, so I tried to go on my own," he continued. "Gesink closed on me and I couldn't follow him at some stage, but this was my first real test in a legendary climb with the big riders of the Tour de France. My previous experience was climbing up to Andorra at the Volta Catalunya." He finished sixth overall in the Spanish race, which was a sign of form prior to the Dauphiné.
Fuglsang switched from dirt to road after winning the Tour of Denmark last year. He doesn't have the pressure of taking part in the Tour de France this year as he is still in a learning period, but the Dauphiné could well be the start of his career as a climbing star.
Fignon suffering from cancer
Cycling legend Laurent Fignon made public the news that he is suffering from an advanced form of intestinal cancer on Thursday. The Frenchman who won the Tour de France twice, and had the dubious honour of being the rider to finish second to Greg LeMond in the closest Tour in history in 1989, has already begun treatment for the disease .
"I am undergoing chemotherapy already and have been for 15 days," he said in a radio interview with the Europe 1 show "7 à 8". "I did the second session a few days ago. Things are going pretty well, I feel good. Right now, I don't know more than you. Everything is going well."
"They've detected cancer in my digestive tract, but it's not clear where exactly. It is bad news," said Fignon, 48.
"My cancer is an advanced cancer, and since it has already spread, it is almost certainly involving the pancreas. Therefore I do not know how long I have to live. One cannot say what will happen, but I am optimistic. I'm going to fight, and I will succeed in winning this fight."
Fignon's diagnosis comes on the eve of the release of his book, "Nous étions jeunes et insouciants" (We were young and carefree) in which he reveals the use of performance-enhancing drugs during his career. He admitted to taking amphetamines and cortisone, but said that his cancer was not caused by his past doping.
"I candidly explained (to my doctors) what I had done in my career, and they said it can not be that. It would be too simple."
Vande Velde to return in Tour de Suisse
American Christian Vande Velde developed a reputation as a laid back rider in 2008
Photo ©: Roberto Bettini

Garmin-Slipstream's Christian Vande Velde will make his return to competition at the Tour de Suisse later this week. The American has been out of commission since the third stage of the Giro d'Italia, when he suffered fractures to five vertebrae, one rib and his pelvis during a crash on May 11.
One month after his injuries, Vande Velde has returned to training and will use the Swiss race to hone his form for the upcoming Tour de France, where he hopes to improve upon last year's top five finish.
"I said from the beginning that I was motivated to get back into my racing season," said Vande Velde. "To be honest, the recovery has been excruciating at times, but at the end of a long, hard day I have the satisfaction of knowing I'm doing all I can to get back to my team. I'm excited to see how Suisse goes for me."
The Tour de Suisse, a 9-stage race, kicks off Saturday, June 13 in Liechtenstein, Switzerland.
"Christian is a fighter, and he is still recovering from very significant injuries. The Tour of Suisse will be a good gauge for him to see what kind of condition he could be in should he ride the Tour de France," said Jonathan Vaughters. "Less than a month ago he was in a hospital bed in Italy. To come back this quickly is truly a testament to his character."
Read Cyclingnews' interview with Christian Vande Velde.
McEwen recovering, signs Katusha anti-doping clause
Robbie McEwen (Katusha)
Photo ©: Isabelle Duchesne

Australian Robbie McEwen has had to balance his recovery from a severe knee injury with public questions about his refusal to sign his Katusha team's anti-doping contract, but both issues are being resolved. "After receiving the awaited legal advice, I have now signed the much spoken about anti-doping addendum to my contract with Team Katusha," he announced on his web site mcewenrobbie.com.
McEwen and several others from the team hesitated to sign the anti-doping agreement which would punish riders with a fine of five times their salary if they were found positive. The policy was instituted after Austrian Christian Pfannberger tested positive earlier this year.
After the policy was presented to the riders, Antonio Colom became the second Katusha rider to test positive following targeted testing by the UCI. Colom also refused to sign the charter.
"I want it clearly understood that I am absolutely anti-doping," said McEwen.
"Now that the details have been sorted out I can concentrate fully on my comeback and get back to racing and winning with my teammates as soon as possible."
McEwen suffered a broken tibia in a run-in with a road sign during the Tour of Belgium last month. It was initially feared that the sign had sliced through important tendons and ligaments, but the damage turned out to be less severe, and McEwen was able to pedal on a stationary trainer for the first time this week.
Kiserlovski joins Fuji-Servetto
Croatian Robert Kiserlovski is the latest rider to sign on to the Fuji-Servetto team. The 23-year-old began his pro career at age 17 with the continental team Adria Mobil. He racked up a string of solid performances in stage races, including a third overall in his home Tour, the Tour de Slovénie in 2008.
Earlier this year, riding for the Pro continental team Amica Chips, he took fourth overall in the Settimana Coppi e Bartali, just two seconds off the podium. The Amica Chips team was disbanded due to financial problems in late-May.
Kiserlovski debut his new colours in the upcoming Tour de Suisse along with Juan Jose Cobo, Eros Capecchi, Ricardo Serrano, Iker Camaño, Hilton Clarke, Alberto Benítez and Davide Vigano.
Bissell takes command at Nature Valley Grand Prix
By Kirsten Robbins
A relaxed Tom Zirbel (Bissel Pro Cycling)
Photo ©: Matthew Moses

It is no surprise that the Bissell Pro Cycling Team took a strong lead in the Nature Valley Grand Prix, which kicked off yesterday with a nearly 10-kilometre time trial. The squad, renowned for its time trialing ability, took the stage win with specialist Tom Zirbel.and placed six riders inside the top twelve.
"It was a good day for us. Having six guys in the top 12 was a long shot a couple of months ago, but watching the way they have progressed, I wasn't surprised," said directeur sportif. Glen Mitchell. "The guys are healthy and they do the training they need to be able to get through the races. We are known for our time trialing and the guys are in a good position. Based on the GC results after the first stage we have options in the road races and we just need to maintain what we've gained in the criteriums."
Zirbel did what he does best by storming into the leaders' jersey after winning the opening Riverfront time trial in a time of 12:36. Defending Champion, Rory Sutherland racing for OUCH p/b Maxxis cruised in for second place, sandwiched between Zirbel and his teammate Peter Latham.
"I was a little surprised with my time trial today because I didn't know how my legs would recover from Sunday's effort," said Zirbel who plugged his way through a lengthy breakaway in the TD Bank Philadelphia International Cycling Championships last weekend. "I felt really flat yesterday and I was just banking on them coming around this morning. The power was there, but it didn't feel good today."
He maintained his lead in the overall classification during the stage two St. Paul criterium despite the numerous intermediate time bonuses available. Bissell took the responsibility of setting tempo on the front for the majority of the race to ward off any threatening breaks. The criterium came down to a field sprint won by Sebastian Haedo of the Colavita-Sutter Home team.
"You have to have a team that is good at all disciplines to be able to win," Mitchell said. "The rider has to be able to defend themselves in any situation. Tom is the first to let anyone know that the criterium is his weakness and his time trial is the strength that brings his name to the top of the leader board. This race is a matter of how can we win without having him go for time bonuses and keep our eyes on who is contending them each stage."
(All rights reserved/Copyright Future Publishing (Overseas) Limited 2009)