First Edition Cycling News, January 30, 2009
Edited by Laura Weislo
Basso, Pellizotti to share Liquigas' Giro leadership
By Gregor Brown
Basso, Bennati and Pellizotti together at the December training camp.
Photo ©: Roberto Bettini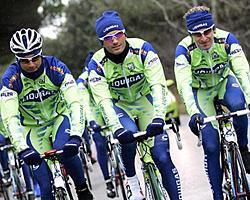 All eyes may be focused on the Astana team when the Giro d'Italia's centenary race begins, but the Liquigas team could well steal a little bit of that glory come race day. With two contenders for the overall, Ivan Basso and Franco Pellizotti, and Daniele Bennati for the sprints, the team stands a chance of taking home a good portion of the prizes come May.
In the 2008 Giro the team had Pellizotti for the overall classification and Bennati aiming for the sprints. Italian fast-man Bennati won three stages and gained enough points to take home the sprinter's maglia ciclamino, while Pellizotti took the maglia rosa in the first week and won the race's epic mountain time trial to Plan de Corones and finished fourth overall.
Now, with Basso on board, the team appears stronger than ever for its home tour, the 2009 Giro d'Italia. But can it make the pieces into a stronger whole in order to face the onslaught of the likes of Mark Cavendish in the sprints and Lance Armstrong for the overall?
Basso faced a similar situation at CSC where he rode alongside Spaniard Carlos Sastre in the Grand Tours, and he believes that he will work out a similar coexistence with Pellizotti come May.
"I think that [Pellizotti] showed last year that he can win the Giro," said Basso over the winter. "I won the Giro in 2006 and battled for the win at the Tour de France. I have the spring to be able to show that I can be the leader of the team at the Giro d'Italia. The second thing, we all know what our value is. It will be easy when the Giro comes to decide who of the two we should ride for and protect [as a leader].
Basso paid respect to Pellizotti, and also to the team's sprinter, Bennati. He does not expect the whole team to be at his disposal and this modesty by the team's star rider will help keep the team functioning as a unit.
"Definitely, the riders that will be helping Bennati will be riders that will have the ability to also race for us in the classification. At this moment in the world there are only two riders who merit having eight teammates for them – [Alberto] Contador and Armstrong. The rest of us have to ride with teams that have multiple objectives."
Pellizotti spent four days in the early part of the 2008 Giro wearing the maglia rosa of race leader and racked up a stage win on one of the Giro's most epic stages, the 12.9-kilometre time trial up the dirt and gravel roads of Plan de Corones. This year, he wants more, and he put the onus on Basso to show he is worthy of support.
"My objective is to win the Giro," said Pellizotti. "It was the first year that I battled to win the Giro and it helped me grow. I will start [this year] with greater experience."
"Basso has to show he is the Basso of two years ago. I have shown to be that rider, now it is up to him to show and give faith to the team.
"We will start with two captains. The team gives me the responsibility to play my cards and I think it is right to allow me to make my race. If he shows to be better than me then okay, I will help him."
Not to be forgotten, Bennati will provide the team with some of its best chances for stage victories. Even with an inflamed Achilles tendon that forced him to miss the Tour de France, he took seven wins in 2008. Three of those wins, and the maglia ciclamino, came at the Giro d'Italia.
He has shown that he is worthy of a lead-out train, and is hoping to add to his tally of stage wins. But Bennati is not an explosive sprinter like Robbie McEwen or Mark Cavendish, both of whom use fewer men to deliver stage wins. The Italian prefers to have a long lead-out, and may not have the men to achieve the wins if Liquigas devotes more mountain domestiques to Basso and Pellizotti.
"At the Giro Ivan will have the priority and more men. There will certainly be always two men at my side, who can also give a hand to Ivan in certain occasions."
Page added to US 'cross worlds team
US rider Jonathan Page celebrates on the podium
Photo ©: AFP

USA Cycling announced Thursday that Jonathan Page has been added to the USA National Team roster for this weekend's UCI Cyclo-cross World Championships. Page was cleared of a doping violation in a hearing with arbitrators earlier this week.
Page was initially denied a spot on the team due to the open anti-doping investigation at the time of the team's selection on January 14. The UCI had declared Page ineligible to compete at the world championships due to a missed anti-doping control at the Koksijde World Cup race in Belgium on November 29.
After the panel cleared him of wrongdoing, Page formally asked USA Cycling to reconsider his petition and add him to the team. Page was added to the roster following a Wednesday conference call with members of USA Cycling's seven-person selection committee.
"Following very thorough consideration throughout the process, and after soliciting valuable input from our selection committee, we determined that Jonathan deserved an opportunity to represent the United States at the world championships," said Pat McDonough, USA Cycling director of athletics.
"Although there is no specific blueprint for this scenario, USA Cycling has conducted its due diligence with regards to Jonathan's inclusion on the team," added Steve Johnson, chief executive officer of USA Cycling. "USA Cycling will continue to adamantly support cycling's fight against doping and respects the process that has been put in place to combat the unethical and unfair environment doping creates in sport. And although the facts of Jonathan's case illustrate that extenuating conditions can exist, they should serve as a reminder to all athletes that it is their responsibility to know the rules and abide by them."
To date, Page, the 2007 silver medallist, is the only American to medal in the elite men's category throughout the 58-year history of the world championships. He joins automatic qualifiers US Champion Ryan Trebon and Jeremy Powers and fellow discretionary selections Brian Matter and Matt Shrive on the elite men's squad.
Xacobeo Galicia, Acqua & Sapone pleased with Giro invites
RCS Sport has named Xacobeo Galicia as one of its initial 20 teams invited to the 2009 Giro d'Italia, a reflection of a continued dialogue between the race organizers and the teams's management since last year's Giro, according to directeur sportif and manager Alvaro Pino.
"We are going with our best team with the highest ambitions, because between this race and the Vuelta a España, our other major goal, there is enough time to contest them both in the best condition," Pino said. The Spanish Professional Continental team will ride in support of its strongest rider, Ezequiel Mosquera, at both the Giro and Vuelta.
The Fundación Ciclismo Galego, the organization that administers the Xacobeo Galicia team, has called the invitation to the Giro d'Italia a "superb prize" for its riders. Additionally, the foundation said, "It's a big day for Galician cycling. The towns and cities of Galicia have expressed their encouragement for the team against such a strong international field."
Acqua & Sapone - Caffè Mokambo's managers are "flattered by this invitation from RCS Sport, to be selected to such historical races as Tirreno-Adriatico, Milan-Sanremo and the Giro d'Italia is for us a great satisfaction."
Stefano Garzelli, a former Giro d'Italia champion and Acqua & Sapone team member, added, "It is a great opportunity for the team. The centenarian Giro d'Italia includes Armstrong and many other riders who will make the Giro more important than the Tour and I dream of being among the protagonists."
European season kicks off in Marseille
The European road racing season will kick into gear with the first 1.1-ranked race of 2009, the Grand Prix Cycliste la Marseillaise on Sunday, February 1. Defending champion Herve Duclos-Lasalle will return to take on the 136.8-kilometre revised parcours which features some more climbing than in previous editions.
The riders will face the climb of Les Termes (392m, 9km) right from the start, and then with 45km of racing without any major difficulty they will head up the Pas de la Couelle (550m, 7km) with grades up to 6% and an average of 4.2%. However, the decisive point in the race could come on the col de l'Espigouier, which climbs 723m over 12km with sections of 6 to 8% gradient.
Finally, the Col de la Gineste will be the final climb to sort out those who did their homework during the off-season from those who have not. After a quick jaunt to 326m, the riders will plunge back down toward Marseille for a short, sharp uphill finish.
Teams: Cofidis, Topsport Vlaanderen-Mercator, Roubaix Lille Metropole, AG2R-La Mondiale, Agritubel, Veranda Willems, Bbox Bouygues Telecom, Skil-Shimano, Besson Chaussures-Sojasun, Française des Jeux, An Post - Sean Kelly Team, Auber 93, Silence-Lotto, Bretagne Schuller, Vacansoleil, Landbouwkrediet - Tönissteiner, Cycling Team Bougas
Tournant ends career at Revolution
By Bike Radar
Arnaud Tournant will end his illustrious career next month.
Photo ©: Mitch Clinton

French sprinter Arnaud Tournant is making his final competitive appearance at the Revolution 24 track meeting on 21 February before retiring from competition.
Tournant is responsible for many of Revolution's most memorable moments, including setting the Madison 1km time trial record with Chris Hoy in 2008.
Hoy failed to topple Tournant's 1km world record by 0.005 seconds in 2007. At the time, Hoy acknowledged that he couldn't go any faster and said he had even more respect for Tournant and his talents.
Revolution 24 will pit these old rivals against each other one last time. Tournant will be joined by Gregory Bauge, Francois Pervis and Michael D'Almeida, while Hoy's team includes Jamie Staff, Jason Kenny and Ross Edgar.
The programme will feature a 200m time trial, match sprint competition and keirin. The evening will finish with a Britain vs France team sprint.
The rest of the sprint field will be made up of Craig MacLean, Matt Crampton, Dave Daniell, Christian Lyte, Pete Mitchell and Steven Hill.
Tickets for Revolution 24 are sold out, but highlights will be shown after the event on Channel M. Hospitality tickets are still available. For more information, visit www.cyclingrevolution.com.
Hawk Relay Cycling Team partners with Felt
By BikeRadar
Sarah Hammer and Felt join Hawk Relay.
Photo ©: Felt Bicycles

Hawk Relay Cycling Team, a International Cycling Union (UCI) professional Track trade team based in Los Angeles, California which includes 2-time World Pursuit Champion Sarah Hammer, 2-time US Olympian Adam Duvendeck, and Canadian National Champion Travis Smith, have partnered with Felt Bicycles for the 2009 season.
"I basically told Felt Bicycles we wanted to be associated with the best technological partners in the world and Felt Bicycles is at the top when it comes to producing world-class track frames," said Robin Horwitz, Team Director and owner. "Their work with Sarah and other elite athletes over the last couple of years is well documented and I'm very excited about this partnership. I believe this relationship is going to give our team every advantage."
The Hawk Relay Cycling Team will be using the Felt TK1, which was developed in part at the San Diego Low Speed Wind Tunnel. The Felt TK1 is the same bike used by 2008 US Olympians Hammer, Taylor Phinney, Michael Blatchford and Mike Friedman in Beijing. The TK1 frame is currently available as an after-market product.
"When Sarah and her coach Andy (Sparks) told us she was moving to Hawk Relay and that there was an opportunity to be associated with the whole team, it instantly became interesting." says Doug Martin, Felt's Marketing Director. "After a two-hour meeting with Robin it was clear he has the talent, desire and passion to make it all go. We are thrilled to have Adam and Travis on our bikes and listed as Felt athletes."
2009 Hawk Relay Cycling Team roster: Team director: Robin Horwitz. Riders: Sarah Hammer, Adam Duvendeck, and Travis Smith. Sponsors: Hawk Relay, Felt Bicycles, Giro Helmets, Zoot, Quarq Powermeters, SportsMX, ThresholdPower Sports Agency, The Shopoff Group, and P3.
Also see Sarah Hammer's Hawk Relay diary.
(All rights reserved/Copyright Future Publishing (Overseas) Limited 2009)