Tour of California News, February 17, 2009
Edited by Gregor Brown
Armstrong collides with motorbike in California
By Kirsten Robbins in Santa Cruz, California
Lance Armstrong's rough ride in stage two of the Tour of California
Photo ©: Garrett Lau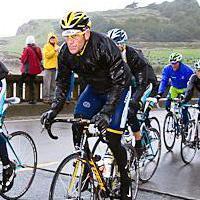 A motorcycle carrying Astana's official team photographer collided with Lance Armstrong midway through stage two of the Tour of California. According to Armstrong, the accident was not that bad.
"There was a motorcycle with a photographer on it. I don't know, I think the motorcycle [driver] was looking around and he hit a patch of mud. The motorcycle started fish tailing and it went down in front of me and I went up onto it. There wasn't much I could do."
The rain fell on and off through out the stage and strong winds continued to blast the riders from the right as they travelled south along Highway 1.
Armstrong's return to American racing has been mixed with good and bad moments. Astana value his super-domestique efforts to help teammate Levi Leipheimer win the overall; however, the last two stages have been plagued with stolen equipment and a motorcycle collision.
"The sport of cycling is very unpredictable, especially when you have weather like this. This sport can certainly be dangerous enough."
Team Manager Johan Bruyneel noted that the accident was a result of the added stress placed on the entire event due to bad weather.
"It's windy, wet and there is mud on the road," Bruyneel said. "It was a scary moment, but we could quickly see that he [Lance Armstrong] stood up and there was nothing going on.
"When there is bad weather there is always a lot of stress and a lot goes on in the car and caravan. It's been very bad weather for the riders and for the spectators, But surprisingly there were a lot of spectators."
Vaughters proud of his prodigy's ride in California
By Mark Zalewski in Santa Cruz, California
Vaughters' Tom Peterson tops the stage two podium in the Tour of California
Photo ©: Jon Devich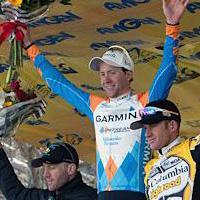 Garmin-Slipstream's Jonathan Vaughters was not behind the wheel of the team car in Monday's stage of the Tour of California when his prodigy Tom Peterson took a major step forward with his first professional race win. The American director sportif watched from Switzerland where he attended to his presidential duties at an International Association of Professional Cycling teams (AIGCP) meeting.
"I've coached Tom since the beginning of his career so I was pretty damn happy that he won today," Vaughters said to Cyclingnews yesterday. "I've coached him one-on-one and am in constant contact with him. This is like when your little prodigy grows up and wins."
It could have been a double win for Peterson. A flat tire right before the start of the prologue on Saturday caused him to miss his start time. Those two minutes would have given him a shot at taking the yellow jersey as he sprinted in with Levi Leipheimer (Astana), the new race leader.
"He is not yet a time trial rider so he was never a classification rider for California. The riders from the beginning have always been David Zabriskie, with Tom Danielson as the right-hand man. They have been our strongest bets since [training] camp. They weren't able to go with Levi, but neither was anyone else."
Vaughters offered his own analysis on the race situation after two stages. He believes it will be a time trial "showdown" between Leipheimer, Michael Rogers and Zabriskie.
As for Peterson, Vaughters said to expect big things from him on the classification front down the road. "I think Tom has a big future ahead of him. We need to keep working on his time trialling, putting him in the wind tunnel until he can't stand it! You look at someone like Lance Armstrong and he wasn't a good time trialer and Tom's age either."
Ekimov and Leipheimer commend Armstrong
By Kirsten Robbins in Sacramento, California
Levi Leipheimer back with power in his California quest
Photo ©: Mitch Clinton

Fifteen-time Tour de France participant Viatcheslav Ekimov considers Lance Armstrong a valuable asset to Levi Leipheimer's quest to win a third consecutive Tour of California this week.
"We definitely want to win this race with our defending champion Levi Leipheimer," Ekimov said to Cyclingnews regarding the strong team Astana assembled for the USA stage race.
"Lance Armstrong is the guy who will help to win the race. We don't know what's his condition yet because it's only his second race of the season. For sure, he is an intelligent rider and he won't do things that are too difficult to early."
Leipheimer acknowledged the efforts of Astana and, in particular, the domestique work that Armstrong performed in the first two road stages.
"He's driven, he wants to win and he raises the level amongst the team and we are all that much more committed," Leipheimer said. "To have someone like him pulling in the wind for me at the end – there's no backing down, there's no excuses – I have to come through."
Leipheimer took over the leading position after stage two's 186-kilometre run from Sausalito to Santa Cruz. Furthermore, four of his teammates occupy the top eight places in the overall classification. Armstrong is fourth place at 30 seconds down.
"I think having Lance Armstrong on the team is motivation in itself, just by racing with him," said Ekimov, who played an important role in Armstrong's Tour de France victories. "He has a personality to help build the team spirit. Lance is going to act as the directeur on the road because we can't always follow the race from the car. He is a very smart guy and very quick with reactions and making decisions when options present themselves."
According to Ekimov, the experience that Armstrong has from winning seven consecutive Tours de France will come in handy to assist Leipheimer in winning a third Tour of California. He thinks the overall victory will be decided in the stage six time trial held in Solvang on February 20.
Crash sidelines Jacques-Maynes in hometown Californian stage
By Kirsten Robbins in Santa Cruz, California
Ben Jacques-Maynes, l, in stage two of the Tour of California. His brother, Andy, crashed and had to quit the race.
Photo ©: Garrett Lau

Team Bissell twins Andy and Ben Jacques-Maynes planned to give their family members a show at the Tour of California stage two finish held in their hometown Santa Cruz. Ben suffered through the treacherous weather conditions in an day-long escape, but a crash along Highway 1 put Andy in an ambulance with a concussion.
"We have our entire family, friends, fans coming out to watch the finish of the race today," said Andy Jacques-Maynes before the start of the stage in Sausalito. "It's going to be great. My wife made T-shirts for everyone that read, 'Jacques-Maynes' on the front and 'Bissell' on the back."
Andy crashed along Highway 1, midway through the 186.6-kilometre stage. The incident happened almost immediately after Lance Armstrong collided with a motorcycle.
"I don't know any of the circumstances as to how he crashed," said Ben of Andy after the race. "I heard there was a quick change of direction and a parked car involved. I know that he came down and hit his head and had a problem with his ankle. They transported him to Santa Cruz.
"It's disconcerting when you hear that your teammate has crashed and is in an ambulance because that's a serious crash. He's had enough hard crashes to last a lifetime. I'm just glad that he is okay."
After six years of racing on separate teams, Andy joined his twin brother Ben in the Bissell roster. The Tour of California was Andy's debut at the professional level racing.
The twins helped the organizing committee in Santa Cruz design the stage. "I know every inch of every road on this stage and that's a great trick to pull out of your hat."
He finished near the front of the field after it caught his escape.
"I've been thinking about this for a long time. To see what a success this stage has been, all the people, massive crowds is just spectacular to have that kind of response from the community. It really validates what everyone on that organizing committee put forth to make this happen."
Tech video: Up close with Zberg's BMC Racemaster SLX 01
Not everyone on Team BMC is riding the same road bikes at the Tour of California. Cyclingnews' Technical Editor James Huang takes an up close and personal look at Markus Zberg's road bike, a BMC Racemaster SLX 01. Swiss national road champion Zberg, who spent 160km (100 miles) off the front in a break during Monday's stage two of the Tour of California, prefers this bike over the one ridden by many of his teammates despite its extra weight.
Watch the video to learn more about Zberg's bike.
(All rights reserved/Copyright Future Publishing (Overseas) Limited 2009)