First Edition Cycling News, February 17, 2009
Edited by Les Clarke
Leipheimer takes big step to number three
Levi Leipheimer (Astana)
Photo ©: Jon Devich

Having told Cyclingnews yesterday that he was still upbeat about his overall chances at the Tour of California, Levi Leipheimer has taken a big step to title number three with a win in Santa Cruz.
The experienced American knew that yesterday's stage winner in the rain may have been hurting on another wet and cold stage. "Mancebo did a big effort yesterday, and we figured he was going to be paying for it today, so we had that to our advantage. We're bike racers, we're not machines," said Leipheimer.
He took advantage of this and put in a solid attack at the base of the Bonny Doon Road climb, and joined by Garmin-Slipstream's Thomas Peterson, the pair shared the spoils at the finish – Peterson the stage, Leipheimer the overall classification lead.
With another three tough stages before the Solvang individual time trial, Leipheimer will most likely call upon the abundant resources of his Astana squad to defend his golden jersey. Lance Armstrong and Chris Horner have already shown they're in excellent form to be assisting their leader, so work has been cut out for those with overall classification aspirations in this year's edition of America's premier race.
See Cyclingnews' full coverage of the fourth Tour of California.
Sastre OK despite crash
Carlos Sastre
Photo ©: Jon Devich

Cervélo's Carlos Sastre fell in yesterday's miserable first stage of the Tour of California but carried on to finish over 13 minutes behind stage winner Francisco Mancebo.
The 2008 Tour de France winner said that, "After the feed zone, on a slight descent, another rider lost control of his bike by hitting one of the reflectors of the road – he went straight into me, breaking all the spokes of my front wheel. He fell to the ground and I 'skated' for about 50 metres."
The first stage of America's premier race was a torrid affair, reminiscent of last year's edition that pitted riders against the elements in brutal fashion. With Sastre already suffering from the flu as he headed into the event, he couldn't be blamed for wanting to retire from the race after his incident.
He started today's second stage, however, and said that the accident was "nothing". "I could continue riding without any problems," he added.
Gesink slips under the radar
Gesink after his '08 stage win.
Photo ©: Jon Devich

With most eyes on Lance Armstrong and the Astana team at this year's Tour of California, one rider with a fighting chance of making the podium is Rabobank's Robert Gesink. The talented climber was only 1:14 off the overall leader's time after yesterday's stage to Santa Rosa.
The Dutchman showed what he's capable of at last year's edition of the Tour of California, with a win on stage three in San José and a top-ten overall. He's again showing good form and keeping himself in contention for a significant placing on overall classification by staying safe on a tough day. Of yesterday's stage he said, "Today... it was cold, it rained, but luckily the wind played no significant role.
"We rode all day through a difficult undulating course behind a group of escapees, not least, [Francisco] Mancebo of Rock Racing. On the second climb of the day Astana began to ride and we arrived with a group of 20. Bauke [Mollema] was also in the group. Just before the finish, the time would be taken at the first passing, but that was good because the circuit was extremely dangerous due to the bad weather."
Contador strongest ever
His teammates are battling the elements at the Tour of California, but Alberto Contador, who starts his season with the Volta ao Algarve tomorrow, believes he's the strongest he's ever been during his career.
There's been much talk about whether he'll be able to repeat his victory in the Tour de France given the presence of a certain Lance Armstrong in the Astana lineup in 2009; the 26-year-old Spaniard's statement is a clear message that he wants to be numero uno when the the Tour begins in Monaco on July 4, however.
"I believe I will improve again this season because I have been better during training this year than the ones before," Contador said in a press release on Monday.
The Tour is Contador's main objective this season, and it's important that he does experience a peak in form later in the year – aided by the fact that, in his own words, "I am surprised by the way my body is responding."
He knows what he's up against if he is to repeat his performance of 2007, and despite claims we may not be the team's captain, it seems that in his mind he should be. Consequently, he's focusing on opponents outside his squad, rather than analysing the possibility of not being the chosen rider.
"There will also be the Schleck brothers [Fränk and Andy], Denis Menchov, Cadel Evans... although I cannot name all of them," he said.
Aussie twist for Vandenbroucke tale
Vandenbroucke in 2006.
Photo ©: Sirotti

Belga has reported that following the demise of continental squad Cinelli-OPD, former professional Nico Mattan has been in charge of finding a team for riders left without a job. One of these riders is Frank Vandenbroucke.
The Belgian, who has experienced his fair share of peaks and troughs over the last four years, will make an Australian connection when he turns out for the Cinelli - Down Under team this season.
The Continental squad is a combination of the Fuga - Down Under team and the Cinelli-OPD outfit. Riders include Australian track stalwart Mark Jamieson, Nic Walker (brother of Fuji-Servetto rider Will) and fellow Belgians Jérôme Baugnies, Sven De Weerdt, Fabio Polazzi and Bert Roesems.
"I did it," said a relieved Mattan. "All the administrative work is now over and on Friday everything will probably be in order and it will be official."
Mattan explained that, "These have been difficult times. After mid-November Thierry Floreal was willing to support the Cinelli team with an additional input of funds; it seemed to him, in accordance with his professional activities, appropriate to carry out an audit of companies and budgets behind the team. It showed that there were serious risks relating to [obtaining a] license, and so on.
"From Thierry Floreal and the Cinelli bicycle manufacturer – not to be confused with the same team – communication was set up and I was supported in that. Eventually there were no safeguards for the 2009 season, and no license was obtained by the previous management team. They then threw in the towel.
"Meanwhile, thanks to Thierry Floreal new negotiations started with D & D Promotion, which holds an Australian continental license and last year I was sports director there on a freelance basis. I had just finished as a Cyclingnews.com rider, and that team falls under the same management.
"The start-up phase included a few hectic weeks like none we've ever known – in a very short time we had to being together two structures. The most important thing is that now there is a team. The start of Kuurne-Brussels-Kuurne [March 1] seems to be more of a feasible objective, while the Driedaagse van West-Vlaanderen, Nokere Koerse and Dwars door Vlaanderen are also already on our programme."
Australian national junior track squad announced
Michael Hepburn after his record-breaking ride.
Photo ©: John Veage

Cycling Australia has announced the squad to contest the track junior world championships in Moscow from August 7-15.
For many years, Australia has proven to be one of the world's best nations for producing talented junior track riders. Each year the team returns from the world titles with medals, a couple of star riders and a world record or two.
After great performances at the recent national championships in Adelaide, Michael Hepburn, Luke Durbridge, Annette Edmondson and Megan Dunn are amongst those riders selected in the 13-strong team.
Hepburn was a standout performer at the national titles, setting a new world record mark in the U19 men's 3000m individual pursuit that beat the mark set by American Taylor Phinney last year.
The full Australian team for junior world championships: Michaela Anderson (Western Australia), Alex Carver (New South Wales), Amy Cure (Tasmania), Megan Dunn (New South Wales), Luke Durbridge (Western Australia), Annette Edmondson (South Australia), Matthew Glaetzer (South Australia), James Glasspool (South Australia), Maddison Hammond (Victoria), Michael Hepburn (Queensland), Melissa Hoskins (Western Australia), Peter Loft (Tasmania), Dale Parker (South Australia)
Jowell calls for Olympic equality
British Olympics minister Tessa Jowell wants rules that prevent women from competing in as many Olympic or Paralympic events as men to be changed by the 2012 Games, citing track cycling as an example of where inequalities exist.
BBC News has reported that Ms Jowell said it was "wrong" that under current regulations men could compete in 40 more events than women. She has written to UK Sport chiefs asking them to help end "gender discrepancies".
"I think it's wrong that women can't compete in as many events as men. Women's sport has come on leaps and bounds so it's high time there was equal opportunity at the Olympics," she said.
Jowell explained that had discussed the issue with Olympic gold medallist Victoria Pendleton, who was only able to compete in one track sprint event at last year's Beijing Games while team-mate Chris Hoy won three golds in the discipline.
In Olympic track cycling men are allowed to compete in seven events, while women can enter just three. Jowell and sports minister Gerry Sutcliffe have written to Baroness Campbell, the chair of UK Sport, asking them to investigate a "gender discrepancy" and to press for equal opportunity at London 2012.
No Gila in '09?
Henk Vogels won in Silver City last year.
Photo ©: Mitch Clinton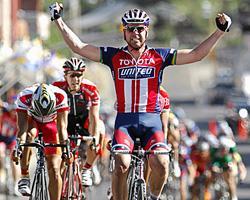 The Tour of the Gila may be canceled this year due to the current economic environment, according to race director Jack Brennan.
"We have many problems," Brennan told the Silver City Sun-News. "It doesn't look promising." He also explained that organisers were not officially cancelling the race until a self-imposed deadline of Friday.
Scheduled for April 29 - May 3, the Tour of the Gila has been a mainstay on the National Racing Calendar for many years and has increased exposure for Silver City.
"It's really tough economic times," said Brennan. "Things have changed [with the sponsors]."
"It's amazing what this costs," Brennan continued. The budget for the race is about $170,000, a figure he called "bare bones." About $70,000 is earmarked for prizes and $22,000 for race officials. "We're way off," he explained.
Brennan outlined that he and co-race director Michelle Geels are looking at ways to "restructure the race" and perhaps reduce the prize money. If the race is canceled this year, Brennan said all the organizing efforts will be put into next year's race.
"It's a cool event and something we can't let go," he said.
(All rights reserved/Copyright Future Publishing (Overseas) Limited 2009)