First Edition Cycling News, February 15, 2009
Edited by Peter Hymas
Cali-climb-ication
By Bruce Hildenbrand
The final slopes of the climb to the top of the Angeles Crest
Photo ©: Bruce Hildenbrand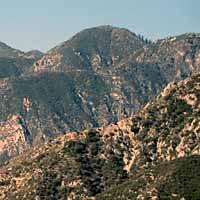 This year's Amgen Tour of California is loaded with climbs of all shapes and sizes and except for stage five from Visalia to Paso Robles and the following day's time trial, the riders will face significant uphill challenges every day.
While some ascents come a bit too early in a stage to potentially affect the outcome of the race for the overall title, there will be more than enough action from those hoping to steal a stage victory to make the climbs interesting.
Stage 1
Stage one from Davis to Santa Rosa features three notable ascents. The race reaches its first ascent at the top of Cardiac Hill just past the Monticello Dam. This 1,000 ft, two-tiered climb is moderately graded at between four to seven percent and will provide the perfect warm up for the peloton. The next test will fall on Howell Mountain Road, a two-mile 10-percent beast that could split the field if someone is feeling frisky. Everything should come back together in the Napa Valley, setting the stage for the last ascent of the day. Petrified Forest Road is steep and straight but it is also short at just over 500 ft. If you're race contender you should finish in the bunch at Santa Rosa.
Stage 2
In race's three year history there has never been a mountain-top finish, but stage two from Sausalito to Santa Cruz is close to being one. There are two significant climbs, with the first coming at Tunitas Creek Road. It's a popular test for Silicon Valley cyclists and this 6-mile, 2000 ft test has two miles of between nine and eleven percent in its mid-section, but even with that difficulty, it is too far from the finish to see a move by any of the overall favorites.
Read the complete feature.
Hamilton doesn't consider himself overall Tour of California threat
By Kirsten Robbins in Sacramento, California
Tyler Hamilton (Rock Racing)
Photo ©: Jon Devich

Rock Racing's Tyler Hamilton has taken himself off the list of favorites to win the Tour of California. The US National Champion arrived on the west coast after taking five weeks at his Boston home to care for his mother who suffers from breast cancer.
Hamilton admitted he is not on top form as he has been dealing with family issues back home on the wintery east coast. "I've been back in Boston and the weather hasn't been nice," Hamilton said. "I've spent most of that time on an indoor trainer. So I will take myself out of that list of [contending] riders. Hopefully a [Oscar] Sevilla, [Francisco] Mancebo, [Chris] Baldwin and [Enrique] Gutierrez can fill that void."
Coming up on
Cyclingnews will cover the 60th edition of the Dauphiné Libéré live as of stage 4 on Wednesday, June 10, at approximately 15:00 local Europe time (CEST)/ 23:00 Australian time (CDT)/ 9:00 (USA East).

WAP-enabled mobile devices: http://live.cyclingnews.com/wap/

With four ex-Grand Tour riders competing in the event, Hamilton is confident his squad will yield a podium rider by the end of the week. "As for myself, I'll just take it day by day and hope that I can do something in the stages to support my teammates," he continued. "[Freddy] Rodriguez is going very well, this year. He is a step or two above where he was last year. I'll be a domestique in this race and I'll be happy to do it."
Hamilton noted his excitement to be invited to participate in the fourth annual event. Last year, he and Sevilla along with former teammate Santiago Botero were not permitted to take part because they were involved in an open investigation for their ties to Operacion Puerto.
"I'm not looking back to last year," Hamilton said. "I'm just excited to be in the race this year. We are looking forward to making a statement. I've been watching from the sidelines and I would like to say congrats to [organizers] Medalist and AEG for putting on the race. This is one of the fourth or fifth largest races in the world and hopefully it will one day be a Grand Tour."
Rock Racing recently ended a weeklong training camp held on the outskirts of Los Angeles. The twenty-six riders from both the UCI Continental team and the amateur team met for the first time this season. "I'm really excited to be for both myself and my team," Hamilton said. "It was a great training camp and all the new riders fit in really well, just like part of a family. We have a lot of experienced riders and a lot of young talent. Riders that I think will develop into winning stages and possibly the overall here at the Tour of California, in the future."
Hamilton applauded Lance Armstrong's return to the peloton. The two American riders are former teammates and competed against one another in the 2003 Tour de France. Armstrong won his fourth Tour title and Hamilton placed fourth with a broken collarbone. "I think its great that Lance is back, and I think I speak for everyone when I say that it has already brought so much excitement to the sport," he said regarding the decline in sponsorship due to the economic hardships.
"We are going through a rough patch. I think a lot of sponsors were scratching their heads as to whether or not they want to continue to support our sport. To have Lance Armstrong come back and generate all this excitement is great. He has shown that he is fit and ready to go, so we're expecting great things. He is an amazing talent and we are fortunate to have him back."
Savio celebrates 20 wins in Langkawi
By Greg Johnson in Kuala Lumpur, Malaysia
Gianni Savio
Photo ©: Evis Chu

Gianni Savio's Professional Continental squad has claimed its 20th stage victory at Malaysia's Tour de Langkawi, following another successful sprint by Mattia Gavazzi. An impressive five victories from six stages at this year's race has seen Diquigiovanni-Androni reach the milestone.
"It's a good win for us, as explained it's victory number 20 in the Tour de Langkawi," said Savio. "I am very happy. I like, very much, the Tour de Langkawi and Malaysia."
Savio's squad, which currently holds three of the race's four jerseys, is on track to achieve another milestone at the event today. The Venezuelan squad leads the general classification with Jose Serpa heading into today's closing criterium, and will become the first squad to take four overall victories at the 2.HC race in the likely event Serpa sticks with the bunch.
Savio's squad first won the event overall in 2002 with Hernan Dario Munoz and again in 2004 with Freddy Gonzalez, but its first stage win came in 2000 with Australian Jamie Drew on Stage 2. Its most recent overall victory came at last year's event, where Ruslan Ivanov took victory.
Rollin takes ticket to Paris-Roubaix
By Kirsten Robbins in Sacramento, California
Dominique Rollin
Photo ©: Shane Stokes

The Cervélo TestTeam gave Dominique Rollin his dream come true ticket to compete in a full schedule at the Spring Classics. Rollin credits his ProTour contract to his notorious solo victory during stage four of the previous year's Tour of California held under treacherous weather conditions.
"This is a dream come true," Rollin said, who is not looking forward to racing in the predicted foul weather this week. "It's a big jump from last year where we [Toyota-United] did the Tour of California and then waited around for Redlands Classic. Now, I'll continue with my fitness and leave the USA to do the big races."
Rollin's Spring Classics season will start in Milan-Sanremo and continue on to the Tour of Flanders, Gent-Wevelgem, Paris-Roubaix and Amstel Gold among others. He will not compete in La Flèche Wallonne or Liège-Bastogne-Liège.
"The team put me in for the flatter Classic events," Rollin said. "At first the team didn't know what to expect from me. They didn't know if I was a sprinter or a time trialist. They started watching my events and reviewed what I had done in California last year. They felt that one day races fit me and my sprint is a good fit for leading out Thor [Hushovd]."
Rollin noted that the team will not give him free-reign to make solo moves in this year's Tour of California or defend the Best Sprinter's competition. "I think we have a great contender in Thor," Rollin said about his teammate and the 2005 Tour de France green jersey winner. "I'll be working for him. He is a proven sprinter. We get along well and I think I can learn a lot from him by working for him. It's great to see, even as a sprinter, that you can learn by helping the best in the world."
Rollin will be based in Luzern, Switzerland for the 2009 season. "I'll still be working with my coach Brian Walton," he said. "I saw my new place in Europe and it is really comfortable. It has a lot of great training."
Miller and Teutenberg cross swords at the Tour of California
By Kirsten Robbins in Sacramento, California
Brooke Miller (Team Tibco) is the defending champion at the Tour of California Women's Criterium.
Photo ©: Mitch Clinton

US National Road and Criterium Champion, Brooke Miller (Tibco) will cross paths with the highly decorated Ina-Yoko Teutenberg (Columbia-Highroad) for the first time this season at the Tour of California professional women's criterium held on Sunday February 15. The event will be held on the streets of Santa Rosa and has attracted some of the most decorated cyclists in the world.
"I'm really excited that Ina and her teammates are here racing," said Miller, the defending champion. "I always love having the opportunity to sprint against her when she is here. It is exciting for us because we have such a strong group of women on Tibco. I think we are going to be able to show how strong our lead out team really is."
The 60 minute criterium is held in conjunction with Stage 1 of the professional men's race in Santa Rosa. The women's race will start at 1:00 pm and bring the excitement to the streets just hours before the men's finish. The course uses a portion of the men's finish circuit and will finish on the same 3rd Street finish line the men will use later in the day.
"People don't know enough about women's cycling, and this event provides a great opportunity to help spread the word; it's really exciting to be able to win fans over," said Miller. "We always try to make sure we have a good venue for our races and that we get a lot of good coverage. Last year, this race was one of the biggest race of the season in terms of media coverage, which is huge for us. We have confidence that one day we'll get a full stage race. I want to thank AEG for the opportunity and for the exposure."
It will kick off the 2009 NRC season for most of the American teams, with the exception of Tibco and Columbia-Highroad who recently arrived from the inaugural women's Tour of Qatar. Other notable riders and teams expected to light up the criterium are former national criterium champion, Tina Pic (Colavita-Sutter Home), Canadian Olympian Gina Grain (Webcor), Shelly Olds (Proman) and Liz Hatch (Vanderkitten).
According to Teutenberg it is difficult be in top condition for a race held in February but that the Columbia-Highroad women will put their best foot forward to try to win. "It's going to be great and there will be some good crowds there to watch the women's race," said Teutenberg who expects her teammate Emilia Fahlin to be sprinting well after returning from Qatar. "We are definitely going to try to win it because it's an important race, but its too early to peak. I've been doing a lot of endurance stuff and trying to get some speed in too."
There was talk of the one day event flourishing into a three or four day stage race in 2009. However, plans for a larger event fell through last year. "The Women's Criterium allows women's professional cycling to able to benefit from the platform we have here," said Andrew Messick, President of AEG Sports. "We need to continue to showcase women's professional cycling; we need to give sponsors the opportunity to watch and appreciate the competition and athleticism in both the men's and women's race. We'd love to continue to grow this race."
Phinney breaks US kilometer time trial record
Taylor Phinney set his second national record in as many days with a victory in the men's kilometer time trial Saturday, while teammates Shelley Olds and Daniel Holloway added to the US medal count at the UCI Track World Cup in Copenhagen, Denmark.
Phinney clocked a winning time of 1:01.641 to win the gold medal and eclipse the old US national record of 1:01.825 set by Erin Hartwell in Colorado Springs in 1995. On Friday, Phinney smashed the US record in the 4000m individual pursuit, posting a winning time of 4:15.223 to lower the previous mark of 4:19.800.
Phinney's decisive victory in the pursuit was followed by his second gold medal of the weekend as he held off Michael D'Almeida (US Creteil) by less than one second in the four-lap, 1000m contest.
Complementing the US medal count on Saturday were Olds and Holloway who each added bronze medals. Olds finished third in the women's points race, while Holloway placed third in the men's scratch race.
Olds was one of five women to lap the field in the points race, along with Elenora Van Dijk (Netherlands), Katie Colclough (Team 100% ME), Tara Whitten (Canada) and Marta Tagliaferro (Italy), but her second place effort in the race's second intermediate sprint netted her an additional 3 points and secured her a spot on the podium. Olds finished with 23 points behind Van Dijk's 28 and Colclough's 24.
Holloway, the 2007 USA Cycling Elite Criterium Champion, used his talents as a sprinter to earn a spot on the podium behind Kazuhiro Mori (Japan) and Franco Marvulli (Switzerland) in the men's scratch race.
(All rights reserved/Copyright Future Publishing (Overseas) Limited 2009)