First Edition Cycling News, February 10, 2009
Edited by Les Clarke
International flavour adds to Belgian pedigree
Silence-Lotto presents its 2009 team
By Bjorn Haake in Oostende, Belgium
Cadel Evans is flanked by Leif Hoste
Photo ©: Bjorn Haake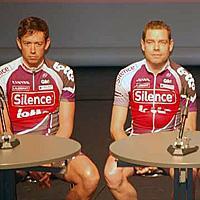 Silence-Lotto held its team presentation on Monday in Oostende, Belgium. The 2009 team comprises 27 riders, with enough diversification to ensure the Belgian outfit can contest the Classics (with Thomas Dekker, Philippe Gilbert and Leif Hoste), sprints (Jürgen Roelandts and Greg van Avermaet) and general classification (Cadel Evans).
Jacques Vermeire and Marc Coucke led proceedings in a light-hearted manner. Vermeire is a Belgian comedian and actor while Coucke is the CEO of Omega Pharma, the company that produces a product called Silence, an anti-snoring remedy. Coucke noted that this year more riders cited their main motivation as supporting Cadel Evans; the Australian has taken second in the Tour de France the last two years.
Evans was presented with the bouquet of flowers he received on stage 10, when he donned his first-ever yellow jersey at Le Tour. "Next time, give the flowers some water," quipped Evans, as he saw the dried-up offering.
Jokes aside, the questions over the Australian's Giro participation were laid to rest, with Evans confirming that, "I won't do the Giro. The timing just doesn't fit." Instead, he'll stick with the programme of previous years and play a supporting role for the Classics crew.
New faces Thomas Dekker and Philippe Gilbert will join Leif Hoste to form a dangerous trio in the Ardennes Classics.
Gilbert reiterated his desire to win, saying, "When I line up at a race it doesn't matter what kind of jersey I am wearing. I am always motivated to win." Dekker, meanwhile, will fully concentrate on the spring races and later return the favour for Evans, helping him at the Tour. "But I expect the Tour to be a bit easier for us, with Astana there," he added.
A minute's silence
The event started out quietly, with a minute of silence for Friederik Nolf, who died in his sleep during the Tour of Qatar.
This didn't set the tone for the rest of the presentation, as Vermeire joked with the riders, while Greg Van Avermaet and Dekker played on Van Avermaet's appearance in Humo, a Belgian lifestyle magazine. This time the young sprinter left his clothes on however, something he didn't for the magazine last year (along with other Belgian male athletes).
After winning the sprinter's classification at last year's Vuelta a España in only his second as a professional, the 24-year-old explained that he definitely wanted to ride the Tour de France this season, but wasn't thinking about the points competition. "The green jersey in the Tour comes a little too early for me," he said.
The team will ride on Canyon bikes this season, which are developed in neighbouring Germany. There will be two different sets of road frames, with the regular version being light and stiff. A special frame for the Classics will add a comfort component.
The most international rider introduced during the evening was Briton Charly Wegelius, who was actually born in Finland. "But I live in Italy and now I work in Belgium," he explained. Wegelius came over from Italian team Liquigas, and represents the direction Silence-Lotto is now taking the team in its pursuit of success.
Photography
For a thumbnail gallery of these images, click here
Images by Bert Geerts/dcp-bergeerts@xs4all.nl
Images by Bjorn Haake/Cyclingnews.com
Fleeman eyes overall in Langkawi
By Daniel Benson in Malaysia
Dan Fleeman holds the position as Britain's sole representative in this year's Tour of Lankawi but the 26-year-old is relishing the opportunity to impress in what is his first race of the season. Fleeman signed for Cervélo TestTeam in 2009 after one season with the An Post team in which he won two races. In Langkawi he'll receive protection from his teammates as he keeps one eye firmly on the race for the overall.
"I can't reveal all our tactics but with the first few days being flat and ideal for sprinters we just need to make sure twenty guys don't get away and build up an insurmountable deficit. It's happened at this race in the past but I've got half an eye on the Genting Highlands stage and the leader's yellow jersey."
But with teams limited to five riders Fleeman thinks the race could be difficult to control. "That might be a problem as we don't have people to sit on the front all day and do the leg work or even sprinter to contest some of the flat stages. We've got to keep an eye on who goes away if a break goes though. If it's a few local riders it's not so much of problem but if real quality escapes then it's different."
After a winter training in the UK, Fleeman attended a training camp in Portugal where he honed his form and caught up with new Cervélo teammates for the first time. "My training has gone really well and I can''t fault the team one bit. I was slightly worried about moving to such a big team because I thought that I'd lose the closeness and tightness you get with a small team. Yet the guys here have been great. We have big names but no big egos. I couldn't ask for more."
Fleeman finished 34th in stage one in the same time as winner Mattia Gavazzi. Fleeman is joined by teammates Philip Deignan, Gomez Marchante, Joaquin Novoa Menedex, Oscar Pujol and Marcel Wyss.
Wild uses experience to protect Qatar gold
By Gregor Brown in Al Shahaniyah, Qatar
Points leader Kirsten Wild (Cervélo TestTeam).
Photo ©: Gregor Brown

Kirsten Wild of Cervélo TestTeam took the lead in the Tour of Qatar thanks to some calculated sprints on Monday's stage to Al Shahaniyah. The bonus seconds gathered at the two intermediate sprints gave her the advantage over previous leader Giorgia Bronzini.
There is one day left in the first professional women's race ever held in the Middle East. The third stage covers 109 kilometres from Al Shahaniyah to Al Khor. Wild believes she has the experience to keep the golden jersey.
"I have been a professional for five years. I won the Tour of Poland before [2007], I have the experience and a strong team," Wild told Cyclingnews. She also explained that local professional for Farm Frites and Olympic champion Leontien van Moorsel has influenced her career.
"I saw cycling on television and I thought it looked like a nice sport. My brother was mountain biker and so I wanted to try," she added.
Dutchwoman Wild leads Bronzini by five seconds and Kirsty Broun by 12 seconds. The final race classification could be completely different because of the bonus seconds awarded on Tuesday's two intermediate sprints and finish.
Wild raced with AA Drink Cycling Team last season, claiming one-day victories in Omloop Het Volk, Omloop van Borsele and Therme Kasseienomloop. She also finished second overall in the RaboSter Zeeuwsche Eilanden and Holland Ladies' Tour.
Wild's win is additional success for the Cervélo squad, with the men's team also taking a stage in Qatar. Roger Hammond won the second stage last week, whilst Heinrich Haussler was awarded the best young rider at race's end.
Tour of California: leave paint at home
By Mark Zalewski, North American Editor
Organisers of the Tour of California, the largest cycling event in North America, are asking the thousands of fans that line the roads each year to not paint on the roads as encouragement for their favourite riders. The plea comes after the past three years where residents who live along the roads have complained to the point where the race will not be issued permits in the future if it happens this year.
"Our course director annually has to go to almost 80 government entities each year for permissions, and we have been lucky enough to have some great believers out these among the counties and cities," said Chuck Hodge, technical director.
"The one issue that continues to come up... is fans painting on the road. Although a great tradition in some [parts] of the world it has become a huge issue at our event. We have annually fielded calls from public works departments and it has come to the point on at least two occasions that we have been told we would not be issued a permit the next year unless we address the issue."
Hodge said that alternative methods, such as chalk, would be preferable as long as they are not permanent.
Lutz: From eBay to Qatar win
By Gregor Brown in Al Shahaniyah, Qatar
Eva Lutz (Nürnberger Versicherung)
Photo ©: AFP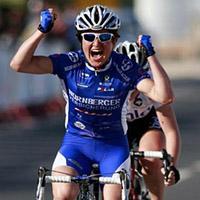 Germany's Eva Lutz went from an eBay bike purchase to a win in front of cycling's stars at the Ladies' Tour of Qatar. The Team Nürnberger Versicherung rider escaped with Veronica Andreasson in the final 12 kilometres of Monday's stage to Al Shahaniyah.
"I started cycling after I bought a bike on eBay. I discovered that cycling was enjoyable and others noted I was good and steered me towards racing," Lutz told Cyclingnews.
She was a rower until the age of 24, but quit because the results were not materialising.
Lutz prefers mountain stages, but this flat 110-kilometre stage allowed her to take her biggest win to date. The race held together until the final intermediate sprint at kilometre 78, at which point Lutz made the front group with around 50 other riders. After the second intermediate sprint in Al Otouriyah, she escaped with Sweden's Andreasson at 12km from the finish.
"I just wanted to get into the feeling again here at the Tour of Qatar - I was not prepared to be fast. However, I was able to win my first point-one [2.1] race."
The 29-year-old has been with her team since 2004. In 2005 she won stage one and held the leader's jersey for two stages in the Tour de Feminin - Krasna Lipa, and last year, she won Germany's Herford and Rund um den Elm.
"I knew Judith Arndt from the television and from the Olympics," said Lutz. "I remember in my first big races I was next to her and I could not believe it. Two years ago, I was able to help her in the worlds and that was a good feeling."
The Ladies' Tour of Qatar continues tomorrow with the third and final stage. The riders will cover 109 kilometres from Al Shahaniyah to Al Khor.
Rock Racing announces California roster
The Rock Racing team, under the direction of Rudy Pevenage, announced its team for the Tour of California during the team's training camp in California. Current US champion Tyler Hamilton will be flying the stars and stripes jersey while riders like Victor Hugo Peña and Oscar Sevilla are also expected to be challengers for the overall.
For both Sevilla and Hamilton, this will be a redemption of sorts as the two were part of a trio of riders not allowed to start the race in 2007, due to their alleged involvement with Operación Puerto. As such, only Freddy Rodriguez, Chris Baldwin and Glen Chadwick have raced this race before.
Rock Racing's Tour of California roster: Oscar Sevilla, Tyler Hamilton, Francisco Mancebo, Enrique Gutierrez, Victor Hugo Peña, Freddy Rodriguez, Chris Baldwin and Glen Chadwick
Danish cyclist dies in France
Danish professional rider Lars Were Berg has died after a crash on a training camp in France. According to Danish website bt.dk, the Team Energi Fyn rider encountered some water on a hairpin bend during a descent on Saturday evening about 5.30pm, slipped, and was subsequently run over by a truck. Despite not being killed instantly, he later died of his injuries after being taken to hospital.
He formerly rode for Odder CK, which is one of Denmark's biggest clubs, and had been training with a strong contingent from the club in Nice at the time. "It is with great sadness that we announce that Lars Were Berg has died as a result of injuries after a crash, at our training camp in Nice. Honour to his memory," the club said on its website soon after his passing.
Lars Berg Were is survived by his parents and older brother.
RACE Pro now Team Planet Energy
The team formerly known as Team RACE Pro will ride as Team Planet Energy for the 2009 season. In addition to the name change comes a significantly bigger roster to aid in the team's ambitions. Riders include some of Canada's most experienced riders such as Andrew Randell, Bruno Langlois, Éric Boily and sprinters Keven Lacombe and Martin Gilbert.
Team director and former professional rider Steve Bauer has a long-term vision for the squad, which according to the Canadian legend, includes the Tour de France. This season the team's program will concentrate on races in the Americas, beginning with the Vuelta Cuba, the Vuelta Mexico Telmex, followed by the Redlands Classic in California. April will see Planet Energy on start lines at the Vuelta Ciclista al Uruguay and then Brazil's Volta International Sao Paolo.
Team Planet Energy's riders for 2009: Mark Batty (Can), Éric Boily (Can), Joël Dion-Poitras (Can), Martin Gilbert (Can), Andrew Hunt (Can), Keven Lacombe (Can), Bruno Langlois (Can), Buck "Kevin" Miller (Can), François Parisien (Can), Keir Plaice (Can), Andrew Randell (Can), Ryan Roth (Can), Charly Vives (Can), Maxime Vives (Can).
(All rights reserved/Copyright Future Publishing (Overseas) Limited 2009)