Latest Cycling News, February 5, 2009
Edited by Bjorn Haake
Heynderickx first to find Nolf
By Gregor Brown in Doha, Qatar
Frederiek Nolf died in his sleep
Photo ©: TDWsports.com / Topsport Vlaanderen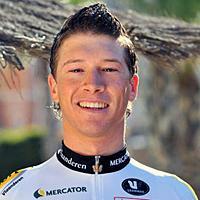 Jean-Pierre Heynderickx, directeur sportif of Topsport Vlaanderen-Mercator, had the unfortunate experience on Thursday of discovering one of his riders had died in his sleep. Frederiek Nolf passed away last night in Doha, Qatar, of an apparent heart attack.
Heynderickx recalled the moment he found his rider in his bed, unresponsive.
"I was the one to wake up the riders. The first room I passed was [teammate Kristof] Goddaert and Nolf's, at 9:00. I rang it and Goddaert opened the door. I passed the other rooms and returned back to their room," said Heynderickx.
Heynderickx found that the two were still in bed. He told them to get up and prepare for the fifth stage of the Tour of Qatar, February 1 to 6.
"There was no reaction from Nolf. I went to shake his leg and there was no reaction. I turned on the lights and then I saw that it was not good. He did not move, I felt his hand and it was cold."
Heynderickx confirmed Nolf was lying as if he was sleeping. He told Goddaert to leave the room and he went to find a doctor. The doctor confirmed Nolf was dead.
"I was the last man to see the two last night, at 10:15. We were joking around. Nolf called his parents and said, 'Tomorrow, I will race hard, I will give it a try.' There were no signs that he was ill or sick."
The riders are tested four times a year in Leuven, Belgium. Heynderickx called the doctor this morning. The doctor looked over his cardiograms and said that he could not find any abnormalities."
Nolf became professional in 2008 with Topsport Vlaanderen. As a junior he had very good results and his most successful year was 2005. Among others, he won the overall of the Route de l'Avenir that year and finished second in the Ronde van Vlaanderen for juniors.
The neutralised stage started at 14:05 local time with a minute of silence. All riders were wearing a black mourning band.
Boonen rates himself and Cavendish at top
By Gregor Brown in Madinat Al Shamal, Qatar
Boonen rates Cavendish high
Photo ©: AFP

Tom Boonen acknowledged that Mark Cavendish is one of the few sprinters that have the power to contend at the top level. On Wednesday the 2005 World Champion from Belgium went head-to-head with the Briton of Team Columbia-Highroad for the first time since June in the Tour of Qatar.
"He is a good sprinter. He knows how to take position. There are only a few guys in the world [of sprinting] who can pass each other. Mark and I are right up with them," Boonen said to Cyclingnews.
Cavendish beat Heinrich Haussler (Cervélo TestTeam) and Boonen (Quick Step) to take the stage four win in Madinat Al Shamal, Qatar. The 23-year-old persisted up the right-hand side of the road despite a tight space created by the bigger and and older Belgian.
"Sprinting is all about taking opportunities – some times it goes right and some times it goes wrong."
The duo first came to a direct head-to-head battle in the 2006 Tour of Britain stage six. Cavendish did not get the better of Boonen until the 2008 Scheldeprijs.
Boonen will continue to focus on more stage wins to add to his already 15 total in his Tour of Qatar history. He also has his mind on a third overall leader's gold jersey.
"In the past it was easy; there was a sprint every day and I just had to stay on the wheels and sprint. This year it is a little bit tricky.
"I think everybody has been training and the race is getting more serious every year. In the beginning, there were three or four teams, but now the overall level is really high. Also, the wind this year is very noticeable."
There will be no battle on Thursday, as the stage was neutralised due to the passing of Frederiek Nolf.
Haussler's hectic Qatar day
By Gregor Brown in Madinat Al Shamal, Qatar
Heinrich Haussler (Cervélo) had a hectic day yesterday
Photo ©: AFP

Heinrich Haussler of Cervélo TestTeam nearly pulled off a win in stage four of the Tour of Qatar Wednesday. The German, up against multiple Tour de France stage winners, finished second behind Mark Cavendish.
"It is very dangerous here with the head- and crosswinds. Columbia trying to pull for Cavendish, Tom Boonen [yelling]... it was just really hectic," said Haussler to Cyclingnews.
Cervélo worked perfectly for Haussler as it has done for him and other teammates in every stage of the Tour of Qatar so far. His team fought in the crosswinds, but a flat tyre meant he had to ride behind Cavendish's Team Columbia to re-join his six teammates in the front.
Teammate Dan Lloyd helped Haussler position himself for the sprint. He placed himself behind Boonen's wheel for the final push along the Gulf of Bahrain waterfront.
"I am not a super-sprinter like the others, but I would like to win a stage in a sprint."
Haussler has had a consistent Tour of Qatar thus far. The team finished seventh on the first time trial stage, he was third in stage one when his teammate Roger Hammond took the win and overall lead, fourth on stage two and second in the latest stage.
He is the leader of the young riders' competition by 2:09 over Cavendish. He is also only 12 seconds off the overall lead of Boonen.
"I will try to hold on to it," Haussler said of the blue young rider's jersey. "It is nice, but I would rather have the gold jersey or a stage win."
Officials award a 10-second bonus in the overall classification for a stage win – six and four for second and third, respectively. If Haussler wins in one of the race's final two stages he would also have a chance for the final overall classification victory.
Danielson to debut in California, optimistic about 2009
By Shane Stokes
Tom Danielson had a good winter and is getting ready for 2009
Photo ©: Jon Devich

Garmin-Slipstream's Tom Danielson is feeling upbeat heading into the new season, and will get his racing programme underway in the upcoming Tour of California.
The 30-year-old American rider won a stage in the 2006 Tour of Spain but has not reached that form since, with illness and injury interrupting this progress. However he said that his preparations have gone well and he is optimistic about the year ahead.
"I had really good training over the winter, which has been a nice contrast to last year," he told Cyclingnews on Wednesday. "In November we had great weather here in Boulder. Then I spent most of December and the first week of January with my wife Steph in Hawaii. We split our time between Maui and Oahu and I can definitely say that is the best winter riding I have ever experienced; the climbing was just incredible."
Having got a solid base, he said that he honed his form with his argyle-wearing teammates. "After that I was off to Silver City, New Mexico, for the Garmin-Slipstream training camp. I went a week early with Christian Vande Velde and then did the 15-day training camp with the team. I am happy with the amount of work I was able to put in this winter, and I feel my form is good for this time of year."
Danielson had a disappointment last season when he was left off the team for the Tour de France. He later showed improving form when he finished fifth in the Tour of Missouri, and has been working closely with team owner Jonathan Vaughters since then in order to reach his full potential.
One recommendation by Vaughters was for Danielson to temporarily take in fewer carbohydrates in order to train his body to burn fat with greater efficiency. This initially led to hunger knock problems on long training rides, but Danielson said that this and other measures are now paying off.
"JV is a very smart guy and I have to say his ideas for my training have been phenomenal," he enthused. "I have been very focused and attentive to detail with his ideas and it has been working out great."
Danielson will begin racing on February 14th in the Tour of California, a race he finished eighth overall in back in 2006. He will then compete in the Vuelta a Murcia, the Vuelta Castilla y León, and the Vuelta País Vasco.
"That will lead me up nicely to the Giro and then I hope to come out of the Giro strong and ready for the Tour," he said. "I'll be targeting each of those races. My goal is to be a big part of every race, whether it is helping my team win or going for it myself."
On-form Diquigiovanni ready for Le Tour de Langkawi
By Jean-François Quénet in Kuala Lumpur
The Diquigiovanni teammates José Serpa and Mattia Gavazzi
Photo ©: Roberto Bettini

Venezuela-registered team Diquigiovanni-Androni is again the hot favourite in Le Tour de Langkawi (February 9-15). The race's decisive stage is considered the Genting Highland stage 5 on February 13. Diquigiovanni's José Serpa won that stage twice, in 2006 and 2007, making him the big favourite for the 2009 overall title.
"But we have a major problem," team manager Gianni Savio explained. "As defending champions, we have the first numbers on the start list, and that means everybody will watch us. The question for us is: how to control the race? With a six-man team, it's not an easy task, and many of our rivals are highly motivated to beat us. It will be very difficult. Even though the Genting stage suits the characteristics of our riders, before that there will be breakaways, counter attacks, etc."
Previously known as Colombia-Selle Italia, Savio's team is almost unbeaten at the City of Entertainment. Only in 2005 Venezuelan climber José Rujano missed the stage win by a few centimetres. That win was taken by the late Ryan Cox from South Africa. Colombians Hernan Dario Munoz, Ruber Marin and José Serpa have captured five trophies out of the six most recent Genting Highlands uphill finishes. The climb also helped their compatriot Freddy Gonzalez to claim the overall win in 2004.
"Of course, for us, the return to Genting is something positive," Savio said. "This is the queen stage of Le Tour de Langkawi. The race is identified world-wide because of this high altitude stage finish. We like Genting but not only for technical reasons. It's obvious that it suits our South American climbers, but we won the race last year - both team and individual overall classifications [with Ruslan Ivanov from Moldova, - ed.] - without Genting on the course. And we lost the race two years ago [to Frenchman Anthony Charteau, - ed.] with Genting on the course."
Serpa is on form after winning stage four in last week's seven-day Tour of San Luis in Argentina, in which he placed third on GC ahead of Andriy Grivko (fourth) and Ivan Basso (fifth). Savio enjoyed seeing his two Venezuelans, Carlos Ochoa and Jackson Rodriguez, finish seventh and 10th, respectively. The same South American trio will combine forces at Langkawi with the help of three Italians, Manuel Belletti, Luca Celli and Mattia Gavazzi.
The latter is the team's sprinter. Last week, the Italian Gavazzi started his season with a win in stage one of the Tour of San Luis in Argentina. "Gavazzi has got a great capacity for accelerating in the finale," Savio said. "Normally I would have lined up Alberto Loddo again in Langkawi, but he was diagnosed with two kidney stones. He's fine now but he couldn't train properly, so Gavazzi is his replacement." Loddo has been the most successful sprinter at Le Tour de Langkawi in the past two years with six stage wins - five in 2007 with Diquigiovanni, one in 2008 with Tinkoff, prior to returning to Savio's team.
Uncertainty over Tour of Sochi
By Shane Stokes
Russian cycling federation president Alexander Gusyatnikov had previously indicated the Tour of Sochi would be in place in 2009
Photo ©: Shane Stokes

Announced last year as a major new event on the ProTour calendar, there are indications that the Tour of Sochi in Russia may not take place in 2009.
"We have a meeting of the CUPT [UCI ProTour Council] next week where we will discuss the Tour of Russia, and will make an announcement after that," UCI President Pat McQuaid told Cyclingnews on Wednesday.
The UCI has been waiting for a definite word from the organisers as to whether the race will go ahead. The drop in value of the rouble, the economic crisis gripping Russia plus the fall in the price of oil are thought to be factors, even though it was announced in July that a 30 million euro per annum budget had been planned for Russian cycling. Just over half of this was earmarked for the new Katusha team, with the remainder of the money due to be used for Russian cycling initiatives, including the Tour of Sochi and grassroots development.
It is not known if this budget has itself been reduced. Cyclingnews has contacted both the Russian Federation and UCI ProTour manager Alain Rumpf in order to seek clarification.
Rumpf has already given some comments to Eurosport.fr. "We must acknowledge that we no longer have much news from them," he said, referring to the organisers. "What is certain is that we can't wait much longer. A decision on our part has to be made quickly."
"Last year this project seemed to be easily put in place, but it is no longer like that."
The race had initially been scheduled for May but more recently, the UCI's ProTour calendar had indicated that the date had yet to be finalised. There was speculation that it may be run in September instead, a later date which would conceivably make the 2009 edition possible if a quick decision is made to go ahead with it.
Cyclingnews will continue to follow this story.
UCI preparing to file cases under the Bio-Passport programme
By Susan Westemeyer and Shane Stokes
The International Cycling Union is apparently on the verge of filing the first doping cases under the biological passport programme. The cases may be filed within days, weeks or months.
According to the Associated Press, the UCI has "several" cases which warrant further action and which are strong enough to hold up to the expected legal challenges.
"The author was speculating," UCI President Pat McQuaid told Cyclingnews, referring to the AP assertion that three riders show clear evidence of doping. "I am ... not going to go into specifics and will neither confirm nor deny whatever number is expressed. UCI is allowing everybody to do their job in a serene way and when we are ready we will move forward."
Under the UCI's biological passport programme, the riders provide blood and urine samples to create their own individual profiles. The controls do not look directly for forbidden substances, but look at the regularity of values.
However, according to the AP, "There are indications some dopers already are navigating the traps laid by testers screening blood by managing their drug use to hover just below the radar screen."
McQuaid explained to the AP why the UCI has waited so long with the cases. "Before the experts are prepared to commit to saying: 'Yes, we can go forward with that case,' they want to be 100 percent sure," he said. "The first case has got to win. The first case has to be 100 percent clear-cut," so it can withstand an appeal to the Court of Arbitration for Sport.
No license, no races for Team Cinelli
Frank Vandenbroucke will have to wait for his return to racing
Photo ©: Roberto Bettini

Frank Vandenbroucke and his Team Cinelli are not welcome in this weekend's GP Costa degli Etruschi in Italy, because the team still does not have a UCI license.
The team, which is led by Nico Mattan, said in January that it had only just submitted its final application and was expecting to hear shortly from the UCI, which apparently hasn't yet happened.
Cinelli had expected to open the season at the Vuelta a Tachira in Venezuela, but couldn't because of the lack of a license. The Tour Méditerranéen (February 11-15) has also said the team is not welcome.
"That only leaves us the Trofeo Laigueglia on Saturday, February 21, as preparation for Kuurne-Brussel-Kuurne," Mattan told Sportwereld.be.(SW)
Van Huffel to Revor-Jartazi
Wim Van Huffel has finally found a team for the 2009 season. He will ride for Revor-Jartazi, a Continental team.
The 29-year-old rode for Lotto the last four years, but his contract was not renewed for this season. He first signed for 2009 with H20-Telteck, but the team received no UCI license. He then wanted to go to Crota-Truba, but the team did not come into existence.(SW)
Great Britain announces Copenhagen track World Cup line-up
Chris Hoy will make his return to the Track World Cup


Photo ©: AFP

British Cycling will send a 23-rider squad out to the final round of the 2008-09 UCI Track Cycling World Cup in Copenhagen, Denmark, which takes place on February 13-15. Four members of the British squad will compete for Team Sky+HD, seven will ride for Team 100% ME, and 12 will represent Great Britain.
"We are viewing the Copenhagen round as an important competition for us as it is our final test before the World Championships in March," said newly appointed track performance manager Heiko Salzwedel. "We are not going to taper for this and still expect a great deal of performance from our riders. This will be the second time we enter a Track World Cup with a full squad – the first time being the opening round of the World Cup on our home ground in Manchester."
Four-time Olympic gold medallist, Sir Chris Hoy, is set to make his return to Track World Cup cycling representing Team Sky+HD. Joining him on the team are fellow Olympic gold medallists Jamie Staff, Jason Kenny and Victoria Pendleton.
Team 100% ME is again fielding a young but talented team of endurance riders, with Lizzie Armitstead looking to add to the five gold medals she has already won this season.
Team GB will be represented by a mixture of experience and youth with future stars Helen Scott, Lucy Martin and Alex Greenfield being joined by the likes of European Champion Matt Crampton and Olympic medallists Ross Edgar and Chris Newton.
The British riders have had an astounding track season, winning medals in 22 out of the 27 World Cup events they have entered so far.
Also travelling to Copenhagen will be GB's para-cyclist Darren Kenny. Kenny, who returned from Beijing with no less than four gold medals, will be attempting to break his own Hour World Record of 41.817 km, which he set in Manchester back in 2005.
British Squads for the UCI Track World Cup, Copenhagen, Denmark:

Team Great Britain:
Rob Hayles, Chris Newton, Ross Edgar, Ed Clancy, Steven Burke, Peter Kennaugh, 
Matt Crampton, David Daniell, Anna Blythe, Lucy Martin, Alex Greenfield, Helen Scott

Team Sky+HD
Chris Hoy, Jamie Staff, Jason Kenny, Victoria Pendleton

Team 100% ME
Mark Christian, Andy Fenn, Luke Rowe, Erick Rowsell, Lizzie Armitstead, Katie Colclough, Jo Rowsell

(Additional editorial assistance by Susan Westemeyer)
(All rights reserved/Copyright Future Publishing (Overseas) Limited 2009)