Latest Cycling News, April 13, 2009
Edited by Bjorn Haake
Hincapie's Roubaix run spoilt by flat in key moment
By Gregor Brown in Roubaix, France
George Hincapie (Columbia-Highroad) had an untimely puncture
Photo ©: Brecht Decaluwé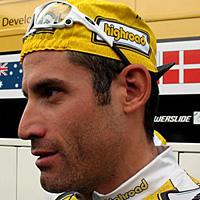 George Hincapie's 2009 Paris-Roubaix slipped away Sunday on the Warlaing à Brillon cobbled sector when his rear tyre punctured immediately prior to a surge in pace by Team Saxo Bank.
"It was a terrible tactic by Saxo Bank because they did end up doing nothing," said the Columbia-Highroad's American to Cyclingnews after the race.
Columbia-Highroad played its cards well in the 259-kilometre cobbled Classic known as the 'Hell of the North'. Hincapie made the finale with teammates Bernhard Eisel, Marcus Burghardt and Edvald Boasson Hagen, winner of Wednesday's Gent-Wevelgem.
Hincapie's race started to unravel due to a rear flat tyre on the Warlaing à Brillon sector, some 73 kilometres from the finish.
"I could not get my wheel out after the tyre flatted, it got stuck. It would have been a pretty normal change, but my spoke was stuck in the pulley and I could not get it out. I was relaxed when we got going, but I did not expect the surge by Saxo Bank."
Eisel and Boasson Hagen escorted their captain back to the front. As Hincapie worked his way back through the group, Saxo Bank started to hammer on the straight bit of road leading to the Beuvry-La-Foret feed zone.
His 44th place finish Sunday did not end up being his best. The South Carolinian claimed second behind Tom Boonen in 2005 and fourth in 1999 and 2001.
Is it his last Roubaix appearance? "I don't want to go out like that. I thought about it at the end of the race with 20 kilometres to go, and I still feel good and I know that I can go with the best in the race."
Chavanel: I deserve my spot in these races
By Brecht Decaluwé in Roubaix, France
Sylvain Chavanel (Quick Step) knows he can win it one day
Photo ©: Nicolas Götz

After a decade in which the French crowds only had former winner Frédéric Guesdon as one of the favourites at the start in Paris-Roubaix, a new era has started with 29-year-old Sylvain Chavanel. The versatile rider from the dominating Quick Step formation discovered that he has what it takes to fight for the win in the vélodrome of Roubaix.
Last Sunday Chavanel was in front of the race until the important pavé sector number 10 – Mons-en-Pévèle – less than 50 kilometres from the finish. It was the point when teammate Boonen accelerated and got away in a group of six. "I sat too far back at that moment," Chavanel said to Cyclingnews.
Chavanel had a scare before that, in pavé sector number 17 (the sectors are counted downwards), the famous passage through the Arenberg forest. "The forest was a setback. I was held up by the big crash there. Together with teammate Stijn Devolder, we had to spend a lot of energy to get back to the front of the race; I paid the price for that in the finale," Chavanel said.
Once the Boonen group was clear, Chavanel counter-attacked together with this season's discovery Heinrich Haussler (Cervélo TestTeam). Haussler beat out Chavanel in the vélodrome, leaving the Frenchman in eighth place, 3:15 behind winner Boonen. "I showed those who figured I should concentrate on the Ardennes Classics that I have my place in this race. It was a superb experience to ride Paris-Roubaix in a team that masters every detail of this Monument," Chavanel said.
Chavanel's last time in the Queen of Classics was in 2001. Last year the he made an unexpected move from the French Cofidis team to Patrick Lefevre's Classics squad. "The team worked fantastic and since Tom was the strongest rider out there he deserved the victory; he's made for Paris-Roubaix. He isn't a big head despite his impressive palmarès. He still makes time for his fans and remains humble," Chavanel said.
"I started the race convinced that I could win," Chavanel added, emphasising he's capable of that. "It's a tough race, especially when you're not super, which was the case for me. It's a demanding, physical race and it's an unbelievable experience to storm on to each pavé sector. It's a man's race. I'm very tired now and my back hurts; I'll have a good sleep tonight, but overall I'm satisfied," Chavanel said.
Next week the Paris-Nice stage winner starts the Amstel Gold Race, before taking a well deserved break. "My next objectives are the Tour de France and after that the World Championships," Chavanel said. For 2010 he'll be back as one of the top favourites in Paris-Roubaix, taking over from Guesdon who'll be starting in his last Queen of Classics.
Captain Quinziato proves his worth in Roubaix
By Gregor Brown in Roubaix, France
Italian Manuel Quinziato (Liquigas) was ninth
Photo ©: Tom De Meyer

Manuel Quinziato proved to team Liquigas he is reliable to bring home the goods in the Northern Classics. The 29-year-old Italian shaped the finale of Paris-Roubaix on Sunday, only missing out when Quick Step's Tom Boonen launched his winning move on the Mons-en-Pévèle sector.
"I was captain for the first time in my life and at least I have shown that I can win these types of races," he said to Cyclingnews "I am adapted for these races and next year I will come back better."
Quinziato remained in front for the dangerous Arenberg sector at kilometre 164 of the 259-kilometre race. He punctured at the end of the 2400-metre sector, but was able to chase back to the favourites with Stijn Devolder's group. He then played his cards in the final third of the 'Hell of the North'.
"I knew that Boonen was stronger than I so I tried to attack in advance. I tried to gain an advantage with [Heinrich] Haussler and [Juan Antonio] Flecha, but there was a man from CSC [Saxo Bank's Kasper Klostergård] and Quick Step [Wouter Weylandt] who did not want to cooperate."
Quinziato formed part of a group of 15 men when Tom Boonen (Quick Step), Filippo Pozzato (Katusha) and Thor Hushovd (Cervélo TestTeam) bridged up prior to the Auchy à Bersée sector. The group braced itself for the subsequent challenging sector of Mons-en-Pévèle. Boonen used the 3000-metre cobbled farm track as his launch pad for eventual success.
"When Tom attacked my lights went out and I lost my rhythm."
Quinziato lost out on the winning move – Boonen, Hushovd, Leif Hoste and Johan Van Summeren (Silence-Lotto), Pozzato and Flecha – but continued his battle with the following group. Haussler and Sylvain Chavanel (Quick Step) broke free in chase on the Camphin-en-Pévèle sector and Quinziato led his group home for ninth. It was his highest place, four better than last year's 13th.
Saxo Bank misses decisive move
Fabian Cancellara and his Saxo Bank teammates fought hard
Photo ©: Nicolas Götz

Saxo Bank looked strong in this year's Paris-Roubaix, with riders in every move except the decisive one. Matti Breschel was the team's best finisher in 10th place.
Saxo Bank started out well, with Kasper Klostergård making the 11-man break of the day. Once this break was caught, Klostergård remained up near the front and a valuable player for the team.
Directeur Sportif Lars Michaelsen was happy that his riders followed the given tactics. "We started the race with the ambition of taking the front and creating the race, and we succeeded perfectly."
Things fell apart when Boonen attacked less than 50 kilometres from the finish and the winning move of six formed. "Unfortunately, we did not have the strength to respond when the decision was made and it was obviously a shame but that's cycling for you. Everyone who watched the race today can see that our riders really gave it all and were extremely motivated."
Michaelsen acknowledged the strength of the winner. "It was the best rider who won today. We did all we could in order to put a significant mark on the course and the whole team played a role in the final."
Fabian Cancellara, winner of the 2006 edition, also took some strong pulls, but ran out of steam before the final secteurs pavé. "Although it would have been nice with a Saxo Bank rider on the podium, we can not be dissatisfied with the performance our riders delivered today, because they gave all they had," Michaelsen said after the race.
There were 99 finishers, including all eight Team Saxo Bank riders, including debutants Matt Goss and Anders Lund.
Lelangue: My most satisfying Roubaix ever
Swiss rider Alexandre Moos (BMC Racing Team) crashed in the Carrefour de l'Arbre
Photo ©: Gregor Brown

BMC received a late wildcard just a month ago to Paris-Roubaix and scrambled to get eight riders ready for one of the most difficult one-day races on the UCI calendar. Three riders of the American team were able to finish the race. Sports director John Lelangue was happy, knowing the race would be a learning experience.
"Paris-Roubaix is always a difficult race, but I am really, really proud of how our team did," John Lelangue said. "It is challenging not only for the racers but also for the staff, so I am enormously impressed with how well our entire team worked throughout the day."
Brent Bookwalter acknowledged that the stories beforehand didn't prepare him for reality. "First impression was that it was just such a crazy race," the first-time finisher said. "We all came in expecting it to be crazy, but the magnitude of the crowd and the nervous energy of the field really turned this into another animal."
BMC team members worked well together and watched out for each other. "We were very lucky early in the race with few mechanicals, and the guys were all able to keep themselves out of trouble for the most part," Lelangue explained.
"I was far back in car number 24 in the caravan, though, so when one of the guys did have a problem, their teammates or staff members placed along the route were there to help riders in trouble."
Flag pole in the front wheel
Alex Moos was BMC's best finisher in 68th place, but more was possible. Moos entered the cobbled section of the Carrefour de l'Arbre well-placed in the main peloton, but a spectator accidentally put a flag pole through his front wheel. "Alex crashed very hard in the Carrefour de l'Arbre and was beat up pretty badly," Lelangue explained. "He must have lost eight or nine minutes there because he needed a new bike."
With a cut on the head and a bloodied knee and elbow, Moos was forced to race the last 17 kilometres on his own. "I am really proud of how hard Alex fought to finish the race even with his injuries," Lelangue said. "Brent Bookwalter and Ian McKissick also did a fantastic job of fighting to the last cobble."
Bookwalter said it was easy to find the motivation to fight to the vélodrome. "This is one of those races that everyone wants to finish. Everyone knows the history and will push through a lot more pain; Alex's crash is a prime example: after a crash like that in any other one day race, he probably would have abandoned, but since it was Roubaix he just had to keep on fighting till the end."
Lelangue also praised the people in the background. "As well as the riders did, I can't say enough about just how hard and how well the staff did their jobs too," Lelangue said. "Without the overwhelming efficiency and professionalism of our soigneurs and mechanics, I am certain we would have never had three finishers in the race.
"Honestly when I saw the staff at work during the race, it seemed to me that they had been doing this race for the past 10 years instead of this being their first time."
The balance was positive. "In our first attempt as a team at Paris-Roubaix, to have three finishers from such a young group is a real accomplishment," Lelangue said. "Alex, Brent and Ian are a part of the history of finishing this event which is, along with the Tour of Flanders, the hardest one-day race anywhere in the world."
New winner at Scheldeprijs a certainty
When the Scheldeprijs is fought out on Wednesday, April 15, over 200 kilometres the expected sprint finish will not contain the winner of the two previous editions, Mark Cavendish. The duel between him and Tom Boonen is tied, both having won the Scheldeprijs twice, but Cavendish takes a well deserved break from racing after a busy and successful spring.
Boonen can thus go up 3:2 on the Briton, provided he has recovered from his Paris-Roubaix win and is up for the task. The Scheldeprijs is a typical sprint affair, so expect Jürgen Roelandts and Greg Van Avermaet (Silence-Lotto) up there as well as Graeme Brown (Rabobank).
Read the full preview.
Previous News Next News
(All rights reserved/Copyright Future Publishing (Overseas) Limited 2009)