News feature: August 23, 2007
Riis speaks out
At the beginning of August, Team CSC decided not to take legal action against former CSC rider Jörg Jaksche, who had risen strong allegations against Bjarne Riis in the now infamous Spiegel interview. Riis, Jaksche claimed, had been aware of doping practices on the team. Riis did not want to let the issue go completely without comment; Katharina Schulz of Cyclingnews takes a look at a recent Danish paper B.T. in an exclusive interview.
Team manager Bjarne Riis
Photo ©: Gerry McManus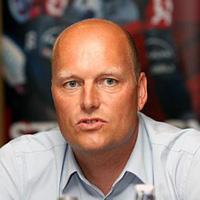 "The man is out of line," Riis stated in regards to the allegations made by Jaksche in the Spiegel interview. "It was really hard for me when this thing started. Because I thought it was so grotesque. The year before I had not renewed Michael Rasmussen's contract based on something that wasn't even a real suspicion because I wanted everything to be in order," Riis told the paper. As it has become known now, Riis had decided to send home Michael Rasmussen in 2002 just before the Giro della Provincia de Lucca because of irregularities in his blood profile.
Jaksche's report shows him in a somewhat different light, amongst other things, he describes having sat in a ski lift with Riis and talked about Jaksche's race calendar but also about what could be done so that he would be able to deliver the goods. Jaksche was getting anxious because riders were being tested for EPO and he was afraid of not being able to get up to scratch anymore.
Riis remembers the occasion, but denies having given Jaksche any kind of advice about doping. "I know that I have been sitting in a [ski lift] with him, because I remember we went skiing together. But I also know that I didn't sit there and tell him to do this or that. No way. That's just in his head. Even at the time I kept badgering them about how they should behave," he told B.T.
He describes Jaksche as someone who had difficulties fitting in. "Jörg was really hard to work with for the other riders. And I have also heard that he was one of those who keep asking everyone all sorts of questions, which things could be done and how he should do things. And this tells me that he was out of line."
"Jörg was really hard to work with for the other riders."
- Riis describes Jaksche.
When the opportunity arose for Jaksche to rejoin his former team, Liberty Seguros, there didn't seem to be much hesitation on either side. "Jörg had fallen out with many people on the team. He had been riding for Liberty before, and when he came to me and said, 'Bjarne, I have an offer to go back there,' I let him go. My economy wasn't very good. He knew the team [i.e. Liberty] and he was allowed to do as he pleased there. And it was perfect for me," Riis recalled the situation.
Even though he repudiates Jaksche's allegations, Riis does not see any point in taking legal action against him. "[A case against Jaksche] would just have cost us a lot of time, and we wouldn't have got anything out of it apart from a lot of bad publicity. I don't see any reason for that. Better let the whole thing just ease off."
Jörg Jaksche
Photo ©: AFP

And yet, Jaksche's report gained credibility through the fact that Alexander Vinokourov, who said Jaksche was not to be believed, has since been caught for cheating himself. Riis stresses that Jaksche is at odds with a lot of people in the cycling world, though. "One should keep in mind that Jörg Jaksche has fallen out with a whole lot of people. He's gone and quarrelled with Jens Voigt, who's quite a plain-spoken person, and I know that he shouted at him on the phone and abused him. Jaksche didn't get to join Astana, and he was angry about that. In the spring he called me and asked if I could help him. 'I can't. Forget it, Jörg,' I answered. He wasn't satisfied with that. But I don't care if this is his revenge or something else. It doesn't matter to me now. I guess I'll be okay."
Riis is now happy that the times where extensive testing wasn't possible are over. During the time Jaksche was a member of the team, things were different. "Yes, you were always afraid that someone could be blown. It was a time where you never really knew where you were at with people. We didn't have the tests and the systems it takes to do anti-doping work."
Jaksche himself though was never conspicuous, Riis adds. "No, his [blood] values were never high. I don't know how his values are today, but if Rasmus Damsgaard looked at them [i.e. the past profiles] now, he would surely be able to find something."
Even though the tests weren't as comprehensive as they are now, Riis still followed a very clear line about doping, he claims. "In those days we tested for hematocrit values, while today we are checking haemoglobin because it's much more stable. We were acting on a different basis. But listen, also in those days we were very clear about what we wanted and what we didn't want!"
Ivan Basso in a press confrence
Photo ©: Sirotti

Still, two riders who were members of Team CSC at one point have since been involved in major doping scandals: Tyler Hamilton and Ivan Basso. "We did what we could at the time. I could have said to my doctors that I wanted more tests. Or rather, it was the UCI who did the testing – why didn't they notice anything?"
"I still think that Ivan is one of the world's best cyclists. His blood profile was presented as a textbook example of what it should look like. It looked fantastic. He never had a hematocrit over 43 during the time he was on our team. The UCI said that his blood profile was perfect if you wanted to be a future winner of the Tour de France. And if the UCI says something like that, how the hell should we be able to find out anything?
They only ever really started to suspect Tyler Hamilton after he had left our team and joined Phonak. I remember that [Hein] Verbruggen came to me after the World Cup where Tyler Hamilton had just been blown, and asked me if I hadn't suspected anything. I answered that his hematocrit had been between 43 and 47, and that moreover it was the UCI who should know best, if it was them who tested the riders," Riis explained.
Bjarne Riis is unsure about whether he would still be a part of professional cycling today if he hadn't been able to implement an extensive anti-doping programme. "It would have been difficult if we hadn't had Rasmus Damsgaard and his programme."