News feature: Floyd Landis' arbitration hearing - day 9, May 23, 2007
It's science versus science, as Landis' fate hangs in the balance
Blinded by science? The arbitration panel listens
Photo ©: AFP Photo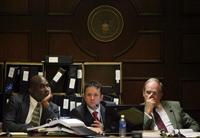 The final day of the arbitration hearing into the alleged doping case of 2006 Tour de France winner, Floyd Landis, saw closing arguments presented by both sides and it may take more than legal expertise to decipher the scientific opinions. Philippa Bourke reports from Malibu, California.
In its closing arguments on the final day of Floyd Landis' arbitration hearing in the Darling Trial Courtroom at Pepperdine University's School of Law in Malibu, California, the United States Anti-Doping Agency (USADA) stood by the scientific methods used for dope testing while it unleashed a scathing attack on the 2006 Tour de France winner's character.
"The science is solid," USADA attorney Richard Young told the three-person arbitration panel. "Mr Landis had exogenous testosterone in his (Tour de France) Stage 17 sample, and in an effort to win at all costs he cheated the rules of cycling and he got caught," he said of the alleged doping offence.
Floyd Landis
Photo ©: AFP Photo

While the Landis defense team had spent most of its effort during the nine-day hearing attempting to discredit the results of the urine tests performed by France's Laboratoire National de Dépistage du Dopage (LNDD), USADA honed in on the cyclist's character, rather than focus attention on the practices of the French lab.
As expected, the attorney for Mr. Landis, Maurice Suh, used his closing argument to reiterate the claims of inconsistent methodologies and technologies used at LNDD.
Earlier in the day, additional testimony had been provided by Dr J Thomas Brenna, for the USADA, while the Landis legal team questioned Mr Simon Davis, technical director of scientific instrumentation company Mass Spec Solutions, who claimed that the French laboratory technicians were not capable of operating their IRMS equipment correctly.
Young addressed a well-attended hearing room, as Landis shifted in his chair and appeared uncomfortable throughout the closing argument. Landis' mother Arlene, notably dressed in dark colours for the first time throughout the hearing, clutched her hand to her chest and followed proceedings closely. After the hearing she told reporters, "He (Floyd) won. Well, in my heart he won."
Any result from the arbitration hearing, which ended on May 23, may not be known for up to six weeks. The next step is for the arbitrators to meet behind closed doors and deliberate on a verdict.
Unprecedented attention
The hearing of a high-profile athlete doping charge set a precedent in being open to the public for the first time, but was often overwhelmed by the complexity of the underlying science.
Still, the USADA made use of the non-scientific evidence and drama that emerged during the extraordinary nine-day hearing, such as the revelation by three-time Tour de France winner, Greg LeMond, that he had been sexually abused as a child.
This emerged during evidence given by Mr LeMond as a witness for USADA, as well as the more damaging revelation that an associate of Mr Landis, his former business manager, Will Geoghegan, had contacted Mr LeMond the night before he was to give his testimony. Mr LeMond said he received a phone call from a man claiming to be his uncle. Mr LeMond said the caller said many things including, "I am your uncle and if you want me to finish this... We can talk about how we used to hide your weenie."
Richard Young, counsel representing the USADA
Photo ©: AFP Photo

According to the USADA attorney, Landis had associated with another person ... "who did try to attempt to tamper with a witness in this case". Young also drew attention to unanswered questions about why Mr Landis did not inform his attorneys of his knowledge of Geoghegan's threatening phone call to Mr LeMond. These actions all were consistent with a person who would use exogenous testosterone, he maintained.
The USADA's attorney contrasted this behaviour with the assumed credibility of scientists affiliated with the World Anti-Doping Agency (WADA), such as Dr Christiane Ayotte from Montreal and the now retired Dr Don Catlin of UCLA, who both testified for USADA.
"They take great pride in their work and they are not the sort of people who would try to hide anything or try to tamper with results," he said. "And you heard Mr Landis, and the actions he took or didn't take, and the timing of those actions and you can be the judge of that relative credibility."
Further, the LNDD staff were not evil or motivated by a desire to bring down Floyd Landis, he said. The USADA's attorney referred to the testimony of expert witness Dr J Thomas Brenna, who had supported the results of the tests carried out in France, as did Dr Catlin. However, the clear focus of his closing statements was to point to the character of the athlete.
Garbage in, garbage out
Young was then followed by Landis' lead attorney Maurice Suh, who again reviewed the claims of inefficient work practices at LNDD. He used an overhead projector with images of chromatography expert Wolfram Meier-Augenstein and LNDD analytical chemist Cynthia Mongongu, with red capitalised labels such as "fraudulent" adjacent to the latter.
His closing argument also referred to the documentation surrounding the Landis tests at LNDD, where he alleged that documents had been altered after testing had been completed. One of these changes appeared to be that of a date on one of the forms that identified the Landis samples. "Let me ask you this question, how often in March of a year do you accidentally put the previous year's date. In other words, it's 2007 or 2006 and you write 2005. The year just changed, I do it all the time. In other words, it's 2007 (or) 2006 and you write 2005. Sometimes I'm writing the previous year.
"One thing I have never done," he continued, "I have never written for the subsequent (next) year. For example, in March of 2006, I may write March of 2005, but I certainly don't write March of 2007.
Maurice Suh
Photo ©: AFP Photo

"So let's look at what we see up in that upper right hand column," he said, displaying a projected image of one of these forms in question. "Look at that. March, what looks like 6 or 16, and then look, 2007 with a 6 overwritten on it. March 6, 2007. This document came to us right in the beginning of March of 2007. Now we don't know how it got this way but in common experience, would you actually write the following year in March of 2006? With the handwriting so similar to this document, we would submit to you this is a fraudulent document. This was made up in response to our request."
Suh then outlined what he called a litany of "strange laboratory practices", including what he called were differences in LNDD analytical chemist Clare Frelat's "own personal regimen of uncertainty", and data-retention practices that were of her own doing. "Frelat had only six months of training and (she) was testing the urine of the Tour de France champion," Suh exclaimed.
He continued his attack on the French laboratory's operational procedures: "Even though the isoprime instrument is a certainly not an easy thing to operate, they didn't have the manual for it," he said. "They left the lifting rings right on top of the magnet of the machine that ran the re-testing results; there was a lack of familiarity with the software; there was a lack of familiarity with the hardware; that software was over 10 years old; the isoprime was not linear; the training was not ongoing; the linearity was not even done according to their own standard operating procedures.
"We're not saying that any one of these things alone taken out of context is something that should be invalidated as an adverse analytic finding. We're breaking that view because they paint a picture of how we got to this chart that USADA has opted to leave up all week," referring to an image of a Landis test result.
"This is the kind of thing that underlies the results. Some of the things are ISL violations, some of the things may not be. Do you have now with you the comfortable satisfaction that everything was done properly? That it was done right? That the results are accurate? Do you feel it? 'Cause we don't.
"When all of these errors are made," said Suh, "we get errors out." He then showed a diagram of garbage cans lined up in a chain under the giant words 'in and out'.
"You don't even have to be an expert to know that at least some of these numbers are wrong," he said. "You can't have a T/E (testosterone to epitestosterone) ratio of 4.9, 10.7, 11.4, 5.1, and 10.9 and 11. This is almost a test of the reproducibility of their (LNDD) results. They failed that test. Same with the testosterone. It's not even as all the testosterone numbers lined up. Or even all the epitestosterone. This is not a theoretical thing we are talking about: Garbage in, garbage out," he said.
According to Suh, it is a combination of the inconsistency of the test results and the work practices at LNDD that all contribute to invalidated results for his client's urine sample.
Did anyone mention cycling?
At the end of nine days of hearings, the cycling public has been shocked by revelations quite separate to this case: that of Greg LeMond's childhood trauma, the startling doping confession of former professional cyclist Joe Papp and the behaviour of one of Landis' associates.
What is not clear is an outcome. The three jurists on the panel, Chris Campbell, Richard McLaren and Patrice Brunet, will now deliberate and when they do bring down their decision, it is likely to be appealed to the Court of Arbitration for Sport (CAS), where the same arguments are likely to be repeated.
By that time, the 2007 Tour de France will be more than underway, and the shadow of this doping case will be cast over the sport's marquee event and undoubtedly detract from the sport, in much the same way the Landis hearing has diminished attention on the sport's second-largest stage race, the Giro d'Italia, which has been running in the background throughout this extraordinary chapter in cycling history.
Photography
For a thumbnail gallery of these images, click here
Images by AFP Photo
Cyclingnews' coverage of the Floyd Landis case
May 29, 2009 - French authorities summon Landis and Baker
September 28, 2008 - Landis takes case to US federal court
September 10, 2008 - Landis signing with current Health Net-Maxxis team for 2009
July 1, 2008 - CAS delivers final blow to Landis legal challenge
June 30, 2008 - Landis loses final appeal
June 28, 2008 - Landis decision due Monday
March 12, 2008 - Landis' judgment day nears
October 21, 2007 - Landis files appeal with CAS
October 18, 2007 - AFLD takes another look at Landis case
Thursday, October 11 - Landis continues fight, appeals to CAS
Saturday, September 22 - UCI officially names Pereiro 2006 Tour champion, Landis case raises issues
Friday, September 21 - Landis' appeal denied, two year suspension levied

Cyclingnews' complete coverage of the Floyd Landis case