News feature: Floyd Landis' arbitration hearing - day 5, May 19, 2007
Day five: Drama and science again battle for attention
By Mark Zalewski in Malibu, California, with additional reporting from Philippa Bourke
Joe Papp speak to the media
Photo ©: AFP Photo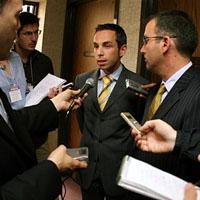 After yesterday's epic twists and turns surrounding the testimony by Greg LeMond, the arbitration hearing between the United States Anit-Doping Agency (USADA) and 2006 Tour de France winner Floyd Landis resumed with what has been the bulk of the testimony to date - the science and procedures behind the testing of Landis' samples by the French LNDD lab, both immediately following stage 17 and the reprocessing this past April. An expert witness from either side gave compelling testimony regarding the testing procedures of the LNDD lab - Dr. Christiane Ayotte, professor and director of a World Anti-Doping Agency (WADA) accredited laboratory in Montreal, and Dr. Bruce Goldberger, professor and director of toxicology at the University of Florida.
However, the afternoon session was once again turned to the dramatic side of things with the testimony by Joe Papp, a former professional cyclist, when he admitted to taking performance enhancing drugs while he was racing.
Papp admitted to, among other things, taking EPO, human growth hormone, caffeine and a variety of other substances for performance enhancement purposes. Additionally, Papp admitted to taking different types of testosterone in an effort "to improve my recovery in competition". Upon this admission, it became clear that the USADA side had called him to testify as to the motivation for using testosterone in competition. Papp also indicated that he was currently cooperating with the United State's Attorney in an ongoing investigation into doping, but would not elaborate further.
Papp provided for the hearing an example of the testosterone he used - a small gel packet of AndroGel (testosterone gel) 1%, with the USADA lawyer Matt Barnett placing it on the overhead viewer for the entire panel and gallery to see.
Judges Christopher Campbell (L), Patrice Brunet (C) and Richard McLaren
Photo ©: AFP Photo

Mr. Barnett, who appears to be the counsel in charge of questioning the drama-filled witnesses, asked Papp about his racing, and doping, history. Papp said that he started doping when he came back to racing after taking a break to finish school. Upon returning he said he, "noticed a difference in the speed of the peloton" and his new teammates "told me things have changed and I should go to a particular doctor."
Papp admitted to doping while he was on the Italian professional squad, Team Whistle, during 2005 and 2006. Upon the cross-examination by Maurice Suh for the Landis side, he was pressed to name names regarding who provided the team with the doping protocol. After a fifteen minute recess so that Papp could confer with his personal attorney, Papp finally and visibly reluctantly testified that the brother of Team Whistle director and ex-Saeco professional Simone Biasci, Sandro Biasci, was the one providing the drug protocols.
"As a team we were called into scheduled meetings in hotel rooms and he would show up with a backpack with a cold storage bag in it - there were doping products in it. He would distribute them amongst the riders competing in that particular event. He would take the unused products and disappear with it."
Mr. Barnett focused most of his questions on Papp's use of testosterone. "In 2004 I made the acquaintance of a Spanish rider, we competed together in the same UCI 2,000km stage race," said Papp. "He provided explicit details about the use of testosterone as a recuperative agent for a multi-day stage race. I began using testosterone to improve my recovery."
Mr. Papp described his use of testosterone as "micro-dosing," or "the practice of using anti-doping agent sufficient to cause a physiological benefit but without tripping the doping controls." During the direct examination by Mr. Barnett, when the events of stage seventeen of the 2006 Tour de France were brought up, Mr. Papp said, "I don't know Mr. Landis. I don't have any ill-will to him. I don't have an opinion on any of this except to share my experience and to say that testosterone definitely improves your recovery and help you get back to whatever your best threshold power is."
Landis smiles during day five
Photo ©: AFP Photo

Next, Mr. Barnett brought up the slides from the Landis side's opening arguments, saying what Mr. Landis must have done "in order to believe USADA. I know from my own personal experience and quantitative analysis of my own power output that it does have a beneficial effect during a stage race," said Papp. "Why am I here? I am not getting anything out of being here. In reality, I have everything to lose by being here, and not being able to work in the field I want to work in now. [The Landis arguments] just denies what's happening in cycling, it denies that doping that exists, it denies the methodologies that are in use.
Maurice Suh's cross-examination tried to impeach Mr. Papp's credibility, pointing out his collaboration with the USADA and the U.S. Attorney, including a possible deal between Papp and the USADA regarding his sanction.
Suh: You resolved the [USADA] case before appearing here today, correct?
Papp: I signed the agreement yesterday, resolving the case.

Suh: [Pausing]You resolved you case yesterday, just prior to testifying here?
Papp: I formally signed the document yesterday.
Former professional cyclist Joe Papp
Photo ©: AFP Photo

Mr. Papp and his attorney, Stephan Andranian, confirmed after the hearing that USADA had informed Mr. Papp about the U.S. Attorney's investigation and that Mr. Papp contacted the U.S. Attorney in an effort to cooperate.
In the hearing Mr. Suh pressed Mr. Papp about the relative laundry list of drugs he admitted to taking while he was a professional.
Suh: All though you were taking all of the other performance-enhancing drugs, that the micro-dose of testosterone, and the effect that you felt, was helping you in multi-day stage races?
Papp: Testosterone was the only methodology to improve recovery in a multi-day stage race.

Suh: That is what you are testifying, that micro-dosing testosterone was what really helped you, not withstanding all of the other performance-enhancing kinds of drugs you were on.
Papp: That is exactly what I am saying because the other products were never used with the intention of improving recovery during a multi-day stage race. That is a clear distinction - the effect of testosterone as a recuperative agent in a multi-day race is very different than the effect of EPO in a single day race.
Following the hearing Mr. Papp commented about Greg LeMond's testimony from the day before. "I think Greg LeMond is the most courageous person in American cycling right now," he said. "I think he has been maligned in the media and hasn't been able to speak freely about all of the details of his situation. Just like when I started cycling I looked up to him as an athlete, I look up to him as a person now."
Science still the central issue
Witness Professor Christiane Ayotte, from Canada,
Photo ©: AFP Photo

Yesterday the press corps was fully distracted by the dramatic revelations of the day, choosing to focus on the story of the threatening phone call made by Landis' now former business manager, Will Geoghegan, to Greg LeMond. The result of this was a lack of coverage of the testimony by Dr. Ayotte as the press waited for a comment by Mr. LeMond. Dr. Ayotte was called by the USADA to testify as an expert on IRMS testing procedures. However, the day ended before the cross-examination by the Landis side could be fully conducted.
Upon reflection this is probably a good thing as the cross-examination continued first thing in the morning on day five, with the Geoghegan situation put to the side by the public apology by Mr. Geoghegan through his legal counsel. Dr. Ayotte's examination by Mr. Suh included procedures that are used in her WADA accredited laboratory so as to compare them to the procedures of the LNDD lab - such as the types of machines and the use of manual integration of background data.
One of the focuses of his questioning was on the inconsistencies present in documents from WADA and the LNDD lab.
Suh: You remember the measurement of uncertainty is 0.8 percent?
Ayotte: Yes.
At this point, Mr. Suh showed her documents from WADA stating this, and pointing out it was from December of 2006. In the LNDD document, which he showed her next, dated May of 2006, the measurement of uncertainty was 20 percent.
Suh: Earlier you said it was important for these accreditation documents to be accurate?
Ayotte: It is important that it is accurate, but if they made a mistake when they wrote the procedure employed by the lab it doesn't mean there is a mistake in the procedure in the lab.

Suh: What would a 20 per cent measurement of uncertainty be?
Ayotte: I have no clue, to me it is unprecise (sic). You should use the units that are used to report the data.
Mr. Suh next questioned Dr. Ayotte on the procedures that are used in her WADA accredited laboratory so as to compare them to the procedures of the LNDD lab - such as the types of machines, the use of manual integration of background data, to which Dr. Ayotte clarified in her answers that she is not a technician, so cannot speak as to the exact use of the instruments:
Ayotte: [My technicians] intervene to correct the data but don't ask me the technical bits... as I am not the one doing it. We are doing the same as they do in the LNDD lab. I know that we reintegrate peaks, make sure the baseline is correctly drawn...

Suh: So you cannot now say that what you do in your lab is exactly the same technically as the LNDD lab?
Ayotte: They way that we get there might not be the same... There may be different ways to operate the software, but the principles behind the actions that you are doing are the same. So basically when I say our lab would do the same thing, we would not rely on automatic integration of peaks and automatic background subtraction by the computer, my answer is yes, we do the same thing in Montreal, we do not rely on automatic generation of data by software.
Witness, IRMS Supervisor LNDD, Doctor Corinne Buisson,
Photo ©: AFP Photo

Turning the attention specifically to the results of the stage 17 sample tests, Mr. Suh asked Dr. Ayotte if any of the results "concerned" her.
Suh: Do any of the values give you concern?
Ayotte: I have a concern..While I am satisfied if I look at the original result and the manual integration which I understand is produced by the lab person. I have a bit of a concern with regard to the change of the delta-delta values... for the five-alpha, it is about the same.

Suh: That is a difference of about 1.9 per mil?
Ayotte: Yes.

Ayotte: What I said is that the reprocessing of the data here causes me concern because the numbers that are obtained are not matching. Now I didn't say that the chromatograph or the analysis of two out of three fractions were not correct. As a matter of fact, because it created concern I went back to try to see what could have been changed between the result from manual integration, and that must have been... a different integration. So I am not concerned about the chromatography of F3, F2 or even F1.
Credibility
The crux of Mr. Suh's questioning, and what appears to be one of the main strategies of the Landis side, is to impeach the credibility of each of USADA's expert witnesses, or the credibility of the LNDD lab and its procedures. This was most evident at the conclusion of Mr. Suh's cross-examination of Dr. Ayotte:
Suh: With respect to the IRMS part of the case, you couldn't come in here and say that any of the things you see with LNDD were not perfectly okay, because then you would be criticizing your own lab's procedures?
Ayotte: That is a way to phrase this, but I am afraid that has not prompted me to come here. I was not under the grill in that case.

Suh: Let me re-ask the question to make sure you understood it. Isn't it true that if you criticized these procedures, because they are the same kinds of things that you do in your lab, you would be criticizing the procedures of your own lab?
Ayotte: If you phrase it that way, but I am telling you that it is coming from experience. If I am telling you that it is okay, it is sound and principle, scientific principle. It is not based upon who did something wrong or not.
Landis' expert's response
Bruce Goldberger explains
Photo ©: AFP Photo

Bruce Goldberger, director of toxicology and professor in pathology, immunology and laboratory medicine at the University of Florida, condemned the practices of the LNDD laboratory and brought strong support to the arguments of the Landis side in closing testimony Friday.
Using chromatograms culled from UCLA and Montreal as baseline examples of how a good chromatogram - such as one coming out of his lab - should look, he showed graphic contrast to a sample from LNDD.
With its crossing peaks and sewing machine zig-zag, the LNDD chromatogram looked indeed like a bad work sample. It was not possible to distinguish the epitestosterone from the testosterone, he claimed, in responding to a newly confident Howard Jacobs.
Speaking to reporters after his testimony and before flying out, when he was permitted to do so, Goldberger was quick to quash any bias. "I don't know Floyd, I'm not like a lot of people here," he said.
He decided to participate, he said, because he wanted to support him. And he is certain beyond doubt that LNDD's practices - at least in this instance - are inferior.
"When I looked at the documents my gut feeling was this is wrong," he said. "I'm here to exonerate Floyd because I think what was done was outside the standard of analytical toxicology."
The samples he saw of Landis' chromatograms in those documents should never have made it past the screening phase to the secondary IRMS testing and verification phase, he argued.
"I just don't understand how they get away with it today," adding later that perhaps it was an "acute" case but that WADA needs to go back to LNDD and figure out what is going on.
Goldberger's expertise has put him in touch with the best in toxicology labs. The biggest of them, he told Jacobs, would have tens of thousands of specimens refrigerated with their every movement about the lab charted and accounted for - on paper.
Goldberger brushed with the suggestion that in the course of touting UCLA data he had been the recipient of a letter encouraging him to apply for a job at the prestigious institution and bastion of doping clinical expertise in the US.
"It was gratuitous, really," he said. "I am very happy where I am at and have no plans to leave."
Jacobs, however zig-zagged like a chromatogram, taking Goldberger in giant leaps from how he trained his staff to matrix interference and back. Goldberger talked to reporters after the hearing before Jacobs demanded he join him for private conference behind the scenes.
The witnesses to be called tomorrow are:
Dr. Wilhelm Schanzer
Director, Institute of Biochemistry of the German Sports University Cologne
Dr. Don Catlin, M.D.
Professor Emeritus of Molecular and Medical Pharmacology and former founder and director, Olympic Analytical Laboratory, UCLA
Floyd Landis
Respondent
Photography
For a thumbnail gallery of these images, click here
Images by AFP Photo
Cyclingnews' coverage of the Floyd Landis case
May 29, 2009 - French authorities summon Landis and Baker
September 28, 2008 - Landis takes case to US federal court
September 10, 2008 - Landis signing with current Health Net-Maxxis team for 2009
July 1, 2008 - CAS delivers final blow to Landis legal challenge
June 30, 2008 - Landis loses final appeal
June 28, 2008 - Landis decision due Monday
March 12, 2008 - Landis' judgment day nears
October 21, 2007 - Landis files appeal with CAS
October 18, 2007 - AFLD takes another look at Landis case
Thursday, October 11 - Landis continues fight, appeals to CAS
Saturday, September 22 - UCI officially names Pereiro 2006 Tour champion, Landis case raises issues
Friday, September 21 - Landis' appeal denied, two year suspension levied

Cyclingnews' complete coverage of the Floyd Landis case