News feature: May 6, 2007
McQuaid discusses anti-doping accord
'Difficult' to exclude new Puerto riders from the Tour de France
By Shane Stokes
McQuaid
Photo ©: Gregor Brown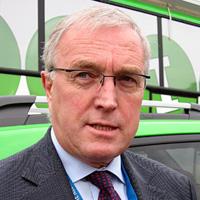 "It is one thing having differences in the administration of the sport, but we also have differences in the fight against doping, then the sport will lose." So said Pat McQuaid on Sunday, talking about the recent meeting between himself, Tour de France director Christian Prudhomme and Patrick Lefevere, chairman of the Federation of Professional teams (AIGCP).
Representing the governing body, the Grand Tours and the professional teams, the three have a lot of influence and as a result of their agreement the anti-doping drive has moved a step forward. He told Cyclingnews that this unity is crucial. "If we want to win, we have to at least to stick together on the fight against doping. And that we are."
Differences of opinion relating to the ProTour were put on hold when McQuaid, Prudhomme and Lefevere met in Moudon, Switzerland, on Friday, May 4. It was a productive meeting. "Over the past three or four weeks there have been a lot of different messages coming out from stakeholders within the cycling family," said McQuaid, who explained the motive for the talks. "You have ASO saying one thing, you have the teams saying and doing another thing, then you have a different team directors making other statements about what should and shouldn't happen. It is not the correct way to go.
"The reason why I asked Patrick Lefevere and Christian Prudhomme to meet and to discuss the situation was because I felt there should be one message coming from the cycling family as regards the way forward in the fight against doping. We dealt with two areas - one is Operación Puerto and the other is the continuous and current fight against doping."
McQuaid described the meeting as 'very amenable and genial,' and said that that each of the stakeholders agreed on measures to be taken. These will be introduced as soon as possible.
Pat McQuaid listens to Christian Prudhomme
Photo ©: AFP

"There were several definitive conclusions made, relating to different aspects. The first was that ASO and the other organisers - in fairness; I think they speak for the others as well - were prepared to contribute to the workload which will be generated when we get this 6000 page report, relating to full investigation from the Spanish police into Operación Puerto. It is going to take a lot of time and a lot of money to convert that into files on individual riders.
"They have agreed that they will contribute to that work. It is not certain yet, but one thing we may do between us is to appoint a Spanish law firm. If we want to process those 6000 pages in Switzerland, we would need to get it all translated. Because it is a legal document, it has got to be translated as a high-level and that adds greatly to the logistics of it and the cost as well. What we may do is combine our efforts in this regard. Straight away, the Tour de France offered us their assistance and their financial support in order to help us to progress the 6000 pages into files as quickly as possible."
The second agreement related to a greatly increased number of out-of-competition anti-doping tests in the run-up to the Tour de France which, it is hoped, will catch out those who are using banned substances and methods, dissuade others from considering it and protect the innocent riders who are trying to compete on unfair terms. McQuaid discussed this at length with Prudhomme and, once again, the two agreed to collaborate.
"What ASO want is that their events have credibility. I completely agree with that. We explained the UCI's 100% Against Doping programme to them and they agreed that it is the way to go. I will put a proposal to the Tour de France next week or so about the number of out of competition test that we will do between now and the Tour de France, focusing on the potential participants in the Tour de France. It is going to be a greatly increased number compared to what was ever done before.
"What they have agreed to do is pay for the portion of these tests that is attributable to them. They will cover the cost of a specific number of tests to be done prior to the Tour de France, and will build upon what was already planned under the UCI's 100% Against Doping programme."
'Difficult to exclude new Puerto riders'
One area where there was a difference of opinion appears to have been vis-ŕ-vis the possible exclusion of Puerto-implicated riders from the Tour de France and other races. Initial reports from the meeting said that there would be efforts made to ensure that suspected riders do not take part in these races. However, it appears that it may be up to the teams to enforce this internally, as the UCI said that its position as governing body for the sport makes it difficult for it to block the suspected clients of Dr. Eufemiano Fuentes.
"I agree with their decision on a moral standpoint, from a legal standpoint the UCI cannot support that position."
-McQuaid on banning Puerto-implicated riders from the Tour de France and other races.
"We discussed the situation with regards Puerto riders and their eligibility to ride in current races," said McQuaid, further explaining what was covered in the meeting. "They have stated that they didn't want the riders implicated in Operación Puerto in their races, as what happened in Ličge-Bastogne-Ličge. My response is that while I agree with their decision on a moral standpoint, from a legal standpoint the UCI cannot support that position.
"As is the case with any governmental institution, we have to follow judicial procedures – in other words, that somebody is innocent until proven guilty. We have to consider them so until such time as we can bring the current processes against riders definitively to an end, and make a judgement on that."
Christian Prudhomme, Pat McQuaid and Patrick Lefevere
Photo ©: AFP

The Operación Puerto case is continually evolving, with more details emerging and a rumoured 49 other riders also set to be implicated. On Sunday it was reported that Caisse d'Epargne rider Alejandro Valverde is likely to be investigated, following claims that a blood bag containing traces of EPO may be linked to a code believed to refer to the Spaniard.
Cyclingnews contacted the team yesterday for a response to the news but Caisse d'Epargne has not yet commented. Valverde is one of their star riders for the Tour de France but, even if he is implicated, it is unsure if he would miss the race. McQuaid said that the time scale concerned makes it difficult to come to any decisions prior to the Tour de France
"The situation is this: if there is another group of riders to be processed, these reported 49 names, we have to create files on them and commence the proceedings. When that has happened, those riders will be taken out of competition under the terms of the Code of Conduct for ProTour teams. Then, when the proceedings finish, we will either sanction them or clear them.
"As regards the chances of these riders being excluded from the Tour de France, it is very slim. Right now, we don't know when we are going to get access to the 6000 pages. Indeed, it is one thing to get access to them, but it is another to be actually able to use them for disciplinary purposes.
"If, for instance, the judge decides to accept the appeal [against his original decision to drop the Operación Puerto investigation] and therefore the case goes to a higher court, this could mean that we will have access to the documents but we cannot actually use them [for sporting disciplinary proceedings] until such time as that court finishes its hearing, which could be another six months.
"On the other hand, if the judge rejects the appeal and the 6000 pages become immediately available, then we have the issue of going to them all, finding out who was who and what is what. Being realistic about it, it is not going to happen before the Tour de France."
Given what happened last summer, the thoughts of Operación Puerto-implicated riders taking part in the Tour will cause distress to many in the sport. The investigation has now been going on almost a year, yet it still seems a long way away from a resolution.
The UCI appears to have its hands tied, but there are a couple of options which could block riders from the Tour.
"It is up to the teams," continued McQuaid. "It is up to each individual team at that stage. From a legal point of view, there is nothing that can be done [by the UCI] to stop them. So the teams have to make that decision.
"If the Tour de France [organisers] decides that it doesn't want them in the race because they are implicated, they have the option within the rules to go to CAS and appeal it there. But in the past, that has been a difficult thing to do [win that judgement]. We are the governing body and have to stick within the rules that are there. If ASO go to CAS that is an independent process."
It seems, therefore, that the initial indications that implicated riders would be excluded from the Tour were premature. It will be interesting to see how this develops; according to AFP, Lefevere was quoted as saying after the meeting that he is ready to exclude suspected riders despite the legal implications. "It is a risk we must take. The ideal way would be for justice to go all the way but it could take one or two years and by then, our sport would be dead," he said.
In the end, it may be down to the influence of the AIGCP to ensure the teams do not select suspected riders. Friday's meeting moved things in the right direction, but some uncertainty still remains.