News feature, August 25, 2005
L'Equipe doping story opens can of worms
Ethics and privacy ignored in French report
The recent allegations against Lance Armstrong raise two questions: how can the French newspaper prove the samples belong to any particular rider, and who are the other six riders? Only identifying the American fuels suspicion that it is a Euro-chauvinistic witch-hunt. Tim Maloney reports.
No entry to the lab: did L'Equipe cross the line in connecting stored samples to riders?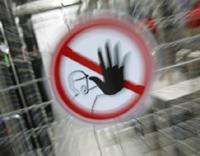 The unprecedented allegations about EPO use by Lance Armstrong in the 1999 Tour de France published in French sports newspaper L'Equipe this week have caused huge repercussions in the world of cycling. Reached at his hotel in Granada, Spain as he prepared for the start of the Vuelta a España Saturday, Discovery Channel team sports director Johan Bruyneel told Cyclingnews in an exclusive interview that, "It's clear that this is a witch hunt. We know that there are people out there who would do anything to get Lance."
Johan Bruyneel
Photo ©: Luc Claessen

Bruyneel claimed the allegations in L'Equipe were completely false. "Another issue here is that the code of ethics, the proper protocols were not followed properly in this matter," he said. "The only purpose is to damage Lance's image. Normally, a matter like this is handled via the correct organs of the sport, not just published in a newspaper with leaked information. But we've been through all of this before, so many accusations. So it's not a surprise. We're used to it."
Armstrong's longtime coach Chris Carmichael echoed Bruyneel's remarks, telling Cyclingnews, "There are those who will always try to bring down the best, and the report by L'Equipe is just the latest attempt. Lance Armstrong is, and has always been, one of the world's most drug-tested athletes. I have coached Lance for fifteen years and he has never failed a drug test quite simply for one reason - he has never taken performance enhancing drugs."
Chris Carmichael
Photo ©: Tim Maloney

How did this story come to light in the French sports daily? In late 2004, as part of scientific research to refine the urine test for EPO, the LNDD (Laboratoire National de Dépistage du Dopage / National Anti-doping Laboratory) lab in Châtenay-Malabry decided to test "B" samples from the 1999 Tour de France because the 1998 samples had already been used. The LNDD lab, funded annually to the tune of 4.8 million euros by the French Ministry of Youth and Sport, couldn't test "B" samples from the 2000 Tour, which are sealed because of the previous inquest by French authorities under Judge Sophie-Hélène Châteu of Lance Armstrong's US Postal team.
"Our method of EPO detection is absolutely reliable"
- Dr Jacques De Ceaurriz, LNDD
In the spring of 2005, L'Equipe's Damien Ressiot was at LNDD and got a tip that urine samples from the '99 Tour had uncovered that some samples contained EPO. Ressiot continued his investigation and subsequently obtained confidential documents that allegedly reveal that six of the twelve anonymous "B" samples that contain EPO belonged to Lance Armstrong. "To obtain all of the proper documents and verify them took time and it wasn't until recently that we could confirm everything", explained Mr. Dalloni, a director of L'Equipe.
But upon hearing of the allegations, Marie-Georges Buffet, who was Minister of Youth and Sport in 1999 explained that "I was a little bothered by the way L'Equipe used these old drug tests... to just publish one name (Armstrong's)... they need to watch out to not single out one individual over another in these cases."
"Can one be certain that ... there were no biological changes, no aging processes that could falsify the result?"
- Dr. Roland Augustin, German National Anti-Doping Agency
Bernard Thevenet, the 1975 and 1977 Tour de France winner, was also perplexed by the L'Equipe article, explaining that "What bothers me is that these accusations come right when Armstrong has retired, and they come right before the UCI elections. I see two effects; a whack on the head for cycling and a question about the struggle against doping. EPO has been detectable since 2001, so why were these samples not tested since then?"
Thevenet raises a serious questions, as L'Equipe bases its entire story on leaked documents that are supposed to be anonymous when the medical testing occurs and remain so unless a positive test is revealed of the "A" sample, at which time, the second or "B" sample is tested to verify and confirm the positive analysis. However, the fact that L'Equipe has obtained and publish the confidential documents that enable each anonymous sample to be verified brings into question the entire drug testing protocols currently in place.
The usual protocol for cycling medical control is that when an "A" sample comes back as negative, the "B" sample can either be destroyed or retained by the testing facility for further scientific testing. The paperwork that links the "B" sample to the "A" sample is retained by the UCI, the testing lab and, in France, by the national federation. This is due to the French national anti-doping law adopted in 1989 by the former Minister of Youth and Sport, Roger Bambuck.
When a test result is negative, the paperwork that goes with each sample is destroyed so the sample remains anonymous. But in the case of the French LNDD lab in Châtenay-Malabry, this did not happen regarding the "B" samples from the 1999 Tour. Not only were the "B" samples retained at LNDD, but the documents linking the samples, including Armstrong's, were not destroyed and were subsequently leaked to L'Equipe by either the LNDD lab or sources inside the French Cycling Federation. If L'Equipe's Ressiot can circumvent the confidentiality of the drug testing protocol via leaked documents from an unnamed source, likely from the LNDD lab or inside the French Federation, how can any professional rider who is subject to medical controls, especially in France, trust the system? If a journalist can obtain inside information that may or may not be accurate, this information can have a decidedly negative impact on any cyclist's career.
Although LNDD's Jacques De Ceaurriz swears by the accuracy of his test, there are dissenting voices in the scientific community that see things differently. "Our method of EPO detection is absolutely reliable, even if the sample is five years old," says De Ceaurriz. However, German National Anti-Doping Agency chief Dr. Roland Augustin is not so sure. "Can one be certain that in samples deep-frozen for years, there were no biological changes, no aging processes that could falsify the result?" he said to news agency sid. "That has not been sufficiently determined scientifically."
Questions are therefore being asked about the manner in which anti-doping controls are carried out, the way in which samples are subsequently handled and the separataion of the samples from information identifying their doonors. These issues must be revisited by the UCI to ensure the confidentiality and privacy of the cyclists and prevent unsubstantiated information on doping from being revealed without the appropriate proof.
Cyclingnews coverage of the L'Equipe allegations
June 27, 2006 - Carmichael defends Armstrong, Armstrong answers L'Equipe & LeMond
June 26, 2006 - LeMond: "Armstrong threatened my life"
June 19, 2006 - Armstrong calls for Pound's exit
June 18, 2006 - Lance Armstrong's open letter against Dick Pound
June 4, 2006 - UCI hits back at WADA
June 3, 2006 - WADA slams the Vrijman report
June 2, 2006 - L'Equipe stands by its story, UCI supports Vrijman's findings
June 1, 2006 - UCI, WADA and Armstrong react to Vrijman's report
May 31, 2006 - UCI lawyer asks for Armstrong's name to be cleared
May 14, 2006 - Two more weeks for Armstrong investigation
Click here for full coverage of the L'Equipe allegations.