MTB index page for all MTB content
Massanutten Hoo-Ha! - NE
Harrisonburg, Virginia, USA, June 1, 2008
Waite and Richardson win 20th Hoo-Ha!
By Sue George in Harrisonburg, Virginia
Elite men's cross country podium:
Photo ©: Sue George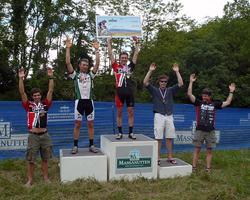 Nick Waite (Trek / VW) and Theresa Richardson (SoBe / Cannondale) won the elite men's and women's 21 mile cross country events at the 20th edition of the Massanutten Hoo-Ha! just outside of Harrisonburg, Virginia, while Dave Weaver was the fastest singlespeeder. In the 33 mile XXC, Daryll Prillamen and Sue George won their respective categories. It was a gorgeous early June day for all racers, who were treated to technical, rocky trails which were in some places lined with blooming mountain laurels' pink and white flowers.
Only 22 seconds separated the top two elite women's finishers Theresa Richardson and Johanna Kraus (Velo Bella / Kona) in the most exciting race of the day. Richardson started out fastest and assumed an early lead on the first climb which was a mix of fireroad and singletrack. Behind Richardson, Kraus followed in second with Susan Musante in third. Musante caught Kraus after a technical ridge section on the first lap, but the two exchanged places again soon after. Both the elite women and men would complete two laps.
Although Kraus sometimes had Richardson in her sights, it wasn't until the second lap that she would catch her. "I saw her as I came through for the first lap and folks told me I was back about 30 seconds," said Kraus. "I'm faster in the rock gardens, but Theresa was faster climbing and descending. I caught her on the ridge the second time."
"We kept going back and forth. I ran into a tree and then Johanna dropped her chain," said the eventual winner, who was excited to ride the rocky course and eventually escaped for good by growing her slight gap to a margin that would stick after Kraus's chain drop. Richardson won with a time of 2:37:12.
"She just out-rode me," said Kraus, who saw her competition finish just as she was coming through the final wooded singletrack section. Musante rode a solid race to finish just 6'37" behind in third.
Elite women's cross country podium:
Photo ©: Sue George

In the men's race, pro road racer Nick Waite won in a time of 1:50:17. The former U23 and junior mountain bike standout had a break in his road racing schedule with the Kelly Benefit Strategies/Medifast team and couldn't pass up the opportunity to race his local trails.
An unidentified racer took off at the start, quickly getting a margin on the other riders. "There was some young punk that went off the front early that reminded me of me when I was young," joked Waite, who went into the woods in third position, but soon found himself at the front solo for the duration of the race.
"By the time we hit the fireroad, I looked back and it was all strung out," said eventual third place finisher Matthew Bailey. Waite soon assumed the lead and would hold it until the end of the race, which his finished in 1:50:17.
"I saw Nick for about three minutes at the start," said Harlan Price (Independent Fabrication), who went onto to finish a more than respectable 9:01 behind Waite.
Price had raced to a fifth place the previous day in the Mohican 100, the second round of the National Ultra-Endurance (NUE) 100-miler Series in Ohio. "Jeff Schalk [who won the Mohican 100 and declined to race the Hoo-Ha! and instead encouraged racers at the first water station] and I drove back after yesterday. We got back to Harrisonburg at 4:00 am, and I got two hours of sleep." Bailey made a last lap move up from fourth to third and finished 11:01 back.
Waite said he is planning to squeeze in a few more mountain bike races as his road racing schedule permits. Next up on his off-road calendar is the Appalachian Classic in West Virginia.
Going long
Mountain laurel
Photo ©: Sue George

XXC [extra long cross country - ed.] racers got a taste of some of the more rugged local terrain with some extra mileage added in the neighboring George Washington National Forest. They split from the main course after the first major climb and headed out and up and over Kaylor's Knob along an extremely rocky ridge trail lined with blooming laurel. There was no time to enjoy the view of the neighboring mountains before descending another super sweet singletrack laurel lined trail, Boone's Run Trail which linked to the extra loop. After the XXC detour, racers climbed back up and over Boone's and descended to rejoin the main course for a lap and a half.
In the men's race, Boone, North Carolina's Daryll Prillamen took over the lead from former Boone resident Brent Berard on the climb back up Boone's Run. "I got away from him," said Prillamen. "But then the second place guy caught me." That second placed guy was Andrew Weidrich and for awhile, he led the race.
"I'd had a slow start and then I caught up with everyone," said Weidrich, who was doing the Hoo-Ha! for his first time after travelling from Morgantown, West Virginia. "But then I broke my chain on the last lap climb. I was winning at the time. I caught back up to Darrel, but then my gears were all goofed up [for the rest of the race]."
"I think the only reason I won was because he broke his chain," said Prillamen after his win in 3:55:56. Wiedrich ended up at 2:31 and Jose Martinez was third at 2:56.
In the women's race, just two women finished the gruelling course. Sue George (Team Lucky Green) opened up a lead near the end of the first climb and enjoyed a home court advantage picking lines through the rock gardens. She rode solo for most of the race and finished in 5:22:45. Michele Co (Bike Factory) finished second at 38:14.
Super D
A Super D was held on the eve of the Hoo-Ha! cross country. Kirby Walke won with a time of 20:27. Just two seconds behind him was Tim Richardson in second and 14 seconds back, was Dennis Helton in third.
Photography
For a thumbnail gallery of these images, click here
Images by Sue George / Cyclingnews
Images by Daryl Prillamen
Images by Ian McAlexander
Results
Men XXC

1 Darrell Prillaman                                        3.51.50
2 Andrew Wiedrich                                             2.37
3 Jose Martinex                                               3.02
4 Drew Scharns                                                9.06
5 Dennis Helton                                              13.29
6 Tom Mcdonnell (Boone Bike)                                 15.29
7 David Tevendale                                            42.34
8 Jason Berry                                                42.37
9 Aron Yevuta                                                44.03
10 Christopher Phillips                                      56.46
11 Kirby Walke                                             1.04.50
12 David Wotton                                            1.11.05
13 Todd Green                                              1.12.50
14 Aran Cacciola                                           1.14.24
15 Bret Bernard                                            1.14.29
16 David Zwerg (Transition Bikes)                          1.20.27
17 James Burris                                            1.20.34
18 Paul Leeger (Yeren)                                     1.38.33
19 Ryan Fedak                                              1.47.37
20 Paul Sullivan                                           1.51.41
21 Markley Anderson (Captain America)                      1.57.00
22 Travis Williams (Yellow Helmutt/ Twin Six)              2.18.11
23 Jason Hiser                                             2.21.31
24 Mark Veerman                                            2.22.52
25 Jeffrey Cheng                                           3.16.20
DNF Shannon Emery                                                 
DNF Morgan Miller                                                 
DNF Raymond Gay                                                   
DNF Jonathan Evans                                                
DNS Kyle Lawrence                                                 
DNS Charles Buki (Charles Buki)                                   
 
Women XXC

1 Sue George (Team Lucky Green)                            5.18.47
2 Michele Co (Bike Factory Racing)                           39.03
DNS Stacia Brooks  

Cross country                                               
 
Elite men

1 Nicholas Waite (Trek / VW & Kelly Benefit Strategies)    1.50.17
2 Harlan Price                                                9.01
3 Matthew Bailey                                             11.01
4 Jon Gdowik (Trek VW East)                                  13.27
5 Jed Prentice (Bike Doctor)                                 19.13
6 Ryan Fawley                                                27.23
7 Brian Marsh (Bike Stop)                                    30.28
8 Greg Wittwer                                               35.26
9 Dennis Throckmorton                                        40.54
10 Kyle Rodland                                              41.54
11 Ethan Lindbloom (Team Carytown Bicycle Company)           43.32
12 Ryan Delaney (Potomac Velo Club)                          55.22
13 Michael Wright                                            55.41
14 Sean Yeager                                               56.09
DNF Alex Ryan (Cannondale)                                        
DNF Matt Rotroff                                                  
DNF Caleb Walton                                                  
DNS Jed Schober (Spinners Cycling / Lupine)                       
 
Elite women

1 Theresa Richardson (Sobe Cannondale)                     2.35.10
2 Johanna Kraus                                               0.22
3 Susan Musante                                               6.37
4 Anna Kelso (HPC)                                           18.15
5 Erin Bishop                                                19.48
 
Open men

1 Chris Pohowsky                                           2.23.59
2 Justin Steiner                                              5.15
3 Paul Bell                                                  12.52
4 Mike Carpenter                                             14.44
5 Robbie Bruce                                               14.48
6 Mark Lewis (PVC)                                           34.00

Singlespeed women

1 Stacy Hunt                                               3.50.03
 
Singlespeed men

1 Dave Weaver (Lateral Stress Velo Inc.)                   2.21.42
2 Bernie Shiao (Lateral Stress Velo Inc.)                     8.37
3 Trevor Graham                                               8.45
4 Michael Pearce (DCMTB/City Bikes)                          14.08
5 Jason Millington                                           19.35
6 Leonard Cox                                                38.59
7 Randy Nickerson                                            43.39
8 Brian Quarles                                              45.47
9 Jonathan Hunt                                            1.22.43
DNS Thomas Mackay    
 
Expert men U18

1 Eric Croscutt                                            3.33.20
DNF Joseph Dombrowski (National Capital Velo Club/LNO)            
DNF Garrett Hunt      

Expert men 30-39

1 Justin Pokrivka                                          2.06.41
2 Jason Cyr                                                   6.46
3 Thomas Jenkins                                              7.39
4 Evan Ellicott (Bayside Velo/Bike Doctor)                    9.45
5 Michael Hosang (Tripower)                                  12.58
6 Chris Scott                                                15.03
7 Matthew Donahue (DCMTB/City Bikes)                         22.10
8 Kent Baake                                                 26.38
9 Jason Carroll                                              31.01
10 Roger Sattler (Rowletts/Design Physics)                   39.01
11 Kevin Horvath (Tri-Power)                                 53.05
DNF Chris Mcmillan                                                
 
Expert men 40-49

1 Roger Masse (Trek VW East)                               2.15.16
2 Rodger Carter                                               3.50
3 Matt Marcus                                                 7.51
4 Michael Buchness (Pedalshop)                               13.33
5 William Marciniak                                          14.36
6 Thomas Gillespie (Altius Cycling Team)                     23.17
7 William Gilmer (Tripower)                                  24.50
8 Steven Hoover (Trek VW East)                             1.10.21
DNF Tom Richeson, Jr. (Rostello Presented By Fiorucci)            
DNF Steve Hetherington                                            
DNF Karl Connolly (Lateral Stress Velo Inc.)      

Expert men 50+

1 Scott Paisley                                            2.29.54
2 Jim Frith (Cycles D'oro)                                    0.23
3 Tim Messersmith (Trek Vw East)                              4.11
4 Cary Hunter (Potomac Velo Club)                            36.33
5 Eric Alger                                               1.17.33
6 James Carlson (Potomac Velo Club)                        1.53.39

Expert women 40+

1 Terri Spanogle (National Capital Velo Club/Ino)          2.59.45 

Sport men U18

1 Hunter Frith (Cycles D'oro)                              1.24.44
2 Andrew Devier-Scott                                         2.03
3 Connor Bell                                                14.20

Sport men 19-29

1 Justin Mace                                              2.47.58
2 Davy Hazlegrove                                             5.46
3 Jonathan Foley                                             12.22
4 Elijah Bailey (Integrity Shirts)                           18.41
5 Chris Dell                                                 23.02
6 Dan Fudala                                                 26.45
7 Andrew Massonneau                                          32.55
8 Wesley Smith                                               35.53
9 Seth Stahler                                               36.06
10 Jacob Mcglauflin (Integrity Shirts)                       54.55
11 Michael Willi                                             56.27
12 Matthew Reish                                           1.15.42
DNF John Glodek (Ncvc/Inova Health System/Twin )                  
DNF David Welty                                                   
 
Sport men 30-39

1 Leonard Groves                                           2.24.54
2 Joshua Draper (Greensboro Velo Club)                        7.02
3 Jeff Hackett                                                9.18
4 Jay Cato                                                    9.41
5 Ken Bell                                                   15.22
6 Yomen Enlish                                               20.21
7 Fenton Carey                                               23.00
8 Jason Hopkins                                              27.59
9 Frank Krajcirovic                                          30.18
10 James Gist                                                31.15
11 David Cazenas (Gripped Films/Kenda)                       35.17
12 Chuck Weckel                                              40.43
13 Michael Yriart                                            48.36
14 Jaimison Baker                                            52.28
15 Don Loomis                                                54.02
16 David Montielli                                           55.36
17 Bill Gibson (Haymarket Bicycles)                        1.01.37
DNF Calvin Stone                                                  
DNF John Sellers                                                  
DNF Chris Richardson (Bike Doctor)                                
DNF Scott Hendrickson (Philadelphia Ciclismo)                     
DNF Matt Bennett (Team 303)                                       
DNF Aaron Ludwig                                                  
DNF Jonathan Breedlove                                            

Sport men 40-49

1 Scott Stahl                                              2.36.01
2 Michael Malone                                              6.59
3 Steve Sullivan                                             13.49
4 Eric Koehn                                                 15.42
5 Paul Patarini                                              17.47
6 Tony Thompson                                              22.34
7 Donald Peppard                                             25.16
8 John Brinker                                               25.36
9 John Claman (Pedalshop/ODBC)                               27.08
10 Russ Adams                                                28.23
11 Mark Stahl                                                28.40
12 Jim Mitchell                                              31.12
13 Brown Sharp Ii                                            33.48
14 Kevin Dillard                                             35.55
15 Mike Bender (Potomac Velo Club)                           45.44
16 Paul Bonta                                                47.25
17 Todd Bayliss                                              50.04
18 Christopher Massanneau                                    52.48
19 Dave Vannier                                              56.15
20 Tim Sharff                                                58.45
21 Frank Vaughan                                           1.04.44
22 Karl Waizecker                                          1.08.21

Sport men 50+

1 Luther Barden                                            2.57.48
2 Bob Wright                                                  5.41
3 Mark Petsche                                               11.24
4 Gil Goodrich                                               38.59
DNF Mac Garrison                                                  
DNF Paul Maxfield 
DNF Todd Blake

Clydesdale

1 Bruce Wickham                                            3.13.43
2 Barry Quigley                                              13.13
3 Nolan Lavoic                                               37.13

Sport women 19-29

1 Kathryn Hansen                                           2.21.00
2 Misty Tilson                                             1.13.22
3 Whitney March                                            1.34.21
4 Lindsay Bayer                                            2.01.02
DNF Emily Mcdonald (GFK Racing)                                   
DNF Katrina Pellerin                                              
DNF Emily Sentz                           
 
Sport women 30-39

1 Kelly Hazlegrove                                         3.15.14
2 Francine Rapp (Yeren)                                      14.14
3 Lynn Bufka                                                 25.52
4 Dilcia Davis                                               31.39
DNF Keri Walker                                                   
DNF Christy Tankersley                                            
DNF Courtney Cotton  

Sport women 40+

1 Ruth Cunningham                                          3.05.31
2 Mary Carson                                                53.44
DNF Johlene Hess                                                  

Beginner men

1 Ben Frederick                                            1.28.55
2 Daryl Crane (Quantico Marines)                              0.52
3 Chris Carlisle                                              2.29
4 Brian Ulbrich                                               3.22
5 Ludek Kolesa (Evma)                                         6.09
6 Keith White                                                 8.38
7 Robert Eiserman                                             9.02
8 Mark Thompson                                               9.17
9 Jonathan Devier-Scott                                      14.57
10 Michael Scheer (Quantico Marines)                         17.46
11 Robert Honaker                                            22.11
12 Marc Hunt                                                 22.17
13 Jon Baker                                                 24.37
14 Carl Roach                                                25.18
15 Bryan Stottlemyer                                         25.53
16 Jay Carter                                                26.43
17 Marty Neary                                               27.01
18 Ryan Kemner                                               35.05
19 Mark Stinson                                            1.06.43
20 Roger Carmichael                                        1.11.07
21 Joel Stephenson                                         1.17.24
22 Basil Hangemanole                                       1.22.17
DNF Scott Mcaninch                                                
DNF Joshua Mcaninch                                               
DNS Daniel Wittcop (Quantico Marines)                             
 
Beginner women

1 Amy Mace                                                 1.45.02
2 Kathy Byers                                                 3.45
3 Rachael Finley (Team Sarj)                                  7.41
4 Lindsey Prososki                                           36.09
DNF Christina Higgins

First timers

1 Dennis Dougherty                                         1.38.15
2 Kevin Cotis                                                13.34
3 Mark Scafidi                                               20.42
4 Jim Simpkins                                               20.57
5 Lud Mclovin                                                21.40
6 Nathan Putnam                                              26.18
7 Joseph Bannister                                           36.55
8 Len Moyerman                                               39.26
1 Jodi Mckinney (Integrity Shirts)                         2.25.30

Kids U6

1 Jane Thompson                                           11.02.14
2 Eric Willetts                                            1.54.36
 
Kids 7-8

1 Walker Thompson                                          4.59.21
2 Cameron Neary                                              13.39
3 Dylan Loomis                                             1.49.48
4 Tyler Loomis                                             2.00.39
5 Xavier Wittcop                                           5.59.45
 
Kids 9-10

1 Maria Heerschap                                          5.01.15
 
Kids 11-12

1 Jozef Heerschap                                          4.21.10
2 Adin Brubaker                                              47.10

Super D

1 Kirby Walke           20.27
2 Tim Richardson         0.02
3 Dennis Helton          0.14
4 Thomas Jenkins         0.19
5 Chris Scott            0.22
6 Mike Carpenter         0.27
7 Jamie Keehner          0.45
8 Paul Bell              0.50
9 Justin Steiner         0.52
10 Colin Bento           1.58
11 James Mcwhoo          1.59
12 Mike Pearce           2.36
13 David Zwerg           2.52
14 Randy Nickerson       4.13
15 Steven Smith          4.25
16 Steve Hetherington    4.25
17 Laird Knight          4.46
18 Kent Baake            5.02
19 Tod Bayliss           5.25
20 Andrew Crumpler       5.25
21 Tom Cooper            5.28
22 Ken Bell              6.06
23 Delmar Dale           7.19
24 Rich Edwards         10.18
25 Billy Mathisen       10.43
26 Dan Wittcop          12.38
27 Chris Reinhart       12.39
28 Travis Williams      13.30
29 Mark Veerman         15.03
30 Kerm Ford            16.51