MTB index page for all MTB content
Results and Reports for May 4-5, 2002
USA
Promoters wishing to submit results should send them to cyclingnews
24 Hours of Adrenalin #1
McDowell Mountain Regional Park, Fountain Hills, Arizona USA, May 5, 2002
Hot start to the 24 Hours of Adrenalin 2002
By David Duarte, solo competitor
David Duarte
Photo: © 24 Hours of Adrenalin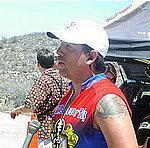 The first 24 hours of Adrenalin race in my beautiful and HOT backyard was a blast. I was expecting a warm day, but when it was announced that it was already 90 degrees at 8am I knew the day was not going to be nice at all. At the start the temp was nearing 100 degrees and my support crew was in great spirits... without them I would have ended up like Rishi, down and out.
With the strong competition and temperature my plan was to be the turtle and try to pick off riders as the day went on. After the run I was in 15th place and was off. The course was 11 miles and fast. After a few laps I was having trouble staying hydrated and began to vomit pretty much each lap for about four hours. My crew kept telling me that I was gaining positions every lap and that kept me going, not to mention Evil Dave giving me a boosting cheer every lap as I passed the Ellsworth trailer (Thanks Dave!)
By 7pm I had cut the lead in half and was in 7th place and with the heat gone it was time for the second part of the race, night time. During the night temperatures dropped to a great 71 degrees and racing became fun again. Getting too confident in thinking I knew the course after 14 hours, I missed a switch back turn and became very good friends with the desert ground I thought I was mastering. After gathering my senses I got back up and when I completed the lap I realized two riders had passed me.
As I came in to pit I found that my rear shock had blown and Evil Dave came to the rescue. Within five minutes my crew support brought back my bike ready to go. Unfortunately I was not able to make up the time lost after my arrogance (lack of concentration won't happen again). I finished in 9th place and not disappointed.
Special thanks to: my support crew and my fellow firefighters who braved the heat and long night to put up with me; my wife Tammie and sister Tina who kept me fed and massaged my aching body parts; Breck; Scott; Darren; Josh; and especially The Chad who was like a drill sergeant in getting me out on time each lap and watching my places in the race.
Results
Solo men                          Time   Laps

1 Tom Zidek                    23.00.49    22
2 Michael Schell               23.29.15    21
3 Brett Goett                  23.14.11    19
4 John Mazzola                 24.28.58    18
5 Chuck Wheeler                20.46.00    17
6 Alex Hardt                   23.56.13    17
7 Carter Taylor                24.04.05    17
8 Jason Suarez                 23.41.13    15
9 David Duarte                 20.24.30    13
10 Trip Clayton                23.09.33    13
11 Steve Whaley                20.38.03    12
12 Doug Cousineau              23.39.17    11
13 Rishi Grewal                 8.42.44     9
14 James Perkins               23.01.44     7
15 Doug Taylor                  9.55.05     6
16 Patrick Maderia              0.00.00     0
 
Solo women
 
1 Wendy Skean                  23.05.48    12
  
2 Person
 
1 Adventure Race Drop-Outs     23.00.53    20
2 White Bros/Unita Coffe       23.30.20    18
3 TNT                          23.41.36    17
4 TBA                           0.00.00     0
 
4-Person
 
1 Brother's Squared            24.40.36    27
2 RadonKills.com               23.45.12    26
3 Team Cruisin'                24.18.51    26
4 Team MTNbikes.net            24.19.02    25
5 Insane Beer Cousins          24.31.31    25
6 Team Deep Tread              24.41.46    25
7 Dirt Addicts                 23.56.42    24
8 Taint So Bad                 23.11.45    22
9 New Riders                   23.49.49    22
10 Singletrack Mind            24.19.22    22
11 Team Sofa King We Todd Did  23.25.28    21
 
Open Age 150-199
 
1 En Fuego                     24.22.37    28
2 Fat Sloths                   24.09.39    23
3 Tijuana Donkey Show          20.58.07    20
 
Co-ed
 
1 Team Kumoniwanaleiya         24.21.07    26
2 Mommy, Are We There Yet?     24.32.09    26
3 Yard Sale                    23.55.07    22
4 Weekend Warriors             23.48.49    20
 
All-Female
 
1 DIRTY DIVAS                  24.03.39    26
2 Super Go-Go Girls!           23.36.34    25
3 Dirty Daizies                23.01.53    20