14th Crocodile Trophy - NE
Australia, October 21-30, 2008
Main Page Results Overall standings Previous Stage Next Stage
Stage 6 - October 26: Chillagoe - Mt. Mulgrave, 138 km
Czech six-pack in Mount Mulgrave
By John Flynn in Mount Mulgrave
Better make that six... Kejval Lubos wins in Mount Mulgrave
Photo ©: John Flynn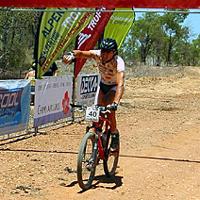 The Czech Republic made it a 'six-pack of stage victories' in Australia's Crocodile Trophy today as VIG+ Racing's Kejval Lubos delivered on the promise he showed during yesterday's stage to Chillagoe. This time there was no blowing up at the death as Lubos and breakaway partner Tomas Kozak made it another Czech one-two when the race reached Mount Mulgrave Station.
The pancake-flat parcours along the dusty dirt roads of outback Tropical North Queensland perfectly suited the Czech strongman, who had always been singled out for a tilt at this stage - which in years past has been won by big-gear grinders.
"Today I am very happy that everything went to plan," said Lubos. "Yesterday I was supposed to be the winner, but I could not finish the job. Today I felt very strong and I worked well together with my countryman, Tomas Kozak."
The pair broke away in the early kilometres of today's stage and with the group of GC leader Ondrej Fojtik taking a measured approach, given the two toughest stages are yet to come, the move was always destined to succeed. In the end however, there was no change to the G.C. positions.
"Everyone was just watching each other," Australia's fifth-placed rider Craig Gordon said of the tactical battle in the GC group. "The Belgian in fourth place [Nic Vermeulen] attacked a couple of times, but the Czechs just reeled him in."
Race leader Ondrej Fojtik and his team-mates Tomas Trunschka and Martin Horak - who occupy the top three positions overall - are sure to be saving their best for the next two stages, Mount Mulgrave-Laura and Laura-Cooktown.
Merida-Flight Centre's Tim Bennett, making one important observation. "Ondrej knows what's ahead of him, that's why he's not going too hard," Bennett said.
In the women's event, title rivals Jo Bennett of Australia's Merida Flight Centre Team and Karen Steurs of Belgian team Ride For The Stars rolled into Mount Mulgrave together. Bennett is holding onto the race lead by more than one minute, but will have to survive two incredibly hard days as the race heads towards Laura and Cooktown.
"I felt a lot better today," said Bennett. "I guess I can admit it now that I blew up yesterday. I recovered really well overnight and hopefully I can recover well again tonight."
Photography
For a thumbnail gallery of these images, click here
Images by John Flynn
Results

Elite
 
1 Tomas Kozak (Cze) Laser Steel Plzen                                    3.41.27
2 Benedikt De Vreese (Bel) Winter Vreese                                    5.24
3 Alfred Schabauer (Aut)                                                    5.28
4 Robert Novotny (Cze) VIG+Racing Team 2                                    5.36
5 Nicolas Vermeulen (Bel)                                                   6.16
6 Ondrej Fojtik (Cze) VIG+Racing Team 2                                         
7 Martin Horak (Cze) VIG+Racing Team 2                                      6.20
8 Ivan Rybarik (Cze) VIG+Racing 1                                           6.22
9 Craig Gordon (Aus) Rockstar Racing                                            
10 Tomas Trunschka (Cze) VIG+Racing 1                                       6.25
11 Christian Birngruber (Aut)                                               6.29
12 Nathan Dyke (Aus) TKM / Slattery team                                    9.08
13 Tim Bennett (Aus) Merida - Flight Centre 1                              21.50
14 Petr Uhlik (Cze)                                                             
15 Christophe Huybrighs (Bel) Team Ride for Stars                               
16 Karel De Winter (Bel) Winter Vreese                                          
17 Gillis Van Loon (Bel) Team Ride for Stars                                    
18 Steven Boury (Bel)                                                           
19 Stefaniak Wojciech (Pol)                                                     
20 Tim Calkins (USA) TKM / Slattery team                                        
21 Nick Both (Aus) Merida - Flight Centre 1                                     
22 Adrian Jackson (Aus) Merida - Flight Centre 1                                
23 Raf De Bakker (Bel)                                                     32.52
24 Bart Decroubele (Bel) Team Belgian Power                              1.35.12
DNF Sean Noonan (USA)                                                           
 
Elite women
 
1 Karen Steurs (Bel) Team Ride for Stars                                 4.03.17
2 Joanne Bennett (Aus) Merida - Flight Centre 2                                 
3 Naomi Hansen (Aus)                                                       12.56
 
M1
 
1 Lubos Kejval(Cze) VIG+ Racing                                          3.41.18
2 Guido De Jong (Ned)                                                       5.37
3 Reece Stephens  (Aus) TKM / Slattery team                                 6.25
4 Kris Hertsens (Bel)                                                       6.29
5 Zdenek Kriz (Cze) VIG+Racing 1                                            6.42
6 Daniel Wyss (Swi) swisscrocs08                                           18.00
7 Philipp Zenklusen (Swi) swisscrocs08                                     21.59
8 Gunter Selleslagh (Bel)                                                       
9 Peter Geldhof (Bel) teamNomaDesk.com                                     22.14
10 Matt Powell (Aus)                                                       28.02
11 Erik Goeleven (Bel) Team Moozes                                         34.56
12 Ermanno Piccaro (Ita) ASD Vigili del Fuoco-Latina-Cinelli-Corratec      39.15
13 Guy Lemmens (Bel) Team Moozes                                           48.23
14 Issac Tonello (Aus)                                                     48.24
15 Bart Vancayzeele (Bel)                                                  52.25
16 Bruno Verwee (Bel)                                                    1.03.10
17 Mikkel Wichmann (Den)                                                 1.03.11
18 Mario Vandeweghe (Bel)                                                1.10.35
19 Bert Apers (Bel)                                                      1.23.33
20 Kristof Vanspauwen (Bel) Team Belgian Power                           1.35.21
21 Philip Smith (GBr)                                                    2.11.28
DNF Valentin Zeller (Aut)                                                       
 
M2
 
1 Eric Vanderaerden (Bel) Marc Herremans Foundation                      3.51.00
2 Darren O'Grady (Aus) Dream Team                                           5.49
3 Ruedi Senn (Swi) swisscrocs08                                            12.17
4 Ladislav Drda (Cze) VIG+Masters                                               
5 Axel Strauss (Aut)                                                            
6 Marc Roggen (Bel)                                                             
7 Jos Kerkhofs (Bel) Marc Herremans Foundation                                  
8 Jiri Kriz (Cze) VIG+Masters                                              12.31
9 Thomas Sollich (Ger) Dream Team                                          38.40
10 Patrick Mijlemans (Bel) Team A.S.P.A                                    42.44
11 Georg Vinczencz (Aut)                                                   44.00
12 Marc Withofs (Bel)                                                      59.16
13 Patrick Van Gelder (Bel) Team Moozes                                  1.03.23
14 Ronny Potter (Bel) Team A.S.P.A                                       1.56.29
15 Rudi Donckers (Bel) Marc Herremans Foundation                         2.07.28
DNF Jos Lenaerts (Bel) Team A.S.P.A                                             
DNF Luc Gielen (Bel) Team Belgian Power                                         
DNF Beat Imhof (Swi)                                                            
DNF Norbert A. Heinz (BRd)                                                      
DNF Ewald Clavadetscher (Swi)                                                   
 
General classification after stage 6
 
Elite
 
1 Ondrej Fojtik (Cze) VIG+Racing Team 2                                 22.01.12
2 Martin Horak (Cze) VIG+Racing Team 2                                      0.40
3 Tomas Trunschka (Cze) VIG+Racing 1                                        4.07
4 Nicolas Vermeulen (Bel)                                                  11.04
5 Craig Gordon (Aus) Rockstar Racing                                       18.33
6 Ivan Rybarik (Cze) VIG+Racing 1                                          32.27
8 Robert Novotny (Cze) VIG+Racing Team 2                                   58.41
9 Tomas Kozak (Cze) Laser Steel Plzen                                    1.00.55
11 Christian Birngruber (Aut)                                            1.24.53
12 Adrian Jackson (Aus) Merida - Flight Centre 1                         1.30.26
14 Nick Both (Aus) Merida - Flight Centre 1                              1.46.15
15 Benedikt De Vreese (Bel) Winter Vreese                                1.50.21
17 Tim Bennett (Aus) Merida - Flight Centre 1                            2.00.55
19 Nathan Dyke (Aus) TKM / Slattery team                                 2.13.55
21 Alfred Schabauer (Aut)                                                2.34.02
24 Christophe Huybrighs (Bel) Team Ride for Stars                        2.46.27
29 Stefaniak Wojciech (Pol)                                              3.36.42
30 Gillis Van Loon (Bel) Team Ride for Stars                             3.37.59
35 Steven Boury (Bel)                                                    4.33.11
38 Karel De Winter (Bel) Winter Vreese                                   4.48.43
39 Raf De Bakker (Bel)                                                   4.52.07
42 Petr Uhlik (Cze)                                                      5.08.13
45 Tim Calkins (USA) TKM / Slattery team                                 5.39.57
49 Bart Decroubele (Bel) Team Belgian Power                              6.33.37
 
Elite women
 
1 Joanne Bennett (Aus) Merida - Flight Centre 2                         24.44.54
2 Karen Steurs (Bel) Team Ride for Stars                                    1.01
3 Naomi Hansen (Aus)                                                     2.17.35
 
M1
 
1 Kris Hertsens (Bel)                                                   22.47.59
2 Zdenek Kriz (Cze) VIG+Racing 1                                           35.15
3 Stephens Reece (Aus) TKM / Slattery team                                 50.42
4 Daniel Wyss (Swi) swisscrocs08                                         1.16.28
5 Kejval Lubos (Cze) VIG+Masters                                         1.29.28
6 Issac Tonello (Aus)                                                    2.37.41
7 Guido De Jong (Ned)                                                    2.42.25
8 Matt Powell (Aus)                                                      2.57.29
9 Philipp Zenklusen (Swi) swisscrocs08                                   3.26.39
10 Peter Geldhof (Bel) teamNomaDesk.com                                  4.15.43
11 Erik Goeleven (Bel) Team Moozes                                       4.29.23
12 Bart Vancayzeele (Bel)                                                4.35.46
13 Gunter Selleslagh (Bel)                                               4.58.56
14 Ermanno Piccaro (Ita) ASD Vigili del Fuoco-Latina-Cinelli-Corratec    5.35.29
15 Mikkel Wichmann (Den)                                                 5.45.45
16 Guy Lemmens (Bel) Team Moozes                                         6.16.30
17 Kristof Vanspauwen (Bel) Team Belgian Power                           6.31.20
18 Bert Apers (Bel)                                                      8.05.20
19 Mario Vandeweghe (Bel)                                                9.50.55
20 Bruno Verwee (Bel)                                                   13.56.19
21 Philip Smith (GBr)                                                   14.13.59
 
M2
 
1 Axel Strauss (Aut)                                                    24.01.05
2 Jiri Kriz (Cze) VIG+Masters                                            1.03.43
3 Ladislav Drda (Cze) VIG+Masters                                        1.05.54
4 Marc Roggen (Bel)                                                      1.45.39
5 Eric Vanderaerden (Bel) Marc Herremans Foundation                      2.23.41
6 Darren O'Grady (Aus) Dream Team                                        2.34.24
7 Ruedi Senn (Swi) swisscrocs08                                          2.39.34
8 Georg Vinczencz (Aut)                                                  4.56.18
9 Jos Kerkhofs (Bel) Marc Herremans Foundation                           5.07.17
10 Thomas Sollich (Ger) Dream Team                                       5.47.32
11 Patrick Van Gelder (Bel) Team Moozes                                  7.53.26
12 Marc Withofs (Bel)                                                    8.22.22
13 Patrick Mijlemans (Bel) Team A.S.P.A                                  8.27.58
14 Ronny Potter (Bel) Team A.S.P.A                                      10.43.36
15 Rudi Donckers (Bel) Marc Herremans Foundation                        11.38.32