14th Crocodile Trophy - NE
Australia, October 21-30, 2008
Main Page Results Overall standings Previous Stage Next Stage
Stage 5 - October 25: Chillagoe - Chillagoe, 120 km
Czechs win fifth consecutive stage
Australian and Austrian make the podium
Ivan Rybarik takes a breather after winning the stage
Photo ©: John Flynn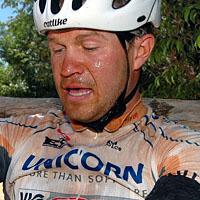 Czech team VIG+ racing made it five straight stage victories from five attempts today as Ivan Rybarik scored his second stage win at the Crocodile Trophy of 2008. With the leaders in the general classification taking it easy during today's 99-kilometre "out and back" stage from Chillagoe, VIG+ racing showed its incredible depth at this year's outback classic by stealing a stage victory with two of its domestiques.
Things didn't exactly go to plan for the Czechs, when the man chosen to storm to a stage victory, Kejval Lubos, failed to deliver on a course suited to pure time trialists. Instead it was left to his helper Ivan Rybarik, to blow away the opposition. "I was supposed to be here as the domestique for Lubos, but now you see the result," Rybarik said. "I am so happy that I have won the boomerang [the prize for the stage winner] here today."
There was good news also for Australia and Austria, with Merida Flight Centre's Adrian Jackson fighting his way into second place and Austrian Alfred Schabauer in third.
Rybarik, Jackson, Lubos and Schabauer were all part of a seven-man breakaway which went up the road at the ten-kilometre mark of today's stage. The first to drop away as the pace lifted was Darren O'Grady of the Coopers Shimano Dream, but the other six held on until the last twenty kilometres.
The GC group took it easy today
Photo ©: John Flynn

"You wouldn't believe how fast the pace was," O'Grady commented at stage end. "The Czechs wanted the stage win and I was trying to hang on." One by one, the group dwindled until just Rybarik, Jackson and Schabauer were left in the hunt for the stage. It seemed almost inevitable that an attack would come from Rybarik and when it did, as has been the case for every day of this race, there was no answer to the Czech dominance.
"Three kilometres before the finish, Rybarik attacked, it split up and then we rode alone," Schabauer recounted. "It was hard, this stage, and I'm very, very lucky to be third in the finish." Jackson's second place was about the only joy so far for the Australian men racing in the elite division of the Crocodile Trophy. At this level, the man who won this year's Wildside and Central Australian Mountainbike Challenge, is on a steep learning curve. "I rested up yesterday and rode with our women's leader Jo Bennett," Jackson said of his tactics. "Today the plan was for myself or Nick Both to get into the breakaway and I managed to get into the breakaway, which was great."
There was no change to the general classification today as the Crocodile Trophy's leaders saved their best efforts for tomorrow's blisteringly hard stage to Mount Mulgrave. VIG+ racing's Ondrej Fojtik still leads the race from two of his teammates, Martin Horak and Tomas Trunschka, with the nearest threat coming from Belgian Nicolas Vermeulen, who is more than eleven minutes behind on G.C. in fourth place.
Steurs Pulls Back Time
Karen Steurs rode a great race to pull herself back into GC contention
Photo ©: John Flynn

Although the race was travelling through cattle country, the protagonists in the women's race were "playing for sheep stations" today, to use the Australian vernacular. Second-placed Belgian Karen Steurs (Team Ride For The Stars) tried on several occasions to attack her rival Jo Bennett of the Merida Flight Centre Team and finally succeeded as Bennett felt the heat for the first time in this year's Trophy.
"It was very hard in the heat," a beaming Steurs said after getting the stage win and pulling back two minutes on G.C. "I tried two times to attack and then came back to the group. "Then Christophe [Steurs husband and domestique] attacked and I got on his wheel and Jo behind me but Jo broke."
An exhausted Bennett, who now leads the women's event by just one minute and one second, admitted the stage was much harder than it looked on paper. "From what the guys said from last year it was supposed to be an easier stage, but it was hard," Bennett said. "I really felt it today."
All three women's entrants in this year's Crocodile Trophy have, so far, performed at a high level. Naomi Hansen, who is riding with the Coopers-Shimano Dream Team has been sharing much of her time on the road with Belgian legend Eric Vanderaerden. Well back on G.C., but still a contender for stage honours, Hansen certainly isn't giving up. "It's great, I'm loving it," the effervescent Hansen said of her Crocodile Trophy experience. "It's great riding with people like Eric – what a legend."
Photography
For a thumbnail gallery of these images, click here
Images by John Flynn
Results
Elite men

1 Ivan Rybarik (Cze) VIG+Racing 1                                        3.04.58 (32.11 km/h)
2 Adrian Jackson (Aus) Merida - Flight Centre 1                             0.12
3 Alfred Schabauer (Aut)                                                    1.31
4 Tomas Kozak (Cze) Laser Steel Plzen                                       3.28
5 Benedikt De Vreese (Bel) Winter Vreese                                        
6 Tomas Trunschka (Cze) VIG+Racing 1                                       11.03
7 Martin Horak (Cze) VIG+Racing Team 2                                     11.06
8 Ondrej Fojtik (Cze) VIG+Racing Team 2                                         
9 Nicolas Vermeulen (Bel)                                                  11.07
10 Christian Birngruber (Aut)                                              11.10
11 Nathan Dyke (Aus) TKM / Slattery team                                   11.11
12 Craig Gordon (Aus) Rockstar Racing                                           
13 Christophe Huybrighs (Bel) Team Ride for Stars                          14.00
14 Stefaniak Wojciech (Pol)                                                15.49
15 Steven Boury (Bel)                                                      15.53
16 Nick Both (Aus) Merida - Flight Centre 1                                15.58
17 Karel De Winter (Bel) Winter Vreese                                     16.02
18 Tim Bennett (Aus) Merida - Flight Centre 1                              16.07
19 Gillis Van Loon (Bel) Team Ride for Stars                               16.10
20 Robert Novotny (Cze) VIG+Racing Team 2                                  16.12
21 Raf De Bakker (Bel)                                                     36.35
22 Petr Uhlik (Cze)                                                        38.18
23 Tim Calkins (USA) TKM / Slattery team                                   49.55
24 Bart Decroubele (Bel) Team Belgian Power                              1.01.57

Elite women

1 Karen Steurs (Bel) Team Ride for Stars                                 3.18.55 (29.86 km/h)
2 Joanne Bennett (Aus) Merida - Flight Centre 2                             2.07
3 Naomi Hansen (Aus)                                                       31.23

M1

1 Kejval Lubos (Cze) VIG+Masters                                         3.08.16 (31.55 km/h)
2 Stephens Reece (Aus) TKM / Slattery team                                  7.20
3 Kris Hertsens (Bel)                                                       7.52
4 Daniel Wyss (Swi) swisscrocs08                                                
5 Gunter Selleslagh (Bel)                                                  12.40
6 Issac Tonello (Aus)                                                      12.52
7 Zdenek Kriz (Cze) VIG+Racing 1                                           12.54
8 Matt Powell (Aus)                                                        19.25
9 Philipp Zenklusen (Swi) swisscrocs08                                          
10 Peter Geldhof (Bel) teamNomaDesk.com                                    27.09
11 Guido De Jong (Ned)                                                     33.17
12 Ermanno Piccaro (Ita) ASD Vigili del Fuoco-Latina-Cinelli-Corratec      35.01
13 Bart Vancayzeele (Bel)                                                  41.44
14 Guy Lemmens (Bel) Team Moozes                                           43.24
15 Mikkel Wichmann (Den)                                                   47.05
16 Bert Apers (Bel)                                                        48.55
17 Kristof Vanspauwen (Bel) Team Belgian Power                             58.39
18 Bruno Verwee (Bel)                                                    1.01.52
19 Erik Goeleven (Bel) Team Moozes                                       1.10.30
20 Mario Vandeweghe (Bel)                                                1.20.06
21 Philip Smith (GBr)                                                    2.29.47

M2

1 Axel Strauss (Aut)                                                     3.16.08 (30.29 km/h)
2 Ladislav Drda (Cze) VIG+Masters                                           4.49
3 Jiri Kriz (Cze) VIG+Masters                                                   
4 Marc Roggen (Bel)                                                        23.04
5 Eric Vanderaerden (Bel) Marc Herremans Foundation                        25.35
6 Ruedi Senn (Swi) swisscrocs08                                            27.09
7 Georg Vinczencz (Aut)                                                    32.22
8 Beat Imhof (Swi)                                                         32.41
9 Thomas Sollich (Ger) Dream Team                                          34.09
10 Darren O'Grady (Aus) Dream Team                                         38.45
11 Luc Gielen (Bel) Team Belgian Power                                     44.05
12 Ewald Clavadetscher (Swi)                                               56.59
13 Patrick Van Gelder (Bel) Team Moozes                                  1.05.52
14 Jos Kerkhofs (Bel) Marc Herremans Foundation                          1.37.26
15 Ronny Potter (Bel) Team A.S.P.A                                       1.37.27
16 Marc Withofs (Bel)                                                    1.40.27
17 Patrick Mijlemans (Bel) Team A.S.P.A                                  1.40.28
18 Rudi Donckers (Bel) Marc Herremans Foundation                                
 
General classification after stage 5
 
Elite men

1 Ondrej Fojtik (Cze) VIG+Racing Team 2                                 18.13.29
2 Martin Horak (Cze) VIG+Racing Team 2                                      0.36
3 Tomas Trunschka (Cze) VIG+Racing 1                                        3.58
4 Nicolas Vermeulen (Bel)                                                  11.04
5 Craig Gordon (Aus) Rockstar Racing                                       18.27
6 Ivan Rybarik (Cze) VIG+Racing 1                                          32.21
7 Robert Novotny (Cze) VIG+Racing Team 2                                   59.21
8 Tomas Kozak (Cze) Laser Steel Plzen                                    1.07.16
9 Christian Birngruber (Aut)                                             1.24.40
10 Nick Both (Aus) Merida - Flight Centre 1                              1.30.41
11 Adrian Jackson (Aus) Merida - Flight Centre 1                         1.14.52
12 Tim Bennett (Aus) Merida - Flight Centre 1                            1.45.21
13 Benedikt De Vreese (Bel) Winter Vreese                                1.51.15
14 Nathan Dyke (Aus) TKM / Slattery team                                 2.11.03
15 Christophe Huybrighs (Bel) Team Ride for Stars                        2.30.53
16 Alfred Schabauer (Aut)                                                2.34.50
17 Stefaniak Wojciech (Pol)                                              3.21.08
18 Gillis Van Loon (Bel) Team Ride for Stars                             3.22.25
19 Raf De Bakker (Bel)                                                   4.25.31
20 Steven Boury (Bel)                                                    4.17.37
21 Bart Decroubele (Bel) Team Belgian Power                              5.04.41
22 Petr Uhlik (Cze)                                                      4.52.39
23 Karel De Winter (Bel) Winter Vreese                                   4.33.09
24 Tim Calkins (USA) TKM / Slattery team                                 5.24.23

Elite women

1 Joanne Bennett (Aus) Merida - Flight Centre 2                         20.41.37
2 Karen Steurs (Bel) Team Ride for Stars                                    1.01
3 Naomi Hansen (Aus)                                                     2.04.39

M1

1 Kris Hertsens (Bel)                                                   19.00.12 
2 Zdenek Kriz (Cze) VIG+Racing 1                                           35.02
3 Stephens Reece (Aus) TKM / Slattery team                                 50.46
4 Daniel Wyss (Swi) swisscrocs08                                         1.04.57
5 Kejval Lubos (Cze) VIG+Masters                                         1.36.07
6 Issac Tonello (Aus)                                                    1.55.46
7 Guido De Jong (Ned)                                                    2.43.17
8 Matt Powell (Aus)                                                      2.35.56
9 Erik Goeleven (Bel) Team Moozes                                        4.00.56
10 Philipp Zenklusen (Swi) swisscrocs08                                  3.11.09
11 Bart Vancayzeele (Bel)                                                3.49.50
12 Peter Geldhof (Bel) teamNomaDesk.com                                  3.59.58
13 Mikkel Wichmann (Den)                                                 4.49.03
14 Kristof Vanspauwen (Bel) Team Belgian Power                           5.02.28
15 Ermanno Piccaro (Ita) ASD Vigili del Fuoco-Latina-Cinelli-Corratec    5.02.43
16 Gunter Selleslagh (Bel)                                               4.43.26
17 Guy Lemmens (Bel) Team Moozes                                         5.34.36
18 Bert Apers (Bel)                                                      6.48.16
19 Mario Vandeweghe (Bel)                                                8.46.49
20 Philip Smith (GBr)                                                   12.09.00
21 Bruno Verwee (Bel)                                                   12.59.38

M2

1 Axel Strauss (Aut)                                                    19.57.48 
2 Jiri Kriz (Cze) VIG+Masters                                            1.03.29
3 Ladislav Drda (Cze) VIG+Masters                                        1.05.54
4 Marc Roggen (Bel)                                                      1.45.39
5 Beat Imhof (Swi)                                                       2.33.11
6 Darren O'Grady (Aus) Dream Team                                        2.40.52
7 Eric Vanderaerden (Bel) Marc Herremans Foundation                      2.35.58
8 Ruedi Senn (Swi) swisscrocs08                                          2.39.34
9 Luc Gielen (Bel) Team Belgian Power                                    3.05.16
10 Ewald Clavadetscher (Swi)                                             3.30.26
11 Jos Kerkhofs (Bel) Marc Herremans Foundation                          5.07.17
12 Georg Vinczencz (Aut)                                                 4.24.35
13 Thomas Sollich (Ger) Dream Team                                       5.21.09
14 Marc Withofs (Bel)                                                    7.35.23
15 Patrick Van Gelder (Bel) Team Moozes                                  7.02.20
16 Patrick Mijlemans (Bel) Team A.S.P.A                                  7.57.31
17 Ronny Potter (Bel) Team A.S.P.A                                       8.59.24
18 Rudi Donckers (Bel) Marc Herremans Foundation                         9.43.21