Mountain Bike World Championships - CM
Val di Sole, Italy, June 17-22, 2008
Main Page Results Overall standings Previous Race Next Race
Race 9 - June 20: U23 men cross country, 34.9km
Swiss take title and dominate U23 race
By Sue George in Val di Sole, Italy
Nino Schurter (Switzerland)
Photo ©: Rob Jones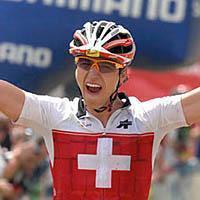 Switzerland proved it is and will continue to be a force with which to be reckoned by placing three of its riders in the top four in the under 23 men's cross country race on Friday afternoon. Riding a physically and tactically strong race, Nino Schurter (Swizterland) won the World Championship. South Africa's Burry Stander put in a strong bid for the title, but after using up all his energy getting rid of eventual third placed Matthias Flückiger (Switzerland) and fourth placed Fabian Giger (Switzerland), he didn't have enough left for Schurter.
On the first half-lap, Schurter and Stander separated themselves from the rest by a few seconds. Although they were going full throttle, the two appeared to ride almost effortlessly as they set the blistering pace while others fought the initial 125-rider, first lap chaos behind.
Flückiger was one such rider. "I wanted to follow Nino and Burry, but I'm not the fastest starter. Some passed me at the start and then I had to pass them all back while the gap was being made. That's when I lost them."
Stander, who has one more year remaining in the U23 ranks, had done has math and knew his odds were better with fewer Swiss racers in the mix up front, so he seized the opportunity the gap presented and went full bore to keep Schurter from gaining any team-mates nearer to them.
"Everywhere it was possible to drive [the pace], I was trying to drive. I didn't want it to come back together," said Stander, who was spotted at the front, with Schurter stuck to his wheel like glue all the way until lap four. "I had to do the work. I expected to do the work. I knew these were the two guys [Schurter and Flückiger - ed.] to watch."
Burry Stander (South Africa)
Photo ©: Rob Jones

Schurter knew he was in a lucky situation. "It was a big fight with Burry, but I had a big advantage with a Swiss mate behind us." Nonetheless he wasn't sure of his chances until closer to the end of the six-lap race.
"It wasn't until the last two laps that I realized that I could make it my race," said Schurter. "I was scared at the beginning because I had a problem with my chain. But I had a really good day and felt like I could beat Stander. I tried a few attacks to see if Stander could follow, and I realized he was having problems."
Schurter patiently waited until Stander wore himself out driving the pace while successfully keeping the two chasers away.
"I didn't attack. I rode my own speed on the long climb and got a gap," said Schurter, whose winning move came at the end of the penulitimate lap. He crossed the line at one lap to go with a 24 second gap that only grew for the duration of the race. At the end, Schurter won in a time of 1:44:34.
"The last lap was really hard. My tactic was going to be to attack on the last lap, but I didn't have to. I was alone the last 1.5 laps. I was good to win my last year as an U23," said Schurter, who is no stranger to the podium. He won the U23 world title in 2006 in New Zealand, but was upset last year by Jakob Fuglsang and finished second.
Stander was clearly the more tired of the original pair and was working hard on his final lap, but he kept the pressure on the pedals to finish a second, 41 seconds behind the Swiss winner. "I knew he'd have too much gas at the end," said Stander, whose efforts were plenty to keep third placed Flückiger at bay, more than three minutes further back. In 2007, Stander had finished sixth in the U23 race.
The early chase group
Photo ©: Rob Jones

Flückiger spent the entire race chasing the two leaders on his own. While other riders tended to form groups of two and three, Flückiger always rode alone, doggedly pursuing the two leaders.
Swiss racer Fabian Giger finished fourth. "I had a bad start. I was around 20th or so and then I worked my way up." When asked if he had more years remaining in the U23 category, the young Swiss smiled at his future chances. "Next year," he said. Of course, he'll still have to beat Stander and many of the rest of his team-mates, like Flückiger, who will return to the U23 world championships in Australia in 2009.
Frenchman Stephane Tempier completed the top five. He was 5:55 off the winner's pace and a little over a minute behind Giger, with whom he'd spent much of the race. Canada logged North America's highest finish with seventh by Raphaël Gagné.
In contrast to the Swiss, the US team did not have such a good day. None of the American racers finished in the same lap as the leader and the best place was Tim Allen in 41st one lap down. Unfortunately, Sam Jurekovic, the rider the American team expected to do best, crashed out at the end of lap one. At the time he was in about 20th position, but his foot came unclipped on the descent and he was separated from his bike as he crashed. Although Jurekovic was unhurt, his bike landed on a rock and broke catastrophically.
Photography
For a thumbnail gallery of these images, click here
Images by Rob Jones/www.canadiancyclist.com
Results

1 Nino Schurter (Switzerland)               1.44.34 (20.03 km/h)
2 Burry Stander (South Africa)                 0.41
3 Matthias Flückiger (Switzerland)             3.46
4 Fabian Giger (Switzerland)                   4.54
5 Stéphane Tempier (France)                    5.55
6 Dario Alejandro Gasco (Argentina)            8.26
7 Raphael Gagne (Canada)                       8.46
8 Frank Beemer (Netherlands)                   9.00
9 Pascal Meyer (Switzerland)                   9.22
10 Robert Gehbauer (Austria)                   9.50
11 Marc Colom (France)                        10.32
12 Bjorn Brems (Belgium)                      10.40
13 Maxime Marotte (France)                    11.25
14 Alexis Vuillermoz (France)                 11.30
15 Rotem Ishai (Israel)                       11.32
16 Piotr Brzozka (Poland)                     12.19
17 Dries Govaerts (Belgium)                   12.32
18 Jan Skarnitzl (Czech Republic)             12.38
19 Alexander Wetterhall (Sweden)              13.23
20 Jelmer Jubbega (Netherlands)               13.41
21 Connor Mcconvey (Ireland)                  13.44
22 Lachlan Norris (Australia)                 14.06
23 Johannes Schweiggl (Italy)                 14.36
24 Catriel Andres Soto (Argentina)            15.07
25 Ken Onodera (Japan)                        15.19
26 Renay Groustra (South Africa)              16.02
27 Ian Bibby (Great Britain)                  16.09
28 Rob Vangenechten (Belgium)                 16.20
29 Alessio Zamuner (Italy)                    16.38
30 Niels Wubben (Netherlands)                 16.52
31 Periklis Ilias (Greece)                    18.39
32 Denis Vorontsov (Russian Federation)       19.24
33 Cristian Cominelli (Italy)                 19.39
34 Shlomi Haimy (Israel)                      20.36

Behind one lap

35 Martin Kostelnicak (Slovakia)                   
36 Nieck Busser (Netherlands)                      
37 David Joao Serralh Rosa (Portugal)              
38 Irjan Luttenberg (Netherlands)                  
39 Anders Hovdenes (Norway)                        
40 Ola Kjören (Norway)                             
41 Tim Allen (United States Of America)            
42 Henrique Avancini (Brazil)                      
43 Tim Wijnants (Belgium)                          
44 Adrian Brzozka (Poland)                         
45 Hans Becking (Netherlands)                      
46 Samuele Porro (Italy)                           
47 Ross Creber (Great Britain)                     
48 Patrik Gallati (Switzerland)                    
49 Paul Van Der Ploeg (Australia)                  
50 Yu Takenouchi (Japan)                           
51 Martin Skopek (Slovakia)                        
52 Josef Kamler (Czech Republic)                   
53 Uwe Hochenwarter (Austria)                      
54 Felix Euteneuer (Germany)                       
55 Guillaume Vinit (France)                        
56 Umberto Corti (Italy)                           

Behind two laps

57 David Fletcher (Great Britain)                  
58 Heiko Gutmann (Germany)                         
59 Sebastien Carabin (Belgium)                     
60 Martin Loo (Estonia)                            
61 Zsolt Szlobodnyik (Hungary)                     
62 Andriy Gumenyuk (Ukraine)                       
63 Evgeny Vitmanovskiy (Russian Federation)        
64 Tiago Jorge Olivei Ferreira (Portugal)          
65 Luka Homovec (Slovenia)                         
66 Sergio Pulido Rodriguez (Spain)                 
67 Mitchell Peterson (United States Of America)    
68 Luka Mezgec (Slovenia)                          
69 Jo Thorson Nordskar (Norway)                    
70 Vero Lüscher (Germany)                          
71 Joshua Samuel Barley (New Zealand)              
72 Marco Minnaard (Netherlands)                    
73 Carlos Rodrigo Sigre (Argentina)                
74 Marios Athanasiades (Cyprus)                    
75 Carlos Maria Corso (Argentina)                  
76 Lucian Logigan (Romania)                        
77 Ricardo Javier Hazbun Velazquez (Chile)         
78 Andriy Khripta (Ukraine)                        
79 Lorenzo Martelli (Italy)                        
80 Andy Eyring (Germany)                           

Behind three laps

81 Vasilis Adamou (Cyprus)                         
82 Matjaz Budin (Slovenia)                         
83 Abdulkadir Kelleci (Turkey)                     
84 Matyas Kusz (Hungary)                           
85 Colin Cares (United States Of America)          
86 Idan Shapira (Israel)                           
87 Dani Simcic (Croatia)                           
88 Seiya Hirano (Japan)                            
89 Rodrigo Adrian Darnay (Argentina)               

DNF Dariusz Batek (Poland)                         
DNF Sam Jurekovic (United States Of America)       
DNF Georgios Pattes-Toumanis (Greece)              
DNF Mattias Wengelin (Sweden)                      
DNF Nicola Rohrbach (Switzerland)                  
DNF David Lozano Riba (Spain)                      
DNF Ian Field (Great Britain)                      
DNF Rodolfo Andres Torres (Colombia)               
DNF Mattias Nilsson (Sweden)                       
DNF Martin Fanger (Switzerland)                    
DNF Davide Di Marco (Italy)                        
DNF Markus Bauer (Germany)                         
DNF Maximiliano Daniel Franzoi (Argentina)