Mountain Bike World Championships - CM
Val di Sole, Italy, June 17-22, 2008
Main Page Results Previous Race Next Race
Race 2 - June 18: Junior women cross country, 17 km
Colombian captures her nation's first cross country world title
By Sue George in Val di Sole, Italy
Laura Abril
Photo ©: Sue George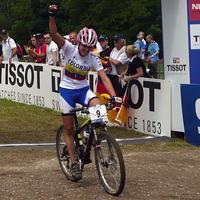 Laura Abril made her coach, her family and her country proud with Colombia's first-ever cross country world championship win. She earned her title in the junior women's race in Val di Sole. Abril left behind break away companion Barbara Benko (Hungary) on her way to victory in 1:16:08. Despite tiring legs, Benko, who finished seventh in 2007, held on for second 38 seconds back while Mona Eiberweiser (Germany) finished third at 2:11.
On the first of three laps, Abril and Benko escaped together with Vivianne Meyer (Switzerland) and Mona Eiberweiser (Germany) leading the strung-out chase behind. By the end of the first lap, the pair had opened up a 45 second advantage. At the half-way point of the race, their gap had grown to 1:16.
Behind them Eiberweiser started to find her legs and passed Meyer for third. "My start was slow," said Eiberweiser, who was in eighth place very early in the race. "But after the first lap, I found some motivation and moved up."
"I used the first lap to see how the race would go," said Abril of her successful strategy. "And I used the last lap to win." But it was at the end of the second lap where she made her race-winning move.
"I thought I could finish well after the first lap. Then, I had some problems with my legs at the end of the second lap," said Benko. "I tried to go with her on the last climb, but Laura just got away."
And they're off!
Photo ©: Sue George

Abril looked smooth and pedalled with steady concentration as she powered her way to a win. The 18 year-old has been racing since she was just seven years-old, but her coach, also the Colombian National Team coach, Andrea Bianco, said he has been careful not to give her too many hours of training per week so she does not burn out after such a young start.
Abril's win came on her adopted home turf of Italy. Last year and this year, she spent a few months living and training in Italy, with the support of the Italian Lee Cougar team. Representatives of the team beamed with pride after Abril collected her gold medal.
Eiberweiser rode well for the duration of the race to earn the bronze medal. Meyer and Paula Gorycka (Poland) finished fourth and fifth. Meyer had a close call out on the course when she narrowly missed a child who mindlessly wandered onto the course in front of her on a descent.
Big white puffy clouds
Photo ©: Sue George

In sixth was Canadian Bianca Adolf from British Colombia, who worked her way steadily up throughout the race.
"The course was better today," said Adolf, who will turn 18 at the end of the month. "I only had to one run main section plus a muddy section in a field." After several days of rain showers and very muddy team relay the previous day, the sun shone brightly on Val di Sole starting in the morning. Its warmth dried the course significantly in just a few hours before the morning's race.
Well behind the leaders, defending champion Alla Boyko (Ukraine) quit the race after just one lap.
Photography
For a thumbnail gallery of these images, click here
Images by Sue George / Cyclingnews
Images by Rob Jones/www.canadiancyclist.com
Results

1 Laura Abril (Colombia)                   1.16.08
2 Barbara Benko (Hungary)                     0.38
3 Mona Eiberweiser (Germany)                  2.11
4 Vivianne Meyer (Switzerland)                3.19
5 Paula Gorycka (Poland)                      6.32
6 Bianca Adolf (Canada)                       6.46
7 Jana Valesova (Czech Republic)              7.46
8 Cornelia Schuster (Italy)                   7.56
9 Annie Last (Great Britain)                  8.00
10 Sanne Cant (Belgium)                       8.11
11 Michelle Hediger (Switzerland)             8.19
12 Camille Devi (France)                      9.46
13 Martina Giovanniello (Italy)               9.50
14 Karin Rappo (Switzerland)                  9.53
15 Kajsa Snihs (Sweden)                      10.06
16 Rozanne Slik (Netherlands)                10.21
17 Gesa Bruchmann (Germany)                  10.52
18 Noga Korem (Israel)                       11.12
19 Marina Giger (Switzerland)                11.13
20 Samara Sheppard (New Zealand)             13.08
21 Mariske Strauss (South Africa)            13.58
22 Rebecca Henderson (Australia)             14.58
23 Cristina Molina (Ecuador)                 17.10
24 Caitlin De Wet (South Africa)             17.24
25 Maria Babanova (Russian Federation)       18.07
26 Weronika Rybarczyk (Poland)               18.26
27 Jerneja Tratnik (Slovenia)                18.50
28 Serena Calvetti (Italy)                   18.58
29 Michela Battaglia (Italy)                 19.46
30 Nadezhda Orlova (Russian Federation)      21.01
31 Jill Behlen (United States Of America)    21.52
32 Daria Zaitseva (Russian Federation)       22.27
33 Diedre York (United States Of America)    24.14
34 Marta Pastore (Italy)                     24.21
35 Leah Kirchmann (Canada)                   25.35
36 Daniela Rojas (Chile)                     27.18
37 Chiara Pastore (Italy)                    29.22
38 Brigitta Koos (Hungary)                   30.24
39 Javiera Ocampos (Chile)                   30.48
DNF Alla Boyko (Ukraine)                          
DNF Anna Oberparleiter (Italy)                    
DNF Jitka Skarnitzlova (Czech Republic)           
DNF Julia Haase (Germany)                         
DNF Marketa Sladkova (Czech Republic)             
DNF Melissa Horvat (Austria)