Mountain Bike World Championships - CM
Val di Sole, Italy, June 17-22, 2008
Main Page Results Overall standings Previous Race Next Race
Race 13 - June 21: Junior men and women downhill finals,
Great Britain and France go downhill fastest
By Sue George in Val di Sole, Italy
Bryceland brings home first British gravity gold medal
Josh Bryceland (Great Britain)
Photo ©: Rob Jones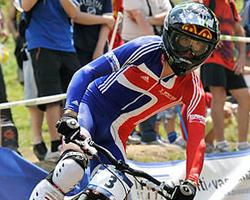 Josh Bryceland won what would be Great Britain's first downhill gold medal of the day at the World Championships. He defeated Sam Dale (Great Britain) in second and Remi Thirion (France) in third for the win in 3'23"55.
"My run wasn't bad," said an understated Bryceland. "It went quickly. I wasn't sure how I was going up top. I did this one jump I'd only done once before in practice - it had given me trouble. I came into it cautious and it knocked me squirrelly."
"However, I stayed smooth mostly though I thought I was going slow." He was wrong about the slow part.
Joey Schusler (United States) set the initial prime time to beat as the third rider down. He described the course. "It's 100% trees to the bottom, and it's all roots and rocks. There's nowhere to take a break although there are only a few bits where you pedal." It was important for racers to scrub as little speed as necessary on the steep course.
Italy's Edoardo Franco took over the hot seat from Schusler before moving over to allow Canada's Simon Garstin to take a turn.
"It was really sketchy. There were three sections where I almost crashed, and I've been going so much slower, so to do a good time this fast is awesome," said a happy Garstin after his run.
Maximilian Bender (Germany) was next in the hot seat, but his turn was short lived. Danny Hart (Great Britain) was the first rider in the limelight with a likely chance of staying there after he bettered the previous time by almost 12 seconds. As the 33rd racer, his time held up until fellow Brit Dale, who went off 59th, took over the duties of keeping the hot seat warm.
"I could have gone faster," said Dale, "but that last straight is so hard, so rough. It's a fun track to ride, but tiring to race. I got all my lines but one that cost me a half-second. So much could go wrong."
Dale commented on the track had evolved in recent days from the slippery mess that it was earlier in the week. "We practiced so early that the track had changed a lot. It was quite blown out in places due to the wet weather [early in the week] and the volume of runs." He likened the track to the World Cup in Maribor except this was steeper.
Dale's tenure lasted only a few riders when Bryceland assumed the leadership role. Number one seed Remi Thirion could not upset Bryceland despite his best efforts, but his race performance was still good enough for third while Dale took home silver.
Bryceland's win came even after a broken tab on his frame caused his mechanics to swap frames before his final run. At the press conference after the race, he was pleased with his new rainbow striped jersey.
"When I crashed in Maribor [at the World Cup earlier this season], I thought it might have all been over. And last year, I got a puncture, so I was just devastated."
France sweeps junior women's downhill
Myriam Nicole, Anais Pajot & Mélanie Pugin.
Photo ©: Rob Jones

France went one-two-three in the junior women's downhill World Championships. Anais Pajot was the fastest with a time of 4'17"71. She was followed by compatriots Myriam Nicole and Melanie Pugin.
The steep, physical course was a challenge for the junior women, who kicked off the day's racing of the downhill finals. Melanie Pugin told Cyclingnews that the constant compression on the course's bumpy sections really worked her arms and shoulders.
Race note
New Zealander Matthew Walker crashed hard during his run in the finals of the junior men's race. After flying through the air, he first lay motionless on the ground. Fortunately, with a little support, he was up and moving again to take himself off the course, but not before marshals had a chance to warn some of the competitors coming down behind him. The entire competition was stopped while he was initially tended and three racers got a do-over run once it was restarted.
Photography
For a thumbnail gallery of these images, click here
Images by Rob Jones/www.canadiancyclist.com
Results
Junior Women
 
1 Anais Pajot (France)                          4.17.71 (56.97 km/h)
2 Myriam Nicole (France)                        4.23.44
3 Mélanie Pugin (France)                        4.46.46
4 Miranda Miller (Canada)                       4.56.38
5 Caroline Buchanan (Australia)                 4.56.51
6 Aurea Agostinho (Portugal)                    5.15.14
7 Diana Lorena Dromundo (Mexico)                5.55.91
8 Leoni-Caro. Dickerhoff (Germany)              6.06.24

Junior Men

1 Josh Bryceland (Great Britain)                3.23.55 (62.16 km/h)
2 Sam Dale (Great Britain)                      3.31.06
3 Rémi Thirion (France)                         3.32.13
4 Aari Barrett (New Zealand)                    3.32.47
5 Brook Macdonald (New Zealand)                 3.32.77
6 Danny Hart (Great Britain)                    3.33.71
7 Yannick Colomb (France)                       3.35.23
8 Shaun O'connor (Australia)                    3.36.24
9 Rhys Willemse (Australia)                     3.37.40
10 Boris Tetzlaff (Austria)                     3.39.58
11 Joseph Smith (Great Britain)                 3.40.62
12 Marcelo Gutierrez (Colombia)                 3.42.50
13 Tom Patton (Australia)                       3.44.12
14 Tamryn Murrell (Australia)                   3.45.52
15 Maximilian Bender (Germany)                  3.45.65
16 Simon Garstin (Canada)                       3.47.63
17 Ewan Doherty (Ireland)                       3.47.75
18 Anton Ferreiro Pajuelo (Spain)               3.50.05
19 Alex Prochazka (Canada)                      3.50.94
20 Ivan Oziol (France)                          3.51.19
21 Denis Paradiz (Slovenia)                     3.52.08
22 Davide Don (Italy)                           3.52.63
23 Yann Gauvin (Canada)                         3.52.74
24 Johan Al Leon Marambio (Chile)               3.55.99
25 Phil Cyrenne Blanchard (Canada)              3.56.65
26 Edoardo Franco (Italy)                       3.57.31
27 Joey Schusler (United States Of America)     3.58.32
28 Martin Hanak (Czech Republic)                3.58.69
29 Trenton Zoobkoff (Canada)                    3.59.08
30 Seanan O'riordan (Ireland)                   3.59.09
31 Janick Lieberherr (Switzerland)              4.01.32
32 Naish Ulmer (United States Of America)       4.01.49
33 Martin Mitvalsky (Czech Republic)            4.02.18
34 Kevin Aiello (United States Of America)      4.03.41
35 Kristjan Vrecek (Slovenia)                   4.04.09
36 Matthew Vincent (Australia)                  4.04.19
37 Matej Laktis (Slovakia)                      4.07.96
38 Matteo Milliery (Italy)                      4.08.90
39 Lukas Ucen (Slovakia)                        4.09.26
40 Nicolas Gspan (Switzerland)                  4.09.33
41 Yoshiaki Asano (Japan)                       4.09.53
42 Dennis Dertell (Sweden)                      4.09.55
43 Hayden Brown (South Africa)                  4.10.50
44 Andréa Gamenara (Italy)                      4.11.43
45 Mario Kranz (Liechtenstein)                  4.13.96
46 Janis Ozolins (Latvia)                       4.13.97
47 Dylan Prohm (Australia)                      4.14.24
48 Radek Machycek (Czech Republic)              4.15.88
49 Adam Toth (Hungary)                          4.17.44
50 Robin Hagen (Switzerland)                    4.20.72
51 Joel Diogo Ma Ferreira (Portugal)            4.22.51
52 Alexi Feli Garcia Aros (Chile)               4.28.80
53 Richard Leacock (New Zealand)                4.29.86
54 Daniel Hanuliak (Slovakia)                   4.30.08
55 Rob Fraser (Canada)                          4.31.38
56 José Manuel Soa Borges (Portugal)            4.43.27
57 Pierre Van Der Merwe (South Africa)          4.47.18
58 Luke Davis (South Africa)                    4.47.93
59 Vitez Veres Marton (Hungary)                 5.30.02
60 Vittorio Gambirasio (Italy)                  6.08.23
61 Graeme Pitts (United States Of America)      6.22.78
DNF Matthew Walker (New Zealand)                       
DNF Johannes Sutter (Germany)                          
DNF Daisuke Kurosawa (Japan)                           
DNF Erik Kimmel (Czech Republic)