Sea Otter Classic - NE
Monterey, California USA, April 17-20, 2008
Main Page Results Overall standings Previous Race Next Race
Race 9 - Saturday, April 19: Dual Slalom - Elite & semi-pro qualifying & finals
Jonnier and Minnaar best world class field
By Sue George in Monterey, California
Sabrina Jonnier defeats Melissa Buhl
Photo ©: Sue George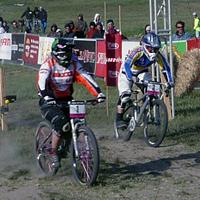 Greg Minnaar and Sabrina Jonnier won the elite men's and women's dual slalom on Saturday afternoon at Sea Otter. Racers battled exceptionally windy and cold conditions with dust blowing everywhere. Although a few crazy fans briefly removed their shirts to indicate the extent of their dedication, specatators stood bundled alongside the course. The gravity racers faced a headwind for much of the course, which made the pedalling sections all the more challenging.
Tara Llanes, who was paralyzed in an accident last September at the Jeep King of the Mountain Race, guest commentated, giving fresh insight into the action and the minds of the racers thanks to her extensive past experience on the track.
Jonnier dominates talented women's field
Fionn Griffiths gives congratulations
Photo ©: Sue George

Sabrina Jonnier dominated the women's dual slalom from start to finish on Saturday. She qualified first and marched her way consistently through to the finals, to finish first ahead of Melissa Buhl. Jonnier beat Britney White, Micayla Gatto, and Fionn Griffiths en route to victory and rode with power and grace and seemed to float over the course compared to her competition.
Buhl defeated Sondra Williamson, Mio Suemasa, and Rachel Atherton on her path to last round.
In the second run of the finals, Buhl crashed high up on the course, but Jonnier was so focused she didn't noticed as she pedalled on to take her fourth consecutive Sea Otter dual slalom win. Afterward, she said, "I didn't know Melissa had crashed."
Jonnier then revealed the secret to her success, smiling sincerely, "I just have fun here. I feel good in all the turns. When I win, it's because I have fun on my bike."
En route to her victory, Jonnier had a smooth time, but she admitted some minor troubles. "I had a mechanical problem in an earlier round, and I did make two mistakes on the first run in the final."
In the consolation round, Fionn Griffiths defeated Rachel Atherton for third and fourth places respectively.
Santa Cruz team-mates go one-two
Steve Peat (left) and Greg Minnaar
Photo ©: Sue George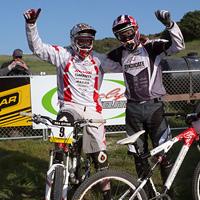 On the men's side, it was all about the Santa Cruz Syndicate team as two of its riders ended up in the final together. Greg Minnaar took top honors ahead of Steve Peat.
Minnaar's success came even as he was testing his new bike. "I just got my bike built today. It was my first time riding it. It was an awesome race." The South African said it helped him mentally to be in the final with his team-mate. En route to the finals, Minaar defeated Ryan Condrashoff, Dan Atherton, Jared Rando and fellow South African Andrew Neethling.
"I thought, 'The pressure's off from the big boss.' I suspect that made it easy for me to push harder because I knew if I crashed, my team-mate would take the top spot."
Second place finisher Steve Peat was equally delighted with his race although he said he was tired from the consecutive rounds, during which he won over Eric Carter, Rich Houseman, Brian Lopes and Kirt Voreis, with little rest in between. "I felt pretty good for the last couple of runs," said Peat. "My legs started to wobble a bit and I got pretty tired. It's quite a lot of rounds to get to the final, but I was happy to make it to the final."
"It was Greg's first race for Syndicate so it was special for us both to be in the final," beamed Peat. The two have spent some time in recent months training together.
Greg Minnaar and Andrew Neethling
Photo ©: Sue George

Both spoke favorably of the tried and tested course. "It was pretty technical - more so than in previous years," said Minnaar. "It's more skill than power up at the gate." The racers pedalled furiously toward the bottom of the course as they ran it out to the finish.
"The course was really good today," added Peat, who suffered no mechanicals excepting a stiff link that necessitated a hasty chain change between rounds. "It was a shame about the wind, but the track flowed good and it was dry."
Minnaar will spend some more time in Santa Cruz before heading to Europe for the World Cup season while Peat will return to England for a British National next week before the World Cups begin.
Andrew Neethling finished in third, ahead of Kirt Voreis in the consolation round after Voreis crashed on the second ride.
Photography
For a thumbnail gallery of these images, click here
Images by Sue George / Cyclingnews
Results
1/16 Finals

Elite men

Heat 1
1 Brian Lopes
2 Matti Lehikoinen

Heat 2
1 Christopher Herndon
2 Justin Leov

Heat 3
1 Steve Peat
2 Eric Carter

Heat 4
1 Rich Houseman
2 Dave Wardell

Heat 5
1 Cole Bangert
2 Mike Haderer

Heat 6 
1 Kirt Voreis
2 Jurgen Beneke

Heat 7
1 Amiel Cavelier
2 Chris Boice

Heat 8
1 Sam Blenkinsop
2 Josh Bryceland

Heat 9
1 Lars Stenberg
2 Chris Powell

Heat 10
1 Andrew Neethling
2 Gee Atherton

Heat 11
1 Christopher Kovarick
2 Geritt Beytagh

Heat 12
1 Nathan Rennie
2 John Hauer

Heat 13
1 Dan Atherton
2 Aaron Gwin

Heat 14
1 Greg Minnaar
2 Ryan Condrashoff

Heat 15
1 Kyle Strait
2 Cody Warren

Heat 15 
1 Jared Rando
2 George Stephenson

Semi-pro men

Heat 1
1 Bryan Culp
2 Amado Stachenfield

Heat 2
1 Ryan Kresich
2 Sam Benedict

Heat 3
1 Tyler Wilson
2 Heath Sherratt

Heat 4
1 Nick Moreda
2 Nathan March

Heat 5
1 Jake Kinney
2 Kaymen Benetti

Heat 6
1 Christian Dalsgaard
2 Brian Mendiala

Heat 7
1 Dan Harris
2 Ben Storrar

Heat 8
1 Nate Lewis
2 Craig Harvey

Heat 9
1 Juan Graziosi
2 Pete Maniaci

Heat 10
1 Clinton Fowler
2 Martin Navarro

Heat 11
1 Alain Lanusse
2 Justin Graves

Heat 12
1 Joe Buckley
2 Taylor Cusinot

Heat 13 
1 Daniel Cortina
2 Erik Barton

Heat 14
1 Eric Loney
2 Chris Quintero

Heat 15
1 Carl Marcum
2 Phillip Vega

Heat 16
1 Dylan Renn
2 Brandon Sloan

1/8 Finals

Elite men

Heat 1
1 Brian Lopes
2 Christopher Herndon

Heat 2
1 Steve Peat
2 Rich Houseman

Heat 3
1 Kirt Voreis
2 Cole Bangert

Heat 4 
1 Sam Blenkinsop
2 Amiel Cavelier

Heat 5 
1 Andrew Neethling
2 Lars Sternberg

Heat 6 
1 Christopher Kovarick
2 Nathan Rennie

Heat 7
1 Greg Minnaar
2 Dan Atherton

Heat 8
1 Jared Rando
2 Kyle Strait

Elite women

Heat 1
1 Sabrina Jonnier
2 Britney White

Heat 2
1 Micayla Gatto
2 Joanna Petterson

Heat 3
1 Kathy Pruitt
2 Caroline Jarolime

Heat 4
1 Fionn Griffiths
2 Leana Gerrard

Heat 5
1 Melissa Buhl
2 Sondra Williamson

Heat 6
1 Mio Suemasa
2 Katie Holden

Heat 7
1 Marla Streb
2 Anneka Beerten

Heat 8
1 Rachel Atherton
2 Jessica Vogt

Semi-pro men

Heat 1
1 Ryan Kresich
2 Bryan Culp

Heat 2
1 Nick Moreda
2 Tyler Wilson

Heat 3
1 Jake Kinney
2 Christian Dalsgaard

Heat 4
1 Nate Lewis
2 Dan Harris

Heat 5
1 Clinton Fowler
2 Juan Graziosi

Heat 6
1 Joe Buckley
2 Alain Lanusse

Heat 7
1 Daniel Cortina
2 Eric Loney

Heat 8 
1 Brandon Sloan
2 Carl Marcum

1/4 Finals

Elite men

Heat 1
1 Steve Peat
2 Brian Lopes

Heat 2
1 Kirt Voreis
2 Sam Blenkinsop

Heat 3
1 Andrew Neethling
2 Christopher Kovarick

Heat 4
1 Greg Minnaar
2 Jared Rando

Elite women

Heat 1
1 Sabrina Jonnier
2 Micayla Gatto

Heat 2
1 Fionn Griffiths
2 Kathy Pruitt

Heat 3
1 Melissa Buhl
2 Mio Suemesa

Heat 4
1 Rachel Atherton
2 Marla Streb

Semi-pro men

Heat 1
1 Ryan Kresich
2 Nick Moreda

Heat 2
1 Jake Kinney
2 Nate Lewis

Heat 3
1 Joe Buckley
2 Clinton Fowler

Heat 4
1 Daniel Cortina
2 Brandon Sloan

Semi-Finals

Elite men

Heat 1
1 Steve Peat
2 Kirt Voreis

Heat 2
1 Greg Minnaar
2 Andrew Neethling

Elite women

Heat 1
1 Sabrina Jonnier
2 Fionn Griffiths

Heat 2
1 Melissa Buhl
2 Rachel Atherton

Semi-pro men

Heat 1
1 Jake Kinney
2 Ryan Kresich

Heat 2
1 Joe Buckley
2 Daniel Cortina

Finals

Elite men

Heat 1
1 Greg Minnaar (Santa Cruz Syndicate)
2 Steve Peat (Santa Cruz Syndicate)

Heat 2
3 Andrew Neethling
4 Kirt Voreis

Elite women

Heat 1
1 Sabrina Jonnier
2 Melissa Buhl

Heat 2
3 Fionn Griffiths
4 Rachael Atherton

Semi-pro men

Heat 1
1 Joe Buckley
2 Jake Kinney

Heat 2
3 Daniel Cortina
4 Ryan Kresich