Sea Otter Classic - NE
Monterey, California USA, April 17-20, 2008
Main Page Results Overall standings Previous Race Next Race
Race 2 - Friday, April 18: Super D
Cross country riders shine in Super D
Decker and Davison take wins
By Sue George in Monterey, California
Carl Decker (Giant) crosses the finish line
Photo ©: Sue George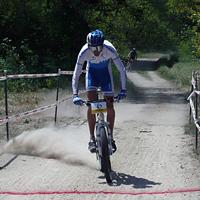 Carl Decker (Giant) and Lea Davison (Trek / VW) won the fast and furious Sea Otter Classic Super D on Friday afternoon. After a 50-yard running start to their bikes, they raced to victory on a fast, open course that was slightly shortened from last year to eliminate a flat, pedalling section at the end. The approximately three mile course was largely downhill with a few uphills in the mix.
Decker, who finished fourth last year, won the men's race ahead of former World Cup downhiller Jurgen Beneke. Canadian Michael Garrigan (Jetpower) finished in third place while Bryan Fawley and Travis Brown (Trek / VW) rounded out the top five.
In the women's contest, Davison suprised Kelli Emmett for the win after the Giant rider launched her attack "a bit too early". Rocky Mountain's Jean Anne McKirdy took second place with Emmett in third, Rachel Lloyd in fourth and Kathy Sherwin (SoBe / Cannondale) in fifth.
How it unfolded
Trek VW's Lea Davison discusses the race
Photo ©: Sue George

Participating in his first-ever Super D, Michael Garrigan (Jetpower), a cyclo-crosser, got the best start. "It was a bit chaotic, but we came into a really bumpy corner and I dropped my chain. I was leading at the beginning, and I had a good gap, but Decker came up on me, got me and broke away."
Decker had marked Beneke was the man to beat. "Jurgen was battling last year for the victory [Beneke finished second in 2007. - ed.]. I basically pretended that the false flat climb after the first corner was the finish line and tried to get in front. I wanted to be over the top before Jurgen because you know he's a former World Cup bad-ass downhill guy. I just rode as fast as I could to the crest and hoped for the best on the way down."
All pumped up with adrenaline after the finish, Decker said, "Parts of the descent were 45 mph over waterbars, which turned into jumps. I was trying not to get pushed off the course by the wind when in the air, but it was mostly a tailwind." Decker held on to his lead and won by a convincing margin, with time to celebrate as he crossed the line in 5:47.2.
Jurgen Beneke finished second
Photo ©: Sue George

He commented on how the course differed for this year. "The start was better and last year, we had to what felt like half mile of this flat stuff at the end. This year it didn't have that, so I just sprinted to the finish. You didn't have to brake anywhere if you took the right lines. "
Sixth place finisher, Kenji Takeya (Specialized) was doing his first Super D race, too. The Japanese National Champion has been state-side racing the first two NMBS races, and he plans to compete in the short track and cross country over the next two days. "The racing in the US is faster and generally has more spectators than in Japan," said Takeya, giving a thumbs up after his race.
In the women's race, eventual winner Davison got off to a rough beginning. "I couldn't get into my pedals at the top and there were a group of about 10 of us at the start," she said. "Then it started to separate out and there were three of us. The Rocky Mountain girl [Jean Anne McKirdy] and Kelli [Emmett] were in front, and I was trying to bridge up the whole time. I dug really deep; I didn't know if they were right on my wheel at the end."
Third place Kelli Emmett
Photo ©: Sue George

Emmett, in second place early in the race, had set her sights on McKirdy. "I attacked her on the second to last hill and was in the lead and then Lea and she came around me on the last climb. That was the deciding move and we were sort of all together after that. I just hung on."Emmett ended up third, behind McKirdy in second.
Marla Streb was expected to be a contender in the women's race, but the Luna MTB rider missed her start.
"The Super D is so much fun." said a smiling Davison, who overtook the lead for good on the final hill. From Vermont, Davison is used to slower speed technical racing, but she said the higher speed Super D was perfect given her background. "I grew up as a downhill ski racer so I like this stuff. It's just like going downhill on skis."
After her win, Davison said, "This is the right way to start off the weekend. I'm excited and I'll be gunning it for sure. Even though the top girls are at the World Cup, the NORBA field is really deep, so there will be good racing."
Davison, along with Emmett, will be two of the favourites for the cross country and short track races. The Trek/VW rider previewed the course Thursday with team-mates Travis Brown and Ross Schnell, when the trio checked out different lines.
Photography
For a thumbnail gallery of these images, click here
Images by Sue George / Cyclingnews
Results
Elite men

1 Carl Decker (Giant)                   5.47.2
2 Jurgen Beneke                         0.04.1
3 Michael Garrigan (Jetpower)           0.11.2
4 Bryan Fawley                          0.19.3
5 Travis Brown (Trek / VW)              0.22.3
6 Kenji Takeya (Specialized Japan)      0.23.8
7 Michael Raney                         0.30.9
8 Waylon Smith                          0.33.7
9 Manuel Prado                          0.38.3
10 Luke Rozanski                        0.43.1
11 Matt Googe                           0.54.9
12 Kyle Salisbury                       1.03.9
DNF Eric Carter                               
DNF Eric Batty                                
DNF Ryan Stayskal                             
DNF Adam Morka                                
DNF Amon Pease                                
DNF Miles Lamon                               
DNF Joseph Smith                              
DNF Ross Schnell                              
 
Elite women

1 Lea Davison (Trek / VW)               6.44.5
2 Jean Anne McKirdy (Rocky Mountain)    0.01.3
3 Kelli Emmett (Giant)                  0.02.1
4 Rachel Lloyd                          0.02.4
5 Kathy Sherwin (SoBe / Cannondale)     0.06.6
6 Emily Van Meter                       0.13.5
7 Mary-Ellen Ash                        0.18.0
8 Kaitlin Michener                      0.31.5
9 Jamie Stamps                          0.31.9
10 Sara Bresnick-Zocchi                 0.38.2
11 Amanda Riley                         0.38.9
12 Johanna Kraus                        0.39.5
13 Alexandria Fabbro                    0.42.6
14 Abigail Nippely                      1.16.6
DNF Emily Batty                               
DNF Marla Streb                               
                   
Results for other categories coming!