Sea Otter Classic - NE
Monterey, California USA, April 17-20, 2008
Main Page Results Overall standings Previous Race Next Race
Race 15 - Sunday, April 20: Downhill - Elite & semi-pro finals
Minnaar takes double while Buhl wins first downhill at Sea Otter
By Sue George in Monterey, California
Melissa Buhl (KHS)
Photo ©: Sean Walkinshaw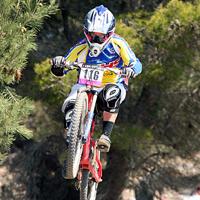 In dry, dusty conditions on a fast, open, non-technical track, South African Greg Minnaar and American Melissa Buhl won the elite men's and women's downhill on Sunday morning. Fionn Griffiths and Sabrina Jonnier rounded out the women's top three while Christopher Kovarik and Justin Leov finished second and third in the men's race.
Buhl meets her goal
The elite women went first. Early on, it was Abigail Hippely setting the time to beat, with a 2.35.4. Her time stood until the favorites raced near the end of the final run, but was still good enough for fifth.
"I could have been faster up top," said Hippely. "But I nailed everything. I wanted to be top five, and it was a stacked field." Hippely used to race cross country and started dabbling in downhill in 2005-2006. She made the switch full-time to gravity events in 2007 and is in just her second full year committed to the downhill circuit. When not racing, she is busy working with her boyfriend as the West Coast sales representatives for Yeti.
Sabrina Jonnier (Maxxis), one of the favorites as downhill World Champion, had qualified fourth and was the first to break Hippely's time. However, it was Melissa Buhl, riding just after Jonnier, who would set the fastest time of the day with a 2.26.67. Neither Fionn Griffiths, who looked unhappy as she crossed the line, nor fastest qualifier Rachel Atherton could defeat Buhl.
Fionn Griffiths
Photo ©: Sue George

The KHS rider, who is studying undergraduate kinesiology and pre-med at Arizona State University, was excited about her first-ever Sea Otter downhill win. "I work hard for Sea Otter every year. It's been a goal of mine and last year, I finished third. I think having good fitness helped." Buhl said she bobbled just once early in her run, which cost her some time as she lost speed while in a high gear. "But I think that was probably a good thing as it motivated me for the rest of the run."
Griffiths (Norco World Team) explained her unhappiness at the end of her final run, which netted her a second place. "Last year, Sabrina beat me, so I knew it'd be hard. It was a pedally track and I blew out a turn, so I was upset with myself, but I didn't really lose much. There is no room for errors here. Melissa deserved the win."
Jonnier ended up third and thought her results were encouraging going into the main part of the season. "I have good fitness. I'm a good pedaller, but this is hard. You pedal from start to finish on this course and there is no speed. I had no mistakes." The course was relatively shorter, less steep and less technical than most on the international downhill circuit.
Jonnier said she prefers courses with "big speed, big jumps, and a long track". She noted that many of the top girls had opted to ride lighter bikes with less travel, but she stuck with the bike she had with her.
Minaar collects second win in as many days
Greg Minnaar (Santa Cruz Syndicate)
Photo ©: Sean Walkinshaw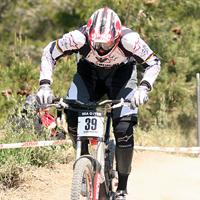 In the men's race, Dan Atherton set the early fast time to beat with a 2.13.9. His time stood for awhile until the favorites began finishing at the end of the final round. Brother Gee was predicted to go faster, too, by virtue of his quicker qualifying run, but suffered a mechanical during his run.
"The track's not super gnarly so everyone here is more relaxed," said Dan, who was enjoying seeing everyone at the first big race of the season.
Greg Minnaar showed he was clearly over his shoulder injury by taking his second win in as many days. The previous day's dual slalom victor was surprised, but happy with his downhill win, with a time of 2.11.21. "I thought I was behind on my training, but I guess not," said the unassuming winner.
While most riders who had choices took the approach of riding a lighter bike with less travel due to the technically undemanding techincal nature of the course and the lack of total vertical drop, Minnaar won with the opposite tactic. "[Team-mate] Steve Peat told me a bigger bike seems to win here because you can carry more speed into the turn." At least in the men's race, that seemed to be the case.
Greg Minnaar wheelies across the line
Photo ©: Sue George

"I nailed what I needed to. I went hard further down the course," said Minnaar. "It's unbelievable," he said of his second win in two days. "I would have never expected it." Minnaar took 14 weeks off his bike to let his shoulder heal and got a late start on his training for the northern hemisphere's racing season.
Christopher Kovarik and Justin Leov rounded out the top three for the men.
"This was my first time on a mid-travel bike," said Kovarik, one of the riders who opted to go with a lighter bike after qualifying. "I used this bike because there is so much pedalling." When asked about Minnaar's opposite tactic of going with a heavier bike as the key to success, Kovarik joked, "Of course he can say that. He won!" Kovarik enjoyed a clean run after a good warm-up at the top. He was pleased with his result and said, "This is the fittest I've been in three to four years."
Third placed Leov indicated that in addition to having a clean run, his secret weapon was his new prototype bike. "I've never raced it before," he said. "It's only just been built, so it's a bit of R & D [reasearch and development]. We wanted less travel than a downhill bike but one with more pedalling like a 4X bike. It has a rail system with the suspension since it has no pivot. Obviously, it works."
Photography
For a thumbnail gallery of these images, click here
Images by Sean Walkinshaw /www.brightroom.com
Images by Sue George / Cyclingnews
Results

Elite men

1 Greg Minnaar               2.11.21
2 Christopher Kovarik        0.00.84
3 Justin Leov                0.00.89
4 Steve Peat                 0.01.88
5 Nathan Rennie              0.02.27
6 Jared Rando                0.02.53
7 Dan Atherton               0.02.76
8 Jurgen Beneke              0.02.92
9 Andrew Neethling           0.03.14
10 Aaron Gwin                0.03.26
11 Gee Atherton              0.03.48
12 Eric Carter               0.03.75
13 Rich Houseman             0.04.43
14 Ross Milan                0.04.69
15 Sam Blenkisop             0.05.33
16 Duncan Riffle             0.05.38
17 Curtis Keene                     
18 Dave Wardell              0.05.50
19 Cody Warren               0.05.85
20 Vink Nico                 0.05.89
21 Matt Fisher               0.05.93
22 Brad Benedict             0.06.02
23 Cameron Cole              0.06.10
24 Cole Bangert              0.06.32
25 Lars Sternberg            0.06.51
26 Shaums March              0.06.61
27 Claudio Caluori           0.06.79
28 Julien Camellini          0.06.97
29 Amiel Cavalier            0.07.17
30 Geritt Beytagh                   
31 Bryn Atkinson             0.07.30
32 John Hauer                0.07.79
33 Waylon Smith              0.07.93
34 Ryan Condrashoff          0.08.15
35 Kyle Wideman              0.08.33
36 Evan Turpen               0.08.48
37 George Stephenson Iii     0.08.66
38 Nathan Riddle             0.08.79
39 Steve Wentz               0.08.80
40 Matt Simmonds             0.08.89
41 Chris Boice               0.08.95
42 Matti Lehikoinen          0.09.07
43 Steve Smith               0.09.17
44 Andrew Pohlmann           0.09.42
45 Joseph Smith              0.09.51
46 David Camp                0.09.54
47 Mike Haderer              0.09.69
48 Scott Papola              0.09.71
49 Joe Lawwill               0.09.78
50 Jon Wilson                0.09.87
51 Christopher Herndon              
52 Keith Mott                0.09.88
53 Sam Hill                  0.09.90
54 Ben Furbee                0.10.03
55 Phillip Wiering           0.10.21
56 Miles Payton              0.10.75
57 Heikki Hall               0.10.93
58 Logan Binggeli            0.11.51
59 Chris Heath               0.11.80
60 Andrew Shandro            0.11.81
61 Jd Swanguen               0.12.03
62 Tyler Morland             0.12.20
63 Ryan Cranston             0.12.26
64 Philip Wheeler            0.12.60
65 Jeff Kendall-Weed         0.12.67
66 Brad Oien                 0.12.99
67 Matt Thompson             0.13.03
68 Brendan Fairclough        0.13.36
69 Quinton Spaulding         0.13.39
70 Josh Bryceland            0.13.55
71 Mike Howse                0.13.85
72 Chris Shewmake            0.14.30
73 Cody Wilderman            0.14.54
74 Matt Johnston             0.14.78
75 Matt Adams                0.14.84
76 Alfonso Garcia            0.14.85
77 Sasha Merljak             0.14.93
78 Ryan Delong               0.15.09
79 Tommy Tokarczyk           0.15.39
80 Dominick Menard           0.16.16
81 Tyler Mccaul              0.16.70
82 Matt Medore               0.17.53
83 Ruaridh Cunningham        0.18.42
84 Chris Reading             0.19.12
85 Greg Vogt                 0.19.74
86 Sean Methven              0.19.79
87 Laurie Dinham             0.19.82
88 Tom Grzesik               0.21.09
89 Mihai Moga                0.21.20
90 Stephen Bursey            0.21.60
91 Andrew Mince              0.22.07
92 Evelio Suarez             0.22.64
93 Orlando Martinez          0.24.20
94 Trevor Martin             0.25.14
95 Ryan Stayskal             0.27.88
96 Scott Fellers             0.27.95
97 Chad Lorrain              0.28.82
98 Rick Goldrup              0.50.87
DNF Curtis Beavers                  
DNF Forrest Arakawa                 
DNF Scott Martinez                  
DNF Chris Akrigg                    
DNF Jean-Pierre Theriault           
DNF Luke Strobel                    
 
Elite women

1 Melissa Buhl               2.26.67
2 Fionn Griffiths            0.00.96
3 Sabrina Jonnier            0.01.82
4 Rachel Atherton            0.02.36
5 Abigail Hippely            0.08.78
6 Joanna Petterson           0.08.88
7 Kathy Pruitt               0.10.39
8 Anneke Beerten             0.10.62
9 Claire Buchar              0.11.68
10 Caroline Jarolimek        0.14.00
11 Danice Uyesugi            0.14.30
12 Mio Suemasa               0.14.80
13 Tenille Smith             0.14.94
14 Miranda Miller            0.16.25
15 Rebecca Mcqueen           0.19.31
16 Micayla Gatto             0.19.47
17 Fiona Taylor              0.22.31
18 Katie Holden              0.23.29
19 Leana Gerrard             0.24.15
20 Allegra Burch             0.26.89
21 Jackie Baker              0.27.31
22 Jamie Mart                0.28.34
23 Jessica Vogt              0.30.88
24 Tasa Herndon              0.30.91
25 Britney White             0.33.26
26 Mariska Chuse             0.33.62
27 Gabriela Williams         0.34.03
28 Sondra Williamson         0.34.39
29 Kimber Gabryszak          0.35.42
30 Darian Harvey             0.35.91
31 Connie Misket             0.37.16
DNF  Amber Zirnhelt                 
 
Semi-pro men

1 Ian Massay                 2.22.37
2 Sam Benedict               0.00.98
3 Ryan Cornilsen             0.01.08
4 Justin Graves              0.01.80
5 Bryan Culp                 0.02.11
6 Carl Marcum                0.02.25
7 Taylor Reed                0.02.31
8 Nick Olson                 0.02.48
9 Nate Lewis                 0.02.60
10 Silas Hesterberg          0.03.00
11 Kyle Salisbury            0.03.75
12 Ryan Kresich              0.03.89
13 Joe Buckley               0.03.98
14 Philip Vega               0.04.05
15 Caleb Cambern             0.04.09
16 Jared Delong                     
17 Brandon Sloan             0.04.27
18 Charles Valenzuela        0.04.79
19 Craig Harvey              0.04.90
20 Jimmy Amaral              0.05.09
21 Daniel Cortina            0.05.32
22 Art Widmar                0.05.41
23 Heath Sherratt            0.05.42
24 Ryan Tarver               0.05.62
25 Daniel Baggs              0.05.89
26 Casey Coffman             0.06.07
27 Tyler Wilson              0.06.17
28 Jared Hobbs               0.06.29
29 Preston Moore             0.06.40
30 Ross Roseingrave          0.06.49
31 Christian Dalsgaard       0.06.66
32 Jesse Trask               0.06.88
33 Dan Harris                0.07.39
34 Eric Loney                0.07.70
35 Michael Burkhartsmeyer    0.08.21
36 Kevin Albert              0.08.64
37 Jorden Sharamitaro        0.08.65
38 Juan Graziosi             0.08.76
39 Tyler Gilsdorf            0.08.83
40 Ben Storrar               0.08.90
41 Sean Murphy               0.09.11
42 Tasso Koch                0.09.12
43 Amado Stachenfeld         0.09.23
44 Deke Williams             0.09.48
45 Ryan Borick               0.09.94
46 Nick Barton               0.09.98
47 Nathan Marsh              0.11.21
48 Otis Elmquist             0.11.93
49 Andrew Van Zuyen          0.12.29
50 Bill Hane                 0.12.47
51 Jesse Chuse               0.12.79
52 Nathan Wright             0.13.41
53 Clinton Fowler            0.14.34
54 Robert Pierce             0.14.43
55 Reed Doerr                0.15.45
56 Dylan Renn                0.15.79
57 Steve Joe Joerger         0.16.07
58 Pete Maniaci              0.16.14
59 Kayman Benetti            0.18.90
60 Brian Alexander           0.18.95
61 Hank Matheson             0.19.88
62 Rob Parramore             0.21.02
63 Jerry Vanderpool          0.21.73
64 Christian Schloessman     0.22.44
65 Cliff Pinto               0.27.64
DNF  Roger Evans                    
DNF  Chris Andreasen                
DNF  Jonathan Kim                   
DNF  Miles Lamon                    
DNF  Erik Nelson                    
DNF  Greg Watts                     
DNF  Erron Mccurdy                  
DNF  Erik Barton