Sea Otter Classic - NE
Monterey, California USA, April 17-20, 2008
Main Page Results Overall standings Previous Race Next Race
Race 13 - Sunday, April 20: Cross Country - Elite men & women
Martinez and Emmett win with strong solo efforts
By Sue George in Monterey, California
Miguel Martinez and Kelli Emmett won the lengthy elite men's and women's cross country at Sea Otter on Sunday afternoon. Martinez attacked a group of eight men after the first lap to take the win almost three and a half minutes in front of the young Sam Schultz, who won the previous day's short track.
In the elite women's race, Emmett launched a strategic early attack from a group of five women and held her own, riding strongly all the way to the finish. The chase group broke apart on the last lap and from it, Jenna Xander finished second and her team-mate Kathy Sherwin in third.
Both the men and the women competed a grueling two laps of the 19 mile course, much of it exposed to strong winds and blowing dust and sand. Sections of deep send and loose traction proved the dry conditions don't necessarily make the going easy or fast.
Olympic champion rides away to victory
Miguel Martinez celebrates
Photo ©: Sue George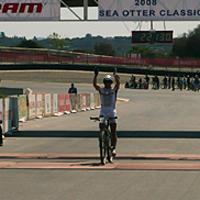 On the first lap, a group of eight serious male contenders formed including Ryan Trebon, Sid Taberlay, Sam Schultz, Miguel Martinez, Carl Decker, Chris Sheppard, Mitchell Peterson and Ken Onodera. Trebon was often seen leading the group and for awhile, no effort to get away stuck as the winds made it too challenging for anyone to permanently escape. Following the lead group was at least a minute's gap and behind it, riders rode alone or with smaller groups - all staggered with large gaps in between.
It seemed likely the winner would emerge from that lead group and it was Olympic gold medallist Miguel Martinez who would do just that. "I attacked just after the second loop started," said the Frenchman through an interpreter after the race, which he finished in a time of 2.21.30. "I did it all alone after doing the first lap with the group. Technically and strategically, I wanted to wait until the second time to attack. Then I said 'It's time to go.' It wasn't like a wide open track. I went for it going into the singletrack - it's better for getting away."
"Sea Otter was one of my main goals. I'm very happy," said Martinez after the finish.
Just a little less than three minutes separated the winner from second placed Sam Schultz, the young rider who won the previous day's short track. "Things got hard on the second lap," said Schultz. "It split a bit on the climb. Martinez was really strong and he blew the doors off us on the second lap."
22 year old Sam Schultz
Photo ©: Steve Medcroft

Eventual 44th place finisher Trebon was one of Martinez's victims. "Oh man, that was hard," said Trebon. "I was surprised how fast they went away. Right after Phoenix [NMBS #2 in Fountain Hills, Arizona - ed.], I got the stomach flu and lost eight pounds. I thought I was over it, but I have never ever felt that horrible. I went from second to near last. I stopped some dude in a truck and ate his lunch." Trebon mustered enough energy and determination to see himself to the end, notorious for a long, windy climb leading back to the race track.
After Trebon dropped away from the contenders, Schultz and Sid Taberlay were left to do battle. "I realized it was kind of hopeless to keep chasing Miguel," said Schultz. "He kept attacking."
The American and the Australian rode most of the rest of the second and final lap together. Then Schultz made his move. "I attacked right before the final descent. I was on my 29er hardtail, so I could hold speed through the turns and descents," said Schultz, who noted that Trebon also had selected a 29er hardtail for the day's racing.
Ryan Trebon (Kona Les Gets)
Photo ©: Steve Medcroft

A visibly tired Taberlay was fatigued from plenty of racing on the weekend. Although he did not compete in the short track, he did race the men's NRC road race the previous day. "I was struggling all day today," said Taberlay, an Olympic hopeful for 2008. "The wind was a factor. It was shattering, and with so much firetrail [fireroad - ed.], it was every man for himself. My legs were gone by the end."
Taberlay indicated he was also tired from the past two weeks, which he had spent packing and moving from Tasmania, Australia to the United States, in support of his wife's new job. The couple now resides in the Los Angeles area. Whether or not Americans will see more of Taberlay on the US circuit remains to be seen as the Australian is still working out his racing schedule for the season with an eye toward Beijing.
Emmett logs important win
Kelli Emmett
Photo ©: Sue George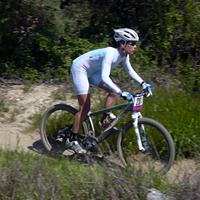 In the women's race, Kelli Emmett sent a message that she was the woman to beat when she launched a solo attack early in the race, on lap one of two, strategically at a big sandpit. She soon opened the gap to 30 seconds. She was chased by Super D and short track winner Lea Davison, Jenna Xander, Kathy Sherwin and Emily Van Meter. Behind them the rest of the pack was soon strung out in one and twos.
Emmett rode blind, but said she was motivated by not knowing how far back her chasers were. "I got no splits out there. I didn't go too hard the first lap, but it stuck and I knew I had to redeem myself from yesterday [she was nipped at the line for second and finished third in the short track. - ed.]."
It was Emmett's best Sea Otter cross country performance and a major victory for the ever-improving Giant racer - in a time of 2.52.58. Her best previous finish was fifth place several years ago.
In the chase group, the lone Trek / VW rider Davison was seeing orange. In fact, she was seeing it three times as all of her companions ride for the Sobe / Cannondale team. However, the uneven match did not bother Davison. "I just felt lucky to be in that group," said Davison who was feeling the effects of a fast first lap pace. "We worked together."
The women's are ready.
Photo ©: Steve Medcroft

"We thought maybe we could catch Kelli," said Xander who got a gap with Sherwin over the other two on the second lap. Sherwin hung tough, but eventually fell back from Xander, the American U23 National Champion in 2006. "I found a pace and stuck with it," said Xander, who finished second, just over two minutes back, after staying motivated on the final windy climb back to the race track. "I could see Kelli on the finishing climb."
Excited about her third place, Sherwin, who also finished solo, said, "It was my best finish ever. I felt really good. I woke up on the right side of the bed. I was really hungry; my body just knew and I ate four bagels for breakfast." She was pleased that her effort of the past six years had finally paid off with a strong result, especially after coming back from a "dislocated ribcage" injury from the previous season.
Emily Van Meter and Lea Davison completed the top five.
More photos coming!
Photography
For a thumbnail gallery of these images, click here
Images by Steve Medcroft / Cyclingnews
Images by Sue George / Cyclingnews
Images by Greg Robidoux
Results
Elite men

1 Miguel Martinez          2.21.30
2 Sam Schultz                 3.25
3 Sid Taberlay                3.39
4 Mitchell Peterson           5.10
5 Federico Ramirez Mendez     6.18
6 Adam Morka                  6.39
7 Chris Sheppard              6.50
8 Pierre-Yves Facomprez       7.13
9 Rotem Ishai                 8.50
10 Ken Onodera               10.05
11 David Tinker Juarez            
12 Kenji Takeya              10.15
13 Peter Glassford           11.27
14 Stefan Widmer             11.54
15 Eric Batty                12.14
16 Erik Tonkin               12.39
17 Ryan Woodall              13.13
18 Jason Sager               13.20
19 Carl Decker               13.30
20 Manuel Prado              14.08
21 Chance Noble              14.20
22 Robert Marion             14.55
23 Ross Schnell              15.00
24 Cody Peterson             15.09
25 Mike Phillips             15.40
26 Dana Weber                15.55
27 Tim Olson                 16.02
28 Andy Schultz              17.31
29 Mike Garrigan             17.47
30 Kevin Smallman            17.52
31 Mark Santvrbane           18.01
32 Adam Snyder               18.28
33 Mitchell Hoke             18.33
34 Ned Overend               18.40
35 Chris Peariso             18.51
36 Brian Ashell              19.09
37 Jason Moeschler           19.20
38 Charles Jenkins           19.33
39 Sean Donovan              19.42
40 Rolert Herber             19.44
41 Ben Thompson              20.17
42 Stephen Ettinger          20.58
43 David Wiens               20.59
44 Ryan Trebon               21.54
45 Benoit Simard             22.04
46 Nigel Hill                22.06
47 Travis Livermon           22.07
48 Nat Ross                  22.32
49 Aroussen Laflamme         22.45
50 David Yakaitis            23.19
51 TJ Woodruff               24.00
52 Ryan Iddings              24.18
53 Timothy Madgwick               
54 Paul Freiwald             24.51
55 Kevin Bradford-Parish     25.47
56 Alex Ryan                 27.31
57 Yuki Saito                28.50
58 Bryan Fawley              28.55
59 Nate Whitman              29.09
60 Charles Pendry            29.39
61 Chanoch Redlich           29.51
62 Matt Rotroff              30.32
63 Michael Raney             30.47
64 Matthew Paziuk            32.00
65 Kristopher Holden         34.08
66 Mike Joos                 34.09
67 Kenny Burt                35.42
68 Aren Timmel               36.30
69 Yuri Hauswald                  
70 Steve Kinney              37.01
71 Jacob Mcclelland          41.15

Elite women

1 Kelli Emmett             2.52.58
2 Jenna Zander                2.18
3 Kathy Sherwin               4.41
4 Emily Van Meter             6.49
5 Lea Davison                 7.41
6 Emily Batty                 9.50
7 Amanda Carey               11.29
8 Jean Ann Mckirdy           11.45
9 Shonny Vanlandingham       14.03
10 Jennifer Gersbach         14.19
11 Krista Park               16.13
12 Rebecca Rusch             16.28
13 Nina Baum                 18.13
14 Carolyn Popovic           20.59
15 Theresa Richardson        21.21
16 Maureen Kunz              21.53
17 Shannon Gibson            22.22
18 Sara Bresnickzoccni       22.51
19 Annajean Dallaire         23.07
20 Chloe Forsman             23.53
21 Danelle Kabush            24.16
22 Jana Repulski             27.07
23 Patty Buerkle             28.01
24 Catherine Vipond          28.47
25 Erika Krumpelman          30.02
26 Melodie Metzger           31.06
27 Mary-Ellen Ash            31.16
28 Keren Eckshtein           31.59
29 Jennifer Tilley           36.56
30 Jamie Stamps              41.23
31 Johanna Kraus             41.24
32 Sonya Looney              41.57
33 Rachel Throop             43.53
34 Rebecca Gross             47.13
35 Christie Pleiss           49.28
36 Alejandra Carvajal      1.01.31
 
Semi-pro men

1 Ty Kady                  2.36.00
2 Mike Anderson               0.07
3 Menso De Jong               3.01
4 Roger Bartels               3.59
5 Brian Rouse                 4.32
6 Matt Chaney                 6.04
7 Corey Ward                  6.42
8 Blake Harlan                7.16
9 Rich Thurman                7.56
10 Rob Anderson               8.15
11 Matt Googe                 8.24
12 Chris Daiuisio             9.05
13 Michael Boehm              9.12
14 Eric Thompson              9.31
15 Lyle Warner               10.30
16 Bob Delp                  10.49
17 Alex Boone                11.16
18 Jason Siegle              11.28
19 Nicholas Weighall         11.34
20 Justin Maka               11.36
21 Chris Brown               11.48
22 Jim Hewett                12.00
23 Mike Oceguera             12.21
24 Tom Skiles                     
25 Chris Burnham                  
26 Erik Ebberoth             12.53
27 Romolo Forcino            13.18
28 Luke Brechwald            13.36
29 Wes Dickson               13.47
30 Aaron Bradford            14.07
31 Jason Rahlwes             14.23
32 Andrew Rigel              14.50
33 Rick Cotter               14.51
34 Luke Rozanski             15.05
35 Monte Boyle               15.19
36 Chad Stoehr               15.44
37 Allan Laframboise         16.01
38 Tom Sharp                 16.27
39 Kyle Stock                16.36
40 Tony Routley              17.11
41 Benjamin Ragains               
42 Gabriel Keck                   
43 Brock Dickie              18.18
44 Matt Ohran                18.22
45 Sergio Garcia             18.40
46 Jeff Kerkove              19.55
47 Tim Knudsen               20.24
48 Nathan Drozd              21.39
49 Michael Runnals           21.55
50 John Peterson             24.12
51 Josh Smith                24.31
52 Jarred Swalwell           26.31
53 Robert Drouin             28.13
54 Daniel Perez              32.50
55 Dean Poshard              33.59
56 Clint Hosman              36.23
57 Matthew Kramer            36.26
58 Jason Hilimire            49.03
59 Chris Holley            1.01.31