Sea Otter Classic - NE
Monterey, California USA, April 17-20, 2008
Main Page Results Overall standings Previous Race Next Race
Race 10 - Saturday, April 19: Short Track - Elite men, elite women & semi-pro men
Davison and Schultz emerge as fastest
Younger riders step up to top of podium
By Sue George in Monterey, California
With many top riders away at the World Cup in Houffalize, the door was left open for some younger and lesser known riders to excel at Sea Otter. Lea Davison (Trek / VW) and Sam Schultz (Subaru / Gary Fisher) did just that with their respective wins in Saturday's elite short track. The riders faced blustery, cold and dusty conditions. In constrast to last year's wet, muddy race, it was so dry and windy that dust blew everywhere.
Schultz wins his first short track
Sam Schultz
Photo ©: Sue George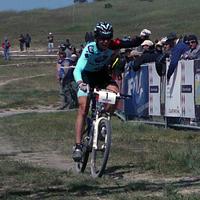 Mike Garrigan lead off the start of the men's race, but by the end of the first lap, it was Sam Schultz, Ryan Trebon, Carl Decker, Miguel Martinez, Ross Schnell and Chris Sheppard at the front.
US National Champion Trebon then attacked and only Schnell and Schultz could hang. Before long, it was just Schultz and Trebon off the front. They took turns at the front together for the rest of the race while the remainder of the pack was strung out and trading places behind them. Over time, Cody Peterson, Ross Schnell and Sam's brother Andy Schultz hung tough and worked their way up.
Trebon attacked first with one lap to go, but Schultz hung tough and launched a blistering counterattack later on the final lap. Surprising the crowd, he motored away and went onto win by about five seconds. Not far behind in third was Peterson (Scott), who had the two leaders in sight for most of the race, until their final lap surge.
"I felt good out there today," said Schultz. "I knew Ryan would try to go where he did, but I could keep up and then sat on a bit and then went for it. It worked out well. My legs are coming around. This is right where I want to be at this time of year."
Schultz acknowledged that much of his competition was gone to the World Cup, but was happy to be "the best of the rest."
Break companions Sam Schultz and Ryan Trebon
Photo ©: Sue George

"This was the first time I've been at the front. It was nerve-wracking, but it was good to be up there. I don't race at the front often, but hopefully it will start to happen more and I'll figure it out better," the winner said. "Short track is always good for me, but I've never taken a win."
After his second place, Trebon noted a lack of fitness due to a late start to his season after his back injury during the cyclo-cross season, but he said he is physically all healed up. "When Sam went, I couldn't follow," he said. "Sam was just fresher." Trebon was racing a 29er hardtail for the first time.
28 year-old Cody Stevenson finished third after riding the race at his own pace. "I could see the two leaders the whole time. I held close until the last lap." Despite the wind, he said, "It was not demoralizing being by myself. Patience was the key." He was pleased with his third place.
Schnell rode to fourth place, happy to be back after tearing his PCL in his knee last season. "I got a good start and then everyone else pedalled faster the rest of the race. It was lonely out there in the wind. I spent a lot of time by myself as did everyone but the two at the front." "My main objective of this season is to stay healthy," the Trek /VW rider added.
Davison rides smart to win two in a row
Lea Davison celebrates
Photo ©: Sue George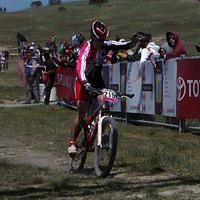 Davison was one of the three most aggressive elite women if the day, but it was Melanie McQuaid (BMC / Nature's Path) who set the pace from the start to string the pack out. She and Davison often traded turns at the front. The lead group of women initially included Jenna Zander and Kathy Sherwin (both SoBe / Cannondale) and Emily Van Meter.
Kelli Emmett (Giant) got a slower start, but she motored steadily up to the front group of five and at times, six riders. "I started five or six people back after I slipped my pedal," said Emmett. "But for my style of riding, it was better. I have a bit of a diesel engine and kept at it." She also recovered from a minor early lap crash on a steep uphill. "I hit a gopher hole as I was going for a pass and went down. There are tons of holes over there," she pointed to the uneven surface on that part of the short track course.
"The wind played a role in the tactics," said Emmett. "We largely had a cross wind. I tried to stay out of the wind." The strongest women took turns attacking to string out the group. Shonny Vanlandingham (Luna) made a strong surge mid-race to regain the lead group for a time.
"Kelli and Lea had to help break it up cause no one person could break it up on their own with the wind," added McQuaid.
Melanie McQuaid is at the front
Photo ©: Sue George

"It was cat and mouse. I wanted to be smart and not lead too much in the wind, but I also made a couple of attacks in the wind to test them out," said Davison, who went for it on the final lap, winning convincingly after escaping McQuaid and Emmett. "I launched my final attack on a slight uphill. I knew I needed to be first on the final downhill. I rode a full suspension, and it was super bumpy out there, so I could sit down and pedal and conserve some energy near the end. Then I just went all out."
In the sprint for second, McQuaid passed Emmett an the finish line for second with a strategic final surge and bike throw. "We took turns attacking it, but Lea was the smartest and strongest in the end," said McQuaid. The race for second was too close for spectators to call.
Watch out for gopher holes.
Photo ©: Sue George

Davison was clearly stoked with her short track win. "I was on such a high after yesterday's win that it was hard to come down. That was my first big win. It gave me a lot of confidence." No doubt this weekend will inspire her going forward into the season.
McQuaid was doing one of her only mountain bike races before the start of the Xterra season. "I had good legs and I'm not one to pass up an opportunity. I went out hard and tried to break it up." She has plans for one, maybe two more mountain bike races, but will keep her focus on the off-road triathlon series.
"I've been second at the short track here twice before, but mountain bikers refuse to let a triathlete win here I think," she joked after the race.
U23 Canadian National Champion Emily Batty put in an impressive ride for fourth place. The 19 year-old is off to Offenburg to compete in the World Cup next weekend. "I struggled in the wind a lot, but it's good training," she said of her effort that saw her racing at times with the lead women. Vanlandingham ended up in fith.
Photography
For a thumbnail gallery of these images, click here
Images by Sue George / Cyclingnews
Results - Provisional

Elite men
 
1 Sam Schultz (Subaru / Gary Fisher)             28.06
2 Ryan Trebon (Kona)                              0.09
3 Cody Peterson (Scott)                           0.30
4 Ross Schnell (Trek / VW)                        0.39
5 Andy Schultz (Titus / Kona)                     0.47
6 Carl Decker (Giant)                             0.54
7 Chris Sheppard                                  0.55
8 Miguel Martinez                                 1.09
9 Adam Morka                                      1.23
10 Mike Phillips                                  1.49
11 Charles Pendry                                 1.58
12 Ken Onodera                                    2.03
 
Elite women
 
1 Lea Davison (Trek / VW)                        31.26
2 Melanie Mcquaid (BMC/ Nature's Path)            0.06
3 Kelli Emmett (Giant)                            0.07
4 Emily Batty (Trek)                              0.14
5 Shonny Vanlandingham (Luna)                     0.15
6 Jenna Zander (SoBe / Cannondale)                0.19
7 Emily Van Meter                                 0.24
8 Kathy Sherwin (SoBe/ Cannondale)                0.42
9 Amanda Riley (Kenda / Titus)                    0.48
10 Chloe Forsman (Luna)                           1.00
11 Jean Ann Mckirdy                               1.32
12 Sara Bresnickzoccni                            1.45
13 Carolyn Popovic                                1.59
14 Heather Holmes                                 2.13
15 Maureen Kunz                                   2.18
 
Semi-pro men
 
1 Mike Anderson           27.25
2 Eric Thompson            0.32
3 Nicholas Weighall        0.48
4 John Peterson            1.12
5 Matt Googe               1.44
6 Jim Hewett               1.59
7 Roger Bartels            2.01
8 Wes Dickson              2.11
9 Luke Rozanski            2.22
10 Lyle Warner             2.42
11 Chris Holley            2.55