Part II of an interview with the Athertons, September 8, 2007
The racing game
The UCI World Mountain Bike Championships are in full swing in Fort William, Scotland, and all three members of the Atherton family's racing team are in medal contention. Sister Rachel qualified as the fastest woman in the downhill, while brothers Gee and Dan qualified second and 22nd. In the four cross, Gee qualified eighth and Dan 16th. Cyclingnews' Steve Thomas continues with the second half of his two-part story about the trio of gravity-racing siblings. To read part I, click here.
Rachel Atherton qualified first in the downhill at Worlds in 2007
Photo ©: Steve Thomas / Cyclingnews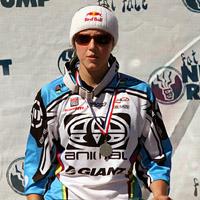 2007 is the first time that Great Britain has played host to the UCI World Mountain Bike Championships, and the venue is the far northern Scottish outpost of Fort William, which has hosted numerous World Cup events in recent years. It is widely considered to be the best organised and supported race on the fat tyre calendar, despite the seasonal advance of the Highland midges.
There is no disputing the fact that the host nation is the world's number one ranked nation in the downhill [according to UCI rankings of August 21, Great Britain is ranked second in the downhill. - ed.], despite never actually having their own downhill World Champion; and the Atherton trio plays no small part in the nation's downhill and four cross prominence; with Rachel winning the junior world title two years ago along with a World Cup and third overall last year while Gee finished fifth in the downhill and seventh in the four cross standings and Dan earned 16th and 10th overall respectively.
Command of the downhilling roll of honour moves every few years. The Americans ruled the early roost, followed by the all conquering and still infallible French. Both nations boast ultra-high ski lift-serviced mountains and bags of sunshine and open trails, both factors which were long attributed as reasons for their early dominance.
Changing of the guard
Dan Atherton
Photo ©: Steve Thomas / Cyclingnews

Britain, on the other hand, is a small and wet island nation, which isn't perceived to be as bike friendly. It distinctly lacks mountains over 1,000 meters high, and you could tally the ski lifts on a spider's toes. Those factors make Britain's sudden rise to prominence all the more surprising; "Steve (Peat) was a real inspiration and spur to everyone; he really started things and gave everyone something to aim at and the confidence to go for it," Gee surmised.
Back when downhilling became a serious stand-alone mountain biking discipline, it was Jason McCroy who trail-blazed the early World Cups for Britain. He set guys like Rob Warner and Steve Peat on their way. As is often said - success breads success - and it wasn't too long until the "Brit-Pack" multiplied and began reaping success, in both men's and women's events, the latter led by Tracey Mosley. Both Peat and Moseley are now at the top of their game, but hot on their heels is the new generation, spearheaded by the Athertons.
The rise of the Athertons
Gee Atherton
Photo ©: Steve Thomas / Cyclingnews

Last year, the family, all part of the Giant/Animal team, made a big impression at the World Cup, and marked themselves clearly as not only one of the World's top downhilling teams, but also as the top four cross outfit. Perhaps the biggest success of the year was Rachel's World Cup win in Brazil. "It was a bit surreal; I'd finished fourth the week before, with a puncture, so I knew I had the form, but did not plan on winning. I was so chilled and really enjoying the race; there's nothing quite like winning that first one!"
So far this season, it's been something of a mixed bag for the team, with both of the brothers performing well nationally and internationally, while the injury-prone Rachel has had something of a rough ride. "Everything started well with a National [win] and [a] Sea Otter win, and then in Vigo I crashed and broke my arm and wrist in five places. I've been in a cast for a long time and have only just started riding again." It's hardly an ideal lead-in to a home World Championships, where she is a hot favourite for a medal.
"It aches a lot when I've been riding," said Rachel. "In the Spanish hospital, they put wires in, and then in the UK, they replaced them with plates, and I have a carbon fibre brace - so all's good now."
Gunning for the world title
Gee and Dan Atherton
Photo ©: Steve Thomas / Cyclingnews

With top contenders Steve Peat and Fabien Barrel suffering recent injuries, their form will not be known until the eleventh hour. There's also been a long gap between major races which means no one knows exactly who's going fast. When asked about downhill favorites, Gee said, "It's pretty open. I think it will really depend on who has been working the hardest and has the best form. I think the course should suit Steve [Peat] if he rides [Peat qualified in 13th Thursday. - ed.], but it's also good for riders like Greg Minnar, and even Cedric Gracia always performs on this kind of a course and in a World Championship."
The pressure of a World Championship, and especially performing on home ground is immense. Dan described his experience, 'The World Championship is always something special; the whole world, the media and sponsors are focused on the event - and even more so here for us. I think some of that was lost last year in New Zealand, it somehow seemed [far] away from everything."
Needless to say, the course is always a big factor, and in Scotland, the weather can make a huge impact on the result board, too. "They have altered the top end of the course some, it's not as harsh on the body as it was before," said Gee. "But it's much better in the wet; we raced it last year in the dry, and it was not good - in the wet, it's a lot more grippy."
A little cross training, anyone?
Photo ©: Steve Thomas / Cyclingnews

As for predictions of the women's outcome, it could be very tight, but Tracey Mosley and Sabrina Jonnier are prime contenders, and Rachel, too if she is sufficiently recovered. "Well, I'm pretty superstitious," said Rachel, "so I don't like to name names, but I think the names on everyone's lips will be there. I'd like to say me, but I'm not going to wear a skinsuit, so…"
The family is racing not only the downhill, but also the four cross. "Downhilling is always the most important, but in general I figure that not putting all of your eggs in one basket is a good idea," said Gee.
"If you have a bad downhill run it's all over. If you have the four cross, there's always a second chance," said Gee, who grinned, showing his determination by adding, "It's not about the taking part; it is the winning that counts!"
You can be sure that the three Athertons will be giving it their all this weekend in Scotland.