An interview with the Athertons, September 6, 2007
A family affair
The all-conquering Atherton family is something of a downhilling sensation. Cyclingnews' Steve Thomas caught up with them at home during a recent conversation over tea and piccies prior to the World Championships in Fort William, Scotland. This is the first part of a two-part story on the trio of gravity-racing siblings.
The Athertons: Dan, Rachel, and Gee
Photo ©: Steve Thomas / Cyclingnews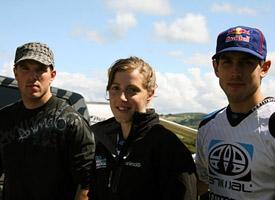 The Atherton family home is located on the side of a spectacular mountain valley and is shared by Dan, Gee, Rachel and their mother - and of course a constant stream of transient mountain bikers. Life for the family team of Commencal Animal began a lot further south, near Exeter in Devon, as Dan explained, "We lived in a small village, and I started riding BMX, then Gee and then Rachel began to come along and got into things. We began building tracks; there wasn't much else to do."
Indeed building tracks is still a passion for the trio - especially Dan who said, "We've got the dirt track, complete with start gates at home, as well as numerous downhill tracks here in the mountains; one's even ten minutes long. I'm really into that side of things, I love figuring it out and building stuff."
Training time
Hanging out
Photo ©: Steve Thomas / Cyclingnews

The family home would be the envy of any mountain bike team, with a huge workshop, a gym and store-rooms as well as the back "yard" dirt track, and this is where much of their race preparation takes place. "What we do on a daily basis depends some on the weather," said Gee. "In the morning it's usually straight into the gym for training. Then we recover some and do the admin type work, and then go riding."
Riding is a surprisingly mixed bag for the Athertons, and Dan is keyed into the training element. "Sometimes we spend a lot of time here at home on the track, practicing starts and dirt skills, largely for four cross; other times we take the pickup and go downhilling. If there is time between races, we go cross-country riding, and sometimes even on the road. We often take the moto-cross bikes out."
Training and preparation have always been something that they have been rumoured to take more seriously than others. "I think most riders train hard really," said Dan. "We do put a lot of time in. But we also work on three things - downhilling, four cross and freeriding - others often just focus on one or two. I think if we chose to focus on just one thing, then we would do a lot better."
Sponsorship duties
Don't try this at home.
Photo ©: Steve Thomas / Cyclingnews

"At the end of the day, we're paid to race downhill, but we enjoy the other stuff and it's also really important for the sponsors," added Gee.
The following morning the boys were due to head to Paris for a last minute call up to compete in a street race, something that is increasingly popular. Many of these races are organised by Red Bull, and are effectively a closed shop to any outsiders, including the media. This year Gee and Rachel are sponsored by the Austrian drinks manufacturer, and so are committed to a certain number of events. "Fortunately they have been great with understanding the need to focus on downhill racing, which is the most important thing overall," said Gee.
This year saw a new direction for the Athertons as they switched to Commencal as bike sponsor. "The deal is for three years, which is great. It cuts some freedom to be able to focus on long-term goals and development. We don't just have to think of publicity for the next few months," said Gee, who is very much at the head of commercial things.
The sibling effect
Rachel Atherton
Photo ©: Steve Thomas / Cyclingnews

"We're all very different characters, which helps things to work," said Gee. "Dan is very much into teaching and the technical side of things. I'm really interested and involved with the sponsorship element, and Rach is great with the media and words."
The differences appear on the bike, too. Dan, the eldest, was the not only the first to take up BMX, he was also the first to start downhill racing, and the other siblings followed suit, learning from his mistakes, and developing their own styles along the way.
"I started racing first, as a junior," said Dan. "At first we knew very little, especially about bike setup. I would set my bike up and ride it like a BMX, as rigid as possible, so we had a lot of broken bikes and bits to start with. I got a job in a bike shop, and they had a good mechanic who taught me about suspension, and that's when I started getting results, and the others, too."
Training and riding together on a daily basis is a huge bonus for them, and a major part to spurring them on and raising the pole. "There is definitely rivalry there, everywhere - even in the gym," said Gee. "I get really fired up if I can't do something Dan can. Last week he pulled off a move on a trail. I tried for ages and just could not do it, it really frustrated me - but that's what pushes us on."
And there's no doubt that the effect of riding daily with her brothers has made a huge impact on Rachel, the youngest of the three. "It's great; riding with the boys is the best thing I could do. They constantly push me, and seeing them do things gives me the confidence to try things for myself."
Read Part II about racing and last minute preparations and predictions for the World Championships.
Photography
For a thumbnail gallery of these images, click here
Images by Steve Thomas / Cyclingnews