French National Mountain Bike Championships - CN
France, July 20-22, 2007
Main Page Results Overall standings Previous Race Next Race
Race 7 - Saturday, July 21: Elite and U23 Women XC,
Olympian and World MTB Champion Leboucher takes number six
By Wendy Booher in Montegenevre
Elite Women's Podium
Photo ©: Wendy Booher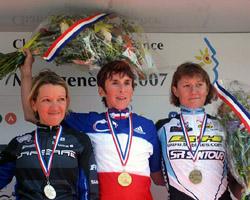 Defending national champion, Laurence Leboucher (Sarthe-Gasseau), won gold again at the French National Mountain Bike Championships more than a minute and half ahead of Sabrina Enaux (Lapierre International) and almost three minutes in front of Christel Ferrier Bruneau (Scott Valloire Galibier).
Leboucher sustained a cautious lead going into the first lap until she forged a comfortable pace that negotiated speed and elevation.
"I don't like altitude," explained Leboucher. "When you ride at altitude you never feel like 100 percent; I knew in my head that it would be very hard, but today felt easier than it has before. I was thinking that (Cecile) Ravanel would be OK, same with Sabrina Enaux and I was thinking that it would be a war."
Enaux (Lapierre International) moved up past race favorites and fellow team-mates, Julie Krasniak and Cecile Ravanel, to nip away at Leboucher's lead. In the end however, Leboucher proved she had the legs and the lungs of a repeat national champion to put second place Enaux behind her by 1'50".
Julie Krasniak
Photo ©: Wendy Booher

Leboucher collected her sixth red, white, and blue jersey to go with the other five she already has and, while French mountain bikers get to wear the stripes of a national champion for life, more distinguishing on Leboucher are the rainbow colors for winning the World Mountain Bike Championships in 1998. She has represented France at every summer Olympics since 1992, first on the road then on the mountain bike, and she hopes to claim the only spot available to France in the women's cross-country event next year in Beijing. Despite her impressive palmares that include two world champion cyclo-cross titles and four national cyclo-cross titles, Leboucher - like Absalon - will take aim at an Olympic medal before she retires at the end of 2008.
"Next year is an Olympic season so it's more important than the other seasons and I'll be focusing on defending the gold medal," said Absalon. "It's a dream for me; I won it one time and I would like to do it another time - it's not a race like any other."
Photography
For a thumbnail gallery of these images, click here
Images by Wendy Booher
Results
Elite women

1 Laurence Leboucher (Sarthe-Gasseau)                          1.56.55
2 Sabrina Enaux (Lapierre International)                          1.50
3 Christel Ferrier Bruneau (Scott Valloire Galibier)              2.55
4 Severine Hansen (BH-Sr.Suntour)                                 3.06
5 Maureen Guichardot (Scott Valloire Galibier)                    8.18
6 Laura Joubert (Roue D'or Annecienne)                            9.20
7 Cecile Ravanel (Lapierre International)                         9.59
8 Hélène Marcouyre (BH-Sr.Suntour)                               12.04
9 Celia Bourgeois (Cube - Beaumes De Venise)                     16.07
10 Olivia Cascino (Egobike MSC)                                  17.15
11 Coralie Redelsperger (V.C.C. Morteau Montbenoit)              17.25
12 Caroline Besseyrias (Vs Nivernais Morvan)                     18.43
13 Audrey Wilst (Breiz Mountain 22)                              20.42
14 Elisabeth Allione (Oppidum Bike)                              21.05
15 Lagier Nathalie (Velo Club Gapencais)                         23.53
16 Valerie Terrier (R.O. Annecienne)                             26.57
17 Caroline Mazzoleni (Roue D'or Annecienne)                     26.57
One lap down
18 Emmanuelle Treguier (VTT Club Pradetan)                            
19 Sandrine Dumont (Le Team 16 VTT)                                   
20 Aurelie Bourdelin (Club Cycliste De Die)                           
21 Marie Badre (Club Viennois D'animat Cy)                            

U23 Women

1 Laura Metzler (BH-Sr.Suntour)                                1.58.58
2 Julie Krasniak (Lapierre International)                         1.09
3 Caroline Mani (Amicale Cycliste Bisontin)                       2.51
4 Bérangère Wilst (Breiz Mountain 22)                             5.16
5 Idriel Herveet (Pro Fermetures)                                10.31
6 Hanna Israel (Sunn France)                                     11.38
7 Adeline Gourgin (Velo Club Montcellien)                        15.17
8 Jennifer Fischer (BH-Sr.Suntour)                               16.22
9 Camille Pousse (Grenade Team VTT)                              17.28
10 Laure Boulay (Olympique C.V.O.)                               19.36
11 Perrine Philippe (BH-Sr.Suntour)                              21.21
12 Aurelie Desloges (Creuse Oxygene Specialized)                 24.29
13 Chrystelle Pittia (Vc Arpajon St Cheron Breuillet)            24.53
14 Anne Malarge (Ec Plouha Lanvollon)                            24.54
15 Fanny Amann (Vc Des Cinq Chateaux)                            24.54
16 Coralie Noiray (Clic Toinet Vitus)                            24.54
17 Nadege Cavazzana (E.S. Seynod)                                24.55
One lap down
18 Margaux Huguenin (VTT Conliege Jura Bassin De L)                   
19 Marie Albano (Cube - Beaumes De Venise)                            
20 Claire Campana (Marseille VTT Passion)                             
21 Aude Raguideau (Ac Orsay)                                          
22 Pauline Poulet (As Treport Cyclisme)                               
23 Sandrine Baldassarre (Evian Velo)                                  
24 Célia Aubard (Val D'essonne Cyclisme)                              
25 Mylene Mathieu (Velo Club Gapencais)                               
Two laps down
26 Angeline Legros (Us Melunaise )