French National Mountain Bike Championships - CN
France, July 20-22, 2007
Main Page Results Overall standings Previous Race Next Race
Race 8 - Saturday, July 21: Elite Men XC,
Absolutely Absalon!
By Wendy Booher in Montegenevre
Julien Absalon
Photo ©: Wendy Booher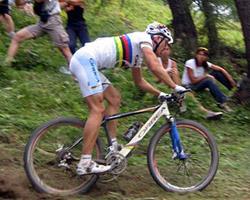 It was Julien Absalon's (Orbea) title to lose at the French National Mountain Bike Championships high above sea level in the French Alps. Olympic gold medalist Absalon's all-around talents in climbing, technique, and power yielded an error-free race to deliver Absalon his seventh consecutive national title.
The six-kilometer course humiliated racers who lacked the fitness and technique to climb steep, gravel-littered singletrack and that humiliation stung even more on a saddle-to-chest descent that forced racers lacking confidence to dismount. Absalon's flawless execution of technical sections plus a power output that consistently outpunched second place, Cedric Ravanel (Lapierre International), and third place, Jean-Christophe Peraud (Orbea), left no question as to how Absalon won again.
"Cedric started really fast on the first lap, and after that it was really difficult for him going into the second lap, so I attacked and I took 30 seconds," said Absalon. "It was not planned because I was 100 percent and he was 100 percent, yet for the rest of the race we were 30 seconds apart."
Cédric Ravanel
Photo ©: Wendy Booher

Ravanel managed to cling to Absalon's wheel until letting go at the beginning of the climb on the second lap. After a discouraging race at the European Championships last weekend in Turkey, Ravanel looked forward to recouping his losses and hopefully besting last year's second place finish to Absalon's first.
"My health today was really good - not like last week at the European Championships," said Ravanel. "I finished 21st and I felt really bad; I had no legs - nothing. Today was really good and now I can take a week off before I start preparing for the World Championships."
By the end of the second lap, Absalon had put 32 seconds into Ravanel, which he sustained until the final, sixth lap when Ravanel managed to regain more than 15 seconds to finish 14.936 seconds back.
Photography
For a thumbnail gallery of these images, click here
Images by Wendy Booher
Results

1 Julien Absalon (La Voge VTT)                                 1.53.33
2 Cedric Ravanel (Lapierre International)                         0.15
3 Jean Christophe Peraud (Creusot Cyclisme)                       3.33
4 Jérôme Chevallier (Cc Etupes Le Doubs Pays De Montbeliard)      4.58
5 Frédéric Frech (Scott Valloire Galibier)                        6.38
6 Nicolas Filippi (Scott Valloire Galibier)                       8.06
7 Ludovic Dubau (New Cycling)                                     8.31
8 Pierre Geoffroy Plantet (Lapierre International)                8.48
9 Olivier Maignan (BH-Sr.Suntour)                                10.34
10 Jonathan Galante (Creuse Oxygene Specialized)                 11.20
11 Simon Raymond (Cube - Beaumes De Venise)                      15.37
12 Normann Crochet Colin (BH-Sr.Suntour)                         16.37
13 Arnaud Grosjean (BH-Sr.Suntour)                               16.56
14 Pierre Lebreton (BH-Sr.Suntour)                               17.12
15 Guillaume Perrin (Pro Fermetures)                             17.50
16 Vincent Lombardi (BH-Sr.Suntour)                              18.42
17 Arnaud Bouchet (Lyon Sprint Evolution)                        19.11
18 Romuald Gillard (Pro Fermetures)                              19.52
19 Nicolas Roux (Scott Valloire Galibier)                        20.17
20 Sébastien Hansen (BH-Sr.Suntour)                              20.29
21 Thibaut Boutin (Calvisson Egobike)                            21.25
22 Anthony Flinois (Esc De Bully)                                21.51
23 Julien Plagne (Cibf Keops)                                    22.05
24 Julien Montaron (VTT Conliege Jura Bassin De L)               22.21
25 Pierre Fuseau (Cibf Keops)                                    24.58
One lap down
26 Jonas Buchot (MLD VTT)                                             
27 Cedric Chassang (Calvisson Egobike)                                
28 Yohann Piguet (UCVF-Sefic-Ag2R.P-Secrets D'e)                      
29 Sébastien Le Naour (Breiz Mountain 22)                             
30 Pierre Alexandre Dupuis (Master Team Offroad)                      
31 David Bouchet (Lyon Sprint Evolution)                              
32 Thomas Degoulet (Club 14 Mountain Bike Caen)                       
33 Christophe Fischer (Egobike MSC)                                   
34 Vincent Pernot (VTT Massif Jura)                                   
35 Laurent Bonnet (Cyclo Club Salonais)                               
36 Bertrand Brochot (Sangliers Vexin VTT)                             
37 Raphaël Pierron (Uc Bassin Houiller)                               
38 Arnaud Colomies (Us Domont Cyclisme)                               
39 Aurélien Collet (Velo Club Saint-Lo -Pont-Hebe)                    
40 Laurent Colombatto (Amicale Cycliste Bisontin)                     
41 Julien Bardin (Sprinter Club De Nice)                              
42 Pierre Yves Facomprez (Vs Nivernais Morvan)                        
43 Anthony Gauthier (Velo Sport Combellois)                           
44 Jacky Le Port (VTT Vallee Du Boel)                                 
45 Thomas Boutin (Calvisson Egobike)                                  
46 Nicolas Dumoulin (Velo Club Ste Marie Aux Mines)                   
47 Etienne Hautavoine (V.C. Avize)                                    
48 Vincent Rohmer (Planete 2 Roues - Lozere)                          
49 Vincent Viet (Master Team Offroad)                                 
50 Victor Debil Caux (C.C.V.S.A. V.T.T.)                              
51 Rudy Decas (VTT Cellois 23)                                        
52 Christophe Girod (Roue D'or Annecienne)                            
53 Julien Seidel (Cc Sarrebourgeois)                                  
54 Nicolas Barabeau (A.Po.Ge Cycliste)                                
55 Gregory Pascal (Sarras St Vallier Cyclism)                         
56 Hervé Loy (Ucm Veneux Les Sablons)                                 
57 Jean Emmanuel Christol Scalieri (Ain C. Bassin Bourg/Bresse)       
58 Cedric Barret (Team Ocr)                                           
59 Guillaume Halter (Saulxures V.T.T.)                                
60 Eric David (A.S.C. Macot La Plagne)                                
61 Olivier Raguideau (Ac Orsay)                                       
62 Julien Farnier (V.C. Saillans)                                     
63 Julien Tournebize (R.O. Annecienne)                                
64 Mathieu Ferrand (Club Viennois D'animat Cy)                        
65 Johan Mombaerts (BH-Sr.Suntour)                                    
66 Jonathan Cormier (Cibf Keops)                                      
67 Antoine Riffaud (Aix VTT Thrifty)                                  
68 Bastien Lesueur (Planete 2 Roues - Lozere)                         
69 David Contant (V.C.C. Morteau Montbenoit)                          
70 Jean Baptiste Trauchessec (Calvisson Egobike)                      
71 Mathieu Komassa (Esc De Bully)                                     
72 Arnaud Pierrel (Asptt Mulhouse)                                    
73 Teddy Marchand (Vc Lisieux)                                        
74 Ludovic Grandidier (Vc Val De Reuil)                               
75 Romain Collot (Energy Cycle Mozac)                                 
76 Ludovic Valentin (Planete 2 Roues - Lozere)                        
77 Sylvain Gastineau (Bearn VTT Gave Et Coteaux)                      
Two laps down
78 David Lacoste (V.C. Pays De St-Flour)                              
79 Florent Grotto (Univers Cycl. Gien Sport)