Sea Otter Classic - 1
Monterey, CA USA, April 12-15, 2007
Main Page Results Overall standings Previous Stage Next Stage
Race 5 - Sunday, April 15: Cross Country
Kabush and Gould win lengthy cross country
By Sue George in Monterey
Geoff Kabush (Maxxis)
Photo ©: FJ Hughes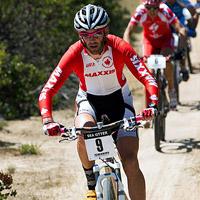 Geoff Kabush (Maxxis) outsprinted Christoph Sauser (Specialized) and Jean Christophe Peraud (Orbea) to win the Sea Otter Classic cross-country race on Sunday. The trio made up part of a five-man lead group that got away in the first lap.
In the women's race, US National Champion Georgia Gould (Luna Chix) built a solo lead early in the first lap and stayed away for remaining majority of the two-lap, 61 kilometer (38 mile) race for the win. Kiara Bisaro (Opus) picked off Gould's teammate Katerina Nash (Luna Chix) in a two-up sprint for second place.
Early five man break sets stage for podium
Early in the first lap, a group of five men rode themselves off the front and into a break. Eventual winner Geoff Kabush was among those stringing out the field.
"I did a lot of work first lap to whittle it down," said Kabush, who also won Friday's time trial. "I kept the pace pretty high until we got it down to five."
Kabush was joined in the break by yesterday's rainy short track winner Jean Christophe Peraud (Orbea), Christoph Sauser (Specialized), Todd Wells (GT), and Burry Stander (GT).
The break held until the second lap when Sauser put the hammer down. "I went to the front and really pushed hard to break away. It didn't happen, but we lost the GT guys and we were three," said Sauser, who was pleased with how his form was coming along going into the first cross country world cup of the season next weekend in Houffalize, Belgium.
"I was able to make that front group and then it blew apart on the second climb of the second lap," said Wells about falling off the pace of the lead trio. "Sauser hit it pretty hard, and I couldn't follow, and my teammate and I both kind of popped a bit. Then it was like damage control. Stander hung on longer than I did. Sauser - he's probably one of the top mountain bikers in the world, and I couldn't go with him."
After pushing the pace on the first lap, Kabush was content to let others drive the group through the second lap. "I left it more to the other guys to push the pace on the second lap. They were killing me, but I was pretty confident in my sprint. I've won here before.
"I don't know if I was as strong. Christoph (Sauser) and Jean Christophe Peraud were attacking on the last lap…we were in the gutter," said Kabush. "The wind was pretty deadly coming up the last ridge. They were putting a lot of pressure on, but I tried to hold their wheels until the end."
Frenchman Peraud had attacked often in the singletrack sections, but he could not get away. Meanwhile Sauser was sure he didn't want the race to end in a sprint.
Men's cross country podium:
Photo ©: FJ Hughes

"On the downhill sprint finish, my chances were very small compared to big guy like Kabush," said the Swiss racer. "On the (final) Skyline Road (a long fireroad climb through meadows filled with blooming purple lupine near the end of each lap - ed.), all the way up, it was windy, and I tried to break away like 10 times. I tried to get the other guys into the wind as well, and I attacked, but it was my only chance to make it."
However, as the trio approached the end, a sprint seemed inevitable, and the games began. "It was tactical. I was waiting for the right moment," said a calculating Kabush.
"We came on the pavement, and we're all looking at each other and we almost came to a stop. I did a few brake checks to get Jean Christophe in the front. I waited and then made an acceleration and got enough of a gap," said Kabush who would add this Sea Otter cross country victory to his Pan Am and NMBS #1 wins already this season.
Eventually Stander came back to Wells, who would finish fourth, just ahead of his teammate in fifth.
Gould solos almost entire race
Georgia Gould (Luna),
Photo ©: FJ Hughes

Notably absent this year were the likes of international racers Gunn - Rita Dahle and Sabine Spitz, but this left the door open for newer talent like Georgia Gould, who started the women's race as an obvious favourite after her wins earlier this year at the Pan Ams and at the first NMBS race in Phoenix. She was in Monterey collecting valuable UCI points and polishing her game before heading, with many of the other elite women and men, to next weekend's World Cup in Belgium.
Gould did not disappoint. She charged to the front early. "Sue (Haywood of Trek V/W) came around on the first climb, and then I passed her at the top of the climb. I just tried to keep it strong." The Luna racer quickly resumed her place at the front, where she would ride solo until the finish. Halfway through the first lap, Gould already had a minute on her closest competition.
Behind her, teammate and time trial winner Katerina Nash fought Kiara Bisaro, who was riding her new Opus bike in its first race today.
A group of four racers initially formed the second chase group, including Willow Koerber and Heather Irmiger (both of Subaru Gary Fisher), Lene Byberg (Specialized), and Haywood.
Yesterday's surprise short track winner and top cyclo-cross and track racer, Katie Compton was in tenth halfway through the first lap, but she later slipped to 42nd place. Racers and spectators alike had speculated beforehand about how Compton would fare in this endurance event - much longer in duration than her specialties.
Kiara Bisaro (Opus)
Photo ©: FJ Hughes

Gould was already towelled off and doing her interview with the announcer when Bisaro and Nash sprinted for second. Bisaro lagged behind, initially coming into the final section, but she renewed her faith in herself and surged from behind to take second ahead of Nash.
While some racers complained about windy conditions, especially on a long fireroad climb near the end of the lap, Gould only said, "The wind was strong, but it didn't bother me much."
On the long, lonely windswept course, Gould never knew how secure her lead was. "The most I'd heard was that it (my lead) was one minute." In fact, she finished with a greater than four minute advantage, and regardless, she rode undaunted by the unrelenting winds on the exposed course. "The wind was strong, but I didn't mind it."
"I didn't feel very good yesterday, but I felt great today," Gould told spectators. "I felt good on the first climb, so I just went for it and I didn't look back. I tried to keep a pretty steady pace."
Georgia Gould (Luna)
Photo ©: FJ Hughes

After the finish, Gould attributed her early season consistent success to a change in her winter training venue. Hailing from Sun Valley, Idaho, Gould spent this winter instead in Colorado, which, relatively speaking, benefited from a much milder winter, which allowed more time on her bike and less on skis.
Bisaro and Nash cooperated informally throughout their two-person race. "We weren't officially working together," said Bisaro, who summarized what was apparently a mutual strategy, "We could have a sprint between the two of us or we could play games and maybe get caught."
"Sometimes she dropped me and then I'd come back and be ok. I felt like we were fairly evenly matched," said Bisaro, who said she got dropped multiple times at "random places" and then would always catch up.
Nash passed Bisaro at the top of the last climb on a technical bit. "I was trying to stay with her, but she had four seconds on me." The British Columbian admitted that she almost quit mentally at that point, but then thought, "No, I'm gonna go for it, so I just gave 100% and caught her. Then she slowed down and I was asking myself, 'why am I slowing down and staying on her wheel? I should just go for it.'"
Just going for it is exactly what Bisaro, Gould, Kabush, Sauser, and Peraud will get to do next weekend in Houfflaize with the very best mountain bike racers.
Race notes:
Racers were please with course conditions. "The rain made the course perfect. It was fun to ride," said Sauser who did not have a chance to pre-ride the course this year. Fortunately, for him, it was the same as in 2006.
At Sea Otter, Maxxis was promoting their new Project Pink. For each podium appearance by one of their sponsored athletes, some money is donated to the project supporting breast cancer research.
Photography
For a thumbnail gallery of these images, click here
Images by FJ Hughes/http://www.fhughesphoto.com/
Images by Steve Medcroft/Cyclingnews
Results

Elite Men

1 Geoff Kabush (Can) Team Maxxis                                    2.21.22
2 Jean Christophe Peraud (Fra) Orbea                                   0.01
3 Christoph Sauser (Swi) Specialized Factory Racing                    0.02
4 Todd Wells (USA) GT                                                  1.28
5 Burry Stander (RSA) GT                                               1.32
6 Liam Killeen (GBr) Specialized                                       3.24
7 Adam Craig (USA) Giant Mtb Team                                      4.35
8 Jeremiah Bishop (USA) Trek/VW                                        4.56
9 Sam Schultz (USA) Subaru-Gary Fisher                                 4.58
10 Max Plaxton (Can) Rocky Mountain-Haywood                            5.10
11 Kris Sneddon (Can) Kona Les Gets Factory Team                           
12 Barry Wicks (USA) Kona                                              5.29
13 Nino Schurter (USA) Swiss Power Mtb Team                            7.07
14 Jeremy Horgan-Kobelski (USA) Subaru-Gary Fisher                     7.08
15 Sam Jurekovic (USA) U23 National Team                               7.52
16 Mat Toulouse (Can) Team Maxxis                                      7.53
17 Ryan Trebon (USA) Kona                                              7.58
18 Ruzafa Ruben (Can) Orbea                                            8.18
19 Jeff Schalk (USA) Trek-Vw East                                     10.07
20 Andy Schultz (USA) Montana State Univesity                         10.33
21 Thomas Turner (USA) Cannondale Mtb Team                            12.10
22 Seamus Mcgrath (USA)                                               12.51
23 Brent Miller (USA) Kenda/ Titus/ X-Fusion Mtb Tea                  13.21
24 Matthew Hadley (Can) Rocky Mountain Haywood                        13.22
25 Federico Ramirez (CRc) La Ruta De Los Conquistadore                13.28
26 Pierre-Yves Facomprez (Fra) Look Cycle International               13.40
27 Erik Tonkin (USA) Kona Les Gets                                    14.07
28 Ken Onodera (Jpn) Subaru-Gary Fisher                               14.20
29 Evan Plews (USA) Capitol Subaru Cycling                            14.50
30 Colin Cares (USA) Usa Cycling U23 Nat'l Team                       14.58
31 Chris Eatough (USA) Trek/VW                                        16.06
32 Charles Jenkins (USA) Cytomax/KHS                                  17.00
33 Aren Timmel (USA) Team Chico                                       17.54
34 Ross Schnell (USA) Trek/Vw                                         18.03
35 Mitchell Peterson (USA) Devo                                       18.19
36 Kevin Bradford Parish (USA) Lapierre                               18.29
37 Shun Matsumoto (Jpn) Trek Japan                                    18.55
38 Alan Obye (USA) Sram                                               19.58
39 Benoit Simard (Can) Specialized Sbcu                               20.20
40 Cody Peterson (USA) Scott Bicycles                                 20.24
41 Eric Ransom (USA) Team Tamarack Resort                                  
42 Dana Weber (USA) Jax Bicycle Center                                20.50
43 Michael Simonson (USA) Bells Brewery/Quiring Cycles                21.11
44 TJ Woodruff (USA) Momentumendurance.Com                            21.26
45 Noah Holcomb (USA) Bear Naked/Cannondale                           21.31
46 Nat Ross (USA) Subaru-Gary Fisher                                       
47 Osvelo Olmas (USA)                                                 21.36
48 Ben Thompson (USA) Santiam Bicycles / Breakaway                    21.37
49 Tim Olson (USA) Trek VW                                            21.52
50 Nick Martin (USA) Trek/VW                                          22.14
51 Dror Pekatch (Isr) Subaru-Gary Fisher                              22.41
52 Grant Kier (USA) Red Barn Bicycles                                 23.08
53 David Yakaitis (USA) BPG/ Montano Velo                             23.13
54 Chance Noble (USA) California Giant/Specialized                    23.22
55 Tristan Uhl (USA) Team Hotel San Jose/ Silicon                     23.29
56 Leonardo Sandoval (USA) Socal Specialized Team                     23.49
57 Miguel Valadez (USA) Zumwalts                                      24.34
58 Glenn Fant (USA) Na                                                24.36
59 Russell Stevenson (USA) Benaroya Research Institute                24.55
60 Bruce Muhlfeld (USA) Trek/VW                                       25.46
61 Adam Snyder (USA) Balance Bar/Devo                                 25.49
62 Kevin Smallman (USA) Bear Naked/Cannondale                         26.20
63 Sean Donovan (USA) Cytomax/KHS                                     26.24
64 Bryson Perry (USA) Healthy Choice - Guru's                         26.34
65 Matt Green (Can) Rocky Mountain                                    27.02
66 Bryan Fawley (USA) Hotel San Jose/Redbudsports                     27.23
67 Michael Andres (USA) Trek VW CA Regional                           27.48
68 Bear Perrin (USA) Kenda/Jamis                                      27.53
69 Brian Astell (USA)                                                 28.29
70 David Wood (USA) Bear Naked/Cannondale                             29.04
71 Paul Freiwald (USA) Titus Cycles                                   29.48
72 Kevin Rice (USA) Tokyo Joes/Golite                                 30.18
73 Kenny Burt (USA) Motion Based / Garmin Mtb                         30.44
74 Michael Raney (USA) Voodoo Cycles                                  31.42
75 Trevor Downing (USA) Bear Valley Bikes                             31.54
76 Jason Moeschler (USA)                                              35.48
77 Chris Barton (USA) Vendee V                                        37.46
78 Sloane Anderson (USA) Topeak-Ergon                                 40.09
79 Michael Lee (USA) Trek/VW West Coast                               40.25
80 Hal Helbock (USA) Cytomax/Khs                                      45.34

Elite Women

1 Georgia Gould (USA) Luna Women's Mtb Team                         2.43.37
2 Kiara Bisaro (Can) Team Race                                         4.14
3 Katerina Nash (Cze) Luna Women's Mtb Team                            4.16
4 Lene Byberg (USA) Specialized Factory Racing                         9.25
5 Heather Irmiger (USA) Subaru-Gary Fisher                            10.02
6 Willow Koerber (USA) Subaru-Gary Fisher                             12.41
7 Susan Haywood (USA) Trek/VW                                         14.18
8 Alison Sydor (Can) Rocky Mountain - Haywood                         14.22
9 Wendy Simms (Can) Kona-Les Gets                                     14.27
10 Kelli Emmitt (USA) Giant MTB Team                                  17.45
11 Zephanie Blasi (USA) Kenda / X-Fusion / Titus                      18.51
12 Kathy Sherwin (USA) Titus                                          19.11
13 Jenna Zander (USA) Bear Naked/Cannondale                           20.28
14 Mical Dyck (Can) Trek/Terrascape Racing                            23.02
15 Kristin Danielson (USA) Velo Bella                                 23.27
16 Rie Katayama (Jpn)                                                 23.51
17 Sue Butler (USA) Bear Naked/ Cannondale                            24.50
18 Dellys Starr (USA) BMC/Sports Garage                               25.10
19 Monique Sawicki (USA)                                              25.22
20 Chloe Forsman (USA) Luna Women's Mtb Team                          25.40
21 Emily Van Meter (USA) Bear Naked/Cannondale                        26.16
22 Somerville Bresnick-Zocchi Sara (USA) Lynskey Performance          27.16
23 Carolyn Popovic (USA) Trek/VW East Coast                           28.20
24 Melanie Meyers (USA) Kenda/ Titus/ X-Fusion                        29.36
25 Nina Baum (USA) Bear Naked/Cannondale                              31.03
26 Rebecca Rusch (USA) Specialized/Red Bull                           31.35
27 Barbara Howe (USA) Velo Bella                                      33.35
28 Jennifer Gersbach (USA) BMC/Sports Garage                          33.44
29 Stacey Scanlan (USA) Tamarack Resort                               34.15
30 Asa Erlandsson AL SWEDEN Subaru-Gary Fisher                        35.25
31 Unknown                                                            36.59
32 Natasha Cowie (USA) Sewanee: The University                        37.53
33 Sabina Kraushaar (USA) Healthfx                                    39.26
34 Josie Beggs (USA)                                                  39.31
35 Megan Monroe (USA) Bmc-Sports Garage                               39.51
36 Patricia Buerkle (USA) Tahoe Northstar/Giant                       41.16
37 Lorena Candrian (USA) DCMTB                                        42.05
38 Mary-Ellen Ash (USA) Easton/Specialized                            42.06
39 Erika Krumpelman (USA) Velo Bella-Kona                             42.55
40 Kristina Maier (USA) Bmc/ Sports Garage                            43.09
41 Johanna Kraus (USA)                                                43.33
42 Katie Compton (USA) Spike                                          44.00
43 Becca Blay (USA) Bear Naked/Cannondale                             44.28
44 Jennifer Tilley (USA) Velo Bella - Kona                            46.06
45 Shannon Holden (USA) Velo Bella-Kona                               47.02
46 Jana Repulski (USA) Team Tamarack Resort                           51.15
47 Heather Ranoa (USA) Intense Cycles                                 53.29
48 Sheryl Loan (USA)                                                  53.45
49 Theresa Richardson (USA) Bear Naked/Cannondale Moun                55.48
50 Linda Gabor (USA) Sbcu                                             59.46
51 Mandy Eakins (USA)                                               1.02.08
52 Hilary Wright (USA) Devo                                         1.19.55
53 Stacy Beneke (USA) Old World Plaster                             1.24.37
54 Rachel Throop (USA) Team Nova                                    1.25.48

Semi - Pro Men

1 Manuel Prado (USA) Sho-Air / Rock N' Road Cyclery                 2.39.56
2 Ty Kady (USA) Sho-Air/Rnr/Cytomax/Oakley/S                               
3 Cris Fox (USA) Bikehusla.Blogspot.Com                                0.52
4 Nathan Winkelmann (USA) Bike Lane/ Edward Jones                      2.35
5 Rich Thurman (USA) Emc2 Documentum                                   4.53
6 Chris Peariso (USA) Titus Cycles/Bike Hub                            4.58
7 Eric Salstrand (USA) Oakley                                          6.55
8 Nigel Hill (USA) Trek Vw West Coast                                  7.30
9 Jason Rahlwes (USA) Fox Racing Shox                                  8.07
10 Shane Bresnyan (USA) Soulcraft                                      8.15
11 Michael Mcdonald (USA) United States Intermountain Orthopedics      8.19
12 Rob Anderson (USA) Amd-Discovery Channel Maste                      8.50
13 Jeff Angermann (USA) Amd-Discovery Channel Maste                    9.07
14 Jim Hewett (USA) Content Works                                      9.39
15 Darren Mattingley (USA) Alaska Waste                               10.57
16 Chad Stoehr (USA) Easton/Specialized                               11.15
17 Justin Maka (USA) Monster Energy/Spy Optics                        12.10
18 Monte Boyle (USA) Look Cycle                                       13.01
19 Nate Whitman (USA) Cynergy/Hammer Nutrition                        13.02
20 Jamie Goldstein (USA) Platinum Performance                         13.07
21 Denton Bowers (USA) Intense Cycles                                 14.02
22 Tim Allen (USA) Voodoo                                             14.14
23 Chris Burnham (USA) Burnhamcoaching.Com                            14.40
24 Lyle Warner (USA)                                                  15.02
25 Erik Peterson (USA) Recycled Cycles                                15.31
26 Ryan Iddings (USA) Lapierre                                        17.03
27 Art Nelsen (USA) Na                                                     
28 Todd Norwood (USA)                                                 17.14
29 Shane Deal (USA) Motionbased                                       17.42
30 Matthew Kramer (USA) EMC/Vellum                                    18.37
31 Romolo Forcino (USA) Bear Valley Bikes                             18.57
32 Michael Cushionbury (USA) Bicycling Magazine                       19.09
33 Joe Walsh (USA) Joe Walsh                                          19.49
34 Michael Hosey (USA) Soulcraft                                      22.49
35 Dustin Gordon (Can) Team Whistler/Nature's Path                    23.14
36 Dustin Sweet (USA) Easty                                           23.56
37 Todd Boothe (USA) North Rim/Ep-No/Intense                          26.05
38 Tim Knudsen (USA)                                                  26.28
39 Robert Drouin (USA)                                                27.52
40 Scott Mckelvey (USA) Palm Springs Cyclery                          28.17
41 Matt Wittler (USA) Kelly Bike                                      30.05
42 Mike Oceguera (USA) SC Velo                                        30.10
43 Jeff Kerkove (USA) Team Topeak-Ergon                               31.07
44 Allan Laframboise (USA) Don's Bikes/Intense                        31.40
45 Unknown                                                            32.32
46 Olivier Bock (USA) Motionbased                                     33.11
47 Unknown                                                            34.53
48 Dean Poshard (USA)                                                 36.11
49 Tsering Alleyne (USA) Team Lost Coast Brewery                      36.50
50 Clint Hosman (USA) Focaus Cyclery/Kona                             37.33
51 Luke Brechwald (USA) Rad Racing NW                                 38.58
52 Peter Graf (USA) Reno Wheelmen                                          
53 Damian Schmitt (USA) Sunnyside Sports                              40.54
54 Justin Swett (USA)                                                 45.17
55 David Thompson (USA) Cyco-Path                                     59.17
56 John Nobil (USA)                                                 1.20.26
 
Back to top