NORBA USA National Championships - CN
USA, July 13-July 16, 2006
Main Page Results Overall standings Previous Race Next Race
Race 6 - Saturday, July 15: Mountain Cross
Kintner and Carter repeat 2005 performances
By Steve Medcroft in Sonoma
Eric Carter held off World Champ Brian Lopes to repeat as National Champ
Photo ©: Steve Medcroft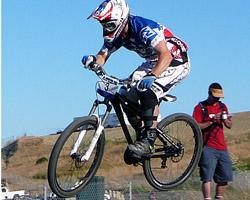 Two world champions nudged their wheels against the start gate in the US Mountain Cross National Championships on Saturday but only one, Jill Kintner (GT Bicycles) was able to add the Stars and Stripes to her jersey collection. The second, Brian Lopes (GT Bicycles) was unable to make up a first-corner deficit to defending US champion Eric Carter (Mongoose Bicycles) and lost by a tire's width.
When the competition gives way...
Kintner, who won the national championship race at 2005 nationals in Mammoth Mountain, California, faced only a seven-woman field. But the three riders she found herself up against in the final, Melissa Buhl (KHS), Tara Llanes (Giant Bicycles) and Leanna Gerrard (Bear Naked/Cannondale), proved a strong enough challenge that Kintner almost missed her win.
"I had a crap gate and got shut down," she said about finding herself third on the track after the first corner. "Melissa and Tara had all the momentum and I was sitting third thinking 'what happened?'"
Jill Kintner
Photo ©: Rob O'Dea

But Buhl and Llanes collided in the next turn and Kintner was able to re-take a comfortable lead. Kintner adds the national championship win to a stack of successes in 2006 (she is defending World and national champion and already has the 2006 World Cup series sewn up on points with one race to go). "It's been an awesome season but it means a lot to me to win on American soil."
From Sonoma, Kintner says she will spend two weeks at the Crankwerx Festival in Whistler, British Columbia Canada before heading to Rotorua, New Zealand for the USI World Championships (Aug 22-27).
Carter repeats with plate and pins in his collarbone
Seven weeks ago, former World Champion Eric Carter was in surgery for a fractured collarbone. Doctors used a titanium plate to hold the thirty-six year old together while the bone heals and, as at last year's nationals (where Carter was just recovering from back-to-back injuries), Carter says he doubted whether he would be able to repeat. But strong qualifying put him in the start gate alongside current World Champion Lopes, 2005 US Downhill National Champion Cody Warren (C-Dub Racing) and Rich Houseman (Yeti/Fox Factory Team).
"I knew I had to beat (Lopes) to the first turn so I took lane four which had a really short line and got a great start."
"Yeah, Eric got an awesome start," Lopes said about the move. "He came over and cut me off on the first turn."
Carter said that the aggressive start was the best way to beat the World's fastest mountain-crosser. "Brian was hands-down the best rider on the course this week - he beat everybody by a second in qualifying - so once I got in front of him, I just tried to ride a wide course and fill the spot where he would be going."
As the pair entered the final straight, with Carter ten yards ahead, Lopes made a strong enough surge to pull nose-to-nose with Carter at the line. "I had a different line through the last rhythm section and was definitely faster," Lopes said, "but I guess they're saying he got me."
"Lopes was coming though," Carter added. "But I felt him all the way and held it off. If the finish line was five feet further, he would have gotten me for sure."
Photography
For a thumbnail gallery of these images, click here
Images by Rob O'Dea/www.BaldZebra.com
Images by Steve Medcroft / www.cyclingnews.com
Results

Pro Men
 
1 Eric Carter, Mongoose Bicycles                    182 pts
2 Brian Lopes, Gt Bicycles                          172
3 Rich Houseman, Yeti / Fox Racing Factory Team     163
4 Cody Warren, C-Dub Racing                         155
5 Lars Sternberg, Eluidride                         148
6 Kyle Adams, Odi-Southridge                        142
7 Ryan Condrashoff, Planet X Michelin               137
8 Ryan Finney, Wtb/Fox/Santa Cruz                   132
9 Curtis Beavers, Wtb/Santa Cruz Bicycles/Fox Sh    127
11 Sanjay Shanbhag,                                 117
12 Josh Toland, Fox/Yeti                            114
13 Tj Sharp, Yeti / Fox Racing Factory Team         111
14 Cole Bangert, Fox Shox/Yeti/Hayes/Maxxis         108
15 Mike Haderer, Fox Shox/Yeti/Easton/E13           105
16 Ian Odom, Khs                                    102
 
Pro Women
 
1 Jill Kintner, Gt Bicycles                         182 pts
2 Leana Gerrard, Bear Naked / Cannondale Mtb Te     172
3 Melissa Buhl, Khs Bicycles                        163
4 Tara Llanes, Gaint Bicycles                       155
6 Amelia Colasurdo, Bear Naked Cannondale           142
7 Jacqueline Harmony, Team Cactus Bikes             137