NORBA USA National Championships - CN
USA, July 13-July 16, 2006
Main Page Results Overall standings Previous Race Next Race
Race 5 - Saturday, July 15: Super D
Craig defends and Haywood takes over super D national championships
By Steve Medcroft in Sonoma
Leading from the top, Sue Haywood (Trek/VW) wins the super D
Photo ©: Steve Medcroft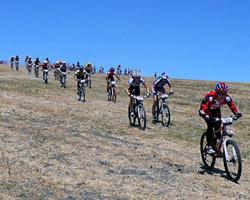 One wore a paper-thin skinsuit and the other bundled up in winter wear but the took home matching jerseys at the end of the day when Adam Craig (Team Giant) and Sue Haywood (Trek/VW) won the super D race in Sonoma on Saturday morning.
Starting at high noon, promoter's had racers line up with their bikes 100-meters from the starting line then run before they were allowed to mount their bikes and begin the official race. In waves by racer category and beginning at the far end of the Sonoma property, riders chased each other down a course part grassy hillside and part rolling dirt road three miles to the bottom.
In a sprint finish, Craig (in the skinsuit) managed to beat Ross Schnell (Trek/VW) to the line. Haywood (in a long-sleeved jersey and leg warmers) led from the top of the race, finishing ahead of defending national champion Kelli Emmett (Ford Cycling) and semi-retired downhill legend Marla Streb (Luna Chix).
Photography
For a thumbnail gallery of these images, click here
Images by Steve Medcroft / www.cyclingnews.com
Results

Pro/open men
 
1 Adam Craig (Giant)                    6.13
2 Ross Schnell (Trek VW)                0.01
3 Chris Eatough (Trek/VW)               0.06
4 Mark Weir (Wtb/Santa)                 0.06
5 Curtis Beavers (Wtb/Santa)            0.08
6 Dana Weber (Jax Bicycles)             0.10
7 Barry Wicks (Kona/Les-Gets)           0.16
8 Michael Broderick (Seven Cycles)      0.16
9 Brent Winebarger (Health Fx)          0.22
10 Eric Ransom (Tamarack R)             0.26
11 Manuel Prado (Sho-Air)               0.26
12 Ariel Lindsley (Maverick)            0.31
13 Jiro Nakamura                        0.32
14 Anthony Medaglia (Truvativ)          0.42
15 Kirk Desmond (WTB)                   0.42
16 Scott Fellers (Supercede)            0.43
17 Matt Wittler (Kelly Bike)            2.48
18 Henry Odonnell                       3.12
19 Daniel Cortina (Cortina Cycling)     3.13
20 Luke Brechwald (Rad Racing)          3.14
21 Darren Lightfield (Tamarack/G)       3.15
22 Bryan Culp (WTB)                     3.20
23 Noah Holcomb (Bear Naked)            3.43
24 Shawn Stevensen (Sand Hill)          3.45
DNF Gregy Gibson                            
DNF Olivier Bock (Motionbased)              
DNF Mcconnell Franklin (Colavita)           
DNF Spencer Paxson (Balance Bar)            
DNF Chad Melis (Redstone)                   
DNF Jason Moeschler                         
 
Junior men
 
1 Greg Carpenter (Giant/Devo)           6.26
2 Unkown                                0.00
3 Art Nelsen                            0.00
4 Kirk Turner (Giant)                   0.08
5 Unkown                                0.30
6 Nitish Nag (Nrl Racing)               0.32
7 Matthew Beaton                        0.42
8 Matthew Keiper (Ncvc/Inova)           0.43
10 Christian Fernandez (Los Gatos)      0.51
11 Chase Orrick (Durango)               0.56
12 David Flores                         0.57
13 David Miller (El Cerrito)            0.59
14 Jordan Kestler (Santa Cruz)          1.03
9 Naish Ulmer (Young Ride)              0.50
15 Tristan Littlehale (Santa Cruz)      1.23
16 Ryan Blanchette (Backbone)           1.29
17 Jeff Witten (Eastside)               1.30
18 Evan Shorter                         1.55
19 Justin Meyer                         2.22
20 Dylan Stompe (Sunrims)               2.25
21 Stephen Meister                      2.43
22 Chase Fino                           3.49
23 Theo Shaheen-Mcconnell               7.49
24 Kyle Fino                            7.53
DNF Ian Delaney (Red Rock)                  
DNF JesseL. Nickell Iv (Synidcate)          
DNF Ethan Quehl (Cycleyouth)                
DNF Matt Farney                             
DNF Marshall Eames                          
DNF Kevin Barrett                           
DNF Erik Rstrom                             
DNF Joseph Larko (Santa Cruz)               
DNF Jon Buckell (Tnt Racing)                
DNF Hunter Becker (Morewood)                
DNF Pierre Teplitxky (Santa Cruz)           
DNF Taylor Lideen (Dp Air/San)              
DNF Jaron Sacher                            
DNF Ryan Owens (Charlottes)                 
 
Men 19-29
 
1 Nathan Winkelmann (Woodlands)         5.27
2 Trevor Downing (Bear Valley)          1.05
3 Robert Herber (Khs/ Ie Bikes)         1.05
4 Kevin Smallman (Bear Naked)           1.15
5 Matt Googe (Baylor Cycles)            1.23
6 Todd Norwood (Todd Norwood)           1.23
7 John Albe                             1.25
8 Todd Boothe (Primal Wear)             1.31
9 Nicholas Barton (Super Seed)          1.38
10 Nick Olson (Sic Nick)                1.50
11 Eric Opperman (Dh Reno)              1.55
12 Chris Clark (Clarkavell)             1.56
DNF David Schonert (Calistoga)              
DNF Steve Marshall (Bear Valley)            
 
Men 30-39
 
1 Kenny Burt (Kenda/Reno)               6.25
2 Chris Sherwin (Revolution)            0.11
3 Steve Tam (Visenka)                   0.12
4 Jon Posner (Trek/VW)                  0.20
5 Courtney Cardenas (Haverty Bikes)     0.24
6 Heath Sherratt (Bear Naked)           0.39
7 Eric Sterner (Sycip Racing)           0.39
8 David Sheck                           1.25
9 Nathan Marsh (Project 52)             1.38
10 David Bardwell (U.S. Coast)          1.38
11 Andrew Bay                           1.40
12 Christopher Barker                   1.50
13 Chris Ryan                           2.01
14 Mike Rodrigo (Peacock )              2.28
15 Pete Cordero                         2.51
DNF Douglas Large                           
DNF Michael Pastore (Mountain)              
DNF Scott Leland                            
 
Men 40-49
 
1 Bert Blanchette (Backbone)            6.19
2 Brian Wilson (Mammoth)                0.08
3 Bill Scott (Sho-Air)                  0.13
4 John Fisher (Stevens)                 0.15
5 William Roussel                       0.17
6 Michael Wensley                       0.59
7 Reny Buduan (Brave)                   1.07
8 Mark French (Kymba)                   1.16
9 Don Herner (Honda Ironhorse)          1.19
10 David Crockell                       1.20
11 Bobby Mcmullin                       2.06
12 Leroy Dominguez                      2.26
DNF Joe Fabris (Treo Smart)                 
DNF Robert Baird                            
DNF Rick Morales                            
DNF Scott Fifield (Team Easty)              
 
Men 50+
 
1 Mike Jennings (Lenzsport)             5.45
2 Phil Trenholme                        0.43
3 Paul Zarubin                          0.51
4 Steve Tetrick                         1.17
5 Tim Messersmith (Trek East)           1.25
6 Fred Froemel (Crazy Cat)              1.32
7 Gil Goodrich (Filz Built)             1.35
8 Andrew Kestler                        1.58
9 William Hughes (Yellow)               2.13
DNF Steve Tetrick                           
DNF Scott Lideen (Dp Air/San)               
 
Mechanic's race
 
1 Tom Neb                               5.36
2 Matt Opperman                         0.34
3 Chris Mathis                          0.36
4 Brett Batcheldor                      1.19
5 John Valera (Santa Cruz)              1.27
6 Gary Martini                          1.49
7 David Meyers                          2.20
8 Chris Magert                          2.29
 
Pro/open women
 
1 Susan Haywood (Trek/VW)               6.48
2 Kelli Emmett (Ford Cycling)           0.00
3 Marla Streb (Luna Women)              0.01
4 Jamie Whitmore (Felt Racing)          0.03
5 Kristy Lanier-Mantz (Dirtbean.Com)    0.10
6 Kim Passafiume (Velo Bella)           0.14
7 Abigail Hippely (Maverick)            0.14
8 Cassandra Perkins (Land Rover)        0.25
9 Dara Marks Marino (Titus/Kend)        0.28
10 Melanie Meyers (Ford Cycling)        0.28
11 Heather Svahn (Content)              0.37
12 Rebecca Gross                        0.51
13 Shannon Holden (Velo Bella)          0.52
14 Carrie Cleeton (Foes Racing)         0.53
DNF Kote Driscoll (Chumba)                  
DNF Melissa Thomas (Tokyo Joes)             
DNF Barbara Peterson                        
DNF Sara Bresnick-Zocchi (Ford Cycling)     
DNF Lorien Lightfield (Tamarack)            
 
Junior women
 
1 Hollis Owens (Charlottes)             8.33
 
Women 19-29
 
1 Chrystal Tunnell                      7.42
2 Karin Hanzi                           0.19
3 Heidi Kanayan (Steven)                0.21
 
Women 30-39
 
1 Jamie Stamps (Bicycle)                7.13
2 Dani Dance                            0.31
3 Linda Travis (Honda/Ironhorse)        1.01
4 Amy Saft                              1.02
5 Kristie Hamilton (Cycling)            1.10
DNF Chantal Felten                          
DNF Amy Saft                                
 
Womn 40+
 
1 Alexandria Fabbro (Velo Bella)        7.57
2 Celia Graterol (Garmin)               0.05