NORBA USA National Championships - CN
Mammoth Mountain, CA, USA, September 15-18, 2005
Main Page Results Overall standings Race Details Previous Race Next Race
Race 6 - Sunday, September 18: Short Track XC
Craig and Vlandingham salvage short track wins
By Steve Medcroft
Shonny Vlandingham (Luna)
Photo ©: Steve Medcroft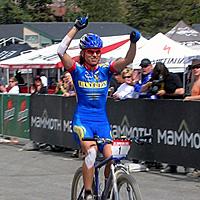 After seeing a National Championship opportunity escape her when she flatted in the last mile of Friday's Cross Country race, Shonny Vanlandingham (Luna Chix) left nothing to chance in Sunday's Short Track race. In a field that included retiring former World Champion and teammate Alison Dunlap, Sue Haywood (Trek/VW) and Dara Marks-Marino (Ford/Specialized), Vanlandingham powered off the front to win the short track Stars and Stripes jersey. After a race-making move by Cody Peterson (3-D Racing), a relatively unknown six-year pro from Durango, Colorado, teammates Adam Craig and Carl Decker were able to gang up on Todd Wells for Craig to take the men's National Championship jersey.
The women's race
An emotional call-up ceremony kicked off the short track National Championships on Sunday in Mammoth. After every female pro was called to the start, Alison Dunlap was received by cheers and applause from a thick crowd of fans, competitors and industry insiders. Wearing a custom jersey which included elements that represented her many accomplishments; World and National Championships, World Cup, and other championships plus her two appearances in Olympic Cross Country - Dunlap was brought to tears by the prospect of this being her last race.
When racing started, the wind that had plagued the Cross Country and Mountain Cross races the previous two days mostly dissipated and a huge group formed at the front of the race with Marks-Marino, Vanlandingham, Dunlap and Sue Haywood most prominently represented. Course designers put up a unique challenge though; featuring approximately two hundred feet of steep climbing per lap, racers had to negotiate - uphill - the finishing straight of the Mountain Cross course; complete with two sets of whoops.
But no course was going to deter Vanlandingham from being aggressive. "I didn't really come (to Mammoth) thinking I was going to win the short track," she said after the race. "But thinking I had it the other day only to get a flat tyre with ten minutes to go made me really motivated."
Early in the race, Heather Irmiger (Tokyo Joe's) set tempo at the front end of the group. Vanlandingham sat behind, measuring her effort. "It was a little windy on top of the course so I didn't want to go too soon," Vanlandingham said. But a little more than half way though the race, she made an effort over the whoops and found herself with a gap coming through the start/finish line. "At that point, I figured I would just time trial it in and see if I could hold the gap."
Vanlandingham powered to the finish and claimed the National Championship jersey fate had cheated her out of in Friday's Cross Country. Irmiger faded from her efforts leaving Marks-Marino and Haywood to finish second and third respectively. Dunlap managed to hold onto fifth for her final pro cross country appearance.
The men's race
Adam Craig (Giant) celebrates
Photo ©: Rocky Arroyo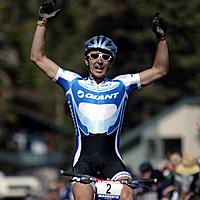 The men's Short Track echoed the storyline of the women's Cross Country race when defending National Champion Jeremy Horgan-Kobelski (Subaru/Gary Fisher), who had the race under control by the 15th minute of the 20-minutes plus-three-laps race, flatted to lose his advantage to a chase group.
It started with too large of a lead group through the first few laps; almost ten riders clung to the leaders. Until Durango-based Cody Peterson stood up and put in a huge attack over the mountain cross whoops. "I was running slower in the downhill so I wanted to spread the group," Peterson said after the race. His attack pushed himself, Wells, Horgan-Kobelski and teammates Adam Craig and Carl Decker off the front of the race.
"Yeah, it blew apart right there," eventual second-place finisher and 2003 Short Track National Champion Wells said. "Then JHK flatted right after that." Wells pressed the advantage ahead of now second-place Craig but Craig pulled himself back to Wells' wheel. The biggest problem for Wells was that Carl Decker was dangling just ten seconds behind. "Because those guys are teammates, they were able to use some drafting and tactics," Wells said.
Essentially, Craig sat behind Wells and refused to work at the front knowing that if Decker could catch on, the teammates could take turns attacking Wells and wear him down. "I was feeling like a total dick for sitting on Todd but that's what you're supposed to do when you have teammates," Craig said about the tactic.
But Wells kept the tempo up and Decker was never able to catch on. The race was then settled on the final climb up the whoops when Craig attacked to win the short track National Championship.
Because the cross country National Championship was the jersey he was most motivated for, Horgan-Kobelski says he is not bitter to lose the short track via mechanical problems. "This happened to everyone," he said. "That's racing."
Photography
For a thumbnail gallery of these images, click here
Images by Rocky Arroyo/www.arroyophotography.com
Images by Steve Medcroft/Cyclingnews.com
Results

Pro Men
 
1 Adam Craig (Giant)                              26.56
2 Todd Wells (Gt/Hyundi)                           0.05
3 Carl Decker (Giant)                              0.18
4 Cody Peterson (3D Racing)                        1.06
5 Alan Obye (U23 National Team)                    1.29
6 Brian Laiho (Dean Bicycles)                      1.48
7 Jeremy Horgan-Kobelski (Subaru-Gary Fisher)      2.03
 
One lap down
 
8 Ross Schnell (Tokyo Joes/Go-Lite)                    
9 Chris Eatough (Trek/Vw)                              
10 Michael Broderick (Kenda/Seven Cycles)              
11 Nick Gould (Santa Cruz)                             
12 Eric Jones (Biogen-Idec)                            
13 Barry Wicks (Kona/Les Gets)                         
14 Nick Waite (U23 National Team)                      
15 Greg Lewis (Healthfx/Cwc)                           
16 Douglas Ryden (Pro Cycling)                         
17 Amon Pease (Intense)                                
18 Sam Jurekovic (U23 National Team)                   
19 Cale Redpath (3D Racing)                            
20 Dana Weber (Jax Bicycle Center)                     
21 Spencer Paxson (Devo Balance Bar)                   
22 Miles Venzara (Team Health Fx)                      
23 Brent Winebarger (Health Fx/Cwc)                    
24 Patrick Bush (Clif Bar)                             
25 Leonardo Sandoval (Bicycle Johns/Litespeed)         
26 Sean Donovan (Steven K Sport)                       
27 Noah Holcomb (Cannondale Mtn Bike Team)             
DNF Aren Timmel (Soul Craft)                           
 
Pro Women
 
1 Shonny Vanlandingham (Luna Womens Mtb Team)           
2 Dara Marks-Marino (Ford/Specialized)                  
3 Susan Haywood (Trek-Volkswagen)                       
4 Mary Mcconneloug (Kenda/Seven Cycles)                 
5 Heather Irmiger (Tokyo Joes/Go Lite)                  
6 Georgia Gould (Tamarack)                              
7 Kerry Barnholt (Subaru-Gary Fisher)                   
8 Alison Dunlap (Luna Womens Mtb Team)                  
9 Kathy Sherwin (Biogen-Idec)                           
 
One lap down
 
 Sara Bresnick-Zocchi (Ford/Specialized)               
 Willow Koerber (Subaru-Gary Fisher)                   
 Jamie Whitmore (Reebok/Felt)                          
 Kelli Emmett (Ford/Specialized)                       
 Nina Baum (Cannondale)                                
 Lorien Lightfield (Tamarack)                          
 Shannon Gibson (Crazy Cat Cyclery/Yeti Grassroots)    
 Carolyn Popovic (Contentworks)                        
 Megan Elliott (Bianchi-Grand Performance)             
 Jenna Zander (Cannondale)                             
 Stacey Scanlan (Tamarack)                             
 Cindi Hansen (Mtbchick.Com/Cannondale)                
 Kristina Andrus (Canyon Cycles)                       
 Lea Davison (Balance Bar/Devo)                        
 Becca Blay (Team Dean)                                
 Kristi Lewis (Sun & Ski Sports)                       
 Rebecca Gross (Sun And Ski Sports)