2004 MTB World championships - CM
Les Gets, France, September 8-12, 2004
Main Page Results Previous Race Next Race
Race 10 - September 11: 4-Cross Men
Carter at long last
By Rob Jones in Les Gets
Eric Carter (USA)
Photo ©: Birke Ulrich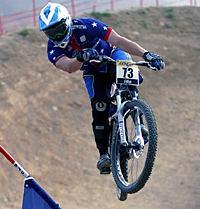 Eric "E.C." Carter finally won the world title that has been eluding him for years in the men's 4-Cross, beating Mickael Deldycke (France), Michal Prokop (Czech Republic) and Roger Rinderknecht (Switzerland) in the final.
The course was considered very fast - almost too fast - by the racers. "At the bottom section I could feel the G-Force twisting my tires, and almost losing control, and I could see the same thing happening to Mickael (Deldycke) when I was behind him in the semi, said Carter. "I think we should go fast and jump big, but we have to have a slower part at the bottom to have some passing. This one you could only do it in the first two corners."
Carter attributed his win to being "the smartest rider. I don't think I was the fastest, but I rode smarter. (In the final) I didn't want to line up next to Prokop, because his starts are electric, they're so fast. I could have taken lane four, but I chose lane three instead.
"Prokop and Deldycke were faster out of the gate then me, but over the first jumps we were pretty much beside each other. I drifted in a bit (on Prokop) and he dropped down, then Mickael (Deldycke) came up and they tangled, and then I went underneath them and then just pedaled for my life."
Carter stayed away to take the title, while Deldycke and Prokop battled for the silver, with the former taking it.
Photography
"Cedric! Come down from there at once!"
Photo ©: Birke Ulrich

Images by Birke Ulrich/www.alakarte.de
Results

Final
 
1 Eric Carter (USA)                     
2 Mickael Deldycke (France)             
3 Michal Prokop (Czech Republic)        
4 Roger Rinderknecht (Switzerland)      
 
Small Final
 
5 Mike King (USA)                       
6 Lukas Tamme (Czech Republic)          
7 Michael Robinson (Australia)          
8 Chris Powell (USA)                    
 
1/4 Finals
 
9 Ross Milan (USA)                      
10 Jared Graves (Australia)             
11 Karim Amour (France)                 
12 Michal Marosi (Czech Republic)       
13 Mick Hannah (Australia)              
14 Scott Beaumont (Great Britain)       
15 Carmine Falco (France)               
16 Dale Holmes (Great Britain)          
 
1/8 Finals
 
17 Matej Vitko (Slovakia)               
18 Filip Polc (Slovakia)                
19 Thomas Allier (France)               
20 Bas De Bever (Netherlands)           
21 Janis Vanags (Latvia)                
22 Thomas Schafer (Germany)             
23 Sidney Gerber (Switzerland)          
24 Brian Schmith (USA)                  
25 Brian Lopes (USA)                    
26 Sebastien Autale (France)            
27 Romain Saladini (France)             
28 Kamil Tatarkovic (Czech Republic)    
29 Leiv Ove Nordmark (Norway)           
30 Gee Atherton (Great Britain)         
31 Aivars Buris (Latvia)                
32 Peter Prajczer (Hungary)             
 
1/16 Finals
 
33 Guido Tschugg (Germany)              
34 Dan Atherton (Great Britain)         
35 John Kirkcaldie (New Zealand)        
36 Remo Heutschi (Switzerland)          
37 Pablo Galan Carrasco (Spain)         
38 Marcel Beer (Switzerland)            
39 Yuta Kurise (Japan)                  
40 Sascha Meyenborg (Germany)           
41 Rudiger Jahnel (Austria)             
42 Paulo Domingues (Portugal)           
43 Geza Kinda (Roumania)                
44 Frans Sjöblom (Sweden)               
45 Sorin Parau (Roumania)               
46 Manuel De Vecchi (Italy)             
47 Gabor Vigh-Kiss (Hungary)