MTB index page for all MTB content
An interview with Kelli Emmett, June 6, 2008
Hitting her stride
Kelli Emmett (Giant MTB Team) is enjoying one of her best years ever as a professional mountain bike racer. Now in her second season with Giant, the team is a good fit for her. A few weeks ago, she notched her first-ever National Mountain Bike Series (NMBS) cross country victory at the Santa Ynez Valley National, and took second in the short track event. She started off her season with an impressive solo cross country win at the Sea Otter Classic, and followed that up with a super D victory at the NMBS race in Fontana, California. Cyclingnews' Dave McElwaine caught up with Emmett as she readied for the second half of the season.
Kelli Emmett wins her first NMBS
Photo ©: Dave McElwaine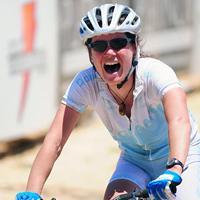 For years, American Kelli Emmett has been known as a serious threat in any super D race, but this season she's shown proof that she has matured into an all-around racer who can win domestically at any distance and on any terrain. While forgoing many of the World Cup events this year, the 31 year-old Emmett is concentrating on races in North America.

Not part of the chase for a spot on the US Olympic team, she currently is preparing for the gruelling seven-day BC Bike Race in early July in British Columbia, Canada, which will take her and team-mate Sara Bresnkick-Zocci from Victoria to Whistler Mountain.

Cyclingnews: You appear to be having more fun this year than ever before. Is there less pressure on you, or is winning just more fun?

Kelli Emmett: Of course, winning is more fun. But, I have been mixing things up this year. I did more snowboarding this winter and have been riding motorcycles a lot this spring. I just got a new KTM and it is so much fun to ride. I was hoping to race some enduros this summer but since the season is going so well, I will wait 'til this fall when I am done with the mountain bike racing. In years past, I was so strict with training and racing that I didn't do much else but ride my bike. I think I was consistently over-trained and mentally burned out.

CN: What were your goals at the beginning of this season?
"I think my first year riding I realized I liked going down hills. I didn't fear crashing all that much and was completely focused on keeping up with my brother."
-Kelli Emmett talks about the origin of her love of riding downhill fast.
KE: The biggest goal for me this year was to have fun. The past two years have been really tough for me, and I felt like I wasn't able to race at my full potential. I had a couple of injuries and my father passed away in March of last year. So, at the beginning of this year, I was really questioning my desire to even race. I just decided to not put any pressure on myself for results and create a schedule that allowed for a little more time at home. Winning a NMBS has always been a dream.
Kelli Emmett with a front row start
Photo ©: Dave McElwaine

CN: During the past year you have won at super D, cross country, singlespeed, and came very close to winning a short track race. Which event do you enjoy the most, and why?
KE: That is a tough question... I enjoy them all. But, I would have to say cross country is what I enjoy the most. I like longer events. They suit my riding style better. I usually will say to people that I have a diesel engine. I need to ride for a while before I can get my speed up. Doing well at shorter events has not come easy for me. I have struggled with short track for years. This year I decided to spend less time riding and more time focusing on shorter interval training to help improve my power for short track. It also seems to help out my super D racing as well. Singlespeed racing is just plain fun. Not serious racing but just fun!
CN: Do you intend to defend your Single Speed World Championship (SSWC)? If you win, will you add another tattoo?
KE: Good question! No, I don't think I will do the SSWC this year. I still have nightmares from getting the tattoo last year. Man that hurt! I really had a great time in Scotland last year but unfortunately it will not fit in the schedule for me this year.
CN: When did you discover that you like to go down hills fast?
KE: I think my first year riding I realized I liked going down hills. I didn't fear crashing all that much and was completely focused on keeping up with my brother. He has great technical skills and still, to this day, he can drop me on a downhill.
CN: What has it been like being a team-mate to Adam Craig and Carl Decker? Both seem to be risk takers who like living on the edge.
Kelli Emmett leads a long train
Photo ©: Dave McElwaine

KE: Oh, it is a blast! They are soo much fun to hang out with. They are always seeking out adventure and it is fun to be a part of it. My favorite is riding in the rental vans when Carl is driving. He has amazing driving skills. Just have to watch out for seat belt burns on the stomach. Those guys love to race but they also have other interests. I think they keep a great balance and excitement for the sport.
CN: How many different bikes do you train on during a typical week at home? Which one is your favorite?
KE: It is funny you asked me that question. I was just noticing that last week that I rode a different bike every day. Cross bike, Trance Advanced, Singlespeed, and my hard tail. But, I would have to say I am really enjoying my singlespeed the most right now. It is great training, and I feel like it has really improved my overall strength.
CN: You seem to have added some power to your riding in the past couple seasons. Has this helped your racing?
KE: Hmmm.... Are you saying that I look bigger these days or just healthier? Just kidding...I used to joke about never having any power as a rider. My usual line would be "Power, What's Power? I have heard about this, but not sure what it is." It has been a focus in my training the past couple of year. Last year I spent a lot of time in the gym and this year I rode the singlespeed a lot throughout the winter. I always felt like it was the key ingredient missing from my racing. Power has helped me with steep climbing and being able to go fast on the flats. There were lots of flats last weekend at Santa Ynez so the extra power really helped.
CN: Where did you get the mental toughness that you bring to your racing? Did growing up on a farm have any impact on this?
Kelli Emmett descends
Photo ©: Dave McElwaine
KE: Not sure where that came from. Sure, there were lots of long days working on the farm, and I learned how to work hard. There were definitely no rest days when you were tired. There was always something that needed to be done. But, it did give me a greater appreciation for being able to race my bike for a living. I don't miss driving tractors and picking apples at all.
CN: What is your favorite NMBS venue to race at? Which is your least favorite?
KE: I would have to say my favorite NMBS venue would be [Mount Snow] Vermont. I love the technical riding, and the descents are a blast! My least favorite would be Fontana [California]. I am not a big fan of the East Los Angeles area…too many people in one place.
CN: What do you see yourself doing in five years? Do you have any interest in becoming an endurance specialist like so many other elite women racers?
KE: I have done a fair bit of endurance racing in the past. After I finished my last 12 hour solo race, I told myself I would never do another 12 or 24 hour solo race again. So, I am still holding on to that. But, I have not tried the mountain bike stage races yet. This year, I am doing the BC bike race with Sara Bresnick-Zocci, so I will see if this is something I can get into. I have been coaching for a while now and feel like it would be a great job to transition into in the future. But, who knows?
Photography
For a thumbnail gallery of these images, click here
Images by Dave McElwaine /www.trailwatch.net