MTB news & racing round-up for March 13, 2009
Welcome to our regular roundup of what's happening in mountain biking. Feel free to send feedback, news, & releases to mtb@cyclingnews.com and results, reports & photos to cyclingnews@cyclingnews.com.
Edited by Sue George
Professional mountain bikers escape the winter in Tucson
By Dave McElwaine
Emily Batty (Trek Bicycle Store) and Todd Wells (Specialized) lead a group of pro mountain bikers on a road ride in Tucson, Arizona
Photo ©: Dave McElwaine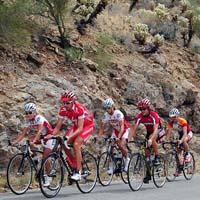 Nearly four million visitors head to Tucson, Arizona, each year, to enjoy abundant sunshine and warm temperatures. Increasingly among them are thousands of cyclists, including some of the top professional mountain bikers from the US and Canada.
"I can drive to Tucson from Durango in eight hours. I went to college here, and it only usually rains one or two days in the two months I am here to train," said Team Specialized's Todd Wells, who explained his motives for choosing Tucson as his early season training home. "The temperatures are usually in the 70s or 80s (degrees Fahrenheit), and there are a lot of places to ride." Wells represented the US at the 2008 Olympic Games in Beijing.
"For as long as I have been seriously training, Ontario's athletes have always been big on the Carolinas and Tucson, Arizona," said another pro racer Adam Morka of Trek Bicycle Store. "Now after three consecutive years in Tucson, I find the riding, warm weather, and the company of other serious athletes keeps me coming back for more and more miles every year."
Other pro mountain bikers who flock to Tucson in the winter include Sam Schultz (Gary Fisher/Subaru), Andy Schultz (Kenda/Titus), Troy Wells (Cliff Bar), Chloe Forsman (Luna Women's MTB), T.J. Woodruff (Adventure212), Emily Batty (Trek Bicycle Store), X-Terra star Melanie McQuaid (Sho-Air), and Melanie Meyers (Specialized D4W).
Sam Schultz (Gary Fisher/Subaru) lives, trains, and works at The Cycling House
Photo ©: Dave McElwaine

Forsman and Meyers are full-time students at the University of Arizona, and the Schultz brothers work at The Cycling House in North Tucson that caters to visiting cyclists. They provide coaching, guide services, and even do the cooking for the visiting groups.
The Wells brothers, both Todd and Troy, often spend the first part of the off-season in Mexico before resuming their training in Arizona, and T.J. Woodruff is also a USA Cycling certified coach.
The Tucson Convention Bureau claims that Tucson has 350 days of sunshine per year. While that may be a bit exaggerated, the number is certainly higher than most locales in the US and Canada. Tucson has also worked hard to become one of the most bicycling-friendly cities in the US with 630 miles of striped bike paths, 72 miles of shared use paths, plus 100 miles of residential biking routes.
The city is surrounded by five mountain ranges which help the cyclists in their quests for greater fitness: the Tucson Mountains, Santa Catalinas, Rincons, Santa Ritas, and Totolitas.
Showing off those tan lines
Photo ©: Dave McElwaine

At an elevation of over 9,000 feet, Mt. Lemmon towers over the Tucson Valley and offers racers the opportunity to train at altitude. The Catalina Highway starts at an elevation of about 2,500 feet in the Tucson Valley and takes you to the top 25 miles later after riding countless switchbacks. Because Mt. Lemmon receives an average of 180 inches of snow each year, there are times even in March where portions of the road may be closed to traffic.
While in Tucson, many of the riders compete in local races to sharpen their skills. In February, the Schultz brothers along with two others, won the 24 Hours of Old Pueblo after besting a stacked Kona team that included Barry Wicks and Ryan Trebon. The early season mountain bike race drew 1,650 racers to the Tucson area.
In early March, US National Under 23 champion Forsman, Melanie Meyers, Melanie McQuaid, and T.J. Woodruff all competed in the Tucson Bicycle Classic, a three-day stage race on the road. Nearly 500 racers participated during perfect 70-degree days.
Read the complete feature and check out plenty of photos, too.
Paulissen leading 2009 Cannondale Factory Team
2009 Cannondale Factory Team
Photo ©: Cannondale

Ten-time Belgian Champion and current Marathon World Champion Roel Paulissen, 32, will lead the 2009 European-based Cannondale Factory Team. Paulissen will be joined by two promising young riders, Italian rider Marco Aurelio Fontana, 24, and Swiss rider Martin Gujan, 26.
All three riders will be competing in World Cup cross country races and non-World Cup mountain bike events such as some rounds of the German Bundesliga series, the European championships, the World Championships and the Roc d'Azur plus plus other disciplines, such as cyclo-cross races and selected road races. Each rider is hoping to compete at the 2012 London Olympic Games.
The team just finished off a week-long training camp in Massa Marittima, Italy, including competing in both weekends of the Maremma Cup. Fontana and Paulissen got things off to a good start with first and second places in the opening cross country race while Gujan finished second in the first kermesse. The team is now preparing for the upcoming World Cup races.
Daniel Hespeler and Florian Eschenbach will run the team as Manager and Director Sportif. Germany Stefan Röschl will take care of physiotherapy duties while Brit Jim Bryan serves as team mechanic.
Racers will compete on Cannondale Scalpels, Taurines, SuperSixs and CX9s.
Photography
For a thumbnail gallery of these images, click here
Images by Cannondale
Cyprus Sunshine Cup to conclude in Voroklini
Jaroslav Kulhavy (Rubena / Specialized) races downhill
Photo ©: Armin Küstenbrück

The fourth and final round of the Cyprus Sunshine Cup will be held on Sunday in Voroklini. In the women's competition, Alexandra Engen has already secured the overall title, but among the men, the battle will continue as Emil Lindgren attempts to hold off Periklis Ilias for the title.

The final women's race will feature a high level of competition including Olympic Champion Sabine Spitz (central Ghost Pro Team) and her teammate Elisabeth Osl along with round three winner Lene Byberg (Specialized) and Petra Henzi (Fischer BMC). All four riders are ranked in the top 12 in the world, so Engen will have her work cut out for her as she tries to win another round.

In the men's race, Greek champion Periklis Ilias (ISD Cycling) may replace Emil Lindgren as leader because the Swede has already departed Cyprus for some recovery time in his home country. Swiss Christoph Bischof (ISD Cycling) also has a small chance at taking the title. Others to watch in Voroklini will be Ukrainian Sergiy Rysenko (ISD Cycling) and Swede Mathias Wengelin ( Cyclotek Racing Team) along with the young German national team riders such as Torsten Marx (DS-Rennsport) and René Tann (Fujibikes), both of whom will be in their first race of the year.

Racers will compete in Voroklini, east of Larnaca, on a 6.9km lap with 240m of elevation gain per lap.

See Cyclingnews' full coverage of last weekend's round three of the Cyprus Sunshine Cup.
Huber and Zahnd to team up for Cape Epic
Thomas Zahnd (Team Stoeckli-Craft) racing at La Ruta
Photo ©: Luis A. Rueda Fonseca

Switzerland's Urs Huber and Thomas Zahnd are just one of the many elite teams taking on the Cape Epic stage race, which starts in South Africa in just over one week on Saturday, March 21. Huber won 12 races in 2008 and is currently placed second in the UCI's marathon rankings, and it will be Zahnd's fourth Cape Epic. The pair will form Team Stoeckli-Craft, and the Cape Epic will run eight days over 685km through March 28

Huber will be participating in his first Cape Epic this year, whereas Zahnd has completed the race three times. "The three Cape Epics I've done to date have been an awesome experience. It'll be great to have Urs as my partner this year. I'm interested to see how it would work with a new partner as Sandro Spaeth was my partner for three years in a row," Zahnd said.

The pair does not often train together as both riders live more than 100km apart. "But we train together when we attend the training camps like the one we did at the end of January," said Huber.

Zahnd's training programme is similar to that of previous years. "I spent a lot more time cross country skiing as we experienced a heavy winter." Huber spends most of his time cycling, jogging and going to the gym. "I've also done a marathon 'a first for me' in which I finished second," he said.

Zahnd won third place in the Swiss Marathon Championship in 2006, one of the stages of the 2007 Cape Epic and first place in the St. Wendel Marathon last year. Huber finished third in the UCI Marathon World Championship and second in the European Championships last year.

Both know that one of the most important ingredients of success in the Cape Epic is the relationship with one's partner. "It's also important to perform well during all the stages," said Huber.

"You need to know your partner well and of course, have no technical problems," added Zahnd.

Stay tuned to Cyclingnews for full coverage of the Cape Epic.
Scott-Swisspower kicks season off successfully
Florian Vogel and Nino Schurter
Photo ©: Scott-Swisspower MTB-Racing

The Scott-Swisspower team got its season off to a good start last weekend when it took the top two places at the Maremma Cup in Massa Marittima, Italy. Swiss national champion Florian Vogel won the race ahead of teammate Nino Schurter. The two showed that their efforts at a three-week training camp in Stellenbosch, South Africa, had paid off.

Last July, the team announced Scott as a new title sponsor for its successful team, which amassed over 50 medals and international championships between 2002 and 2008. The team aims to put the best Swiss talents, managed by Thomas Frischknecht and Andi Seeli, on Scott's bikes for still more success going forward.

For 2009, the team welcomed two new racers, Marcel Wildhaber, a cyclo-cross specialist in the elite category and Roger Walder, a talented junior rider.
iXS European Downhill Series 2009
Erik Irmisch
Photo ©: Thomas Dietze

Preparations for the 2009 iXS downhill series are underway. This year the iXS Downhill Cups will cover a grand total of 18 races. In addition to the established national series in Germany and Switzerland the iXS European Downhill Cup will be entering its second year.
iXS European Downhill Series 2009
May 30-31: Round #1, Verbier, Switzerland
July 11-12: Round #2, Leogang, Austria
August 15-16: Round #3: Châtel, France
September 12-13: Round #4: Bischofsmais, Germany
For more information, visit www.ixsdownhillcup.com.
Record may fall at Motatapu Icebreaker
The Icebreaker
Photo ©: Motatapu Icebreaker

Olympian Kashi Leuchs will join a cast of over 3,000 other competitors at the fifth Motatapu Icebreaker on March 14 in New Zealand. The 50 kilometre mountain bike race will cover trails between Wanaka and Arrowtown, through the iconic landscapes of three of Central Otago's high country properties.
The course record may well be broken this year as Leuchs challenges four-time winner and course record-holder Marcus Roy for the first time.
New Zealand's Minister of Finance, Bill English, will also be on hand, but he is looking for a less spectacular, but none-the-less solid performance in this his first time in the Motatapu Icebreaker."It's a real bonus for me to take part in this successful event," English said. "I've been training hard in the hills around Wellington, but we'll have to wait and see whether that translates into a credible performance on the day. I'm not too competitive - but I don't want to come last."
"The Motatapu Icebreaker is set in one of the most scenic corners of New Zealand and - at least for a few hours - I won't be thinking about the Budget!" he said.
A running marathon will also be held in conjunction with the mountain bike event. The combined event attracts cyclists from throughout the country, along with a growing number of international competitors, from Australia to Ethiopia. The mountain bike race sold out in record time last November.
Whiskey Off-Road adds concert
The sixth annual Whiskey Off-Road will happen April 24-25 in downtown Prescott, Arizona, next to Whiskey Row. New for 2009 is the addition of free live music by Roger Clyne and the Peacemakers and an optional yoga practice as the sun sets.
"We can't wait to introduce the music portion and send this thing into orbit," said Todd Sadow, president of Epic Rides, Inc. "Our intent is to create the perfect destination for desert dwellers to escape the onset of the summer heat with a healthy outlet in the mountains of Prescott. Nothing beats the opportunity to spend a day in the saddle of a bike and an evening on the courthouse lawn with great live music."
The Whiskey route takes riders through the 1.25-million-acre Prescott National Forest. The forest boasts a system of well-maintained trails, thanks to the Prescott National Forest Service staff and local trail advocacy groups including the Prescott Cycling Club.
Riders may choose to enter three different distances, from the 15 Proof Fun ride to the 25 and 50 Proof routes that will appeal to more ambitious participants. The "Proof" theme pays homage to the infamous Whiskey Row element of downtown Prescott, an entire city block of watering hole type of establishments; a "proof" in this case represents one mile.
All who attend the community concert are requested to bring two canned food items for donation to the Yavapai County Food Bank. "Our goal is to raise a literal ton of canned goods between the mountain bike event and community concert," said Sadow.
Festivities will begin on Friday, April 24, when participants arrive for packet pickup and a mandatory pre-event riders' meeting on Goodwin St. in the center of downtown Prescott. The riding will begin Saturday morning with the concert happening that evening.
For more information, visit www.epicrides.com.
Mountain X-Bike series kicking off
The first round of the Mountain X-Bike cross country series, Turcifal is set for Sunday, March 15. It will feature a 7km track in the Serra do Socorro, near Torres Vedras and Lisbon, Portugal. Each lap will have 325m of elevation change, and the competition will test both national and international competitors.
The race is a UCI categorized event (cat. 2) for the first time. Two other events will complete the series: Sesimbra on May 10 and Santiago do Cacém on May 31.
For more information, visit www.mountainxbike.com.
Burn 24 hour challenge changes
The 9th annual Burn 24 hour Challenge will return in 2009 with a new website, sponsors and directors. The event is scheduled for May 23-24.
Former sponsor Burn Energy Drinks is up for sale and will not be present at this year's event, but organizers decided to keep the name to avoid confusion. Bikerumor.com will take over as the main sponsor of the event.
"I'd also like to announce that I am passing the hat of race director to Jason Bumgarner," said former director Eddie O'Dea. "Jason has been involved with the Burn 24 since its move to the Dark Mountain Trails. He is a very capable guy and should have no problem delivering a top notch race."
For more information, visit www.burn24hour.com.
Team Ghost Scheiderbauer looking for a few young guns
Team Ghost Scheiderbauer is looking for a few young guns.
Photo ©: Scheiderbauer Sports

Mountain bike and triathlon pros Anna and Jörg Scheiderbauer want to share their experiences and are starting a junior mountain bike team. In the short term, the pair wants to get more children and young adults into mountain biking; in the long term, they want to ease the transition from regional German races to the international stage.
Girls and boys aged 8 to 17 in the Ortenau area are welcome to apply. In its first year, ten spots are available. Those selected will receive Ghost bike kits and team apparel. They will also receive training plans tailored for their age. The young guns will get to practice on the Offenburg World Cup course and participate in local events.
Written applications, including a short profile, brief description of athletic goals, prior results and motives for wanting to join the team can be mailed until March 31 to scheiderbauer.com sports, Weinstr. 173, 77654 Offenburg/Rammersweier, Germany.
Introducing the Cyclingnews Forum
We're pleased to unveil the Cyclingnews Forum and we'd like to welcome you to drop by! To kick things off we've created a selection of folders based on the themes you're familiar with from our site, including one for all topics mountain bike related. We'll be adding more sections over the coming weeks as we find out which topics and sub-topics you, our readers, are talking about.
And we won't stop there. We'll also be improving the look and feel of the forums as we gear up for a total redesign of the site in a few months' time. All you have to do click on the link below and sign up.
Don't forget to let us know what sections or sub sections you want to see in the Forum, and stop by our About the website folder to see what's coming up in the future. For an extensive run down on features such as private message, avatars and profiling please click here.
(All rights reserved/Copyright Future Publishing Limited 2009)